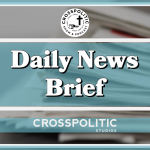 This is Toby Sumpter with your CrossPolitic Daily News Brief for Tuesday, November 10, 2020.
Today you will hear about (you guessed it) more on the election results, Trump's new Defense Secretary, Fox News is censoring the President, Parler is making a bid to pass up Twitter, and Washington DC Mayor awards herself an exemption to her own rules. 
Remember: If you come across a news story you think we might need to cover, please send it to: news at crosspolitic dot com. This is a great way to share articles and stories with us that may end up in our daily or weekly shows: news at crosspolitic dot com
A Data Scientist Looks at the Voting Data
https://twitter.com/APhilosophae/status/1325592112428163072?s=20
An anonymous data scientist and another anonymous individual wrote a script to scrape the national ballot counting time series data off the New York Times website. They argue that by looking at the time series logs of the ballot counting process for the entire country certain patterns emerge as normal which in turn seem to suggest certain anomalies, particularly in the states where fraud allegations have been raised. 
The pattern that emerges is an almost constant ratio of Biden to Trump votes. The authors argue that this pattern holds in most states because ballots are randomly mixed together like a deck of cards. The initial voting log is very "noisy" and has great variation because it represents in-person voting, and in-person voting happens across different geographic areas that have different political alignments. But the noisy pattern is followed by very homogeneous reporting because it represents mail-in reporting. Again, the mail-in ballots tend to be more uniformly mixed because the post office acts like card shuffler. In most states, the pattern holds with a slight drift to Republican votes, and the authors argue this is because more rural areas tend Republican and it simply takes longer for the more rural mail to get to the vote counting centers. 
Interestingly, there are exceptions to this norm, and ta-da! they map with the states where some people are claiming there has been significant fraud. So for example, in Wisconsin the pattern holds until around 3am. What happened at 3am in Wisconsin? Actually, we know. It was well documented that a fresh batch of 169K absentee ballots arrived at the vote counting center. By 4am the Democrat to Republican ratio log is all out of whack. But they have an entirely different pattern than the rest of the counting. They authors say this could be because additional ballots were added to this batch or through some kind of tampering. 
It would also seem that if all the ballots came from a particular neighborhood or city, without being mixed in the mail, that might also account for it? 
The twitter thread continues pointing out that Pennsylvania follows the national pattern slowly drifting Republican, as rural votes come in, and then inexplicably, it begins trending increasingly Democrat late in the recording process. The same thing seems to happen in Georgia: increasing fractions of Democrat ballots over time even though it defies logic. Michigan has similar anomalies, with the Wisconsin like strangeness, together with the Pennsylvania/Georgia weirdness. The authors note that Virginia is the only state in the union with even more anomalies, yet it has not had accusations of vote fraud (yet). The authors suggest that this is the one exception that proves the rule, but regardless, they believe these statistical anomalies suggest evidence of ballot backdating or voter software tampering.  
Attorney General William Barr authorized the Department of Justice to prove "substantial allegations" of voting irregularities on Monday. 
Trump Fires Defense Secretary and Replaces Him
https://abcnews.go.com/Politics/trump-fires-defense-secretary-mark-esper/story?id=74111080&cid=social_twitter_abcn
As many had expected, President Donald Trump on Monday said, in a tweet, that he had fired Defense Secretary Mark Esper.
"I am pleased to announce that Christopher C. Miller, the highly respected Director of the National Counterterrorism Center (unanimously confirmed by the Senate), will be Acting Secretary of Defense, effective immediately.. …Chris will do a GREAT job! Mark Esper has been terminated. I would like to thank him for his service," Trump tweeted.
https://www.cnn.com/2020/11/09/politics/trump-fires-esper/index.html
CNN: Miller, who will step into Esper's shoes, has been a driving force behind some of Trump's policies targeting Iran and its proxy group Hezbollah, as well as counterterrorism efforts linked to the wars in Syria and Iraq. Prior to heading the NCTC, Miller was director of counterterrorism at the National Security Council. 
An Iowa native and retired US Army officer, Miller has also served as a deputy assistant secretary of defense. Miller was seen arriving at the Pentagon Monday afternoon and, soon after, met with Milley and other top staff for critical briefings on issues such as the nuclear codes and military operations around the world. Miller told officials to not expect "significant changes at this time," the official said.
A senior administration official told CNN's Jake Tapper that Esper disagreed with Trump on Afghanistan. While Esper does support getting the US out of Afghanistan as a goal, he does not believe conditions are appropriate for a withdrawal of all US service members as the President may be preparing to do, the official said. 
Some close to Esper wonder if Trump fired him on Monday so he can soon pull troops out of that country without prompting public opposition and a resignation from his secretary of Defense.
ABC: Trump was particularly displeased that Esper had opposed using active-duty military under the Insurrection Act to deal with the George Floyd protests in June, as the president had threatened to order.
Miller arrived at the Pentagon exactly one hour after the president tweeted that Esper had been fired.
According to a senior defense official, Miller's guidance to senior staff was to continue the DOD's mission with no significant changes at this time. The official stressed that the chain of command within the Department of Defense was never broken because it all happened immediately.
CNN: Trump also publicly lambasted Pentagon leadership in September, accusing them of seeking to fight wars in order to boost the profits of defense contractors. Esper, angry, called White House chief of staff Meadows to complain, according to defense officials. Meadows soon afterward appeared on television and attempted to walk back Trump's comments, saying his broadside against the Pentagon's leaders had not been directed at anyone in particular.
Esper and Trump also differed over the highly charged issue of whether to rename military bases that honor Confederate generals. Esper supported consideration of the renaming. The President refused to accept the idea.
The Senate voted 90-8 in July 2019 to confirm Esper, making him Trump's second Senate-confirmed secretary of defense. He followed James Mattis, who had resigned in December 2018 over Trump's decision to retreat from Syria amid the fight with ISIS, abandoning Kurdish allies and pulling US troops out of the war-torn country.
A reminder that all of the talks from this year's Fight Laugh Feast conference: Weapons for This War are up in the Club Member Portal, and if you're not already a club member, what are you waiting for? Go to fightlaughfeast.com and register today and get access to all of the talks: Douglas Wilson, George Grant, David Bahnsen, Jeff Durbin, Glenn Sunshine, and more. Also, if you want to rock your Fight Laugh Feast bona fides visit rowdychristian.com for shirts, hats, hoodies, postmill coffee, etc. Also: did you hear we started a new magazine? Four issues a year for forty bucks. https://flfnetwork.com/product/fight-laugh-feast-magazine/
Dr. Todaro on Twitter points out: "Remember when the "experts" said that masks were the key to stopping the spread of coronavirus and bringing transmission down to South Korea and Japan levels? Well despite mask mandates for many months, most of Europe has now entered second lockdowns." 
Fox News Cuts Away From Trump Press Conference Monday
https://twitter.com/DailyCaller/status/1325919211332505602?s=20
Not so fast… Thanks Neil Cavuto. Thanks for being our dad and not letting us watch things that might not be true. 
Parler Explodes
Meanwhile, Parler exploded over the weekend. Mark Levin and numerous other conservatives announced they were opening accounts on Dan Bongino's Parler social media service, and the service topped the free app charts over the weekend, adding thousands of users per minute. 
https://www.bbc.com/news/technology-54873800
Some reported problems registering and a slowdown of the app as its servers attempted to deal with the influx.
Parler founder John Matze said the app had added two million new users in a day, and increased its daily active users four-fold over the weekend.
Texas Senator Ted Cruz boasts 2.6 million followers on the platform, while Fox News hosts Mark Levin and Sean Hannity each have more than two million.
Newsmax, a conservative-leaning news outlet, also crept near the top of the charts at the same time.
Named after the French verb "to speak", the app has very similar functions to Twitter. Posts can be replied to with comments, "echoed" in a way similar to retweeting, and upvoted instead of liked.
Parler says it keeps bans to an "absolute minimum", and does not fact-check posts. 
Parler does, however, ban some things, including pornography, threats of violence, and support for terrorism.
On Facebook, multiple events and groups with thousands of members are encouraging a "mass exit" from Facebook to Parler from Friday 13 November.
The planned exodus has been mocked by left-leaning Twitter users as an escape to a "safe space" devoid of challenge or criticism.
Washington DC Mayor Claims Biden Celebration Was Essential Travel
https://twitter.com/SegravesNBC4/status/1325899794146058242?s=20
And just like that COVID-19 is gone… mostly. 
Pictures surfaced over the weekend of DC Mayor Bowser and staff celebrating a Biden victory in Wilmington, Delaware on Saturday. Delaware is on the mayor's list of "high risk" states which require quarantine after returning, except for Mayor Bowser. Her staff said this travel was exempted from the mayor mandate because it falls under "essential travel." And COVID-19 pays homage to all that kings and queens doing their special, essential things. While the rest of us peons must bow and scrape before their royal thrones. 
This is Toby Sumpter with Crosspolitic News. Remember to send us stories and articles that you think we should cover to news at crosspolitic dot com. You can find this and all of our shows at Crosspolitic.com or on our app, which you can download at your favorite app store, just search "Fight Laugh Feast". Support Rowdy Christian media, and become a Fight Laugh Feast Club Member and get your very own Fight Laugh Feast t-shirt and access to all the talks at our first annual Fight Laugh Feast Conference as well as God and Government and Escatology with Gary Demar, Pastors and Politics with Pastor Douglas Wilson, as well as a great Parenting Basics session with Pastor Wilson and his wife, as well as the Worldview Shotgun Series – trying to explain the Biblical crack we're smoking at CrossPolitic. Become a member now at fightlaughfeast.com.