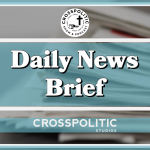 This is Toby Sumpter with your CrossPolitic Daily News Brief for Tuesday, November 17, 2020.
Today you will hear about Trudeau's plan to use Covid to Reset the economy, US governors scramble to be as tyrannical as Truedeau, one attorney says that millions of votes were transferred from Biden to Trump, what hackers made of voting machines last year, and NPR is diligently reporting on some kind of election fraud. 
Trudeau Says Covid Is Opportunity to "Reset"
https://twitter.com/BCDyer/status/1328111300954746887?s=20
This isn't really conspiracy theory stuff if they're just coming out and saying it. 
This comes as COVID cases surge around the country and Governors attempt to lock their states back down. 
Governor Newsom announced Monday that 94% of California would be moved back into the state's most restrictive coronavirus tier (purple). This bans most what is called "non-essential" indoor restaurants, bars, and activities. In Oregon, Governor Brown has ordered a two week "freeze" on all restaurants and gyms. And Washington Tyrant Gov. Inslee, not to be outdown by his coastal neighbors, has ordered all gyms shut down, stores limited to 25% capacity, including churches, with a 200 person maximum, with masks and no singing. Vermont Governor Scott also banned multi-family gatherings starting last Friday, inside or outside. 
"That means no dinners with friends, no parties, and even taking a walk with the neighbor is out. But at the same time retail, restaurants, and gyms can stay open. Scott says it's because public spaces have more regulations and they can be more surgical with restrictions after reviewing what caused the increase in community spread. "There are guidelines there. There isn't much for interactions with your neighbor," Scott said.
And you guessed it, Michigan is trying to keep up with all the Trudeau-ian Tyrants as well: "Michigan health officials on Sunday announced a new set of restrictions. The order limits bars and restaurants to outdoor dining, carryout and delivery. Casinos and movie theaters will be closed. Gyms are allowed to remain open, but group classes are prohibited. 
High schools and university must conduct all classes remotely, according to the order. Indoor gatherings in residences are limited to 10 people from two households, while outdoor gatherings are limited to 25 people as long as they can practice social distancing.
Most of these states have also included limiting private gatherings for Thanksgiving. The Mayor of Chicago has told city residents to just cancel their plans. 
But what did these governors think was going to happen? Epidemiologists have been saying from the beginning that this virus, like all viruses of its kind, must spread through a large chunk of the population before burning out. This typically happens through what is called herd immunity. Elderly and immune compromised folks certainly seem to be at higher risk and are welcome to self-isolate, but this insanity is only prolonging the inevitable and destroying human lives in the process, not to mention our economy and our freedom. 
But notice what is not being mentioned in any of these stories: what is the actual hospitalization rate? What is the death rate? All we're told is that surging cases *could* overwhelm hospitals. But that's what they said back in March and spent millions of dollars on overflow hospital facilities that never got used. 
But bottom line is that if people in these states simply submit, you are giving your liberty away. If you live in Washington or a state that is trying to lockdown worship services, you need to go to church this Sunday, without a mask, and worship God. Sing extra songs. Make them come and close you down. If you're not able or willing to do that, then get out of Washington. Make a stand or make plans to make a stand. Don't just sit there. 
Also you should be planning big festive Thanksgiving Dinners. Make them come be the bullies they are acting like. Of course you should count the cost, but all we need are like 15 or 20 of these incidents to go viral on social media and the police will not have the stomach for it. Same thing goes for breaking up worship services. Take your phones, have them ready to record, and if they come, be respectful, kind, and firm, and film it all. 
Folks, do you wish you had a one stop news source that covered all current events from a distinctively Biblical worldview? Do you wish You could listen and watch the news any time day or night from a source that was committed to telling the truth about what's going on in the world and have a no-holds barred biblical analysis to accompany it? You tired of woke scolds and latte theologians nuancing everything to death. Do you wish Christian media was a little bit more rowdy? That's what CrossPolitic is all about. And we need your help to continue growing the Fight Laugh Feast Network. The best way you can help is by becoming a Fight Laugh Feast club member today. Many of you already have, and it has allowed us to grow so much already, but if you're tired of legacy media cramming their pagan worldviews down your throat and social media censoring views they don't approve of, support CrossPolitic as we build a Christian Media Platform and Network committed to the Lordship of Jesus Christ. Also, we like to laugh and drink beer. Support Rowdy Christian Media and become a fight laugh feast club member today. Go to Fightlaughfeast.com.  
Attorney Sidney Powell Says Millions of Votes Were Changed
https://twitter.com/IngrahamAngle/status/1328402630121562120?s=20
Last Year Hackers Broke into Voting Machines Easily
https://www.washingtonpost.com/business/2019/08/12/def-con-hackers-lawmakers-came-together-tackle-holes-election-security/
Washington Post ran a story August 12, 2019 which opens: "LAS VEGAS — As Sen. Ron Wyden (D-Ore.) toured the Voting Village on Friday at Def Con, the world's hacker conference extraordinaire, a roomful of hackers applied their skills to voting equipment in an enthusiastic effort to comply with the instructions they had been given: "Please break things."
House Democrats have introduced two bills that would require paper records to back up voting machines, mandate post-election audits and set security standards for election technology vendors. But Senate Majority Leader Mitch McConnell (R-Ky.) has repeatedly blocked votes on the bills, saying election security is the province of the states.
At the Voting Village, nestled in a ballroom in the sprawling Planet Hollywood convention center, hackers put the machines' weaknesses on display with playful flourishes, overtaking one electronic poll book to play the first-person shooter game Doom on it, or leaving Nyan Cat, a Japanese meme, sailing across the screen of another made by VR Systems.
The Voting Village has faced extreme pushback from voting equipment companies and government officials in the past. They've argued that the free-for-all environment at Def Con doesn't replicate the realities of security on Election Day. The National Association of Secretaries of State condemned the exercise as "unrealistic" last year, and Election Systems & Software, one of the major voting machine vendors, sent a letter to its customers making the same argument.
Meanwhile NPR Is Diligently Reporting Election Rigging in New Zealand's Bird of the Year competition:
https://www.npr.org/2020/11/14/934749679/for-the-birds-voter-fraud-ruffles-new-zealand-bird-of-the-year-competition
Evidence of election rigging has roiled New Zealand's "Bird of the Year" competition after a case of ballot-box stuffing has threatened to derail avian democracy.
Suspicion began when organizers received more than 1,500 votes sent from the same email address early Monday — each vote was in favor of the little spotted kiwi (kiwi pukupuku), according to a statement from Forest & Bird, a conservation organization that runs the election.
"That is an amazing bird – it deserves all the support, but unfortunately these votes had to be disallowed and they've been taken out of the competition," Forest & Bird spokeswoman Laura Keown told NPR's Weekend Edition.
This is Toby Sumpter with Crosspolitic News. Remember to send us stories and articles that you think we should cover to news at crosspolitic dot com. You can find this and all of our shows at Crosspolitic.com or on our app, which you can download at your favorite app store, just search "Fight Laugh Feast". Also, if you want to rock your Fight Laugh Feast bona fides visit rowdychristian.com for shirts, hats, hoodies, postmill coffee, etc. Also: did you hear we started a new magazine? Four issues a year for forty bucks. https://flfnetwork.com/product/fight-laugh-feast-magazine/
Support Rowdy Christian media, and become a Fight Laugh Feast Club Member and get your very own Fight Laugh Feast t-shirt and access to all the talks at our first annual Fight Laugh Feast Conference as well as God and Government and Eschatology with Gary Demar, Pastors and Politics with Pastor Douglas Wilson, as well as a great Parenting Basics session with Pastor Wilson and his wife, as well as the Worldview Shotgun Series. Go to fightlaughfeast.com.