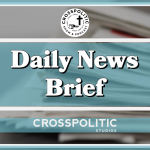 This is Toby Sumpter with your CrossPolitic Daily News Brief for Tuesday, November 24, 2020.
Today you will hear about businesses defying lockdown orders, churches meeting in secret in the UK, Guiliani says there is no connection between the Kraken and Trump, and the Kraken agrees, and the administrator of the US General Services sends a presidential transition letter to Biden.
Business Owner in Buffalo, NY Escort Health Inspector & Sheriffs Off His Property
https://twitter.com/justin_hart/status/1330261324119633923?s=21
One commenter noted that when the business applied for a license to operate, he agreed to submit to the health and safety codes. And the commenter has a point. But the point isn't that we should be OK with those things. The point is that we have been allowing tyranny to build up for a long time. We have allowed the Government Nannies to hover over our businesses and properties for decades. And basically, so long as they grasped more and more power incrementally, most American businesses and property owners have been willing to put up with it, so long as it was mostly just a nuisance. But we have been letting this happen for decades. But that's no reason to give up now. We really don't have much ground to stand on, but we still have the ground of the constitution and our God-given freedom and rights. 
Washington Restaurant Defies Inslee Calling it a "Peaceful Protest"
https://mynorthwest.com/2322267/inslee-shutdown-restaurant-peaceful-protest/?fbclid=IwAR1rsxbVupq8y4L8BDzbZpChMTT4VrKvXHWOJtrmIhyqWLDiqBBF9O6UI2g
Koko's Bartini, a restaurant in Kennewick, Wash., says they're going to engage in civil disobedience and not close down during the mandated shutdown. Owner Dana Slovak joined KIRO Radio's Dori Monson Show to discuss.
Which, incidentally, is why escorting the health inspector and sheriffs to the door while chanting "get out" may actually be a smart idea. If the last few months have taught us anything it's that the government only arrests people who are docile and quiet, or singing psalms. But if you're shouting and burning things, they give you a wide birth. 
Churches all over the UK Gather Secretly in Defiance of Lockdown Orders
https://www.theguardian.com/world/2020/nov/15/north-london-church-defies-lockdown-to-hold-service?fbclid=IwAR0EuxEAmoGWO-xalk5gVba46aEzJp4je-SwrZBkOUjqsx5U8x7xsM5-cXs
https://www.theguardian.com/world/2020/nov/22/let-us-disobey-churches-defy-lockdown-with-secret-meetings?fbclid=IwAR2mwycfJYlpfvIl3Vu74XXT1GNk0P_Szuu5iJXuCoJDsgAknpp4ahr1eGM
"We've been holding clandestine services since this lockdown began," the pastor told the Observer, speaking on condition of anonymity. "It feels weird for us to act this way. People have said it feels more like an underground church in China.
"The fact that we have to sneak around to worship God, in fear of criminal prosecution, is alarming. But we do what we have to do."
According to church leaders the Observer has spoken to, an increasing number of congregations are breaking the law in order to worship together, an activity banned under current restrictions. Some are moving to different premises, others meeting covertly in regular church buildings.
Last Sunday police intervened at the Angel evangelical church in Clerkenwell, north London, after its pastor publicly announced his intention to hold a service. In Gedling, Nottinghamshire, two arrests were made at the Mustard Seed Christian bookshop and cafe after a gathering of up to 50 people last weekend.
"I never thought I'd say this in Britain, but churches are going underground. These are not isolated cases – and the longer it goes on, more churches will join the movement," said Andrea Williams, chief executive of Christian Concern, a conservative evangelical group, and a member of the Church of England's ruling body, the general synod.
Andrew, a minister at a London church, said: "We've carried on as normal [during the current lockdown]. We're holding a couple of services each Sunday, with about 160 people attending in total.
"We've asked people to be discreet. This is not a stunt we're pulling, we're not seeking publicity. It was a big decision – I've never practised civil disobedience before."
The government had overreached itself, he added. "I don't believe the government has the authority to tell the church of Jesus Christ that it can't gather for worship. They have provided no evidence, they just classed us as non-essential. But we believe worship is the most essential thing in life.
"We answer to a higher authority. When there is a contradiction between the laws of the country and God's command, the Bible is very clear that God's command must win out."
Regan King, the pastor of the Angel church, plans to hold further services with up to 15 people on Sunday despite police intervening to prevent a larger service last weekend. "We're not law breakers, we want to comply with the law as much as possible," he said. But, he added, there was a "greater law" than that made by the state.
Folks, do you wish you had a one stop news source that covered all current events from a distinctively Biblical worldview? Do you wish You could listen and watch the news any time day or night from a source that was committed to telling the truth about what's going on in the world and have a no-holds barred biblical analysis to accompany it? You tired of woke scolds and latte theologians nuancing everything to death. Do you wish Christian media was a little bit more rowdy and more idols got smashed? That's what CrossPolitic is all about. And we need your help to continue growing the Fight Laugh Feast Network. The best way you can help is by becoming a Fight Laugh Feast club member today. Many of you already have, and it has allowed us to grow so much already, but if you're tired of legacy media cramming their pagan worldviews down your throat and social media censoring views they don't approve of, support CrossPolitic as we build a Christian Media Platform and Network committed to the Lordship of Jesus Christ. Also, we like to laugh and drink beer. Support Rowdy Christian Media and become a fight laugh feast club member today. Go to Fightlaughfeast.com.
Rudy Giuliani Says Sidney Powell Is Not Part of Trump's Legal Club
https://www.breitbart.com/politics/2020/11/22/trump-legal-team-distances-from-sidney-powell/
https://townhall.com/tipsheet/leahbarkoukis/2020/11/23/sidney-powell-responds-to-trump-campaigns-statement-about-her-n2580504
Perhaps signs of some internal tensions, Trump campaign attorney Rudy Giuliani and senior legal adviser Jenna Ellis announced on Sunday that Attorney Sidney Powell is "practicing law on her own." "She is not a member of the Trump Legal Team. She is also not a lawyer for the President in his personal capacity," they added. This is Sidney Powell of release the Kraken fame. 
Powell responded over the weekend saying that her fight will go on anyway, repeating her allegations about the voting systems, which has been disputed. "I agree with the campaign's statement that I am not part of the campaign's legal team. I never signed a retainer agreement or sent the President or the campaign a bill for my expenses or fees.
My intent has always been to expose all the fraud I could find and let the chips fall where they may–whether it be upon Republicans or Democrats.
The evidence I'm compiling is overwhelming that this software tool was used to shift millions of votes from President Trump and other Republican candidates to Biden and other Democrat candidates. We are proceeding to prepare our lawsuit and plan to file it this week. It will be epic.
We will not allow this great Republic to be stolen by communists from without and within or our votes altered or manipulated by foreign actors in Hong Kong, Iran, Venezuela, or Serbia, for example, who have neither regard for human life nor the people who are the engine of this exceptional country.
#WeThePeople elected Donald Trump and other Republican candidates to restore the vision of America as a place of life, liberty and the pursuit of happiness."
She closed her statement with the hashtag, KrakenOnSteroids. 
Monday, the Administrator of the US General Services, Emily Murphy Sent a Letter to Biden inviting Him to Access Transition Information and Funds
https://twitter.com/SolarCycle_25/status/1331011760187346944/photo/1
In the letter, Emily Murphy was careful to note that she was not commenting on the merits of the continued litigation of the election, but was simply trying to do her job. She also noted that she has been threatened repeatedly for not sending this letter sooner. Not only has she been threatened, so has her family, her staff, and her pets. 
Trump Tweeted support for Emily Murphy Monday afternoon: "I want to thank Emily Murphy at GSA for her steadfast dedication and loyalty to our Country. She has been harassed, threatened, and abused – and I do not want to see this happen to her, her family, or employees of GSA. Our case STRONGLY continues, we will keep up the good fight, and I believe we will prevail! Nevertheless, in the best interest of the country, I am recommending that Emily and her team do what needs to be done with regard to initial protocols, and have told my team to do the same."
While not a complete concession, this would seem to indicate that the wind is blowing in that direction. 
This is Toby Sumpter with Crosspolitic News. Remember to send us stories and articles that you think we should cover to news at crosspolitic dot com. You can find this and all of our shows at Crosspolitic.com or on our app, which you can download at your favorite app store, just search "Fight Laugh Feast". Also, if you want to rock your Fight Laugh Feast bona fides visit rowdychristian.com for shirts, hats, hoodies, postmill coffee, etc. Also: did you hear we started a new magazine? Four issues a year for forty bucks. https://flfnetwork.com/product/fight-laugh-feast-magazine/
Support Rowdy Christian media, and become a Fight Laugh Feast Club Member and get your very own Fight Laugh Feast t-shirt and access to all the talks at our first annual Fight Laugh Feast Conference as well as God and Government and Eschatology with Gary Demar, Pastors and Politics with Pastor Douglas Wilson, as well as a great Parenting Basics session with Pastor Wilson and his wife, as well as the Worldview Shotgun Series. Go to fightlaughfeast.com.