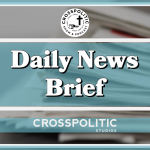 This is Toby Sumpter with your CrossPolitic Daily News Brief for Tuesday, November 3, 2020.
Today you will hear how Christian worship services are being broken up in Wales, Walmart is putting guns back on shelves in time for election day, cruise lines can begin thinking about cruising again, James Bond has died, a shooting in Vienna, and Kommie Harris has a devotional video just prior to the election. 
Remember: If you come across a news story you think we might need to cover, please send it to: news at crosspolitic dot com. This is a great way to share articles and stories with us that may end up in our daily or weekly shows: news at crosspolitic dot com
From a listener:
In Wales, Christian worship services are being broken up:
https://www.youtube.com/watch?v=kY3hQqPqEao&feature=youtu.be&fbclid=IwAR2KGiMfept_jj_t-ClOfQ7EZEgulBqtWVmy839PH0hcFCJLuEITj521eS4
0:00-1:55
Walmart Putting Guns & Back in Stores
From the Wall Street Journal: Last Friday the retail giant announced that they were pulling guns and ammo from their stores to prevent looting. Presumably, this was a response to the Walmart in Philadelphia getting looted after the shooting of Walter Wallace Jr. last week. Walmart made this decision and many Walmarts across the country immediately saw empty shelves. Walmart said that the guns were actually still available for purchase upon request, just not on display. Walmart had made a similar move over the summer after the riots and protests erupted over the George Floyd killing. However, as the incidents in Philadelphia did not seem to spread as they did earlier in the summer, Walmart has told its stores to feel free to put the guns back out on display. Check your local stores and see if that's the case. 
CDC Lets "No Sail" Order Expire
From the Wall Street Journal: The CDC's No Sail order for cruise voyages expired Saturday. Remember the Diamond Princess Cruise ship that famously had one of the early outbreaks of COVID-19, leading to the cancelling of most cruises following. The ship had 3,700 passengers. 
According the CDC: Among 3,711 Diamond Princess passengers and crew, 712 (19.2%) had positive test results for SARS-CoV-2 (Figure 1). Of these, 331 (46.5%) were asymptomatic at the time of testing. Among 381 symptomatic patients, 37 (9.7%) required intensive care, and nine (1.3%) died (8). Infections also occurred among three Japanese responders, including one nurse, one quarantine officer, and one administrative officer (9). As of March 13, among 428 U.S. passengers and crew, 107 (25.0%) had positive test results for COVID-19; 11 U.S. passengers remain hospitalized in Japan (median age = 75 years), including seven in serious condition (median age = 76 years). 
Currently, all the major cruse operators have cancelled cruises through November, and Dr. Martin Cetron director of the CDC's division of global migration and quarantine explained that cruise applications will be reviewed on a case by case basis, and said, "No one is saying we're going to just blindly enter into 'back to normal' booking sailings without any changes." Initially, inineraries will be limited to just one week, with all operators and passengers tested for COVID-19 at beginning and end of voyages. 
But why not just let people decide for themselves? Why not let cruise lines take whatever precautions they think wise and let customers decide who they trust? Why must businesses be babysat? Oh, right, because the American people have asked for a Nanny State. 
A reminder that all of the talks from this year's Fight Laugh Feast conference: Weapons for This War are up in the Club Member Portal, and if you're not already a club member, what are you waiting for? Go to fightlaughfeast.com and register today and get access to all of the talks: Douglas Wilson, George Grant, David Bahnsen, Jeff Durbin, Glenn Sunshine, and more. Also, if you want to rock your Fight Laugh Feast bona fides visit rowdychristian.com for shirts, hats, hoodies, postmill coffee, etc. Also: did you hear we started a new magazine? Four issues a year for forty bucks. https://flfnetwork.com/product/fight-laugh-feast-magazine/
Sean Connery Died This Weekend at Age 90
https://www.nytimes.com/2020/11/02/movies/sean-connery-dead-dementia.html?smid=tw-nytimes&smtyp=curSean Connery, the actor who originated the role of James Bond, had dementia in the last few months of his life, his wife, Micheline Roquebrune, told The Daily Mail. Mr. Connery died this weekend at age 90 in the Bahamas.
Ms. Roquebrune, who was married to Mr. Connery for 45 years, said the actor "was not able to express himself" in the months leading up to his death. "It was no life for him," she said. "At least he died in his sleep and it was just so peaceful."
"He had dementia, and it took its toll on him," Ms. Roquebrune said. But, she added, "He got his final wish to slip away without any fuss."
One hopes that Mr. Connery knew His Maker and was ready to meet Him and is now enjoying the best martini he's ever tasted, shaken not stirred. 
There's Been a Shooting in Vienna
https://apnews.com/article/austria-vienna-gunfire-several-injured-8f470e305de307b23c8e5a1a94b8036d
VIENNA (AP) — The Vienna ambulance service says that there have been fatalities in the attack in the Austrian capital late Monday.
The Austria Press Agency quoted ambulance service spokesman Daniel Melcher saying there were several dead and injured, though he was unable to provide a number yet.
Rabbi Schlomo Hofmeister told The Associated Press that he saw at least one person fire shots at people sitting outside bars in the street below his window.
"They were shooting at least 100 rounds just outside our building," Hofmeister said. 
"All these bars have tables outside. This evening is the last evening before the lockdown," he added. "As of midnight, all bars and restaurants will be closed in Austria for the next month and a lot of people probably wanted to use that evening to be able to go out."
Authorities believe there were several attackers involved and that it was still ongoing. One report has said that one attacker has been killed and another could be on the run.
Vienna police urged people to avoid all open spaces and public transport in the city. Police said trams and buses weren't stopping and urged social media users not to post videos of the ongoing police operation, so as not to endanger officers.
Kamala Harris Shares New Campaign Video Comparing Equality and Equity
https://twitter.com/KamalaHarris/status/1322963321994289154?s=20
Audio Clip
"Equity means we all end up at the same place." That is of course the goal of Marxism, but it's also called trying to play god. And freedom loving people should hate anything that smells of that. When people start trying to play god, terrible things happen. But also, this kind of equity crushes true and glorious diversity. Differing abilities and opportunities bring out different glories and strengths in different people. And this doesn't mean that no one needs any help, but the answer isn't just government hand outs or hand outs from anybody. Some people need friendship, some people need training, some people need a short term loan, some people truly do need emergency assistance, and everyone needs forgiveness of sins and a church family. And in that context, various differences in ability and opportunity actually become opportunities for different glories. Why do we all need to arrive at the same place? What lame, boring world that would be. Even heaven is pictured as a place with different rewards, different mansions, different glories and all to the glory of the King. 
This is Toby Sumpter with Crosspolitic News. Remember to send us stories and articles that you think we should cover to news at crosspolitic dot com. You can find this and all of our shows at Crosspolitic.com or on our app, which you can download at your favorite app store, just search "Fight Laugh Feast". Support Rowdy Christian media, and become a Fight Laugh Feast Club Member and for as long as the CrossPolitic gods smile upon the land, get your very own Fight Laugh Feast t-shirt and live and archive access to all the talks at our first annual Fight Laugh Feast Conference. Become a member now at fightlaughfeast.com.