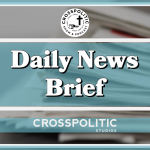 This is Toby Sumpter with your CrossPolitic Daily News Brief for Wednesday, October 14, 2020.
Today you will hear about Amy Barrett's notes at her confirmation hearing, Oreos goes to Sodom, Portland rioters topple statues for Columbus day (without any irony), sports announcers gets cancelled for appealing to science, Colorado nursing home protests lockdowns, and a new tactic is emerging on the left for protesting.  
Remember: If you come across a news story you think we might need to cover, please send it to: news at crosspolitic dot com. This is a great way to share articles and stories with us that may end up in our daily or weekly shows: news at crosspolitic dot com
Amy Barrett's Confirmation Hearing Continues
Sen. Amy Klobuchar asked her if Roe is a "super precedent:"
https://twitter.com/conservmillen/status/1316091718652104704?s=20
When asked why Roe was not a "Super-Precedent" she replied:
https://twitter.com/DailyCaller/status/1316085143229083648?s=20
And Lindsey Graham gave ACB a soft toss:
https://twitter.com/townhallcom/status/1316011170122194949?s=20
0:00-1:42
And just to keep things interesting, Amy Coney Barrett's notepad became the start of yesterday's performace. Hours into Tuesday's hearing, the Supreme Court nominee was asked what notes she was referring to for help while answering questions from the Senate. "Most of us have multiple notebooks and notes and books and things like that in front of us," Senator John Cornyn said. The nominee held up a blank notepad with a letterhead of the United States Senate. Cornyn answered: "That's impressive."
Following that, memes erupted all over social media with various and sundry messages, book covers, and so on.  
A reminder that all of the talks from this year's Fight Laugh Feast conference: Weapons for This War are up in the Club Member Portal, and if you're not already a club member, what are you waiting for? Go to fightlaughfeast.com and register today and get access to all of the talks: Douglas Wilson, George Grant, David Bahnsen, Jeff Durbin, Glenn Sunshine, and more. Next year's conference has been scheduled for October 14-16 back in Franklin, TN again. Next year's theme is Politics of Sex. More information will be coming out soon, but mark the dates now. In the meantime, check out this year's talks.
From our News inbox:
Oreos Goes to Sodom
https://twitter.com/Oreo/status/1314558736875175937?s=20
We're PROUD to announce the first-ever Rainbow OREO Cookies made in honor of our partnership with @PFLAG Join our [rainbow cookies] campaign and you could snag a pack of Rainbow OREO Cookies!
Rioters in Portland Topple Statues for Columbus Day
https://disrn.com/news/rioters-topple-roosevelt-lincoln-statues-in-portland/
Rioters in Portland took down statues of former Presidents Theodore Roosevelt and Abraham Lincoln on Sunday during a protest dubbed the "Indigenous Peoples Day of Rage" by organizers.
Audio Clip: https://youtu.be/0U7q2FP2bco
Participants in the riot also smashed windows at Portland State University's police office, the Oregon Historical Society, and some businesses.
Dori Monson Cancelled
https://disrn.com/news/seattle-seahawks-game-day-radio-host-suspended-for-tweet-deemed-transphobic/
Dori Monson, a Seattle talk show host who also is an integral part of the Seattle Seahawks's game day programming, has been slammed for a political tweet deemed "transphobic" by activists.
According to The Athletic, Monson sarcastically tweeted a comment during the Washington state gubernatorial debate between incumbent Democrat Gov. Jay Inslee and his Republican challenger, Loren Culp.
After Inslee declared Washington to be a "science-oriented" state, Monson pointed outthat it was the same state where he would be allowed to simply change his birth certificate to declare he was a girl.
Monson was suspended by both the Seattle Seahawks and Bonneville Communications, which owns the station where Monson hosts a daily political talk show.
Speaking to The Athletic, Monson clarified his remarks as taking aim at Inslee and his characterization of the state, not at transgender people.
"I'm laughing at Jay Inslee saying we are a science-based state," Monson explained. "But I hurt a couple [of] people I care about deeply. I personally called them this morning, said, 'I'm sorry.' If you were hurt by that, I'm sorry. Not where I was going, not my intent."
The incident took place on Wednesday night. Monson was pulled from the air by Friday afternoon.
FLF Magazine: We unveiled the brand-new Fight Laugh Feast Magazine at our recent conference: Our Fight Laugh Feast Magazine will be a quarterly issue that packs a punch like a 21 year Balvenie, no ice. We don't water down our theology, why would we water down our scotch? Order a yearly subscription for yourself and then send a couple yearly subscriptions to your friends who have been drinking luke-warm evangelical cool-aid. Every quarter we promise quality food for the soul, wine for the heart, and some Red Bull for turning over tables. Our magazine will include cultural commentary, a Psalm of the quarter, recipes for feasting, laughter sprinkled throughout the glossy pages, and more. Annual subscriptions are $40 – that's for four issues. So sign up and enjoy our Fight Laugh Feast theme park. 
https://flfnetwork.com/product/fight-laugh-feast-magazine/
Rehab and Nursing Home Residents Protest Lockdowns 
https://disrn.com/news/co-seniors-protest-outside-their-nursing-home-rather-die-from-covid-than-loneliness?fbclid=IwAR0DkYQtrbzUYq58UoIkikF6NxQqefQvW–t1ALBdDdOOGC5CtPef7N8nhg
Residents of a rehab facility and nursing home in Colorado protested outside their building Thursday, saying they do not want to be restricted from visiting with or getting a hug from loved ones.
Many of the residents of Fairacres Manor in Greeley, Colorado, stood or sat in wheelchairs outside the facility holding signs that read, "Prisoners in our own home," "Give us freedom," and "Rather die from COVID than loneliness."
An administrator at Fairacres said the people who live there are tired of restrictions that prohibit hugs and other physical contact because of coronavirus.
"They want to be able to hug their grandchildren, they want to be able to hold the hands of their loved ones," Ben Gonzales said in a statement.
Residents echoed Gonzales's statement.
"One thing we have to look forward to is a simple hug," said Sharon Peterson, a 75-year-old resident at Fairacres. "It gives us meaning. Fairacres needs to be commended on how well they have cared for all of us, but it's time for our voices to be heard."
Fairacres Manor had 16 confirmed cases of coronavirus from late March through mid-May, and another 24 cases suspected, according to local newspaper the Greeley Tribune.
After the Fairacres protest, Gov. Jared Polis's office issued a statement on nursing home restrictions.
"We absolutely understand how difficult it has been for residents of residential care facilities and their families," the statement said. "Social interaction is essential to physical and mental health, and so we have provided guidance to residential care facilities that allows for that interaction while also keeping residents safe from COVID-19.
Restrictions have been in place previously, but residents are now able to visit loved ones both indoors and outdoors. In addition, we are doing everything possible to help long-term care facilities mitigate and prevent the spread of COVID-19 by working directly with facilities on proper infection control practices that have been proven to slow the spread of COVID-19."
Staff and residents of Fairacres sent letters to the governor's office in August requesting an end to restrictions on physical contact, but Gonzales said Polis's office had not responded.
New Tactic from the Left
https://twitter.com/MattWalshBlog/status/1313283628722462722?s=20
This is Toby Sumpter with Crosspolitic News. Remember to send us stories and articles that you think we should cover to news at crosspolitic dot com. You can find this and all of our shows at Crosspolitic.com or on our app, which you can download at your favorite app store, just search "Fight Laugh Feast". Support Rowdy Christian media, and become a Fight Laugh Feast Club Member and for as long as the CrossPolitic gods smile upon the land, get your very own Fight Laugh Feast t-shirt and live and archive access to all the talks at our first annual Fight Laugh Feast Conference. Become a member now at fightlaughfeast.com.