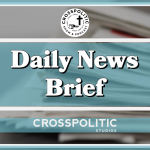 This is Toby Sumpter with your CrossPolitic Daily News Brief for Tuesday, October 13, 2020.
Today you will hear about Biden running for Senate, a couple of opening statements in Amy Coney Barrett's confirmation hearings, casting calls for naked Hobbits, a shooting in Denver, and Democrats are drooling over the possibility of Andrew Cuomo as Attorney General.
Remember: If you come across a news story you think we might need to cover, please send it to: news at crosspolitic dot com. This is a great way to share articles and stories with us that may end up in our daily or weekly shows: news at crosspolitic dot com
Joe Biden is Running for the Senate
https://twitter.com/RealJamesWoods/status/1315720540158480384?s=20
Audio Clip: 0:00-0:07
Amy Coney Barrett's Confirmation Hearings Begin
Ben Sasse's Opening Statement
https://www.youtube.com/watch?v=tSvTCR_x_kM
Audio Clips: 1:40-3:10, 3:57-7:02, 
While I really do appreciate what Sen. Sasse is saying, particularly about religious freedom, until we have Christians like Sasse who are willing to insist out loud in public that the only consistent basis for that religious freedom is the Christian worldview, we will continue to fight uphill battle. He went on to argue against judicial activism, court packing, and for originalism/textualism, interpreting the law as it was actually written. But those are all Christian values. Related is the fact that religious beliefs do affect how we interpret law. Our souls drive how we think, act, and decide. Lastly, while Sasse rightly wants to make room for a wide diversity of religious views, his claims ring hallow when everyone knows that some deeply held religious beliefs really are wicked and harmful. Muslims who believe it is acceptable to beat their wives or daughters with a baseball bat are following their deeply held religious beliefs. That isn't just "wacky," its wicked and unlawful. But that depends upon a transcendent standard. 
ACB's Opening Statement
Audio Clip 6:22-6:54, 7:41-8:22
A reminder that all of the talks from this year's Fight Laugh Feast conference: Weapons for This War are up in the Club Member Portal, and if you're not already a club member, what are you waiting for? Go to fightlaughfeast.com and register today and get access to all of the talks: Douglas Wilson, George Grant, David Bahnsen, Jeff Durbin, Glenn Sunshine, and more. Next year's conference has been scheduled for October 14-16 back in Franklin, TN again. Next year's theme is Politics of Sex. More information will be coming out soon, but mark the dates now. In the meantime, check out this year's talks.Amazon Looking to Having Naked Hobits
https://comicbook.com/tv-shows/news/lord-of-the-rings-amazon-series-show-nudity/
Amazon may be adding some unexpected nudity to Middle-earth in its upcoming Lord of the Ringstelevision series. The massive project resumed filming in New Zealand in September after a pandemic-induced halt. Now a casting call has gone out for various actors, including those "comfortable with nudity." The casting call from the BGT talent agency caught the eye of Lord of the Rings fansite TheOneRing.net. It reads, "Comfortable with Nudity? Up to $500 per day. Use reference NUDE. We need Nude people based in Auckland – age 18 plus, all shapes and sizes (Intimacy guidelines will always be followed on set)." The production also has an intimacy coordinator on its team, suggesting the series could include sex scenes.
This listing has some fans worrying that the Amazon show may be taking inspiration from HBO's hit fantasy series Game of Thrones, which never shied away from sexual content. That fit in with George R.R. Martin's lurid, dark, low fantasy world. It'd be less at home in the chaste, high-fantasy of J.R.R. Tolkien's Middle-earth. Fans likely won't know for sure until the series finally debuts.
Conservative Patriot Shot in Denver Over the Weekend
https://thepostmillennial.com/breaking-alleged-antifa-militant-shoots-and-kills-conservative-at-patriot-rally-in-denver
"One person was telling the other, 'Go ahead, mace me bro. Mace me! What are you gonna do? Why don't you mace me?!' More pushing. A burst of orange mace erupts and the BANG one single shot," he wrote. "The larger man fell backwards and the shooter held his hands and gun (still in hands) up in the air. Police rush in, arrest the shooter and surround the body on the ground. They then clear everyone out and that's when I left."
Initial reports suggested that the shooter was hired by 9News as a security guard. A producer for the station and the security guard were taken into police custody. Police released the producer but held the security guard over the shooting.
The so-called "security guard" is a man named Matthew Dolloff has far left posts on his social media going back nearly a decade, and in 2016 he bragged about calling a Trump supporting stranger a racist to their face.
"Ran into a Trump supporter with a Trump Button on their shirt. Told them i like their im a racist button. They had nothing to say," Dolloff wrote, with the hashtag #F-ckTrump.
Other reports indicate that while Matthew Dolloff was hired as a bodyguard by Denver NBC News Affiliate Channel 9, Dolloff had no license as a body guard or security guard. Both are required by Denver law for security guard to carry a gun for hire. "Denver Dept of Excise and Licenses confirms "there is no record for an active licensed security guard now or ever for an individual named Matthew Doloff or Dolloff. If he was operating as a security guard, he was in violation of the law". 
FLF Magazine: We unveiled the brand-new Fight Laugh Feast Magazine at our recent conference: Our Fight Laugh Feast Magazine will be a quarterly issue that packs a punch like a 21 year Balvenie, no ice. We don't water down our theology, why would we water down our scotch? Order a yearly subscription for yourself and then send a couple yearly subscriptions to your friends who have been drinking luke-warm evangelical cool-aid. Every quarter we promise quality food for the soul, wine for the heart, and some Red Bull for turning over tables. Our magazine will include cultural commentary, a Psalm of the quarter, recipes for feasting, laughter sprinkled throughout the glossy pages, and more. Annual subscriptions are $40 – that's for four issues. So sign up and enjoy our Fight Laugh Feast theme park. 
https://flfnetwork.com/product/fight-laugh-feast-magazine/
Biden May Pick Cuomo as Attorney General
https://www.axios.com/andrew-cuomo-biden-attorney-general-97fba9a0-03c5-4709-80b9-5e254c2e1e1f.html?utm_campaign=organic&utm_medium=socialshare&utm_source=twitter
Democrats are so convinced that New York Gov. Andrew Cuomo could be considered for Joe Biden's attorney general that aides at the National Governors Association, which Cuomo chairs, are looking into contingencies for replacing him, two sources familiar with the situation tell Axios.
What we're hearing: Some Democratic donors in Cuomo's orbit tell Axios that the governor is being pushed for the job and that Biden would consider him, based on their long friendship.
Why it matters: The AG would be among the most politically sensitive — and high-profile — jobs in a Biden administration.
The Justice Department will face pressure to investigate Trump-era officials — and perhaps Trump himself — for wrongdoing in office.
Biden's AG also would manage the federal response to police violence, social unrest and systemic racism, and the AG could seek to use federal powers to blunt state abortion restrictions.
What they're saying: Cuomo's team denies that the governor has any interest in serving in a potential Biden Cabinet. 
"100% he's made zero outreach, has had zero conversations about this and has made his desire to stay in New York clear as day and be governor as long as people want him," Cuomo's senior adviser Richard Azzopardi tells Axios.
Between the lines: Biden is clearly fond of Cuomo, but he's also committed — and under pressure — to name a racially and gender-diverse Cabinet, including the marquee posts.
Names like former acting AG Sally Yates and Stacey Abrams are also likely on a list of AG candidates. 
The big picture: Cuomo, who previously served as New York's AG, has a long history with Biden.
Through his late father Mario, Cuomo's known Biden since the 1980s. The two grew closer during the Hurricane Sandy reconstruction efforts and Cuomo's time serving in Bill Clinton's Cabinet as secretary of Housing and Urban Development.
People who know their relationship say Biden sees parts of himself in the 62-year-old.
"When one of them needs something, it's automatic," says a person familiar with their relationship. "It's not a calculation."
This is Toby Sumpter with Crosspolitic News. Remember to send us stories and articles that you think we should cover to news at crosspolitic dot com. You can find this and all of our shows at Crosspolitic.com or on our app, which you can download at your favorite app store, just search "Fight Laugh Feast". Support Rowdy Christian media, and become a Fight Laugh Feast Club Member and for as long as the CrossPolitic gods smile upon the land, get your very own Fight Laugh Feast t-shirt and live and archive access to all the talks at our first annual Fight Laugh Feast Conference. Become a member now at fightlaughfeast.com.