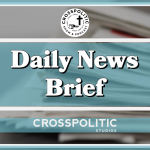 This is Toby Sumpter with your CrossPolitic Daily News Brief for Tuesday, October 6, 2020.
Today you will hear about Trump recovering from the Coronavirus, Amy Coney Barrett's confirmation hearings, Michigan's Governor got told "no" on Friday, and the US Navy Seals volunteer to be castrated, a group of biblically illiterate evangelicals come out with a statement on why Biden reminds them of Jesus. 
Remember: If you come across a news story you think we might need to cover, please send it to: news at crosspolitic dot com. This is a great way to share articles and stories with us that may end up in our daily or weekly shows: news at crosspolitic dot com
Trump posted a video over the weekend on his state at Walter Reed Medical Center:
https://disrn.com/news/watch-trump-posts-video-update-from-hospital/
"I want to begin by thanking all of the incredible medical professionals, the doctors, the nurses, everybody at Walter Reed Medical Center … for the incredible job they've been doing.

I came here, wasn't feeling so well. I feel much better now. We're working hard to get me back. … I'll be back soon and I look forward to finishing up the campaign the way it was started.

…[I]f you look at the therapeutics, which I'm taking right now some of them, and others that are coming out soon that are looking like, frankly they're miracles.

…You don't know the next period of a few days. I guess that's the real test so we'll be seeing what happened over those next couple of days.

…I just want to be thankful for all the support I've seen whether it's on television, or reading about it. I most of all I appreciate what's been said by the American people, almost by a bipartisan consensus, by the American people."
https://twitter.com/realDonaldTrump/status/1313186529058136070?s=20
On Monday, Trump tweeted: "I will be leaving the great Walter Reed Medical Center today at 6:30 P.M. Feeling really good! Don't be afraid of Covid. Don't let it dominate your life. We have developed, under the Trump Administration, some really great drugs & knowledge. I feel better than I did 20 years ago!"
https://www.foxnews.com/politics/sen-cotton-amy-coney-barrett-confirmation-hearing-will-not-be-impacted-by-coronavirus-diagnoses
With the COVID diagonoses in Trump's family, there was some question as to whether the Amy Coney Barrett confirmation hearing would continue as scheduled next week. 
Sen. Tom Cotton said Sunday, ""Everyone is eager to be at work when they need to be at work – if they're on the Judiciary Committee, a week from tomorrow, either in person or virtually – to have the confirmation hearings for Judge Barrett and then have the vote on Judge Barrett this month," he said.
Since speaking with his colleagues, Cotton said those who have tested positive for the virus are experiencing mild symptoms or remain asymptomatic, including Sens. Mike Lee, Thom Tillis, and Ron Johnson. 
Cotton said every senator who's been affected by COVID-19 is expected to be back on the Senate floor by the end of this month. He emphasized he's "confident" every senator whose vote is needed will be in attendance.
I want to register my deep gratitude for all who came to the first ever Fight Laugh Feast Conference in Franklin, Tn. We sang, we drank good beer, we fellowshipped, we heard great talks, we networked with likeminded believers, and of course, we fought, laughed, and feasted to the glory of God. Next year's conference has been scheduled for October 14-16 back in Franklin, TN again. Next year's theme is Politics of Sex. More information will be coming out soon, but mark the dates now. A reminder that all of the talks from this year's conference are up in the Club Member Portal, and if you're not already a club member, what are you waiting for? Go to fightlaughfeast.com and register today and get access to all of the talks: Douglas Wilson, George Grant, David Bahnsen, Jeff Durbin, Glenn Sunshine, and more. 
https://disrn.com/news/michigan-court-rules-against-governor-whitmer-on-emergency-powers/
The Michigan Supreme Court on Friday ruled 4-3 against Governor Gretchen Whitmer's use of emergency powers to mandate COVID-19-related restrictions for the past five months without input from state legislature.
"(We) do not believe that the Legislature intended to allow the governor to redeclare … the identical state of emergency and state of disaster under these circumstances," Judge Stephen Markman wrote in the majority opinion. "The governor's declaration of a state of emergency or state of disaster may only endure for 28 days absent legislative approval of an extension. So, if the Legislature does nothing, as it did here, the governor is obligated to terminate the state of emergency or state of disaster after 28 days."
The court ruled unanimously that the 1976 Emergency Management Act did not give Whitmer power to issue or renew executive orders on April 30 related to COVID-19 after 28 days without legislative approval.
Whitmer said in a statement on Friday that her orders remain in effect for at least 21 days. She added that the "responsive measures" she established "will continue under alternative sources of authority that were not at issue in [Friday's Supreme Court] ruling."
"Today's Supreme Court ruling, handed down by a narrow majority of Republican justices, is deeply disappointing, and I vehemently disagree with the court's interpretation of the Michigan Constitution," Whitmer said in a statement on Friday. "Right now, every state and the federal government have some form of declared emergency. With this decision, Michigan will become the sole outlier at a time when the Upper Peninsula is experiencing rates of COVID infection not seen in our state since April."
From our News Inbox, 
https://nypost.com/2020/10/01/us-navy-seals-change-creed-statement-to-become-gender-neutral/
The US Navy SEALs have neutered their creed statement, eliminating terms such as "brotherhood," according to a report.
"Naval Special Warfare continues to deliberately develop a culture of tactical and ethical [confusion] that reflects the nation we represent, and that draws upon the talents of the all-volunteer force who meet the standards of qualification as a SEAL or SWCC," Navy Special Warfare spokesman Lt. Cmdr. Matthew Stroup told American Military News.
One change addresses the first paragraph of the SEAL ethos.
Instead of "A common man with uncommon desire to succeed," it now says: "Common citizens with uncommon desire to succeed."
Another alters "I am that man" to "I am that warrior."
"Brotherhood" has been changed to "group of maritime warriors."
The final line of the statement has been modified from "Brave men have fought and died building the proud tradition and feared reputation that I am bound to uphold" to "Brave SEALs."
Stroup said the previous versions of the SEAL ethos and Special Warfare Combatant-craft Crewmen creed were written before the law allowed women to serve in the commando groups.
"The changes do not in any way reflect lowering standards of entry, rather they ensure that all those who meet the requirements to train to become a SEAL or SWCC are represented in the ethos or creed they live out," he said. "This improves the posture of the NSW force by ensuring we draw from the greatest pool of talent available."
Still, Stroup said, "no women completed the SEAL or SWCC qualification training pipelines."
FLF Magazine: Speaking of fighting: We unveiled the brand new Fight Laugh Feast Magazine at our recent conference: Our Fight Laugh Feast Magazine will be a quarterly issue that packs a punch like a 21 year Balvenie, no ice. We don't water down our theology, why would we water down our scotch? Order a yearly subscription for yourself and then send a couple yearly subscriptions to your friends who have been drinking luke-warm evangelical cool-aid. Every quarter we promise quality food for the soul, wine for the heart, and some Red Bull for turning over tables. Our magazine will include cultural commentary, a Psalm of the quarter, recipes for feasting, laughter sprinkled throughout the glossy pages, and more. Annual subscriptions are $40 – that's for four issues. So sign up and enjoy our Fight Laugh Feast theme park. 
https://flfnetwork.com/product/fight-laugh-feast-magazine/
One more story from our news inbox:
https://www.christianpost.com/voices/fri-2nd-embargo-for-noon-we-are-pro-life-evangelicals-for-biden.html
Prominent evangelical leaders have just released a statement urging pro-life evangelicals to vote for Joe Biden. The signers include John Huffman, board chair emeritus of Christianity Today; Richard Foster, best-selling author of Celebration of Discipline; Jerushah Duford, Billy Graham's granddaughter; Brenda Salter McNeil, author, speaker and long-time I VCF leader; John Perkins, founder of the Christian Community Development Association; as well as Ron Sider and Richard Mouw; as well as a number of former presidents of evangelical universities, including Samuel T. Logan, former president of Westminster Theological Seminary. 
Their statement acknowledges that "as pro-life evangelicals, we disagree with Vice President Biden and the Democratic platform on the issue of abortion."  "But we believe," the statement continues, "that a biblically shaped commitment to the sanctity of human life compels us to a consistent ethic of life that affirms the sanctity of human life from beginning to end." The statement bows low before the great Baal known as the Democratic platform, sprinkling incense particularly in the name of socialized medicine, woke politics, and climate change (all rise). 
The statement attempts to claim that letting the government solve problems with poverty, health care, racism, and climate change, is actually more pro-life than anything Donald Trump has done or is likely to do. 
It's one thing to not be able to bring yourself to vote for Trump. I can understand this stance and respect it. But I cannot understand the screamer never-Trumper stance or openly supporting Sleepy Joe or Commy Harris or anything remotely resembling the Democratic Platform. 
These people are not evangelicals. They do not believe what the Bible actually teaches on these topics. The Bible assigns the civil magistrate the task of punishing crime, as defined by God. It does not give the magistrate the sword to count how many times you flush your toilet, make people love each other, or to provide health care or medicine for anyone. The government's job is to require equal weights and measures, and punish evildoers, and then get out of the way. But in order to get the government out of the way, we need to men with backbones leading families, churches, businesses, and states and telling the federal government and all their programs and regulations to take a hike because Jesus is Lord and Washington is not. 
This is Toby Sumpter with Crosspolitic News. Remember to send us stories and articles that you think we should cover to news at crosspolitic dot com. You can find this and all of our shows at Crosspolitic.com or on our app, which you can download at your favorite app store, just search "Fight Laugh Feast". Support Rowdy Christian media, and become a Fight Laugh Feast Club Member and for as long as the CrossPolitic gods smile upon the land, get your very own Fight Laugh Feast t-shirt and live and archive access to all the talks at our first annual Fight Laugh Feast Conference. Become a member now at fightlaughfeast.com.