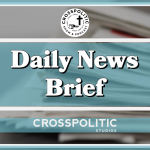 This is Toby Sumpter with your CrossPolitic Daily News Brief for Tuesday, September 1, 2020.
Only 62 days until the pandemic is over. 
Today you will hear how new White House health advisors are recommending the herd immunity route, Pastor John MacArthur's Grace Community Church is being evicted from a long-time leased parking lot, Kenosha Police Union release a statement, and people are partying in Pullman, Washington. 
https://www.washingtonpost.com/politics/trump-coronavirus-scott-atlas-herd-immunity/2020/08/30/925e68fe-e93b-11ea-970a-64c73a1c2392_story.html?utm_campaign=wp_post_most&utm_medium=email&utm_source=newsletter&wpisrc=nl_most
One of President Trump's top medical advisers is urging the White House to embrace a "herd immunity" strategy to combat the pandemic, which essentially allows the coronavirus to spread through most of the healthy population to quickly build resistance to the virus, while taking steps to protect those in nursing homes and other vulnerable populations, according to five people familiar with the discussions.
The approach's chief proponent is Scott Atlas, a neuroradiologist from Stanford's conservative Hoover Institution, who joined the White House earlier this month as a pandemic adviser. He has advocated that the United States adopt the model Sweden has used to respond to the virus outbreak, according to these officials, which relies on lifting restrictions so the healthy can build up immunity to the disease rather than limiting social and business interactions to prevent the virus from spreading.
https://disrn.com/news/la-county-retaliates-against-john-macarthurs-grace-community-church-evicting-them-from-their-parking-lot-lease/
LA County has issued a 30-day eviction notice for Grace Community Church's lease of a county owned parking lot. Since 1975, Grace Community has leased a large portion of the parking lot from the county. 
Jenna Ellis, one of the attorneys from the Thomas More Society, representing Grace Community Church came out swinging:
"Los Angeles County is retaliating against Grace Community Church for simply exercising their constitutionally protected right to hold church and challenging an unreasonable, unlawful health order. In America, we have a judicial system to ensure that the executive branch does not abuse its power, and Grace Community Church has every right to be heard without fear of reprisal," she said in a statement.
"The Democrats' message to Americans is clear–if you don't bow to every whim of tyranny, the government will come after you. The Church has peacefully held this lease for 45 years and the only reason the County is attempting eviction is because John MacArthur stood up to their unconstitutional power grab. This is harassment, abusive, and unconscionable."
This is why we need Weapons for this War. Which is why we want to invite you to our first annual Fight Laugh Feast Conference in Nashville October 1-3. We've put together a package that is full of feasting and psalm singing, hearty fellowship, and a line up of speakers Douglas Wilson, George Grant, Glenn Sunshine, Rod Martin, myself, and Jeff Durbin and David Bahnsen – also a special Darren Doane after hours meet and greet. All committed to showing you how God's Word is a sharp sword to take with you into every battle, from politics to business to education and family and much more. Please join us this October 1st through the 3rd as we seek to build a rowdy Christian culture for God's glory and our good. Go to Fightlaughfeast dot com and register today.
https://www.wispolitics.com/wp-content/uploads/2020/08/Kenosha-Police-Association-Releases-Vital-Details-on-Jacob-Blake-Shooting-August-28-2020-PS.pdf
Kenosha Police Union released a statement Friday defending the actions of the officers involved in the Jacob Blake shooting. 
The statement says that misleading claims and narratives have emerged since the incident, and even the Wisconsin Department of Justice, Division of Criminal Investigation update is "riddled with incomplete information, and omits important details that would help to paint a more complete picture of the incident."
The statement gives a bullet list of "actual" and "undisputed" facts, including:
Officers were aware that Mr. Blake had an open warrant for felony sexual assault (3rd degree) before they arrived on the scene
Mr. Blake was armed with a knife. During the struggle that ensued, Mr. Blake put one of the officers in a headlock. 
Two tasers were deployed with little to no effect. 
https://www.khq.com/coronavirus/8-cited-for-partying-in-pullman-violating-city-ordinance/article_ea215e1a-ebd5-11ea-b622-f743bf7552f0.html#utm_campaign=blox&utm_source=twitter&utm_medium=social
Eight people have been cited for having parties – one on Thursday, the rest over the weekend. Most of the people who received tickets were college-aged kids, however, one person was in their 50s. 
Pullman Mayor Glenn Johnson says he wants the parties to stop. 
"I would like to see more responsibility on their part and not have their parties. Yes, you can have fun, but let's do it responsibly and not spread this even farther," he said in an interview with KHQ. 
With eight citations issued last week for parties and the numbers continuing to rise, Mayor Johnson said he is hoping students realize their actions are spreading this virus.
KHQ has learned that at some parties, hosts are collecting a cover charge to help pay for potential tickets from the police department. 
Because of this, Police Chief Gary Jenkins said they are working on adding to the ordinance to give tickets to participants, rather than just the host.
"We just want compliance. We don't want to be out writing tickets, we just want compliance," Chief Jenkins said. 
Jenkins also said that if the numbers continue to climb, they may starting looking at more ways to enforce the guidance.
"This is a fluid situation. If we see our numbers continue to rise and see that what we are doing is not impacting enough, we will change our strategy and take more enforcement as well," he said. 
"You are Cougs, but you are also residents of this community. Act responsibly. Let's stay away from those large parties, let's keep the masks on, let's stay six feet apart," Johnson said. 
This is Toby Sumpter with Crosspolitic News. You can find this and all of our shows at Crosspolitic.com or on our app, which you can download at your favorite app store, just search "Fight Laugh Feast". Our app is the only way to get In the Bullpen with Mark Dewey. Support Rowdy Christian media, and become a Fight Laugh Feast Club Member, and for a limited time you can get your very own Fight Laugh Feast t-shirt and access to tons of extended discussions with George Grant, Sho Baraka, David French, C.R. Wiley, Erick Erickson, Maj Toure, Doug and Nancy Wilson, Walter Williams, Gary Demar, and our very own Worldview Shotgun Series. You also get $100 off your registration for our first annual Fight Laugh Feast Conference, where we hope to meet many of you in Nashville, TN October 1st through the 3rd. Go to fightlaughfeast.com to register now. Have a great day. https://flfnetwork.com/coming-soon/