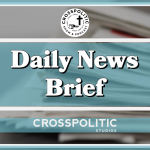 This is Toby Sumpter with your CrossPolitic Daily News Brief for Tuesday, September 22, 2020.
Today you will hear about Biden's leaked phone call with the Ukrainian president, Oregon's arson rates, South Korea's churches under the knee of their government, tragedy strikes the family of Patriot Running Back, women are front runners in Trump's RBG replacement pool, the CDC is still playing with COVID numbers, and the justice department has labeled some cities "anarchist jurisdictions."
Remember: If you come across a news story you think we might need to cover, please send it to: news at crosspolitic dot com. This is a great way to share articles and stores with us that may end up in our daily or weekly shows: news at crosspolitic dot com
https://thefederalist.com/2020/09/17/leaked-2016-call-reveals-joe-biden-risked-national-security-to-sabotage-trump/?fbclid=IwAR1n7IAaw6EufZkOPP8yP2iRNCQVleba3Qz7s2nxCj6EEn84jTBNAH2NPmM
Alex Plitsas writes at the Federalist: A recently leaked phone call between then-Vice President Joe Biden and Ukrainian President Petro Poroshenko directly after the 2016 presidential election records Biden badmouthing the incoming administration, saying, "The truth of the matter is that the incoming administration doesn't know a great deal about [Ukraine]" and that they were unprepared for the transition. 
Biden then told Poroshenko, "I don't plan on going away. As a private citizen, I plan on staying deeply engaged in the endeavor that you have begun and we have begun." This attempt to set up a foreign policy backchannel for himself after he left office as a private citizen, could in fact be illegal, a violation the Logan Act.
The Logan Act bars private citizens from engaging in U.S. foreign policy, although its constitutionality remains questionable and no person has ever been convicted of violating it since it was signed into law in 1799. Ironically, this is the same act that, at Joe Biden's suggestion, the FBI accused National Security Advisor Michael Flynn of violating as a result of a discussion Flynn had with the Russian ambassador to the United States around nearly the same time as Biden's call with Poroshenko.
https://oregoncatalyst.com/49581-oregon-3rd-wave-arson.html
The Oregon Catalyst reports that Oregon may be facing a third wave of arson attacks in the state. 
Wave #1: Portland was hit with nearly 100 acts of arson in June during the first outbreak of violent protests, in the aftermath of the George Floyd death. There were nearly 100 arson attacks on Portland over 10-day period.
Wave #2: Then came a rash of police reported arson and suspected arson attempts statewide in late August and September, likely liked to Jacob Blake shooting: Police identified 14 arson crimes so far in that wave.
Since the death of Supreme Court Justice, Ruth Bader Ginsberg, the stakes have been extremely high and the call to take radical action has followed. Fox News and Washington Examiner reported a rash of political voices calling for arson :
Author & CNN commentator Reza Aslan said "If they even TRY to replace RBG we 

burn the entire f—–g thing down

,"

Author Aaron Gouveia said: "

F–k no. Burn it all down

."

A member of Wisconsin's ethics commission, Scott Ross, said, "

burn it all down

"

Washington Post and GQ writer Laura Bassett said "If McConnell jams someone through, which he will, 

there will be riots,

"
Some of the recent Oregon arson attacks that have been investigated by law enforcement have come from either people with mental health problems or individuals with a long criminal record. While Oregon may be getting a little jumpy about arson, who can blame them?
https://www.washingtonpost.com/world/asia_pacific/churches-coronavirus-south-korea-religion/2020/09/17/6ea63912-f6fd-11ea-85f7-5941188a98cd_story.html
John MacArthur and California Churches are not the only ones pushing back against government overreach, shutting down churches or limited their freedom to gather for worship. 
In South Korea a similar showdown is happening. 
In February, a fringe religious group, Shincheonji Church of Jesus, sparked South Korea's earliest and largest cluster of coronavirus infections, with 5,000 cases traced to the church. Yes, but how many hospitalizations, how many deaths, and what ages? 
South Korea's government banned in-person services at churches following February's Shincheonji outbreak. The restriction was lifted briefly when virus transmission slowed but was reinstated last month after the outbreak at Jun's church.
The second-biggest cluster, linked to nearly 1,200 infections, broke out at a megachurch led by a popular, conservative pastor. Health officials last month cited a subsequent anti-government rally led by that pastor, the Rev. Jun Kwang-hoon, as the source of 585 more infections. Again, to what effect? A 99% recovery rate for those under 70 years old means most of those folks are doing fine.
As a result of the controversy, Seog's Gyesan Jeil Church — in Incheon city, southwest of the capital, Seoul — was forced to switch to largely online services last month.
"Except for a few rule-breakers, most churches, including ours, have been carefully observing health rules at excruciating emotional and financial cost," he said in an interview. "Enforcing these restrictions unilaterally upon all Protestant churches, this is nothing short of communism."
Seog says the hall can accommodate 150 people with a distanced seating plan, but he complains that the government's health rules have capped the maximum number of attendees at 20 for all churches, no matter the size of the building.
Looking forward to seeing everyone who registered for the Fight Laugh Feast Conference in Franklin – just outside Nashville – next week! Registration is now officially closed. We are so thankful for everyone who is coming. If you registered for the conference, you should have an email in your inbox with details about hotels nearby and schedule and itinerary for the conference. See you soon! But wait for all the rest of you: we will be livestreaming and making all conference talks available to club members. Talks from Douglas Wilson, George Grant, Glenn Sunshine, David Bahnsen, Jeff Durbin, me, and live show with the whole Fight Laugh Feast Network. If you're already a member look for links, if you're not already a member, what are you waiting for? Go to fightlaughfeast.com.
https://apnews.com/97291b9bd4ce10fee09dec85737a6b6d?utm_medium=AP_NFL&utm_campaign=SocialFlow&utm_source=Twitter
The father of New England Patriots' running back James White was killed Sunday in a car crash in Florida, authorities said. 
The wreck that killed Tyrone White happened around 1 p.m. in Cooper City, Florida, the Broward County Sheriff's Office said in a news release.
When deputies arrived at the scene, they found two crashed cars, one flipped over and the other on fire. Deputies and firefighters extinguished the blaze, and an air rescue team transported two people to a hospital. 
White, who was the captain of the Miami-Dade Police Department, was pronounced dead at the scene. White's mother, Lisa White, remains in critical condition after sustaining life-threatening injuries as of Monday afternoon.
Tom Brady tweeted: So heartbroken to hear the news of the tragedy of my great friend and forever teammate @SweetFeet_White. There are few people that come into your life that do EVERYTHING the right way…
James is one of them. Kind, gentle, loving, fiercely competitive and hardworking. His parents raised an amazing son. And we are all grieving with James as he is going through this difficult time. Love you my friend
https://thehill.com/regulation/court-battles/517229-coney-barrett-seen-as-a-front-runner-for-trump-supreme-court-pick
In case you hadn't heard, long time Supreme Court Justice Ruth Bader-Ginsberg died last Friday, and the news is full of discussion of her high stakes replacement. 
While Trump has publicized a list with many names of possible Supreme Court picks, including Senators Ted Cruze and Tom Cotton, among others, it is widely believed that Trump is likely to choose a woman to replace RBG. 
By the way, Steve Deace tweeted out Monday: "Apparently  the vaccine for Covid is called RBG."
Amy Coney Barrett, a federal appeals court judge, has emerged as a front-runner to replace the late Supreme Court Justice Ruth Bader Ginsburg, according to people familiar with the discussions. Barrett is a widely known as a staunch pro-life Roman Catholic, mother of seven, including two adopted children.
President Trump signaled Saturday morning that he would move to fill the vacancy on the high court "without delay," indicating the likelihood that the Senate will try to confirm a nominee before Election Day on Nov. 3 or during a lame-duck session. 
Others said to be under consideration for the Ginsburg vacancy include Amul Thapar, Barbara Lagoa, and Allison Jones Rushing, all of whom are Trump appointees to federal appellate benches. 
https://www.theguardian.com/world/2020/sep/21/white-house-ricin-suspect-woman-arrested?CMP=twt_gu
A woman suspected of sending an envelope containing the poison ricin to the White House, has been arrested at the New York-Canada border and is also suspected of sending five similar poisoned envelopes to law enforcement agencies in Texas.
The letter was intercepted earlier this week before it reached the White House.
The woman was taken into custody by US Customs and Border Protection officers late on Sunday at the Peace Bridge border crossing near Buffalo and is expected to face federal charges.
The woman has not been named, but is reported to have joint Canadian and French citizenship. She is scheduled to appear in court on Tuesday. 
On Monday, Canadian police led by chemical weapons specialists searched an apartment linked to the woman in the Montreal suburb of St-Hubert.
"We believe a total of six letters were sent, one to the White House and five to Texas," RCMP officer Charles Poirier said outside the modern brown-and-grey building where the search was taking place. "We can't confirm that she lived in [the apartment], but it is connected to her."
The letter addressed to the White House was intercepted at a government facility that screens mail addressed to the White House and Donald Trump and a preliminary investigation indicated it tested positive for ricin, according to the officials.
https://www.cnbc.com/2020/09/21/cdc-says-it-erroneously-posted-guidance-that-said-coronavirus-spreads-through-air-and-and-travel-beyond-six-feet.html?__source=iosappshare%7Ccom.apple.UIKit.activity.Message
The Centers for Disease Control and Prevention said Monday it erroneously posted guidance saying the coronavirus spreads through airborne particles that can remain suspended in the air and travel beyond 6 feet.
The updated guidance, posted on the CDC's website on Friday, also recommended that people use air purifiers to reduce airborne germs indoors to prevent the disease from spreading, according to Reuters.
"A draft version of proposed changes to these recommendations was posted in error to the agency's official website," the CDC said Monday. "CDC is currently updating its recommendations regarding airborne transmission of SARS-CoV-2 (the virus that causes COVID-19). Once this process has been completed, the update language will be posted."
Oops? 
https://www.cnn.com/world/live-news/coronavirus-pandemic-09-11-20-intl/h_62d0c1784b6965c6dd3cff51980670ed?fbclid=IwAR1JYtGlDj8v25QF8kAUlyYmkP7hA5M6YQWhpeptm45k4uQZDXf9XcA344c
Even CNN is starting to admit the facts about COVID-19, reporting on Monday that
The US Centers for Disease Control and Prevention said last Thursday it had changed the way it was reporting death rates for coronavirus, and will now report the infection fatality ratio by age.
It's all still based on approximations, and as part of the update the CDC also estimates it's missing most cases of coronavirus in the US — by a factor of 11.
According to the updated "best estimate" numbers posted on the agency's website:
0.003% of children 18 and younger who are infected with coronavirus die. 
The fatality rate is 0.02% of people aged 20 to 49. 
0.5% of people aged 50 to 69.
5.4% of people 70 and older.
That means that over 99% of those who contract coronavirus under the age of 70 will recover. 
https://www.nbcnews.com/politics/justice-department/justice-dept-deems-new-york-city-portland-seattle-anarchist-jurisdictions-n1240600?fbclid=IwAR3Tld9vTIFjwMLpMxRWlFgge_xiMyqt-WpJjDJXO4RDtWD-ur1Ykk-_h38
The Justice Department released a list of cities Monday that it has deemed "anarchist jurisdictions" under President Donald Trump's instructions this month to review federal funding for local governments in places where violence or vandalism has occurred during protests.
That memo directed Attorney General William Barr, in consultation with Office of Management and Budget Director Russ Vought and acting Homeland Security Secretary Chad Wolf, to identify jurisdictions "that have permitted violence and the destruction of property to persist and have refused to undertake reasonable measures to counteract these criminal activities (anarchist jurisdictions)."
On Monday, the Justice Department labeled New York City, Portland, Oregon, and Seattle as such areas.
While this makes good sense, and I have no problem with federal dollars being withheld from areas that are being foolish, I have seen some suggestions that the Feds take over cities or actually fund police, and that would be a massive mistake. The separation of powers between states and the federal government is a good thing that needs to be preserved. But that doesn't mean those powers cannot check one another when necessary as Trump and Barr are doing here. 
This is Toby Sumpter with Crosspolitic News. Remember to send us stories and articles that you think we should cover to news at crosspolitic dot com. You can find this and all of our shows at Crosspolitic.com or on our app, which you can download at your favorite app store, just search "Fight Laugh Feast". Support Rowdy Christian media, and become a Fight Laugh Feast Club Member and for as long as the CrossPolitic gods smile upon the land, get your very own Fight Laugh Feast t-shirt and live and archive access to all the talks at our first annual Fight Laugh Feast Conference. Become a member now at fightlaughfeast.com.