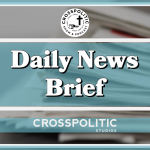 This is Toby Sumpter with your CrossPolitic Daily News Brief for Tuesday, September 8, 2020.
Only 56 days until the pandemic is over. 22 days until the Fight Laugh Feast Conference in Nashville. 
Today you will hear how Bay Area government gyms have apparently been open for months, Facebook is paying some uses to log off for election season, Unemployment has dropped to 8.4%. in August, and a remembrance on the 25th Anniversary of Cal Ripken's Iron Man record. 
By the way we have a new email address for all the daily news brief listeners: news at crosspolitic dot com is a great way to share articles and stores with us that may end up in our daily or weekly shows: news at crosspolitic dot com
https://disrn.com/news/san-franciso-gym-owners-angry-after-discovering-government-gyms-have-been-open-for-months
When a Bay Area Gym owner reached out to a couple police officers she knows in the neighborhood asking them if they needed a place to work out since their station gym was supposedly closed, the text exchange appeared to show they have access to the SFPD Northern District Police Station on FIllmore Street — and police said Thursday that safety and cleaning protocols, as well as occupancy limits, have been established in department gyms.
For months, the city of San Francisco health order has prevented local gyms from opening its doors, but some city-owned gyms have been back open for months and are allowing city employees to use them, crushing private gym owners. 
"It just demonstrates that there seems to be some kind of a double standard between what city employees are allowed to do and what the residents of San Francisco are allowed to do," said Dave Karraker, owner of MX3 Fitness in the Castro.
Gyms for police officers aren't the only ones open. A sign at the Hall of Justice gym shows rules for use as of July 1 for its patrons, which would include judges, lawyers, bailiffs, and paralegals.
NBC Bay Area asked the city for comment Thursday, and were told only that the current health order does not allow indoor fitness gyms to operate, and per Mayor London Breed's latest reopening announcement, privately owned gyms have to stay closed until at least the end of the month.
https://www.theverge.com/platform/amp/2020/9/3/21421275/facebook-paying-shut-down-accounts-election-instagram-misinformation-interference
As part of Facebook's latest study on how social media impacts democracy, the company appears to be paying users to log off of its products ahead of the 2020 US presidential election, according to new screenshots posted by Washington Post reporter Elizabeth Dwoskin on Thursday.
Last week, Facebook announced that it was partnering with outside researchers to study the impact its social media products have on society during the upcoming US presidential election. Facebook expects around 200,000 to 400,000 users will opt in to the project. Once they've opted in, the company will be able to see how they interact with its products, including both Facebook and Instagram.
"To continue to amplify all that is good for democracy on social media, and mitigate against that which is not, we need more objective, dispassionate, empirically grounded research," Facebook explained in a blog post. "That's why today we are announcing a new research partnership to better understand the impact of Facebook and Instagram on key political attitudes and behaviors during the US 2020 elections."
The screenshots posted by The Washington Post Thursday show an Instagram pop-up asking users to select how much money they'd be willing to receive in order to deactivate their Instagram and Facebook accounts ahead of the election. Facebook gives the options of $10, $15, and $20 per week as some users would be asked to deactivate for one week while others could be asked to leave the platform up to six weeks total.
A Facebook spokesperson confirmed that the company would be paying users who complete surveys or deactivate as part of its research Thursday. "Anyone who chooses to opt in – whether it's completing surveys or deactivating FB or IG for a period of time – will be compensated," Liz Bourgeous, a Facebook spokesperson, said in a tweet Thursday. "This is fairly standard for this type of academic research."
This is why we need Weapons for this War. Which is why we want to invite you to our first annual Fight Laugh Feast Conference in Nashville October 1-3. We've put together a package that is full of feasting and psalm singing, hearty fellowship, and a line up of speakers Douglas Wilson, George Grant, Glenn Sunshine, Rod Martin, myself, and Jeff Durbin and David Bahnsen – also a special Darren Doane after hours meet and greet. All committed to showing you how God's Word is a sharp sword to take with you into every battle, from politics to business to education and family and much more. Please join us this October 1st through the 3rd as we seek to build a rowdy Christian culture for God's glory and our good. Go to Fightlaughfeast dot com and register today.
https://www.facebook.com/stevedeace
Steve Deace pointed out last Friday that "The unemployment rate has astoundingly fallen into single digits at 8.9%. We have recovered almost half the jobs lost this year already. And that's before schools, theaters, sports, etc. fully returning as they are in many places this month. I would've never guessed in a million years this was possible, and would've been ecstatic if we were into single digits by the end of the year. Let alone Labor Day. That's a story that resonates with voters outside the beltway."
It's interesting that the all the headlines I could fine (Forbes and WSJ) only reported these numbers negatively: "Jobs Market Recovery Slows Pace" (WSJ) and "1.8 Million Jobs Added in July as US Econdomy's Pandemic Recovery Falters" (Forbes). 
Fiery but mostly peaceful protests. 
https://www.mlb.com/news/featured/cal-ripken-jr-streak-oral-history
Sunday was the 25th Anniversary of when Cal Ripken Jr. became baseballs Iron Man. On September 6, 1994 Cal Ripken, Hall of Fame short stop for the Baltimore Orioles broke Lou Gehrig's seemingly unbreakable 56 year-old record by playing in his 2,131st consecutive game. 
The 25th anniversary comes in another shortened year – 1994 was the year of the players strike, and Ripken's feet came as something of healing moment in the midst of frustration and disappointment. 
46,272 fans packed Camden Yards in Baltimore to see Ripken break the record. President Clinton and Vice-president Al Gore were in attendance. Joe Dimaggio was there with Ernie Banks. The Orioles were playing the Angels that night, and just to make things more fun, Ripken hit a home run in the bottom of the fourth. But in order for a game to be counting, four and a half innings have to be in the books. And so it wasn't until Mike Mussina set the Angels down 1-2-3 in the top of the fifth, that the game was official. An enormous banner dropped with the numbers 2131, and the entire stadium erupted, standing, cheering, crying. Initially Cal merely stepped out of the dugout and thanked the crowd, but after the third time, his teammates told him he need to take a lap around the field. 
All told, the ovation lasted 22 minutes and 15 seconds –
Ripken would go on to play another 501 games in a row before voluntarily ending the streak at 2,632. He did not miss a single game from May 30, 1982 to September 19, 1998, a stretch that spanned 17 years, 9 managers, and three US presidencies. He retired from baseball in 2001, at age 40 and was inducted into the Baseball Hall of Fame in 2007 on the very first ballot. 
For Christians there is something glorious about this kind of record. It's a record of diligence, faithfulness, plodding. Not all of those games were good games. Not all of them were worth remembering, but together, the day in and day out work ethic is profoundly glorious. Ripken played through sicknesses, minor injuries, and refused to take it easy. Hard work. Every day. God give us men like that. Love your wife every day. Lay your life down every day. Delight in your children every day. Not every day will be glorious. But with your eyes fixed on Jesus, they will accumulate into a glorious legacy. 
This is Toby Sumpter with Crosspolitic News. Remember to send us stories and articles that you think we should cover to news at crosspolitic dot com. You can find this and all of our shows at Crosspolitic.com or on our app, which you can download at your favorite app store, just search "Fight Laugh Feast". Support Rowdy Christian media, and become a Fight Laugh Feast Club Member and for as long as the CrossPolitic gods smile upon the land, get your very own Fight Laugh Feast t-shirt and access to tons of extended discussions with George Grant, Sho Baraka, David French, Voddie Baucham, C.R. Wiley, Tom Ascol, Erick Erickson, Maj Toure, Doug and Nancy Wilson, Walter Williams, Gary Demar, and our very own Worldview Shotgun Series. You also get $100 off your registration for our first annual Fight Laugh Feast Conference, where we hope to meet many of you in Nashville, TN October 1st through the 3rd. Go to fightlaughfeast.com to register now. Have a great day. https://flfnetwork.com/coming-soon/