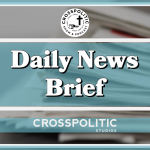 This is Gabriel Rench with your CrossPolitic Daily News Brief for Wednesday, August 25th, 2020.
The GOP Convention ratings need a little boost, some spineless Republicans endorse Biden, and the elites don't need to abide by the COVID regulations. 
First night of GOP convention delivers nearly six times more views than start of Democrats' event on C-SPAN livestream
https://thehill.com/homenews/media/513507-first-night-of-gop-convention-delivers-nearly-six-times-more-views-than-start
C-SPAN's livestream of the first night of the Republican National Convention has attracted nearly 440,000 views, marking a substantial increase over the start of the Democratic National Convention, which drew 76,000 views.
And according to the former newspaper NYT:
https://www.nytimes.com/reuters/2020/08/25/us/politics/25reuters-usa-election-tv-ratings.html
A total of 15.8 million people watched the mostly virtual Republican National Convention's first night on Monday, according to early Nielsen Media Research, fewer than the 18.7 million viewers who watched the first night of the Democratic National Convention across the same number of networks.
Progressive groups urge TV networks to tape-delay GOP convention
https://thehill.com/homenews/media/513508-progressive-groups-urge-networks-tape-delay-gop-convention-to-fact-check
According to the Hill:
"Progressive groups are urging TV networks to delay airing parts of the GOP convention until they are able to fact-check the claims made by speakers. 
CNN and The New York Times have been running fact-checking pages on their digital platforms. 
"I think it's important for objective journalists to note how wildly imbalanced the dishonesty is between the current parties. This one half-night of Republican programming so far has been exponentially more dishonest than the entire four nights of the Democratic convention," CNN fact-checker Daniel Dale tweeted.
In recent years some media outlets have opted out of airing White House press conferences or Trump campaign speeches live to avoid potentially airing misinformation."
Of course, where was the fact-checking for the DNC? Trump is a racist, a xenophobe, a bigot. The reason why the DNC does not get the same treatment, is because the mainstream media either believes all of the lies or they support the power play that lying brings to an election.
Over 70 Republican National Security Officials Endorse Biden, Deem Trump 'Dangerously Unfit' For President
https://www.forbes.com/sites/jemimamcevoy/2020/08/20/over-70-republican-national-security-officials-endorse-biden-deem-trump-dangerously-unfit-for-president/#c09cde753753
According to Forbes:
"A group of 73 former U.S. National Security officials who served under GOP administrations, including former CIA and FBI chiefs, endorsed Democratic nominee Joe Biden in a joint statement on Thursday, joining the growing number of prominent Republicans to depart from their party for the 2020 election."
This list includes:
Carly Fiorina

John Kasich

Former Secretary of State Colin Powell

Former Republican Senator Jeff Flake

Joe Walsh

Cindy McCain, Sen. John McCain's widow

Meghan McCain

And more…
It is clear that the Republican Party is full of people whose principles are about as strong as a wet noodle. I get not voting for President Trump, but what I don't get is voting for those who want to murder babies, mandate sodimite marriages, and require my 10 year old daughter to use the public restroom next to a grown man. 
Join us at our first annual Fight Laugh Feast Conference in Nashville this October 1st through 3rd. The theme of our conference is Weapons for this War and we are excited to bring all our friends together for some good fellowship in a crazy 2020. We will kick the whole thing off with beer (punch for the kids) and psalm singing the first night, followed by a slate of speakers committed to driving the nails of the gospel into your everyday life including Pastor Douglas Wilson, Pastor George Grant, Jeff Durbin, Rod Martin, Dr. Glenn Sunshine, Pastor Toby, and more. The conference will conclude with a massive Fight Laugh Feast Network mashup, with representatives from all your favorite shows all on one show, fighting, laughing, and feasting. And then we really will feast together, with food trucks bringing in dinner to close out the conference.  Rowdy Christian media meets the conference world – not for the faint of heart.  Registration is limited, so don't wait, sign up for our first annual Fight Laugh Feast Conference in Nashville October 1st through 3rd. Go to Fightlaughfeast.com and register today.
Stars performing at Video Music Awards in New York get exemption from state quarantine rules
https://disrn.com/news/stars-performing-at-video-music-awards-in-new-york-get-exemption-from-state-quarantine-rules
According to Disrn.com:
"The state of New York has decided to suspend its 14-day quarantine rule for travelers from one of the 34 states it considers high-risk, but only for entertainment stars who are arriving this week for the annual Video Music Award show.
Stars like Lady Gaga, Ariana Grande, Miley Cyrus, and several others are scheduled to perform at the event this week. The VMAs were originally planned to take place at the Barclays Arena, but were moved to a series of outdoor venues out of concern for COVID-19. Each of the venues will feature limited or no audience in attendance.
The office of Gov. Andrew Cuomo acknowledged that the performers were being given special treatment, but stipulated it was still only a "semi-exemption" to the rules."
A spokeswoman for Cuomo said they can "participate in the production of the show, but they will only interact with other members of the cast and crew and will quarantine when not working."
Have you noticed all the exceptions the elite ruling class has had during this COVIDpanic. Bill "Hot Dog" Deblasio was caught working out at his local gym, after urging everyone to social distance. In fact after he was caught, he decided to close all gyms down. Back in March his spokesman Freddi Goldstein said regarding the incident: "The YMCA has been a huge part of his and his family's life, like it has been for a lot of New Yorkers. It's clear that's about to change and before that, the mayor wanted to visit a place that keeps him grounded one last time. That doesn't change the fact that he is working around the clock to ensure the safety of New Yorkers. After today, gyms will close and he will no longer be visiting the YMCA for the foreseeable future." 
The Mayor of DC gave everyone exemptions for those who travel to Atlanta, GA to participate in former Representative John Lewis's funeral. 
Our own Mayor here in Moscow, shutdown our economy on March 25th and then went and golfed and drank beer with his buddies at Elk's Lodge just a couple miles outside of city limits. 
Our politicians are like the Black Lives Matter riots, they are worse than the disease. And God is giving these leaders to us, because they reflect our rebellious blindness very well. 
This is Gabriel Rench with Crosspolitic News. Support Rowdy Christian media by joining our club at fightlaughfeast.com, downloading our App, and heading to our first annual Fight Laugh Feast Conference in Nashville this October 1st through the 3rd. With your partnership, you are providing us with the resources to compete with the mainstream media. Go to fightlaughfeast.com to take all these actions. Have a great day. Lord bless