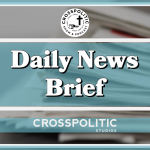 This is Gabriel Rench with your CrossPolitic Daily News Brief for Wednesday, August 5th, 2020.
Sweden COVID-19 Death Rate Lower Than Spain, Italy and U.K., Despite Never Having Lockdown
https://www.newsweek.com/sweden-covid-19-death-rate-lower-spain-italy-uk-despite-never-having-lockdown-1522306
According to Newsweek.com:
"While novel coronavirus cases have spiked across several parts of Europe, including Spain, France, Germany, Belgium and the Netherlands, Sweden—where a countrywide lockdown was never issued—continues to report a downward trend in new cases and new deaths.
As of Sunday, the latest death rate in Sweden (deaths per 100,000 people) was reported to be 56.40. The figure is lower than that reported in the U.K. (69.60), Spain (60.88) and Italy (58.16), according to the latest report Sunday by Johns Hopkins University.
The U.K. currently has the world's fourth highest death toll, while Spain and Italy (which have the sixth highest and eighth highest death tolls, respectively) were formerly Europe's two countries worst hit by the outbreak.
COVID-19 deaths per 100,000 people in Sweden vs. Europe
Source: Johns Hopkins University (as of August 2)
Sweden: 56.40
Belgium: 86.19
U.K.: 69.60
Spain: 60.88
Italy: 58.16"
'Transitioning' Procedures Don't Help Mental Health, Largest Dataset Shows
https://www.dailysignal.com/2020/08/03/transitioning-procedures-dont-help-mental-health-largest-dataset-shows/
According to the Daily Signal:
""The world's largest dataset on patients who have undergone sex-reassignment procedures reveals that these procedures do not bring mental health benefits. But that's not what the authors originally claimed. Or what the media touted.
In October 2019, the American Journal of Psychiatry published a paper titled "Reduction in Mental Health Treatment Utilization Among Transgender Individuals After Gender-Affirming Surgeries: A Total Population Study." As the title suggests, the paper claimed that after having had sex-reassignment surgeries, a patient was less likely to need mental health treatment.
Well, over the weekend, the editors of the journal and the authors of the paper issued a correction. In the words of the authors, "the results demonstrated no advantage of surgery in relation to subsequent mood or anxiety disorder-related health care."
But it's actually worse than that. The original results already demonstrated no benefits to hormonal transition. That part didn't need a correction.
So, the bottom line: The largest dataset on sex-reassignment procedures—both hormonal and surgical—reveals that such procedures do not bring the promised mental health benefits.
In fact, in their correction to the original study, the authors point out that on one score—treatment for anxiety disorders—patients who had sex-reassignment surgeries did worse than those who did not:
Individuals diagnosed with gender incongruence who had received gender-affirming surgery were more likely to be treated for anxiety disorders compared with individuals diagnosed with gender incongruence who had not received gender-affirming surgery.
You would think patients suffering from gender dysphoria would want to know that.""
Our generation is going to go down in history as the most anti-science, illogical, and irrational generation of the 20th and 21st century. It is hard to fathom that the slippery slope can get any worse than where we are at, possible, but we are insane and that is the bottom of the hill. Everything that happens from here on out is just a result of that rocky bottom. 
Fight Laugh Feast Conference: Weapons for this War
If there was ever a time to soldier up, that time is now. Join us at the first annual Fight Laugh Feast Conference in Nashville October 1st through the 3rd. The theme of our conference is Weapons for this War and we are excited to bring all our friends together for some good fellowship in a crazy 2020. We will kick the whole thing off with beer (punch for the kids) and psalm singing the first night, followed by a slate of speakers committed to driving the nails of the gospel into your everyday life including Pastor Douglas Wilson, Pastor George Grant, Rod Martin, Dr. Glenn Sunshine, Pastor Toby, and more. The conference will conclude with a massive Fight Laugh Feast Network mashup, with representatives from all your favorite shows all on one show, fighting, laughing, and feasting. And then we really will feast together, with food trucks bringing in dinner to close out the conference.  Rowdy Christian media meets the conference world – not for the faint of heart.  Registration is limited, so don't wait, sign up for our first annual Fight Laugh Feast Conference in Nashville October 1st through 3rd. Go to Fightlaughfeast.com and register today.
MSNBC producer resigns from network with scathing letter: They block 'diversity of thought' and 'amplify fringe voices'
https://www.foxnews.com/media/msnbc-producer-ariana-pekary-letter
According to Fox News:
"A former MSNBC producer wrote a scathing open letter explaining why she recently left the cable news network.
"July 24th was my last day at MSNBC. I don't know what I'm going to do next exactly but I simply couldn't stay there anymore," Ariana Pekary wrote on her personal website. "My colleagues are very smart people with good intentions. The problem is the job itself. It forces skilled journalists to make bad decisions on a daily basis."
She then quoted someone she described a "successful and insightful TV veteran" who said: "We are a cancer and there is no cure… But if you could find a cure, it would change the world.""
Here is a quoted section from her blog post:
https://www.arianapekary.net/post/personal-news-why-i-m-now-leaving-msnbc
"As it is, this cancer stokes national division, even in the middle of a civil rights crisis.  The model blocks diversity of thought and content because the networks have incentive to amplify fringe voices and events, at the expense of others… all because it pumps up the ratings. 
This cancer risks human lives, even in the middle of a pandemic.  The primary focus quickly became what Donald Trump was doing (poorly) to address the crisis, rather than the science itself.  As new details have become available about antibodies, a vaccine, or how COVID actually spreads, producers still want to focus on the politics.  Important facts or studies get buried.
This cancer risks our democracy, even in the middle of a presidential election.  Any discussion about the election usually focuses on Donald Trump, not Joe Biden, a repeat offense from 2016 (Trump smothers out all other coverage).  Also important is to ensure citizens can vote by mail this year, but I've watched that topic get ignored or "killed" numerous times."
Folks- this is one of the major reasons we have started CrossPolitic and our Daily News Briefs. News does not happen in a vacuum, void of cultural meaning and implications. The left very well knows that news is not neutral, and the conservatives have for far too long pretended that facts are just that–facts. Everything is connected and every news article, every fact points to a narrative. Mainstream media is cancer, they want to control narratives, box out growing cultural and political news organizations like our, and ultimately they want to push their worldview on us. Our goal at CrossPolitic has been to proclaim the Lordship of Christ specifically into politics, and given the bankrupt mainstream media's worldviews, this is more important than ever. All this to say, is thank you for listening, sharing our shows, telling your friends about us, joining our club, and signing up for our conference. We are a small army, like Gidion's army, and we trust that God can use us, and by us I mean all our listeners and host on our network, push back the rebellion in our culture and reclaim the public square in Jesus name. 
This is Gabriel Rench with Crosspolitic News. Support Rowdy Christian media and join our club at fightlaughfeast.com. With your partnership, you will get a Fight Laugh Feast t-shirt, discount to our annual conference, and access to our Club portal. Our club portal includes episodes on Pastors in Politics, East Coast Tour content, God and Government, and backstage interviews with people like Voddie Baucham, Douglas Wilson, James White, Tom Ascol, Erick Erickson, and David French. You can find all our shows on our app, which you can download at your favorite app store, just search "Fight Laugh Feast". Lastly, we hope to meet you at our first annual Fight Laugh Feast Conference in Nashville, TN October 1st through the 3rd. Go to fightlaughfeast.com to register now. Have a great day. Lord bless