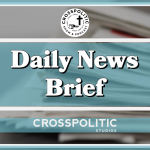 This is Gabriel Rench with your CrossPolitic Daily News Brief for Wednesday, December 16th, 2020.
The Cartoon Network wants your kids, election rumblings in Arizona and Michigan, California trying to recall Gov. Nussilini (Newsome), and Idaho Community Strong? 
If you have a news story you think we might need to cover, please send articles and links to [email protected]
The Cartoon Network now "celebrating gender diversity," and promoting the use of self-selected pronouns to 6-year-olds.
https://notthebee.com/article/the-cartoon-network-now-celebrating-gender-diversity-and-promoting-the-use-of-self-selected-pronouns-to-6-year-olds
The Cartoon Network has lost its mind, and just so you know, their target audience is 6 to 11 year olds. Losing their minds you ask? How so. Well let me just read you a tweet and then one of their cartoons:
"Here's to not only normalizing gender pronouns, but respecting them, too 💖 Whether you use he/she/them or something else, we acknowledge and LOVE you! Toolkit 👉 https://cartn.co/NBJCToolKit"
Transgender activist calls for all children to be placed on puberty blockers until they can decide their gender
https://disrn.com/news/trans-activist-calls-for-all-children-placed-on-puberty-blockers-until-they-can-decide-their-gender
According to Discrn.com: "A transgender activist known popularly as "Zinnia Jones," is publicly advocating a policy that would put all children on puberty blockers until they could decide their own gender.
McNamara said that since children already were consenting to the "permanent and irreversible changes" that come naturally through puberty, they should be allowed to legally consent to puberty blocking hormone treatments as well.
When that opinion began engendering criticism online, Jones responded by accusing those who disagree with being incapable of understanding the complex ideas she was espousing.
Zinnia is a biological male who identifies as a woman."
Recall effort against California Gov. Gavin Newsom already has half the needed signatures
https://disrn.com/news/recall-effort-against-california-gov-gavin-newsom-already-has-half-the-needed-signatures
According to Discrn.com: "Organizers of an effort to recall California Gov. Gavin Newsom for his COVID-19 measures announced Monday that they have gathered half of the necessary 1.5 million signatures in order to trigger the special election. Those pushing the effort have until March to collect the rest.
Newsom's recent stay-at-home orders, which have reimposed an economic lockdown by closing businesses and shuttering schools, have faced stiff opposition. The governor also received major pushback after he was photographed attending a swanky birthday celebration at the French Laundry restaurant at the same time he was issuing orders preventing others from doing the same.
In 2003, California Gov. Gray Davis faced a recall election over his financial mismanagement of the state. After enough signatures were gathered to trigger the recall, Republican Arnold Schwarzenegger defeated the sitting Democrat in the special gubernatorial election."
Club Plug:
Like the Cartoon Network, the mainstream media is like a man who thinks he can self identify as a women. Just because you self-identify as a true and honest news organization, does not mean you are true and honest, nor "news" either. I am going to start calling CNN, FOX, MSNBC, etc… tranny-news organizations. Which is why we need your help to grow the Fight Laugh Feast Network. We can't do this with out our club members, and this Christmas we need you more than ever as we head into the new year. The best way you can help is by becoming a Fight Laugh Feast club member today. Many of you already have, and we can't thank you enough, but if you're tired of legacy media cramming their pagan worldviews down your throat and social media censoring views they don't approve of, support CrossPolitic as we build a Christian Media Platform and Network committed to the Lordship of Jesus Christ. So, Support Rowdy Christian Media and become a fight laugh feast club member today. Go to Fightlaughfeast.com.
Fight Laugh Feast Merch & Magazine
If you're still doing some Christmas shopping visit rowdychristian.com for shirts, hats, hoodies, postmill coffee, etc. Also: did you hear we started a new magazine? Four issues a year for forty bucks. https://flfnetwork.com/product/fight-laugh-feast-magazine/
Michigan House grants subpoena power for lawmakers' election investigation
https://www.abc12.com/2020/12/15/michigan-house-grants-subpoena-power-for-lawmakers-election-investigation/
According to ABC12:
"The Michigan House granted additional power to its Oversight Committee, which is investigating claims of irregularities in the Nov. 3 election.
The House voted Tuesday to give the committee subpoena power, giving members authority to compel witnesses to testify and provide documents. The Oversight Committee plans to begin by issuing subpoenas for documents and election records from Detroit and Livonia.
"Regardless of our political affiliations, we should all agree that we must do more to restore the public's trust in our voting procedures," said Republican State Rep. Triston Cole of Mancelona. "We can begin that process by conducting a thorough and complete investigation that gets to the bottom of these reports and delivers the answers voters deserve. The Oversight Committee needs full access to accurate information to make sure that happens."
He said the Oversight Committee likely will look into Antrim County's election system after the clerk initially reported a landslide win for Democrat Joe Biden on Election Day even though the county traditionally supports Republicans overwhelmingly.
Last ditch efforts to turn the election:
Allied Security Operations Group
https://www.depernolaw.com/uploads/2/7/0/2/27029178/antrim_michigan_forensics_report_[121320]_v2_[redacted].pdf
The Antrim County Clerk and Secretary of State Jocelyn Benson have stated that
the election night error (detailed above by the vote "flip" from Trump to Biden,
was the result of human error caused by the failure to update the Mancelona
Township tabulator prior to election night for a down ballot race. We disagree and
conclude that the vote flip occurred because of machine error built into the voting
software designed to create error.
Arizona state senator subpoenas Maricopa County for election audits
https://www.washingtonexaminer.com/news/arizona-state-senator-subpoenas-maricopa-county-election-audits
An Arizona state senator subpoenaed the Maricopa County Board of Supervisors, demanding audits of Dominion Voting Systems machines used in the state's largest county.
Arizona state Senate President Karen Fann announced that Eddie Farnsworth, a Republican who is the chairman of the state Senate's Judiciary Committee, served the subpoenas on Tuesday.
"Today, under my direction as Senate President, Judiciary Committee Chairman Eddie Farnsworth issued subpoenas to the Maricopa County Board of Supervisors. One subpoena calls for a scanned ballot audit, to collect an electronic ballot image cast for all mail-in ballots counted in the November 2020 general election in Maricopa County, Arizona. The second subpoena calls for a full forensic audit of ballot tabulation equipment, the software for that equipment and the election management system used in the 2020 general election," Fann said in the statement obtained by the Washington Examiner.
"The Maricopa County Board of Supervisors were served these subpoenas on Tuesday afternoon, and they call for the information to be delivered to the Senate Judiciary Committee Chairman on or before 5 p.m. on December 18, 2020. I appreciate Board Chairman Clint Hickman's commitment to the integrity of the Arizona election process, and I know he shares all of our concerns," Fann added.
Farnsworth acknowledged that the subpoenas can be "withdrawn or they can be quashed" if the legal quagmire clears but insisted that issuing them now would ensure there is a process in place to ensure the integrity of the 2.1 million ballots cast in the county that includes Phoenix.
Martin Quezada, a Democratic member of the Arizona Senate, reacted to the subpoena buzz on Tuesday with a tweet thread that said, "This sets a horrible precedent of irresponsible and circular logic. Claims of fraud were completely made up. Multiple courts of law rejected them all for lack of evidence and now the Legislature claims they need to audit voting machines in order to find that evidence."
In a lawsuit in Antrim, Michigan, a judge on Monday allowed the release of a report from a forensic analysis of Dominion equipment by a cyberfirm, Allied Security Operations Group, which has assisted Trump and his allies in their largely unsuccessful ventures in court to overturn the results in battleground states. Michigan state and company officials are disputing the report that said the equipment "is intentionally and purposefully designed with inherent errors to create systemic fraud and influence election results."
Idaho Strong Community state-wide press conference
I have been working with a number of concerned citizens in Idaho, including Lt. Gov. Janice McGeachin regarding our Governor's response to this pandemic. He has been narrowly focus and in addition stoking fear…
Our state leadership has politicized the health of its citizens of Idaho and stoking fear by trodding out younger patients who have had anomalous experiences with the COVID-19 virus. This is reckless and irresponsible. Instead, we should be focusing on the real threat COVID-19 is to our elderly and those with pre-existing conditions. In Idaho, over 80% of the deaths have come from 70 years of age and older and 93% of COVID deaths are from ages 60 years and older. In addition to this, The CDC reported that 94% of those who have died from COVID-19 had pre-existing "conditions or causes". And on average, there were 2.9 additional conditions or causes per death." (https://www.cdc.gov/nchs/nvss/vsrr/covid_weekly/index.htm#Comorbidities).  
You can follow this project, if you want to call it that, over at https://www.facebook.com/IdahoStrongCommunity
Closing
This is Gabriel Rench with Crosspolitic News. Support Rowdy Christian media by joining our club at fightlaughfeast.com, downloading our App, and head to our annual Fight Laugh Feast Conference next fall. With your partnership, together we will fight outdated and compromised media, engage news and politics with the gospel, and replace lies and darkness with truth and light. Go to fightlaughfeast.com to take all these actions. Have a great day. Lord bless