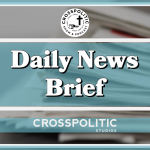 This is Gabriel Rench with your CrossPolitic Daily News Brief for Wednesday, December 23th, 2020.
If you have a news story you think we might need to cover, please send articles and links to [email protected]
First the bad news:
Hollywood BLVD Struggling Amid Pandemic With 75% Of Businesses Boarded Up
https://www.dailywire.com/news/hollywood-blvd-struggling-amid-pandemic-with-75-of-businesses-boarded-up
The popular tourist attraction Hollywood BLVD has been badly hurt by the COVID-19 pandemic, with 75% of the famous street's businesses now boarded up with little to no foot traffic.
"This is Hollywood Boulevard today, nine months into the pandemic-induced shutdown that has stripped the tourist destination of its usual 10 million annual visitors who clamor to take photos with costumed street performers and pose with their favorite celebrity's star," reported The Hollywood Reporter (THR).
California restaurant owner featured in viral video sues Gov. Newsom, state officials over COVID-19 lockdowns
https://disrn.com/news/california-restaurant-sues-gov-newsom-state-officials-over-covid-19-lockdowns
A California restaurant featured in a widely circulated video filed a lawsuit Sunday against Gov. Gavin Newsom (D) and other public officials who have imposed shutdowns on outdoor dining in an effort to address COVID-19 positivity rates.
Angela Marsden, the owner of Pineapple Hill Saloon & Grill in Sherman Oaks, California, was featured in a video earlier this month where she blasted the state for closing down her outdoor dining patio while allowing a film crew to set up a dining area next to her restaurant.
The suit argues that the different standards used for closures have "nothing to do with science and data," but instead are based on state officials "supporting their campaign donors at the expense of small businesses." It further alleged that Newsom allowed an unelected State Public Health Officer to decide which businesses must close without any legislative input.
CDC: U.S. overdoses hit record 81,230 in single year
https://disrn.com/news/cdc-us-overdoses-hit-record-81230-in-year
The Centers for Disease Control and Prevention (CDC) reported a new record in drug overdose deaths in the year ending May 2020 at 81,230 overdoses.
The report said the increase in overdoses was "driven by synthetic opioids before and during the COVID-19 pandemic." The largest increase in overdoses was recorded from March 2020 to May 2020, and the largest percentage increases occurred in the western United States.
Overdose deaths far outpace COVID-19 deaths in San Francisco
https://apnews.com/article/san-francisco-coronavirus-pandemic-a48a148efadbeaa1181148ea367c4d68
A record 621 people died of drug overdoses in San Francisco so far this year, a staggering number that far outpaces the 173 deaths from COVID-19 the city has seen thus far.
The crisis fueled by the powerful painkiller fentanyl could have been far worse if it wasn't for the nearly 3,000 times Narcan was used from January to the beginning of November to save someone from the brink of death, the San Francisco Chronicle reported Saturday.
Last year, 441 people died of drug overdoses — a 70% increase from 2018 — and 2,610 potential overdoses were prevented by Narcan, a medication commonly sprayed up the nose to reverse an opioid overdose, according to data from the city Medical Examiner's office and the DOPE Project.
Before I get to the good news: 
Club Plug:
We have quite the road ahead of us in 2021, and we cannot do it without your club member support. We are working on launching more shows, we are starting our Fight Laugh Feast magazine, we are starting a news website, we are launching a second conference…., we really need to staff up big time, and all sorts of action flying around what we are doing…but this just leads me back to my point. We cannot do this without your support. Joining our club, subscribing to our magazines, becoming a corporate sponsor, becoming our lead sponsor for our Daily News Briefs, there are all sorts of ways you can support our mission. Mainstream media is full of liars who peddled Russia collusion the last four years, they believe men can be women, they support abortion up to birth, and they are woke and morally broke. 
By the grace of God we are striving to takedown mainstream media in Jesus name. Every year we put another little dent in this goal, and this year we have crested a million views or listens per month across our tv, social media, and podcast platforms. Progress is being made and your club membership is vitally important to helping us not only compete with mainstream media, but to hopefully take over and become the voice for news and commentary through the lens of a biblical worldview. So, support CrossPolitic as we build a Christian Media Platform and Network committed to the Lordship of Jesus Christ. So, Support Rowdy Christian Media and become a fight laugh feast club member today. Go to Fightlaughfeast.com.
Fight Laugh Feast Merch & Magazine
If you're still doing some Christmas shopping visit rowdychristian.com for shirts, hats, hoodies, postmill coffee, etc. Also: did you hear we started a new magazine? Four issues a year for forty bucks. https://flfnetwork.com/product/fight-laugh-feast-magazine/
Drops in enrollment, local and state tax revenues spell big financial trouble for America's public schools
https://disrn.com/news/drops-in-enrollment-local-and-state-tax-revenues-spell-big-financial-trouble-for-americas-public-schools
Public school districts across the country are facing extensive funding shortfalls as fewer students remain enrolled in public schools and the pandemic's economic fallout affects tax revenue taken in by municipal and state governments.
Dallas saw 4% fewer students enrolled in its public schools in October, which could lead to $21 million in lost funding if the governor does not extend a policy that has maintained funding to schools despite enrollment drops.
Neighboring Fort Worth has seen a 6% enrollment drop, which could amount to a loss of $50 million.
Similar numbers are challenging Tucson, Arizona, where 5% of students have not returned and could bring a $15 million funding drop.
Other cities must contend with similar challenges even as many districts are shelling out money for expenses they have not faced before, such as COVID-19 testing and equipment and resources for virtual learning.
The latest COVID-19 relief package, approved by Congress Monday night, provides $54 billion for schools. At least several experts say that amount is not enough to confront all the challenges public schools are facing.
After SCOTUS rulings, Los Angeles County lifts ban on indoor worship services
https://disrn.com/news/after-scotus-rulings-los-angeles-county-lifts-ban-on-indoor-worship-services
Following two rulings from the U.S. Supreme Court last week that sided with houses of worship over state government coronavirus restrictions, Los Angeles County lifted its ban on indoor church services.
In a press release issued Saturday, the county declared it was "modifying" its Health Officer Order.
"Places of worship are permitted to offer faith-based services both indoors and outdoors with mandatory physical distancing and face coverings over both the nose and mouth that must be worn at all times while on site," the release said. "Places of worship must also assure that attendance does not exceed the number of people who can be accommodated while maintaining a physical distance of six feet between separate households."
The county public health department still strongly recommended that churches hold services outdoors and utilize both social distancing and face masks for their gatherings.
California and Los Angeles County in particular remain in the midst of a severe spike in COVID-19 cases, as well as hospitalizations and deaths.
Gang Of Masked Bandits Steals Another Few Trillion From Your Grandchildren
https://babylonbee.com/news/masked-bandits-steal-another-500-billion-from-your-grandkids
WASHINGTON, D.C.—A nefarious gang of masked bandits has voted to steal another few trillion from your grandchildren, investigators confirmed. The mysterious masked culprits are currently wanted for stealing trillions from your grandchildren but have not been apprehended yet and so are continuing to plot more heists.
While most criminal heists involve breaking into a vault, jumping onto a moving train, or blowing up the moon, this supervillain gang's plan is more subdued but no less evil: they will simply print money, borrow money, and raise taxes until your kids and grandkids have nothing left.
Closing
This is Gabriel Rench with Crosspolitic News. Support Rowdy Christian media by joining our club at fightlaughfeast.com, downloading our App, and head to our annual Fight Laugh Feast Conference next fall. With your partnership, together we will fight outdated and compromised media, engage news and politics with the gospel, and replace lies and darkness with truth and light. Go to fightlaughfeast.com to take all these actions. Have a great day. Lord bless