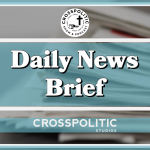 [et_pb_section][et_pb_row][et_pb_column type="4_4″][et_pb_text]
This is Gabriel Rench with your CrossPolitic Daily News Brief for Wednesday March 24th, 2021
In this brief we talk Biden and more money, Rand Paul and vaccines, problems at the border, and gun control. But first:
If you have a news story you think we might need to cover, please send articles and links to news at crosspolitic dot com. Not only do we use these articles on our Daily News Briefs, but the also often make their way on to our news aggregator website: www.DeftWire.com. Lastly, if your company would like to advertise on our Daily News Brief, please reachout to contact@fightlaughfeast.com for options.
School year's end is in sight. Homeschoolers are evaluating; private school students know finals are coming. Math and science can be the toughest subjects for students and their parents. Instead of running to resources that disagree with your faith at every turn, how about hiring a reformed, Bible-believing, Creationist who can supplement both your child's science and math needs as well as their faith? Mr. Klunick Tutoring (pronounced Kloo-nick) assists parents in their God-given responsibility to educate their children according to His word in every area of their lives by delivering science teaching built on the Bible. Visit mrklunicktutoring.com. (spell the dot com out, pronounced Kloo-nick).
According to Krem2 News:
Biden eyes $3T package for infrastructure, schools, families
https://www.krem.com/article/news/nation-world/biden-infrastructure-free-community-college-paid-family-leave/507-11033684-1f6e-475e-a8ef-e6acc18c8ea8?utm_campaign=snd-autopilot
"The White House plans are still preliminary, with a combined $3 trillion in spending proposed to boost the economy and improve quality of life, according to a person familiar with the options who insisted on anonymity to discuss private conversations.
While the goal is a bipartisan package, Democrats in Congress have signaled a willingness to go it alone if they are blocked by Republicans.
"We need to get it done," said Sen. Richard Blumenthal, D-Conn., ahead of the virtual meeting with Biden at the senators' annual retreat Monday evening.
An infrastructure package would include roughly $1 trillion for roads, bridges, rail lines, electrical vehicle charging stations and the cellular network, among other items. The goal would be to facilitate the shift to cleaner energy while improving economic competitiveness.
A second component would include investments in workers with free community college, universal pre-kindergarten and paid family leave.
No part of the proposal has been finalized and the eventual details of any spending could change."
Speaking of Crazy out of this world Budget proposals, listen to Senator Rand Paul interview Fauci regarding vaccines and masks:
Play video: https://www.facebook.com/watch/?ref=saved&v=456853642403727
Conference plug!
Speaking of Masks. Join us at our Fight Laugh Feast Rally in Rapid City, South Dakota, April 29, 30, May 1. Our speakers now include N.D. Wilson on something really good, Joe Boot on Jesus is King over Tyrants, Steve Deace on How We Got Here, Pastor Wilson on a Theology of Defying Tyrants, Dr. Ben Merkle Thy Kingdom Come, Sheriff Wheeler Why Your Sheriff Matters, and more! So, Rally with us as we learn to Love God, Sing Psalms, Defy Tyrants. Go to flfnetwork dot com forward slash rally.
Migrant crisis forces Arizona border town to declare 'state of emergency'
https://www.foxbusiness.com/politics/migrant-crisis-arizona-border-town-to-declare-state-of-emergency
According to Fox Business:
"Gila Bend, Arizona, Mayor Chris Riggs says he is declaring a state of emergency due to the ongoing border crisis, blaming the Biden administration for sending migrants to his town by bus.
Riggs, in a First on FOX Business interview, said that his town is not equipped to handle the number of people coming in, especially in the middle of a pandemic.
"Border Patrol let us know that they were going to be dropping migrants that had been detained for 72 hours in our town, which we really didn't understand because we have nothing here," Riggs told FOX Business. "We have no charity organizations that can help, no non-governmental organizations that a lot of the larger cities and towns do have to assist these people."
Riggs went on to say that people are being bussed over to his town without access to food or shelter. He said that his town — which has a population of just 2,000 — has not received any federal, state, or local funding to help provide food or housing for migrants, or for coronavirus testing."
So, is AOC going to do a photo op at the border anytime soon? Is VP Harris going to visit the border?
Let's see what she has to say:
Play video: https://disrn.com/news/vice-president-harris-laughs-when-asked-if-she-will-visit-the-border
Boulder Shooting Suspect Ahmad Al-Issa Posted Anti-Trump Messages.
According to the Daily Mail
https://www.dailymail.co.uk/news/article-9390725/Police-respond-active-shooter-Colorado-supermarket.html?ito=social-twitter_dailymailus
"The gunman responsible for a mass shooting at a Colorado grocery store on Monday has been identified as 21-year-old Ahmad A Issa.
Alissa is now in custody and has been charged with 10 counts of murder. At 2.40pm, he opened fire on King Soopers grocery store in Boulder, killing ten people.
He was taken into at 3.28pm and was transported to the hospital to be treated for injuries. He is now in a stable condition and has been charged but his motive remains unknown."
So, if we can blame all racism against Asians because of one lone white horny gunman, can we also blame an anti-trumper, sympathetic Islamic extremist, Biden supporter with grocery store violence nationwide? I mean if Author Meena Harris, you know the niece of Vice President Kamala Harris, tweeted out Monday regarding the Atlanta shooting this
"The Atlanta shooting was not even a week ago. Violent white men are the greatest terrorist threat to our country,"
I bet Biden is going to push for imigration reform after this?
Biden calls for "assault weapons" ban in aftermath of Colorado shooting
https://disrn.com/news/biden-calls-for-assault-weapons-ban-in-aftermath-of-colorado-shooting
Play video: https://twitter.com/CATERINAV/status/1374407759773364231
Biden considering executive action on gun control, Psaki says
https://www.foxnews.com/politics/biden-considering-executive-action-gun-control-psaki
The latest according to Fox News:
"President Biden is considering executive action on gun control in the wake of two mass shootings in less than a week, White House press secretary Jen Psaki said Tuesday.
Psaki did not specify what action Biden might take.
"We are considering a range of levers, including working through legislation, including executive action," Psaki told reporters. "That has been under discussion and will continue to be under discussion."
Share Plug
People ask us all the time, what is the best way to support CrossPolitic. Well besides a large endowment, the best way is to subscribe to our Fight Laugh Feast Club membership. $10, $25, $50, or $100 per month really goes a long way as our goal is to take down mainstream media and present the truth and reality of the gospel of our Lord Jesus Christ colliding with politics and culture. So, get behind Christian media and join our club.
Closing
This is Gabriel Rench with Crosspolitic News. Support Rowdy Christian media by joining our club at fightlaughfeast.com, downloading our App, and head to our annual Fight Laugh Feast Conference next fall. With your partnership, together we will fight outdated and compromised media, engage news and politics with the gospel, and replace lies and darkness with truth and light. Go to fightlaughfeast.com to take all these actions. Have a great day. Lord bless
[/et_pb_text][/et_pb_column][/et_pb_row][/et_pb_section]