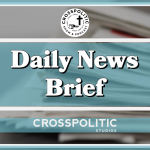 This is Garrison Hardie with your CrossPolitic Daily News Brief for Wednesday, March 8th, 2023.
If you don't teach your kids the Lord's songs, the world will teach them its songs.
The brand-new Hi-Contrast Hymn Book is designed to help you teach your children the most beloved songs of the Christian faith.
Its captivating illustrations will create special moments of truth, goodness, and beauty in your home every day.
To get a copy for your family, go to www.hicontrasthymnbooks.com/FLF.
That's www. "H" "I" contrasthymnbooks.com/FLF.
https://rumble.com/v2c13x8-tucker-releases-bombshell-jan-6-footage-showing-everything-the-media-and-de.html
Tucker Releases Bombshell Jan 6 Footage Showing EVERYTHING the Media and Dems Said Was a LIE
New video released by Tucker Carlson has revealed that once again, the liberal media and Democrat establishment lied about everything when it came to the events on January 6, 2021.
Among the revelations from Carlson's reporting was that the man that has become the face of January 6, the so-called "QAnon Shaman," was led through the Capitol building by police the entire time he was in the building, including them escorting him to the Senate floor. This is contrary to the media portrayal of him as a "violent insurrectionist."
https://rumble.com/v2c13x8-tucker-releases-bombshell-jan-6-footage-showing-everything-the-media-and-de.html – Play Video
In perhaps the damning revelation, the extent to which Democrats lied about the death of Capitol Police Officer Brian Sicknick was worse than initially thought. Not only did they lie about him being beaten to death by protesters (when in fact he died of natural causes), he was captured on video alive after he was supposedly "murdered." He was also seen wearing a helmet, making it even more unlikely that he died of a head injury as some falsely reported
https://rumble.com/v2c3bkg-new-jan-6-footage-proves-dems-lied-about-death-of-officer-brian-sicknick.html – Play Video
The new footage also proved that Ray Epps, who is widely suspected to be a federal informant who helped instigate January 6, lied to the January 6 Committee about when he left the Capitol that day – though the Committee didn't seem to care much about being lied to when it came from Epps.
https://rumble.com/v2c39rc-new-footage-proves-ray-epps-lied-to-jan-6-committee.html – Play Video
https://www.breitbart.com/crime/2023/03/06/nyc-mayor-eric-adams-business-require-customers-unmask-fight-crime/'
NYC Mayor Eric Adams: Business Should Require Customers to Unmask Upon Entering to Help Fight Crime
New York City Mayor Eric Adams has called on the city's businesses to require unmasking upon entry. The move comes as authorities have noted mask-wearing in public places has made it easier for criminals to obscure their identities.
"We are putting out a clear call to all of our shops, do not allow people to enter the store without taking off their face mask," Adams said in a recent radio interview with 1010 WINS. "And then once they're inside, they can continue to wear if they so desire to do so. But we need to use the technology we have available to identify those shoplifters and those who are committing serious crimes."
At a February 28 press conference concerning a jewelry store robbery in which police say a 78-year-old worker was brutally beaten by the suspects — one of them masked — New York City Police Chief Jeffrey Maddrey called on the city's business community to require unmasking as a "condition of entry":
The NYPD is here to work with our businesses, but I have to ask our businesses to be just as proactive as well. We're seeing far too often where people are coming up to our businesses, sometimes with masks, sometimes with masks, hoods, and latex gloves… and then we have a robbery or some kind of property being stolen.
Maddrey explained that unmasking could serve as a "peace offering" to workers.
Fox 5 reported Monday that police had linked the murder of a 67-year-old bodega worker during a robbery to three other robberies. Police say that in each case the suspect was masked.
Staying in NYC…
https://thepostmillennial.com/nyc-spends-10-million-per-day-to-house-feed-illegal-immigrants-report?utm_campaign=64487
NYC spends $10 MILLION per day to house, feed illegal immigrants
New York City is having to deal with an immense financial burden as it continues to spend millions per day to provide housing and food for thousands of illegal immigrants, with the city having received minimal aid from President Joe Biden and New York State Governor Kathy Hochul.
The city's Emergency Management Commissioner, Zach Iscol, disclosed the high cost during a City Council panel meeting, where he said that the Department of Homeless Services and Health & Hospital spent, on average, reports the New York Post, $363 per day for a single illegal migrant's shelter and food. Over 30,000 illegal migrants are currently housed in the city's taxpayer-funded facilities, the Post reported, with that bill amounting to over $10 million, per day.
City Hall told the Post "there are 12,700 households currently in our care," with the minimum daily cost of taking care of the illegal immigrants being placed at $4,622,800.
Iscol warned the City Council's Committee on Contracts that the city is at the end of its resources, and the situation is not sustainable. The temporary Humanitarian Emergency Response and Relief Centers set up by the city to deal with the influx are not viable solutions, he said, emphasizing that the city has reached out for help from both state and federal governments.
Very little has been provided by the state or the Biden regime in terms of financial aid.
Federal Emergency Management Agency (FEMA) provided the city with a mere $8 million in December, which is not even enough to cover two current days' costs. City Council Minority Leader Joe Borelli expressed frustration, with Borelli stating that the Biden administration should take responsibility for the situation and provide financial aid to the city.
The New York National Guard has been deployed to a minor degree to aid with the influx of illegal immigrants. Hochul has promised $1 billion in aid to the city for the crisis in her state budget, though the city will have to pay a third of the amount. The federal government has yet to commit to funding any amount of aid.
https://dailycaller.com/2023/03/06/iowa-bill-college-diversity-efforts/
Iowa Bill Would Bankrupt All College Diversity Programs
An Iowa bill introduced Sunday would end higher education institutions' diversity programs, prohibiting colleges from spending money on such efforts.
House File 616 would prohibit public higher education institutions governed by the Iowa Board of Regents from funding diversity, equity and inclusion (DEI) efforts and would bar the universities from hiring DEI officers. The bill, introduced by the Iowa Committee on Education, would require the money that would have been spent on DEI efforts go towards merit scholarships for lower-income and middle-income students.
Universities are not permitted to spend any grants, tuition, endowments and gifts on DEI policies, programming, training, activities and positions, the bill stated. Under the legislation, the state's attorney general can oversee the universities efforts to axe diversity efforts and punish the schools if they fail to do so.
The legislation comes among other education efforts within the state; the legislature is considering an Iowa bill that would prohibit teachers from giving lessons "relating to gender identity" in K-8 public and charter school classrooms. In January, Republican Iowa Gov. Kim Reynolds signed House Study Bill 1 into law, creating a school choice program that gives vouchers to students outside of the public school system.
"The Board of Regents opposes the bill," Josh Lehman, Iowa Board of Regents senior communications director, told the Daily Caller News Foundation. "We have concerns with the bill's language and impact, and will work with legislators directly to address them. We will continue to track the bill as it makes its way through the legislative process."
The Iowa Committee on Education did not immediately respond to the DCNF's request for comment.
CrossPolination Ad
Did you guys know that you can sign up for a club membership, a magazine subscription, AND tickets to the Ark Encounter all in one place?! That's some crosspollination right there! Fightlaughfeast.com is your one-stop-shop for everything CrossPolitic. Here's what you should do. You should sign up for a club membership, then sign up for the Ark Encounter for a $100 discount off of your purchase, and then sign up for a magazine subscription. We've even got our own social media platform built into our website now for our club members… once you're a club member, you'll get access to exclusive content like a Bible Study series with Pastor Toby, a special series with New Saint Andrews President, Dr. ben Merkle, all of our back-stage content, and all of our conference talks, with more to come!
There really hasn't been a better time to be a CrossPolitic Club Member. Sign up today, at fightlaughfeast.com. That's fightlaughfeast.com.
Before we go, let's see how Canada's doing!
https://thepostmillennial.com/breaking-trudeau-pledges-5-5-million-to-fight-disinformation-after-accusations-ccp-infiltrated-canadian-elections?utm_campaign=64487
Trudeau pledges $5.5 million to fight 'disinformation' after accusations CCP infiltrated Canadian elections
Prime Minister Justin Trudeau announced that he will appoint an "Independent special rapporteur," who he says will have a "wide mandate and will make expert recommendations on combating interference and strengthening our democracy" amid allegations that his government ignored recommendations from CSIS noting concerns about candidates' connections to the Chinese Communist Party.
Trudeau said that foreign interference was felt in US and France's elections in 2016 and 2017, respectively.
https://twitter.com/i/status/1632880023743889408 – Play Video
Trudeau then announced that $5.5 million would be invested to "build capacity of civil society organizations to combat disinformation," adding that "disinformation often generated abroad can be a real threat to our elections, and it's a threat that the federal government cannot combat alone."
https://twitter.com/i/status/1632883311151398919 – Play Video