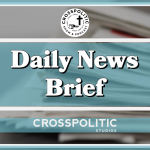 This is Garrison Hardie from your CrossPolitic Daily News Brief for Wednesday, May 10th, 2023.
Concordis Education Partners:
Classical Christian education has reminded us to aim education at truth, but the trivium has been used as a formula rather than a way of training students in discernment.
To teach well, you must coach.
Concordis Foundation is offering their third annual BOOT CAMP – a faculty summit – July 11-13th in Moscow, Idaho. This is a three-day intensive teaching training where you learn to coach students, using the trivium, so that you can meet students at all learning levels.
For more information, visit them at concordispartners.com
https://www.breitbart.com/border/2023/05/08/texas-military-deploys-additional-troops-to-border-ahead-of-title-42-end/
Texas Military Deploys Additional Troops to Border Ahead of Title 42 End
Texas Governor Greg Abbott ordered the deployment of an additional 545 National Guardsmen to assist in the newest surge of migrants crossing the border from Mexico. The deployment under the state's Operation Lone Star comes days ahead of the expected May 11 end of the Title 42 migrant expulsion program.
"These additional forces will bolster the thousands of Texas National Guard service members already assisting local and state law enforcement agencies to secure the border; stop the smuggling of drugs, weapons, and people into Texas; and prevent, detect, and interdict transnational criminal behavior between the ports of entry," Texas Military Department officials said in a written statement. "We have expanded our capabilities to include boat teams that patrol hundreds of river miles, drones and helicopters that detect illicit activity from the air, and brush teams, security points, and roving patrols that block and interdict illegal smuggling (drugs, weapons, and people) into Texas."
On Sunday, Border Patrol agents in the five Texas-based sectors apprehend more than 5,100 migrants who crossed the border from Mexico, according to a law enforcement source. This represents nearly 60 percent of the nearly 8,700 who crossed along the entire southwest border with Mexico.
The number of migrants crossing the border from Mexico surged last week ahead of this week's expected end to the CDC's Title 42 migrant expulsion protocol. On Friday and Saturday, the number of apprehensions exceeded 9,000 per day, Breitbart Texas reported
U.S. Border Patrol Chief Raul Ortiz reported the apprehension of 54,951 migrants during the preceding seven-day period. In addition, another 18,698 migrants were classified as "got-aways."
So far this fiscal year, agents apprehended nearly 1.4 million migrants along the southwest border, according to a law enforcement official. Migrant got-aways jumped to nearly 453,000 bringing the total number of known border crossers this fiscal year to more than 1.8 million migrants in less than seven months.
https://thepostmillennial.com/white-house-to-limit-press-credentials-to-those-who-act-professional?utm_campaign=64487
White House to limit press credentials to those who act 'professional'
On Friday, the White House released a new set of rules for press badges, also known as hard passes, that stated the recipient must act in a "professional manner" in order to keep their badge and told all who currently possess a pass must reply by July 31.
The New York Post reports that the announcement said, "The White House expects that all hard pass holders will act in a professional manner while on White House grounds by respecting their colleagues, White House employees, and guests; observing stated restrictions on access to areas of the White House or credentialed events; and not impeding events or briefings on campus."
"Absent security concerns involving the United States Secret Service or other exigent circumstances, the White House will provide a written warning to you if your conduct violates these expectations. Subsequent violations may lead to the suspension or revocation of your hard pass, following notice and an opportunity to respond," the notice continued.
The move comes after Today News Africa reporter Simon Ateba grilled Press Secretary Karine Jean-Pierre in January and told her, "You don't seem a good fit for this job."
Reporters who have had badges auto-renew since 2017 need to have their employer submit a letter to the White House confirming "full-time employment with an organization whose principal business is news dissemination."
The notice said that freelancers, "will need letters from two news organizations describing your affiliation, or, if you freelance primarily for one organization, a letter from that organization describing the extent and duration of your relationship with the organization."
The journalists need to provide proof of a personal or professional address in the DC area, submit to a background check, have an "accreditation by a press gallery in either the Supreme Court, US Senate or US. House of Representatives," and "have accessed the White House campus at least once during the prior six months for work, or have proof of employment within the last three months to cover the White House."
A White House press official told the Post, "This has been thoughtfully considered for more than a year. We worked hard to be responsive to needs and feedback of journalists covering the White House. As we return to these prior criteria, which help ensure hard passes are in the hands of reporters who need regular access to campus as part of their duties, we are providing a nearly 3-month window for reporters to turn in their applications and reach out with any questions. The criteria will apply evenly to everyone,"
https://thepostmillennial.com/breaking-tucker-carlson-to-launch-new-show-exclusively-on-twitter?utm_campaign=64487
Tucker is back EXCLUSIVELY on Twitter
Tucker Carlson announced that he will soon be relaunching his own show and streaming it exclusively on Twitter.
Carlson made the announcement in a post to Twitter on Tuesday, simply captioned "We're back."
https://twitter.com/i/status/1656037032538390530 – Play Video
Carlson reportedly spoke with Twitter CEO Elon Musk about working together this past week, according to one report.
Axios reported on Sunday that "Carlson and Elon Musk had a conversation about working together, but didn't discuss specifics."
Carlson is not the first to bring his show to Twitter since the social media giant was acquired by Musk. Earlier this week, Daily Wire's Matt Walsh announced that he would be uploading his full shows to Twitter. This announcement came after a hack on his account.
https://twitter.com/i/status/1648844750613512195 – Play Video
Tucker Carlson and Fox News parted ways on April 24.
https://thepostmillennial.com/oklahoma-revokes-funding-for-pbs-over-lgbtq-content-for-kids?utm_campaign=64487
Oklahoma revokes funding for PBS over LGBTQ content for kids
Oklahoma Gov. Kevin Stitt (R) has defended his decision to veto a bill seeking to fund the state's PBS station through 2026, arguing that the state-funded broadcaster is indoctrinating and sexualizing children.
Last week Stitt vetoed HB 2820, which would have funded the statewide PBS station Oklahoma Educational Television Authority (OETA) until 2026. In a recent interview with Fox News, Stitt explained his reason for doing so, highlighting objectionable content such as a segment of "Let's Learn" featuring the children's book "The Hips on the Drag Queen Go Swish, Swish, Swish," being read by a drag queen called Lil Miss Hot Mess.
"OETA, to us, is an outdated system. You know, the big, big question is why are we spending taxpayer dollars to prop up or compete with the private sector and run television stations? And then when you go through all of the programming that's happening and the indoctrination and over-sexualization of our children, it's just really problematic, and it doesn't line up with Oklahoma values," Stitt told Fox News.
In addition to Lil Miss Hot Mess, one of the founders of Drag Queen Story Time, reading The Hips on the Drag Queen Go Swish, Swish, Swish," the governor's office mentioned a PBS Newshour segment that featured parents who supported children having access to experimental medical sex changes, as well as abundant "Pride Month" programming, and a special about a town of Christians and drag queens who "step into the spotlight to dismantle stereotypes."
Stitt objects to the use of tax dollars funding someone's agenda.
He went on to call the concept of the public television station "outdated."
Stitt's decision has been criticized by some on the left, including by State Rep. Monroe Nichols (D) who accused Stitt of "continued attacks on public education and underrepresented Oklahoma communities."
Stitt responded by calling this accusation "nonsense," and just another attempt by Democrats to push a radical left agenda on children.
Now it's time for my favorite topic… sports!!!
https://www.foxnews.com/sports/super-bowl-champ-offers-georgia-tech-grads-key-fulfilling-life-get-married-start-family
Super Bowl champ offers Georgia Tech grads the key to fulfilling life: 'Get married and start a family'
Kansas City Chiefs kicker Harrison Butker, a two-time Super Bowl winner, appeared at Georgia Institute of Technology on Saturday and gave the commencement speech.
The former Yellow Jackets standout gave the graduates some words of wisdom.
Butker said he planned to "pop off some hard truths" in his speech. He said that it does not matter how much money you attain or the amount of success that comes to you career-wise, "none of it will matter if you are alone and devoid of purpose."
https://twitter.com/i/status/1654913549716582406 – Play Video 0:00-4:20