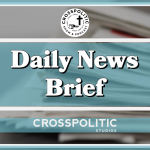 This is Gabriel Rench with your CrossPolitic Daily News Brief for Wednesday, November 18th, 2020.
Justice Alito's speech should have been boring, but was fire. CNN says Parler is a threat to democracy, and democrats are getting off on COVID porn. 
Remember: If you come across a news story you think we might need to cover, please send it to: news at crosspolitic dot com. This is a great way to share articles and stories with us that may end up in our daily or weekly shows: news at crosspolitic dot com
Alito: 'Religious Liberty Is in Danger of Becoming a Second-Class Right'
https://www.breitbart.com/clips/2020/11/13/alito-religious-liberty-is-in-danger-of-becoming-a-second-class-right/
According to Breitbart:
"During a speech before the Federalist Society on Thursday, Supreme Court Justice Samuel Alito stated that "in certain quarters, religious liberty is fast becoming a disfavored right." And is viewed by some as "not a cherished freedom, it's often just an excuse for bigotry and it can't be tolerated, even when there is no evidence that anybody has been harmed."
He then turned to "the protracted campaign against the Little Sisters of the Poor," the Ralph's pharmacy case, and the Masterpiece Cakeshop case. Alito remarked, "You can easily see the point, for many today, religious liberty is not a cherished freedom, it's often just an excuse for bigotry and it can't be tolerated, even when there is no evidence that anybody has been harmed. And the cases I just mentioned illustrate the point. As far as I'm aware, not one employee of the Little Sisters has come forward and demanded contraceptives under the Little Sisters' plan. There was no risk that Ralph's referral practice would have deprived any woman of the drug she sought and no reason to think that Jack Phillips' stand would deprive any same-sex couple of a wedding cake. The couple that came to his shop was given a free cake by another bakery, and celebrity chefs have jumped to the couple's defense."
He added, "If what I have said so far does not convince you that religious liberty is in danger of becoming a second-class right, consider a case that came shortly after the Nevada case." Alito then discussed U.S. District Judge Theodore Chuang's ruling suspending the FDA's requirement that women who wish to obtain an abortion pill must pick up the drug at a clinic. Alito said that Chuang's rationale that enforcing the rule would interfere with abortion rights because some women might not obtain the pill due to fear of contracting coronavirus if they leave their homes. He noted that at the time of the decision, Maryland's governor had opened many places of business, and "apparently concluded that Marylanders could safely engage in all sorts of activities outside the home. … If deference was appropriate in the California and Nevada cases, then surely, we should have deferred to the federal Food and Drug Administration on an issue of drug safety. But no, in this instance, the right in question was the abortion right, not the right to religious liberty, and the abortion right prevailed."
'Threat To Democracy': CNN Sounds Alarm Over Conservatives Leaving Twitter, Facebook
https://www.dailywire.com/news/threat-to-democracy-cnn-sounds-alarm-over-conservatives-leaving-twitter-facebook
CNN reporter Brian Stelter bemoaned smaller conservative news channels garnering more viewership in recent weeks as Trump world has clashed with Fox News over some of the network's recent coverage.
"I think, big picture, Pamela, here is the concerning trend line here. People are going more and more into their own echo chambers, more into their own bubbles, especially Trump voters," Stelter said. "There's this new social media app, called Parler, getting a lot of attention. Because conservatives are leaving, saying they're leaving Twitter and Facebook, going off to Parler because they believe Parler is a safer space for them."
"What we're seeing is even more of a bunker mentality in right-wing media," Stelter continued. "Ultimately, that's not good for the country."
"No, it is not good," Brown responded. "It is a threat to democracy that these people are in echo chambers and they're getting fed a diet of lies essentially."
Biden: Thanksgiving celebrations should include "maximum 10 people," include masks and social distancing
https://disrn.com/news/biden-on-thanksgiving-no-more-than-10-people-everyone-should-wear-masks
Play Biden's recommendations for Thanksgiving: 2:22 mark. 
Ted Cruz Tweet:
https://twitter.com/tedcruz/status/1328547744584183809?s=20
Sen. Sherrod Brown (D-OH) asked Sen. Dan Sullivan (R-AK) to wear a mask while presiding over the Senate on Monday. This got Ted Cruz 2.0, sort of like Bad Voddie, to tweeter-out
This is idiotic. @SherrodBrown is being a complete ass. He wears a mask to speak—when nobody is remotely near him—as an ostentatious sign of fake virtue.
@DanSullivan_AK was over 50 feet away, presiding. Last I checked 50 feet is more than 6 feet.
PA gov announces new COVID rules, including wearing a mask in your house
https://www.foxnews.com/us/pa-gov-announces-new-covid-rules-including-wearing-a-mask-in-your-house
"Pennsylvania already has a statewide mask mandate, July 2nd, limits on indoor and outdoor gatherings and occupancy restrictions at bars and restaurants.
But the new rules go even further. Masks are required outside where it isn't possible to maintain at least a six-foot distance from others, according to the order, and inside where people from multiple households are gathering, even if they can maintain a social distance." 
Club Plug:
Folks, Are you tired of the lies of woke scolds and effeminate latte theologians nuancing everything to death. Do you wish Christian media was a little bit more rowdy, more engaging, and doesn't care about the 11th commandment (nice)? That's what CrossPolitic is all about. And we need your help to continue growing the Fight Laugh Feast Network. The best way you can help is by becoming a Fight Laugh Feast club member today. Many of you already have, and it has allowed us to grow so much already, but if you're tired of legacy media cramming their pagan worldviews down your throat and social media censoring views they don't approve of, support CrossPolitic as we build a Christian Media Platform and Network committed to the Lordship of Jesus Christ. Also, we like to laugh and drink beer. Support Rowdy Christian Media and become a fight laugh feast club member today. Go to Fightlaughfeast.com.  
GA recount finds 2,600 uncounted ballots in single county, about 1,600 for Trump
https://disrn.com/news/ga-recount-finds-2600-uncounted-ballots-in-one-county-about-1600-for-trump
According to Disrn.com
""The hand recount taking place in Georgia has uncovered about 2,600 previously untallied ballots from the November 3 election.
The ballots were cast during early voting in Floyd County. They were not counted initially because an optical scanning machine used to tally the ballots apparently stopped working after a few weeks and election workers failed to rescan all the paper ballots submitted via that machine. Floyd County has had a disparity between the number of ballots cast early and the number of people who checked in to vote early.
Of the newly found ballots, 1,643 were cast for President Trump, 865 were cast for Democratic candidate Joe Biden and 16 were cast for Libertarian candidate Jo Jorgensen.
Trump gained about 800 net votes from the lot of newly found ballots. Prior to the recount, Biden led Trump by about 14,000 votes in the Peach State…
Georgia Secretary of State Brad Raffensberger has reportedly asked Robert Brady, who leads the Floyd County Board of Elections, to resign over the trove of uncounted ballots."
Wayne County Deadlocks On Election Results Certification
https://patch.com/michigan/detroit/wayne-county-deadlocks-election-results-certification
According to the Patch:
"The Wayne County Board of Canvassers on Tuesday failed to certify the county's Nov. 3 election results, splitting the vote to certify the results 2-2.
The vote was along party lines, with Monica Palmer, the board chairperson, and William Hartmann — both Republicans — voting against certification. Board Vice Chair Jonathan Kinloch and Allen Wilson, both Democrats, voted in favor of certification.
With Wayne County failing to certify the results, it must provide all election documentation to the Michigan Secretary of State office and state Board of Canvassers, according to Michigan election guidelines. Those entities will then have 10 days to certify the results."
Closing
This is Gabriel Rench with Crosspolitic News. Support Rowdy Christian media by joining our club at fightlaughfeast.com, downloading our App, and head to our annual Fight Laugh Feast Conference next fall. With your partnership, together we will fight outdated and compromised media, engage news and politics with the gospel, and replace lies and darkness with truth and light. Go to fightlaughfeast.com to take all these actions. Have a great day. Lord bless