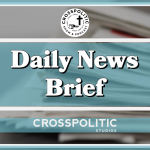 Daily News Brief 11/04/2020
This is Gabriel Rench with your CrossPolitic Daily News Brief for Wednesday, November 4th, 2020.
Before we get into the national elections, I want to give you a quick update on my local election for County Commissioner. The good news is I got more votes than Kanye West in my county, the bad news is I lost to my opponent. All the rural cities in my county are conserviative but the big behemoth vote comes from the liberal university city of Moscow. So, unfortunately Moscow controls the vote and the sway in our county. We have worked to do, and as we remember that local elections should be the most important political elections. I will continue to work to make Latah County conservative over the coming years!   
FLF U Plug
Dr. Thomas Price is offering a fantastic Fight Laugh Feast University course on Theology and Culture. Dr. Price will walk through Foundations in Theological Analysis of Intellectual and Cultural Trends that are impacting Church and Society. Learn to think like Christians in this moment! This class starts October 27th and will only hold 25 households. So don't wait, sign up now!
Election Shenanigans:
Trump alleges election corruption as several states swing suddenly toward Biden, says lead "magically" disappeared
Trump Tweeted:
"Last night I was leading, often solidly, in many key states, in almost all instances Democrat run and controlled," said the president. "Then, one by one, they started to magically disappear as surprise ballot dumps were counted. VERY STRANGE, and the 'pollsters' got it completely and historically wrong!" 
538 Tweeted: 
Around 150,000 new votes dropped in Wayne County, Michigan and they were overwhelmingly Democratic. Trump's statewide lead has dropped from a little over 4 points to just about 1.3 points as a result.
So, basically the last couple hundred thousand votes in Michigan and Wisconsin pretty much all went to Joe Biden. 
It looks like recounts will happen in Wisconsin, Michigan, possibly Pennsylvania, and in addition lawsuits are already being filed in Michigan and Pennsylvania. One of the interesting things that looks like will happen, and Michigan law allows for this, is the recall vote will allow for representatives from both sides to be present for the recount. 
Allegheny County in Penn. suspending mail-in ballot scanning until 10 a.m.
https://www.nbcnews.com/politics/2020-election/live-blog/election-day-2020-live-updates-n1245892/ncrd1246333?cid=sm_npd_nn_fb_ma#blogHeader
"NBC News has learned Allegheny County is suspending the scanning of mail-in ballots until 10 a.m. local time Wednesday. 
"The county has made the decision to suspend scanning and will begin again after 10 AM. Staff are being asked to report at 10 AM and scanning will begin shortly after," said Amie Downs, spokesperson for Allegheny County.
There are currently 348,485 mail-in and absentee ballots that have been returned. Of those, 173,068 are scanned and uploaded and approximately 29,000 will be reviewed manually through the Return Board process. The remaining 146,537 will be scanned beginning late Wednesday morning and updates provided as that process begins until complete.
"After discussion with staff and the observers here, it allowed time for everyone to get a little rest before reconvening. The staff doing the scanning were not on separate shifts," Downs said. "The same group was running the process the entire time."
All ballots have been secured in the warehouse with county police patrolling the facility all evening. The facility is also under 24-hour video surveillance."
Yes, Democrats Are Trying To Steal The Election In Michigan, Wisconsin, And Pennsylvania
https://thefederalist.com/2020/11/04/yes-democrats-are-trying-to-steal-the-election-in-michigan-wisconsin-and-pennsylvania/
As of this writing, it appears that Democratic Party machines in Michigan, Wisconsin, and Pennsylvania are trying to steal the election.
As reporters and commentators went to bed early Tuesday morning, all three states were too close to call, but President Trump led former Vice President Joe Biden by comfortable margins—far beyond what had been predicted in the polls. None of the networks called these states because enough mail-in ballots remained uncounted that it could swing either way, but Trump's position looked good.
Then, something strange happened in the dead of the night. In both Michigan and Wisconsin, vote dumps early Wednesday morning showed 100 percent of the votes going for Biden and zero percent—that's zero, so not even one vote—for Trump.
In Michigan, Biden somehow got 138,339 votes and Trump got none, zero, in an overnight vote-dump.
…It turns out, the vote dump was the result of an alleged typo, an extra zero that had been tacked onto Biden's vote total in Shiawassee County, Michigan. It seems the error was discovered only because Davis and other Twitter users noted how insane and suspicious the vote totals looked, and demanded an investigation that uncovered what was either a typo or an incredibly clumsy attempt to boost Biden's vote count.
…Then another mysterious all-Biden vote dump happened in Wisconsin. Biden miraculously overcame a 4.1-point Trump lead in the middle of the night thanks to vote dumps in which he got—you guessed it—100 percent of the votes and Trump got zero.
In Pennsylvania, the Democratic scheme to steal the election is a bit different. Rather than vote dumps that impossibly go 100 percent to Biden, Pennsylvania is relying on the Democratic Secretary of State's plan to count indisputably late mail-in ballots as though they were received on Election Day—even if they have no postmark.
This plan was of course rubber-stamped by the Pennsylvania Supreme Court, which cited the need for "equitable relief" to address mail delays amid the pandemic.
Note that this isn't just about ballots that come in after Election Day, but about ballots that come in after Election Day that don't even have a postmark—that is, there is no way to tell when the ballots were mailed, or from where."
Club Plug
Join our club and help us become independent from big tech manipulation and give us the capacity to compete with mainstream media. The state of news and mainstream media is appalling, and by the grace of God and your club memberships, our goal is to take over the CNN/FOX clanging narratives. We really do need Christians engaged in politics, and with your club membership we hope to do this for years to come. So support rowdy Chrsitian media by joining our club and you get, depending on your club level, a free t-shirt, access to our club content, discounts to our conference, coffee mug, bag of our delicious Sovereign roast and more. 
Mag Plug
As many of you already know, we have started a magazine! Order a yearly subscription for yourself and then send a couple yearly subscriptions to your friends who have been drinking luke-warm evangelical cool-aid. Every quarter we promise quality food for the soul, joyous wine for the heart, and some Red Bull for turning over tables. We don't water down our scotch with ice, why would we water down our theology. Our magazine will include cultural and theological commentary, a Psalm of the quarter, recipes for feasting, laughter sprinkled through out the glossy pages, and more. Our goal is to produce a high-quality quarterly mini-book-like experience. Early bird subscription is $40, if you sign up before January 1st.
Pay Attention to what is happening on the ball field:
GOP Strongly Favored to Retain Senate Majority Despite Pollsters' Doom and Gloom Predictions
https://bongino.com/gop-retains-senate-majority-despite-pollsters-doom-and-gloom-predictions/
""Going into Election Day, the possibility of a Democrat controlled Senate loomed large. Nearly every pollster and liberal cable host said so.
Republicans had to defend 23 seats this election cycle, compared to only 13 for the Democrats.
Democrats needed to pick up only three Senate seats if former Vice President Joe Biden won the presidency or four seats if he lost. All of the major polls predicted that this could be easily achieved.
As it stands at 8 am on Wednesday morning, Republicans are strongly positioned to maintain control of the upper chamber. They've lost two seats, picked up one and may pick up another. This will leave them with either 52 or 53 seats."
Now why is this important. Well if Biden wins this election and becomes president, the Republicans still control the Senate, making it nearly impossible for the Commie Harris Communist agenda to be shoved through. The Republican controlled Senate will not let the Biden tax hikes through, the Green New Deal, LGBTQ+++ agenda through, and so forth. So, we will have some decent grid lock, that should make us all very happy. 
In Tentative Ruling, Court Declares Governor's Abuse of Power Unconstitutional
https://eastcountytoday.net/in-tentative-ruling-court-declares-governors-abuse-of-power-unconstitutional/
"a State Superior Court judge tentatively ruled in favor of Assembly members James Gallagher (R-Yuba City) and Kevin Kiley (R-Rocklin) in their abuse of power lawsuit against Governor Gavin Newsom.
In the tentative ruling, Judge Sarah Heckman declared the Governor's recent Executive Order N-67-20 unconstitutional. More importantly, Judge Heckman's tentative ruling places a permanent injunction against the Governor which prevents him from unilaterally making or changing state law moving forward.
Click here to read the tentative ruling issued today in Sutter County Superior Court.
Assemblymembers Gallagher and Kiley said, "We have been arguing that the California Emergency Services Act does not provide for one-man rule. Today, the Court agreed with us."
"This is a victory for separation of powers. The Governor has continued to create and change state law without public input and without the deliberative process provided by the Legislature.  Today the judicial branch again gave him the check that was needed and that the Constitution requires."
"Nobody disputes that there are actions that should be taken to keep people safe during an emergency. But that doesn't mean that we put our Constitution and free society on hold by centralizing all power in the hands of one man," Gallagher and Kiley concluded.
The Court's decision does not impact any of the election protocols for the 2020 election."
Oregon decriminalizes street drugs like cocaine, heroin, and meth
https://disrn.com/news/oregon-decriminalizes-street-drugs-like-cocaine-heroin-and-meth
According to Disrn.com: 
"On Tuesday, Oregon became the first state in the country to decriminalize "street drugs" like cocaine, heroin, and methamphetamine.
The new policy means that those found with small amounts of these hard drugs would no longer face arrest, trial, and potential jail time. Instead, they would incur a $100 fine and be sent to an addiction recovery program.
The success of the initiative came over the objections of the Republican Party and a contingent of prosecutors that warned its enactment would come at the expense of public safety.
In addition to hard drugs, Oregon voters also voted to legalize the use of psychedelic mushrooms, but specified that it must be for "therapeutic" reasons."
This is going to go real well. Give Antifa cocane. 
Uber, Lyft win in California as state votes to keep drivers classified as independent contractors
https://www.foxbusiness.com/economy/uber-lyft-california-prop-22-results
"Californians have voted "yes" on a ballot measure to exempt gig workers from state labor laws, according to Associated Press election calls.
Shares of Uber and Lyft jumped on the news.
Proposition 22 asked voters whether Uber, Lyft, and other app-based drivers should remain independent contractors or be eligible for the benefits that come with being company employees.
The run-up to Election Day yielded a slew of lawsuits and advertisements over the ballot initiative, making it one of the costliest in the state's history. Gig companies outspent labor groups by about $200 million to $19 million.
Companies like Uber, Lyft, and DoorDash heavily bankrolled the "Yes on Prop. 22" campaign by spending money on TV and digital advertising as well as hiring consultants, lobbyists, and PR firms.
…Uber and Lyft – which have more than 400,000 drivers in California – said they would have been forced to cut the number of workers and raise prices for riders if the measure failed."
Closing
This is Gabriel Rench with Crosspolitic News. Support Rowdy Christian media by joining our club at fightlaughfeast.com, downloading our App, and heading to our first annual Fight Laugh Feast Conference in Nashville this October 1st through the 3rd. With your partnership, you are providing us with the resources to compete with the mainstream media. Go to fightlaughfeast.com to take all these actions. Have a great day. Lord bless