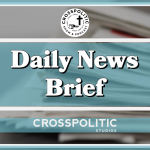 This is Gabriel Rench with your CrossPolitic Daily News Brief for Wednesday, October 21th, 2020.
FLF U Plug
Dr. Thomas Price is offering a fantastic Fight Laugh Feast University course on Theology and Culture. Dr. Price will walk through Foundations in Theological Analysis of Intellectual and Cultural Trends that are impacting Church and Society. Learn to think like Christians in this moment! This class starts October 27th and will only hold 25 households. So don't wait, sign up now!
'It's an absolute joke': Seattle officers leave scathing responses in exit interviews
https://idahonews.com/news/nation-world/its-an-absolute-joke-seattle-officers-leave-scathing-responses-in-exit-interviews-10-20-2020
According to KOMO news:
"Seattle Police officers who are leaving the department gave scathing responses during their exit interviews.
KOMO obtained the exit interviews — which blamed city leadership, to riots and low morale for leaving the department.
Brutal and blunt — in their own words, SPD officers did not hold back their reasons for leaving the force.
One retiring patrol sergeant who had been on the force for more than 20 years said, "I refuse to work for this socialist city council and their political agenda. This agenda sacrifices the health and well-being of the officers and ultimately will destroy the fabric of this once fine city."
When asked if the officers would come back and work for the department again, "One K-9 officer who's resigning after more than 11 years said, "I highly doubt it. You could pay me twice what you're paying me now and I would not work for Seattle under this current political mayhem, Marxist collaborations and lack of government and police leadership."
At least 118 Seattle police officers left department in mass exodus
https://mynorthwest.com/2236407/rantz-seattle-police-exodus/
"At least 118 Seattle police officers separated from the department (this year), the Jason Rantz Show on KTTH has confirmed. In September alone, 39 officers left the force when the typical number for that month is between 5 and 7. Even new recruits are leaving.
There are now only about 1,200 officers in service for the entire city, the lowest it's been in two decades. And even this number is misleading. Many officers are using their accrued sick time as they begin their escape to other agencies or wait for retirement.
The City of Seattle unveiled this officer separation data on Friday morning.
"The mass exodus of officers started in May with 10 separations, followed by 16 in June, 10 in July, and 14 in August. In September, that number jumped to 39. So far in October, there have been eight separations according to a source…"
So a total of 89 officers have resigned since May. But the article goes on to say:
"But these numbers don't tell the whole picture. Sources reveal that many officers are using sick time at higher than normal rates. Many of them are looking for other jobs in different agencies. When they leave, some officers fear the separations could hit 200."
Federal Judge Allows 21 Businesses to Sue Seattle Over Harms Caused by CHOP
https://www.newsweek.com/federal-judge-allows-21-businesses-sue-seattle-over-harms-caused-chop-1539990
According to News Week, Last "Friday, a federal district court judge allowed a lawsuit brought by 21 businesses against the city of Seattle to proceed, despite the city's attempt to have it dismissed.
The lawsuit accuses the city of harming local business owners by allowing the existence of Capitol Hill Organized Protest (CHOP), a self-declared autonomous zone that was established and occupied by racial justice protestors from June 8 to July 1.
The occupied zone blocked all car traffic, reducing the businesses' access to customers, vendors and revenue, the lawsuit says. The lawsuit further alleges that city police largely neglected the zone, allowing protesters and others to damage business property and threaten business owners without punishment.
Lastly, the lawsuit states that the city provided concrete barriers, medical supplies, washing and sanitation facilities, portable toilets, lighting and other material support, including the use of Cal Anderson Park to CHOP occupiers, and told police to adopt a "no response" policy wherein officers wouldn't arrive unless a 9-1-1 caller reported "significant life safety issues.""
The judge is allowing this suite to proceed based off these three legal claims:
"…the city unlawfully took their private property for public use with no compensation, restricted their ability to fully use their property to conduct business and failed to protect the businesses from a danger of the city's own making."
Club Plug
It is news of big tech manipulation that should make you want to join our club. The state of news and mainstream media is appalling, and by the grace of God and your club memberships, our goal is to take over the CNN/FOX embargo. For decades the church has abdicated preaching the gospel into politics, and left the political and cultural discipling to the news pundits like Fox, Rush Limbaugh, Glenn Beck, etc… So support rowdy Chrsitian media by joining our club, and depending on your club level, you get a free t-shirt, access to our club content which includes all the talks from our Fight Laugh Feast Conference, discounts to our future conferences, coffee mug, bag of our delicious Sovereign roast and more. 
California Department of Public Health Thanksgiving Levitical rules
https://www.cdph.ca.gov/Programs/CID/DCDC/Pages/COVID-19/CDPH-Guidance-for-the-Prevention-of-COVID-19-Transmission-for-Gatherings-10-09.aspx
Thanks to JF, who emailed us at news@crosspolitic.com, to give us a heads up on this fun little nanny state ditty: 
-No more than 3 households may gather
-Gather together for less than 2 hours
-Must be outside
-Must wear face masks
-Must have a 6 ft distance on all sides (front, back, sides) between households for seating and socializing
-Must have hand sanitizer or place to wash hands (You are allowed to use the bathroom inside if it is frequently sanitized.)
-Food should be from single-serve containers
-Singing/chanting/shouting/exertion are discouraged
Mag Plug
As many of you already know, we have started a magazine! Order a yearly subscription for yourself and then send a couple yearly subscriptions to your friends who have been drinking luke-warm evangelical cool-aid. Every quarter we promise quality food for the soul, joyous wine for the heart, and some Red Bull for turning over tables. Our magazine will include cultural and theological commentary, a Psalm of the quarter, recipes for feasting, laughter sprinkled through out the glossy pages, and more. Our goal is to produce a high-quality quarterly mini-book-like experience. Early bird subscription is $40, if you sign up before January 1st.
Wales to go into 'firebreak' lockdown from Friday
https://www.bbc.com/news/uk-wales-54598136
According to BBC: 
"Wales will go into a "short, sharp" national lockdown from Friday until 9 November.
People will be told to stay at home and pubs, restaurants, hotels and non-essential shops must shut.
Primary schools will reopen after the half-term break, but only Years 7 and 8 in secondary schools can return at that time under new "firebreak" rules.
Gatherings indoors and outdoors with people not in your household will also be banned.
First Minister Mark Drakeford said the "time-limited firebreak" would be "a short, sharp, shock to turn back the clock, slow down the virus and buy us more time"."
Didn't we hear that like four months ago? 
Thanks to our buddy Paul, who emailed us at news@crosspolitic.com, to get us that piece.
Ex-RNC chair Michael Steele officially endorses Biden
https://thehill.com/homenews/campaign/521789-ex-rnc-chair-michael-steele-officially-endorses-biden
"Michael Steele, who led the Republican National Committee (RNC) during the first years of Joe Biden's vice presidency, formally endorsed him Tuesday morning after joining a "Never Trump" GOP group in August.
Steele made his announcement on MSNBC's "Morning Joe," shortly before starring in an advertisement paid for by the anti-Trump group The Lincoln Project.
In an interview with The Hill on Monday, Steele, who has never been a fan of President Trump, said he thought it was important to make his support for the Democratic presidential nominee explicit.
"Given the role that I played in the party and the role that I think the party should play in the direction of the country, it was important to make a case that this is not the kind of leadership that the country needs. The character of the individual who sits in the chair behind the Resolute Desk matters. It's not about policy, it's not about a particular piece of legislation," Steele said.
"I'll disagree with a lot of the policy that Joe Biden puts out before the country, but that's OK, you should have those debates," he added. "That's not what the last three and a half years have been about. The last three and a half years have been about the personality traits of one individual. Our entire culture and politics are consumed by one person, and the country can't get anything done that way.""
Closing
This is Gabriel Rench with Crosspolitic News. Support Rowdy Christian media by joining our club at fightlaughfeast.com, downloading our App, and heading to our annual Fight Laugh Feast Conference next October. With your partnership, you are providing us with the resources to compete with the mainstream media. Go to fightlaughfeast.com to take all these actions. Have a great day. Lord bless