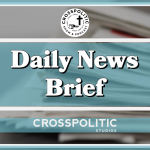 This is Toby Sumpter with your CrossPolitic Daily News Brief for Wednesday, October 7, 2020.
Today you will hear about the death of a Rockstar, the MLB playoffs, a petition for the rights of the unborn in Alabama, Detroit Police Chief has reasonable things to say, what did Obama know about the Russian collusion plot?, a new case from Arizona added to the Supreme Court's  new session, and Trump says he's done negotiating with Pelosi. 
Remember: If you come across a news story you think we might need to cover, please send it to: news at crosspolitic dot com. This is a great way to share articles and stories with us that may end up in our daily or weekly shows: news at crosspolitic dot com
Eddie Van Halen has died. 
Born in the Netherlands and raised in Pasadena, Calif., he founded Van Halen with his older brother, drummer Alex; the siblings were joined by vocalist David Lee Roth and bassist Michael Anthony in the first recording lineup of the group. Roth would later leave the band in 1984, with Sammy Hagar replacing him, leading to four consecutive number 1 albums from 1986 to 1995. 
Clip: 0:47-1:40
Eddie's son Wolf wrote on Twitter Tuesday: I can't believe I'm writing this, but my father, Edward Lodewijk Van Halen, has lost his long and arduous battle with cancer this morning.  He was the best father I could ever ask for. Every moment I've shared with him on and off stage was a gift. My heart is broken and I don't think I'll ever fully recover from this loss. I love you so much, Pop.
Van Halen was 65. 
MLB Playoffs
Major League Baseball has entered the October Classic – the National and American League Division series have begun with the New York Yankees up 1 game over the Tamba Bay Rays and the Houston Astros leading the Oakland A's by one game in the American league. While the LA Dodgers are facing off against the San Diego Padres and the Miami Marlins face the Atlanta Braves. 
From our news inbox:
https://www.dailysignal.com/2020/10/05/black-leaders-seek-pro-life-ruling-in-alabama-on-equal-protection-grounds/
In November 2018, Alabama voters backed a state constitutional amendment, called Amendment 930, that explicitly recognizes and protects the rights of unborn children in the state, granting them equal protection under the law.
The group of black leaders submitted the Equality Petition to the Alabama Supreme Court on Sept. 22, the 158th anniversary of President Abraham Lincoln's Emancipation Proclamation freeing slaves in Confederate states. 
The petition filed in Montgomery, Alabama, specifically calls for the state's highest court to clarify for elected officials that the U.S. Constitution empowers them, and the state Constitution requires them, to prohibit discrimination against black women and unborn black children to ensure their equal protection.
The group of black leaders promoting the Equality Proclamation say that census data shows that Planned Parenthood and other abortion providers intentionally target back women and children by setting up clinics in African American neighborhoods. 
The result in Alabama, they say, is that black babies are four times more likely to be aborted than are white babies. Since the U.S. Supreme Court's 1973 Roe v. Wade ruling legalizing abortion across the nation, they say, 20 million black babies have been aborted.
The petition cites both the 10th Amendment, which grants power to the states, and the 14th Amendment, which grants equal protection for all Americans. 
Alveda King, a pro-life activist and a niece of the Rev. Martin Luther King Jr., said in an interview that the abortion industry traditionally has targeted the black population going back to its founding by Margaret Sanger in 1921. 
Catherine Davis, president of the Atlanta-based Restoration Project, said,
"Alabama has said that if a life in the womb is a person, and the Supreme Court Roe v. Wade case said if the child in the womb is a person, that all of the arguments [that] are put forth would be moot because that child's rights would be entitled to due process under the 14th Amendment," she said. 
The Detroit Police Chief spoke out last week on the protests that have erupted over the Breonna Taylor Grand Jury:
3:17-4:39

A reminder that all of the talks from this year's Fight Laugh Feast conference: Weapons for This War are up in the Club Member Portal, and if you're not already a club member, what are you waiting for? Go to fightlaughfeast.com and register today and get access to all of the talks: Douglas Wilson, George Grant, David Bahnsen, Jeff Durbin, Glenn Sunshine, and more. Next year's conference has been scheduled for October 14-16 back in Franklin, TN again. Next year's theme is Politics of Sex. More information will be coming out soon, but mark the dates now. In the meantime, check out this year's talks.
Brennan Notes Reveal CIA Briefed Former President Obama on Hilary Clinton's Plan to tie Trump's campaign to Russia:
https://www.foxnews.com/politics/dni-brennan-notes-cia-memo-clinton
Director of National Intelligence John Ratcliffe on Tuesday declassified documents that revealed former CIA Director John Brennan briefed former President Obama on Hillary Clinton's purported "plan" to tie then-candidate Donald Trump to Russia as "a means of distracting the public from her use of a private email server" ahead of the 2016 presidential election, Fox News has learned.
"Today, at the direction of President Trump, I declassified additional documents relevant to ongoing Congressional oversight and investigative activities," Ratcliffe said in a statement to Fox News Tuesday.
A source familiar with the documents explained that Brennan's handwritten notes were taken after briefing Obama on the matter.
"We're getting additional insight into Russian activities from [REDACTED]," Brennan notes read. "CITE [summarizing] alleged approved by Hillary Clinton a proposal from one of her foreign policy advisers to vilify Donald Trump by stirring up a scandal claiming interference by the Russian security service," Brennan's notes read.
The declassification comes after Ratcliffe, last week, shared newly-declassified information with the Senate Judiciary Committee which revealed that in September 2016, U.S. intelligence officials forwarded an investigative referral on Hillary Clinton purportedly approving "a plan concerning U.S. presidential candidate Donald Trump and Russian hackers hampering U.S. elections" in order to distract the public from her email scandal.
"Per FBI verbal request, CIA provides the below examples of information the CROSSFIRE HURRICANE fusion cell has gleaned to date," the memo continued. ""An exchange [REDACTED] discussing US presidential candidate Hillary Clinton's approval of a plan concerning US presidential candidate Donald Trump and Russian hackers hampering US elections as a means of distracting the public from her use of a private email server."
The Clinton campaign and the Democratic National Committee, through law firm Perkins Coie, hired Fusion GPS and ex-British intelligence officer Christopher Steele to author and compile information for the controversial and unverified anti-Trump dossier.
The dossier contains claims about alleged ties between Donald Trump and Russia that served as the basis for Foreign Intelligence Surveillance Act (FISA) warrants obtained against former Trump campaign aide Carter Page.
FLF Magazine: We unveiled the brand-new Fight Laugh Feast Magazine at our recent conference: Our Fight Laugh Feast Magazine will be a quarterly issue that packs a punch like a 21 year Balvenie, no ice. We don't water down our theology, why would we water down our scotch? Order a yearly subscription for yourself and then send a couple yearly subscriptions to your friends who have been drinking luke-warm evangelical cool-aid. Every quarter we promise quality food for the soul, wine for the heart, and some Red Bull for turning over tables. Our magazine will include cultural commentary, a Psalm of the quarter, recipes for feasting, laughter sprinkled throughout the glossy pages, and more. Annual subscriptions are $40 – that's for four issues. So sign up and enjoy our Fight Laugh Feast theme park. 
https://flfnetwork.com/product/fight-laugh-feast-magazine/
From the Wall Street Journal: The supreme court agreed to hear a case related to the legality of voting rules in the state of Arizona. The Supreme Court's new term just began this week, and among the cases it will consider whether a 2016 Arizona law prohibiting get-out-the-vote operatives from collecting and submitting ballots is constitutional. The state has argued that the law protects the integrity of elections and prevents ballot harvesting and tampering. While opponents argue that the law has a disproportionate discriminatory impact on Native American, Hispanic, and Black voters and claim it violate the Federal Voting Rights Act. 
Trump tweeted out Tuesday afternoon: Nancy Pelosi is asking for 2.4 Trillion Dollars to bailout poorly run, high crime, Democrat States, money that is in no way related to COVID-19. We made a very generous offer of 1.6 Trillion Dollars and, as usual, she is not negotiating in good faith. I am rejecting their request, and looking for the future of our country. I have instructed my representatives to stop negotiating until after the election when, immediately after I win, we will pass a major stimulus bill that focuses on hardworking Americans and Small Business. I have asked @senatemajldr Mitch McConnell not to delay, but to instead focus full time on approving my outstanding nominee to the United States Supreme Court, Amy Coney Barrett. The Stock Market is at record levels, JOBS and unemployment also coming back in record numbers. We are leading the World in Economic Recovery, and THE BEST IS YET TO COME!
This is Toby Sumpter with Crosspolitic News. Remember to send us stories and articles that you think we should cover to news at crosspolitic dot com. You can find this and all of our shows at Crosspolitic.com or on our app, which you can download at your favorite app store, just search "Fight Laugh Feast". Support Rowdy Christian media, and become a Fight Laugh Feast Club Member and for as long as the CrossPolitic gods smile upon the land, get your very own Fight Laugh Feast t-shirt and live and archive access to all the talks at our first annual Fight Laugh Feast Conference. Become a member now at fightlaughfeast.com.