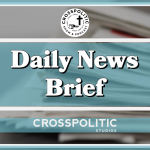 This is Gabriel Rench with your CrossPolitic Daily News Brief for Wednesday, September 23rd, 2020.
Before I get started, I want to make you aware of a new email address for all the daily news brief listeners: news at crosspolitic.com is a great way to share articles and stores with us that may end up in our daily or weekly shows: news at crosspolitic dot com
Judge orders 'The Church at Planned Parenthood' to stop anti-abortion demonstrations
https://www.krem.com/article/news/local/planned-parenthood-granted-temporary-injunction-against-the-church-at-planned-parenthood/293-97b166e6-1504-4e1e-85a8-a00c27e25f67
A Washington State Superior Court judge ruled in favor of Planned Parenthood by granting a preliminary injunction against an anti-abortion group, according to a Planned Parenthood spokesperson.
Legal Voice brought a suit against "The Church at Planned Parenthood" in June on behalf of Planned Parenthood of Greater Washington and North Idaho.
Planned Parenthood claims The Church at Planned Parenthood's loud demonstrations outside facilities are interfering with patient care, and violate state and local laws against excessive noise outside healthcare facilities.
"The court's decision today recognizes the importance of meaningful access to healthcare for all Washingtonians," Legal Voice's Attorney Kim Clark
Data show Google burying search results from conservative news sites
https://disrn.com/news/data-shows-google-burying-search-results-from-conservative-news-sites
"New data from the search consultants at Sistrix indicate that online search giant Google may be intentionally burying search results for major conservative news websites to prevent the public from finding and reading them.
Sistrix tracks millions of various search keywords and ranks the number of "hits" a site receives in across all those terms. Conservative site Breitbart, in particular, has seen dramatic decreases in visibility on Google that began in 2017. By last year, Breitbart's Google search visibility ranked near zero.
If a user types in the name "Breitbart" into the Google search engine, the site appears. But when searching news topics in general, the engine returns no Breitbart stories, even if the site has written on the topic. Even when searching for specific Breitbart writers, users have to scroll through pages of returns before finding Breitbart stories.
Another conservative news site, The Daily Caller, was found to be in a similar situation.
Though Google has not responded to the findings from Sistrix, the data have been corroborated by a leaked internal exchange between Google officials following Presidents Trump's 2016 electoral victory."
Club Plug
It is news of big tech manipulation that should make you want to join our club. The state of news and mainstream media is appalling, and by the grace of God and your club memberships, our goal is to take over the CNN/FOX embargo. We really do need Christians engaged in politics, and with your club membership we hope do this for years to come. Also, our conference registration is closed, and now the only way to catch our conference is to livestream it… and you guest it, only club members So support rowdy Chrsitian media by joining our club and you get, depending on your club level, a free t-shirt, access to our club content, discounts to our conference, coffee mug, bag of our delicious Sovereign roast and more. 
House lawmakers reach deal to avert shutdown
https://thehill.com/homenews/house/517692-house-lawmakers-reach-deal-to-avert-shutdown
House Democrats reached a deal with Republicans on legislation to avert a government shutdown after rekindling talks over disputed farm assistance, with a vote planned as soon as Tuesday night.
Speaker Nancy Pelosi (D-Calif.) said in a statement that Democrats had reached an agreement to add nearly $8 billion in nutrition assistance for low-income children and families in exchange for "accountability" in assistance for farmers sought by the Trump administration.
"We have reached an agreement with Republicans on the [continuing resolution] to add nearly $8 billion in desperately needed nutrition assistance for hungry schoolchildren and families. We also increase accountability in the Commodity Credit Corporation, preventing funds for farmers from being misused for a Big Oil bailout," Pelosi said in a statement.
Attorney General for the U.S. Virgin Islands demands new Epstein flight logs in lawsuit, Epstein's contacts in "panic"
https://disrn.com/news/attorney-general-for-the-us-virgin-islands-demands-new-epstein-flight-logs-in-lawsuit-epsteins-contacts-in-panic
"The Attorney General for the U.S. Virgin Islands has filed a lawsuit demanding more than two decades of flight logs for sex offender Jeffrey Epstein's four helicopters and three planes that routinely traveled to the islands.
In the lawsuit, AG Denise George levels 22 charges against Epstein's estate, including aggravated rape, child abuse, child neglect, human trafficking, forced labor, and prostitution. In addition to full passenger lists, George is requesting any "complaints or reports of potentially suspicious conduct," personal notes from the pilots, and witness testimony from anyone who interacted with Epstein or his guests."
If you remember, Epstein had a previous subpoena that brought him to jail in 2009. That subpoena was for Epstien's former Pilot David Rodgers. 
"Pilot David Rodgers subsequently provided the logs, which revealed several famous individuals had frequented the jet, including former President Bill Clinton and Prince Andrew of the U.K. These logs did not include flights made by Larry Visoski, Epstein's pilot for more than 25 years.
According to The Mirror "The records that have been subpoenaed will make the ones Rodgers provided look like a Post-It note". "There is panic among many of the rich and famous."
Chicago postal workers threaten to stop delivering mail after another mail carrier shot, injured
https://disrn.com/news/after-another-mail-carrier-shot-chicago-postal-workers-threaten-to-stop-delivering-mail
"Chicago south and west side postal workers are making it clear that they will stop delivering mail to trouble areas unless the city takes a more aggressive and effective position in combating violent crime.
A mail carrier was shot multiple times in early September while walking her Burnside neighborhood route. Six months before, a different postal worker was shot after getting caught in the crossfire of rival gangs while delivering letters in Brighton Park. A third post office worker was shot with a paintball in the same Burnside neighborhood.
While the U.S. Postal Service has put up $50,000 in reward money for those with information about the most recent shooting, post office personnel in Chicago protested on Friday, demanding action by the city."
Kroger faces lawsuit after firing employees for not wearing pro-LGBT aprons
https://disrn.com/news/kroger-faces-lawsuit-after-firing-employees-for-not-wearing-pro-lgbt-aprons
"Kroger is facing a lawsuit after it fired two employees for refusing to wear a pro-LGBT apron as part of their work uniform because it violated their religious beliefs.
The Equal Employment Opportunity Commission filed a lawsuit against the grocery store chain after a location in Conway, Arkansas, fired two employees for refusing to follow a new dress code that required them to wear an apron with a rainbow-colored heart emblem.
The two women said that wearing the apron was an endorsement of the LGBT movement, which went against their religious beliefs."
What Kroger should have done, is declare a health emergency, and require everyone to wear rainbow masks. 
Dinosaur Washed Out to Sea with Its Last Meal
https://www.icr.org/article/dinosaur-washed-out-to-sea-with-its-last-meal/
File this under God is awesome from the Institute of…actually I want to hold off on my source for a minute:
"In 2017, a large dinosaur was discovered washed out to sea,1 similar to the dinosaur bone found 70 miles off Norway's coast.2 Only this one was partially intact, nearly perfectly preserved, and still contained its last meal fossilized inside its gut.1 Recently, a group led by paleontologists from the Royal Tyrrell Museum of Palaeontology examined the stomach contents of the dinosaur and reported their findings in Royal Society Open Science.1
Gizmodo reported on the dinosaur when it was first discovered.3
"This is one of the best-preserved dinosaurs in the world," Caleb Brown, a paleontologist at Royal Tyrrell Museum, told Gizmodo back in 2017 when the exquisite fossil was first unveiled. Dating back to the Early Cretaceous, the nodosaur skeleton—a kind of ankylosaur—retained features rarely seen in an armored dinosaur fossil, including skin and scale preservation, intact horn sheaths, and its original shape.4
George Dvorsky described the setting of the discovery,
This fossil was found at an open pit mine north of Fort McMurray, Alberta, back in 2011. Its remarkable preservation was due to a series of fortunate events—fortunate, at least, for paleontologists. Shortly after foraging, the 2,900-pound (1,300-kilogram) behemoth died close to shore, and its body drifted out to sea. Eventually, the body settled to the seafloor where it became preserved in mud [sand really], a patch of Early Cretaceous real estate now known as the Clearwater Formation.4
But fossils have to be buried fast and deep to be preserved.5 There is no gentle drifting out to sea, settling to the bottom, and then somehow becoming buried so that no scavengers attacked the carcass. It was not even found close to shore. Instead, it was found in a sandy rock unit that was in deep enough water to contain several large marine reptiles. 
It's hard to imagine a 1.5-ton dinosaur drifting gently out to sea, settling in the sand, becoming buried, and then nearly perfectly preserved.5 What processes could bury this animal so deep and so fast? And how did it get out so far that it was found with full-sized marine reptiles like plesiosaurs and an elasmosaurs? This was no trivial task."
The Institute of Christian Research concludes:
"The best explanation for this wonderfully preserved dinosaur, and its intact stomach contents, is that it was buried rapidly in the Flood. Only a global Flood, with massive tsunami-like waves, could transport a nearly intact 1.5-ton nodosaur out to sea and bury it fast enough to preserve it so perfectly. The mixed land and marine fossils in the Clearwater Formation make the most sense if we accept the Flood as an historical event."
This is Gabriel Rench with Crosspolitic News. Support Rowdy Christian media by joining our club at fightlaughfeast.com, downloading our App, and heading to our first annual Fight Laugh Feast Conference in Nashville this October 1st through the 3rd. With your partnership, you are providing us with the resources to compete with the mainstream media. Go to fightlaughfeast.com to take all these actions. Have a great day. Lord bless