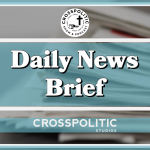 This is Gabriel Rench with your CrossPolitic Daily News Brief for Wednesday, September 2nd, 2020.
Unessential. That is the theme of this news brief. But before I get there, we have created a news email account that you can email us articles to. Please email the title, a link to the article, and a brief sentence on why it is an important news article. That will help us sift, as we bring you your Daily News Brief. So, the email address is news@crosspolitic.com, and thanks for the help.
Mayor Bill De Blasio Plans 22,000 Layoffs, As People Flee New York City In Droves
https://www.forbes.com/sites/jackkelly/2020/08/28/mayor-bill-de-blasio-plans-22000-layoffs-as-people-flee-new-york-city-in-droves/#35c5727d7342
According to Forbes.com:
"New York City may lay off tens of thousands of municipal workers. Even with this massive downsizing, it won't be enough to stem the financial hemorrhaging plaguing the city.
The Wall Street Journal reported that roughly 22,000 government workers need to be let go to close a $9 billion deficit that continues to grow.
New York City Mayor Bill de Blasio said about the dire situation, "Here is a way to think about it—for every hundred million dollars in city budget—that's about 2,200 city employees, on average." He added, "To close a $1 billion dollar gap would mean laying off 22,000 city employees, which is a staggering number." New York has about 330,000 municipal workers."
Riot-Ravaged Minneapolis Businesses Can't Rebuild Because the Insurance Won't Cover It
https://pjmedia.com/news-and-politics/jim-treacher/2020/08/31/riot-ravaged-minneapolis-businesses-cant-rebuild-because-the-insurance-wont-cover-it-n867003
The consequences of weak leadership and failed liberal worldviews are leaving massive economic wakes behind them in their cities. Business owners in Minneapolis are getting shafted from lack of police protection, and now their insurance policies are hanging businesses out to dry.
According to the Star Tribune:
https://www.startribune.com/skyrocketing-demolition-costs-for-riot-damaged-properties-delay-rebuilding/572269302/?refresh=true
"Most policies limit reimbursement to $25,000 to $50,000, but contractors have been submitting bids of $200,000 to $300,000. In many cases, the price of the work is not much lower than the actual value of the property, records show."
When society crumbles, it is the small business owner, the blue collar workers, the single moms, and so forth that get hit the hardest. Democrats tout their credentials that they are concerned for the poor, the needy, the down-in-out, but what they really want is power. Black Lives Matter wants power. Mainstream media wants power. They are all working towards the same goal, raw power and your compliant submission. 
Join us at our first annual Fight Laugh Feast Conference in Nashville this October 1st through 3rd. The theme of our conference is Weapons for this War and we are excited to bring all our friends together for some good fellowship in a crazy 2020. We will kick the whole thing off with beer (punch for the kids) and psalm singing the first night, followed by a slate of speakers committed to driving the nails of the gospel into your everyday life including Pastor Douglas Wilson, Pastor George Grant, Jeff Durbin, Rod Martin, Dr. Glenn Sunshine, Pastor Toby, and more. The conference will conclude with a massive Fight Laugh Feast Network mashup, with representatives from all your favorite shows all on one show, fighting, laughing, and feasting. And then we really will feast together, with food trucks bringing in dinner to close out the conference.  Rowdy Christian media meets the conference world – not for the faint of heart.  Registration is limited, so don't wait, sign up for our first annual Fight Laugh Feast Conference in Nashville October 1st through 3rd. Go to Fightlaughfeast.com and register today.
Police, federal agents arrest Seattle-based Riot Kitchen crew that stopped in Kenosha to serve free food
https://www.seattletimes.com/seattle-news/police-federal-agents-arrest-seattle-based-riot-kitchen-crew-that-stopped-in-kenosha-to-serve-free-food/
According to the Seattle Times:
"Eight volunteers from Seattle-based Riot Kitchen were ordered out of their vehicles and arrested by law enforcement officials soon after their Wednesday arrival in Kenosha, Wisconsin, where they had planned to provide free food to protesters, according to a board member of the nonprofit group.
A video posted on Twitter purports to show some of what happened during the daylight arrests. The officers arrive in what appear to be unmarked vehicles, and surround a minivan that had just fueled up at a Kenosha gas station and was carrying what board member Jennifer Scheurle said was a group of Riot Kitchen volunteers."
…"We are a nonprofit and our mission is to feed people for free — protesters and everyone in need," said Board Member Jeniffer Scheurle. "We were from out of town — but that's not illegal."
Rewarding the unjust with food? Incentivizing looters by feeding them? This does not sound like a good idea. 
Barna: 1 in 5 U.S. churches likely to close permanently due to coronavirus shutdowns, impact
https://disrn.com/news/barna-research-group–1-in-5-us-churches-likely-to-close-permanently-due-to-covid-shutdowns-impact
According to Discrn.com:
Christian research organization Barna Group says it is likely that one in five U.S. churches will shut its doors for good because of a downturn in donations and attendance caused by the novel coronavirus.
Even in areas where shutdown orders have lifted, churches are seeing far fewer in-person attendees.
An April poll conducted by The National Association of Evangelicals showed that 34% of churches had seen donations drop by 10-20% between mid-March and late April; 22% of churches had a drop of 30-50% or more; and 9% of churches had a drop of 75% or more.
Barna's data shows that early in the pandemic, 70% of pastors surveyed were "very confident" their churches would survive the ordeal. Recently, only 58% of pastors said the same."
This is because church leaders have been discipling their congregations that the church is non-essential. In the name of trying to make the gospel relevant to the world, they have made the church irrelevant to their congregations. The church has no argument against the unconstitutionality of these shutdown orders, the church has no real ecclesiology, the church has no clue of how to govern with a backbone when the government oversteps her God-given role. We think the civil government is essential, and the church is a club that you can shutdown if there are vague threats lurking outside. We need to recover what it means that worship is central, and that God uses our praises, our prayers, our worship on the Lord's day to change the world. 
Biden declares LGBTQ rights his No. 1 legislative priority
https://apnews.com/ab96c4d9b3a84ef9b10598781ff38e93
According to the AP:
Democratic presidential candidate Joe Biden declared Saturday that the Equality Act would be his top legislative priority, an effort to enshrine LGBTQ protections into the nation's labor and civil rights laws.
The former vice president shared his hopes of signing the legislation as part of a keynote address to hundreds of activists at the Human Rights Campaign's annual Ohio gala on the first day of Pride Month. In a half-hour at the lectern, his remarks ranged from emotional tributes to his audience and their personal endurance to condemnations of President Donald Trump.
"It's wrong and it is immoral what they're doing," Biden said of the Trump administration. Among other Trump polices, he cited attempts to bar transgender troops in the U.S. military, allow individuals in the medical field to refuse to treat LGBTQ individuals, and allow homeless shelters to refuse transgender occupants.
"Just like with racial justice and women's rights, we are seeing pushback against all the progress we've made toward equality," Biden said.
The Equality Act would address many such discriminatory practices. It recently passed the Democratic-run House, but will not become law under Trump and the Republican Senate. That means LGBTQ residents in dozens of states are still subject to various forms of discrimination that are either specifically allowed or not barred by state law.
"It will be the first thing I ask to be done," Biden said.
Notice how they co-opt the sin of racism and equate it with cutting off your body parts and pretending that a guy can be a woman. They can get away with this argument, because you guessed it, LGBT rights are essential, Chrisitan rights are unessential. As I have hinted at in this news brief, the reason why the church is unessential is because we believe worship is a hobby, worship is a thing you do that makes you feel good, worship is optional. We need to repent of this man-centered idea of worship, and trust and believe that God moves mountains when we worship Him, God changes the world when we humble ourselves before Him and praise His Holy name. 
This is Gabriel Rench with Crosspolitic News. Support Rowdy Christian media by joining our club at fightlaughfeast.com, downloading our App, and heading to our first annual Fight Laugh Feast Conference in Nashville this October 1st through the 3rd. With your partnership, you are providing us with the resources to compete with the mainstream media. Go to fightlaughfeast.com to take all these actions. Have a great day. Lord bless