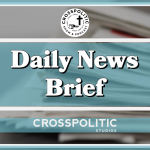 CrossPolitic Daily News Brief for Monday November 16, 2020
Food stamps, to pay for online grocery trips has been surging
https://www.usatoday.com/story/money/shopping/2020/11/12/amazon-online-grocery-shopping-food-stamps-snap-benefits/3761894001/
states not included in the pilot, according to the agency's website.
 A top health adviser to President-elect Joe Biden suggested that the nation is well-positioned financially to withstand a lockdown of more than a month in an effort to get the coronavirus pandemic under control. 
https://twitter.com/thehill/status/1327169591953461248?s=21
Dr. Anthony Fauci said Sunday that it will still be necessary to social distance, wear masks and take other COVID-19 precautions after a vaccine becomes available to Americans.
https://nypost.com/2020/11/15/social-distancing-masks-necessary-after-getting-vaccine-fauci/amp/
Facui on Jake Tapper
https://nypost.com/2020/11/13/anthony-faucis-new-covid-19-guidance-do-what-youre-told/amp/
Dr. Anthony Fauci has some new coronavirus guidance: 
In an interview Thursday, the coronavirus task force member and infectious disease expert pushed back on the notion that scientists were "authoritarian" for promoting strict lockdowns and social distancing measures. Just obey
North Dakota is issuing a Statewide mask mandate…
https://thehill.com/homenews/state-watch/525968-north-dakota-issues-statewide-mask-mandate-to-stem-spread-of-covid-19
North Dakota's governor on Friday issued a statewide mask mandate as coronavirus cases continue to surge in the state.
Gov. Doug Burgum's (R) office released a series of mitigation measures that will go into effect on Monday.
Face coverings will now be required in indoor business and indoor public settings, as well as outdoor public settings where physical distancing isn't possible.
The order, signed by interim State Health Officer Dirk Wilke, includes exceptions for children under age 5, individuals with a medical or mental health condition or disability that makes it unreasonable to wear a mask, and religious services.
"The most effective weapon against COVID-19 is wearing a mask," Wilke said in a statement. "This is a simple tool, but one that's critical in helping protect our loved ones and slow the spread."
Burgum also signed an executive order that limits all bars and restaurants  to 50 percent capacity — not to exceed 150 customers. Food service establishments must be closed to in-person service between 10 p.m. and 4 p.m. but take-out, curbside and delivery options are allowed to operate.
The governor also suspended all high school winter sports and other extracurricular K-12 school activities are suspended until Dec. 14. The pause in activities is aimed at keeping cases low enough to allow schools to stay open for in-person learning with masks and physical distancing.
The governor also warned North Dakotans to try to limit gatherings to their immediate household group during the holiday season.
"We believe in North Dakotans. We believe in the power of individual responsibility. And we need individual responsibility now more than ever to slow the spread of COVID-19," Burgum said.
 The republican Gov of Idaho has pushed us back to stage two
while Overlord Inslee of Washington has given some new regulations, All the way  down to your church choir.
New restrictions for businesses include: 
Indoor social gatherings with people outside your household are prohibited, unless you quarantined for 14 days prior, or quarantine for 7 days and have a negative COVID-19 test
Outdoor social gatherings must be limited to 5 people from outside your household  
Restaurants and bars are closed for indoor service. Outdoor dining for to-go services are allowed, but must follow outdoor dining restrictions.
Tables are limited to 5 people for outdoor dining. Restaurant restrictions go into effect at 12:01 a.m. Wednesday, Nov. 18
Wedding and funerals receptions are prohibited. Ceremonies are limited to no more than 30 people.
In-store retail, including grocery stores, must be limited to 25% indoor capacity and must close common areas. Food court dining must close.
Religious services are limited to 25% indoor occupancy or no more than 200 people, whichever is fewer. No choir, band or ensemble can perform during service. Soloist are permitted to perform. Facial coverings must be worn at all times. 
Long-term care facilities outdoor care visits are allowed. Exceptions for essential support person or end-of-life care. 
Youth and adult sporting activities are limited to outdoor only, intrateam practices and masks are required for all athletes.  
Bowling centers must close indoor service 
Fitness facilities and gyms are to close for indoor service. Outdoor fitness classes may continue, but still follow outdoor gathering restrictions. Drop-off childcare will close. 
Misc. venues: all retail activities and business meetings are prohibited.  Professional training and testing that cannot be done remotely is allowed. Occupancy in meeting rooms are limited to 25% capacity or 100 people, whichever is fewer. 
Movie theaters must close indoor service. Drive-in movie theaters are allowed.  
Museums, zoos and aquariums must close indoor service 
Real estate open houses are not allowed. 
All childcare services, K-12th grade and higher education is exempt from the new restrictions and will also continue with current guidance measures in place. 
And meanwhile on Spirit Airlines…
https://twitter.com/ww_news_/status/1327315172332097537?s=21
Mask Facts