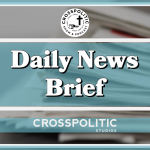 This is Garrison Hardie with your CrossPolitic Daily News Brief for Friday, April 14th, 2023.
Fight Laugh Feast Magazine
Our Fight Laugh Feast Magazine is a quarterly issue that packs a punch like a 21 year Balvenie, no ice. We don't water down our scotch, why would we water down our theology? Order a yearly subscription for yourself and then send a couple yearly subscriptions to your friends who have been drinking luke-warm evangelical cool-aid. Every quarter we promise quality food for the soul, wine for the heart, and some Red Bull for turning over tables. Our magazine will include cultural commentary, a Psalm of the quarter, recipes for feasting, laughter sprinkled through out the glossy pages, and more. Sign up today, at fightlaughfeast.com.
https://www.foxnews.com/us/texas-dairy-explosion-leaves-least-18000-cattle-dead-person-critically-injured
Texas dairy explosion leaves at least 18,000 cattle dead, 1 person critically injured
Approximately 18,000 cows were killed, and one person was critically injured, in an explosion at a dairy farm in the Texas Panhandle on Monday.
The Castro County Sheriff's Office confirmed with Fox News Digital that the cows were in a holding area before being brought in for milking when the blast occurred at the Southfork Dairy Farm in Dimmitt.
Very few cows in the holding area survived, officials told local outlet KFDA.
Police said they received eight calls just before 7:30 p.m. Monday about an explosion and fire. Callers said some employees were trapped inside the milking building.
When law enforcement officials arrived at the dairy farm, they determined only a woman was trapped in the dairy building.
Officials said the trapped individual was rescued from the building and airlifted to UMC Hospital in Lubbock for treatment. Lubbock is located about 80 miles from Dimmitt.
Officials said all the other dairy employees were accounted for and were safe.
The Texas State Fire Marshal's Office is investigating the cause of the fire.
https://www.washingtonexaminer.com/restoring-america/community-family/legal-abortions-fell-post-roe
Legal abortions fell 6% in six months after Supreme Court overturned Roe
Legal abortions in the United States dropped more than 6% in the six months after the Supreme Court overturned Roe v. Wade , a testament to the new rules and regulations that now vary from state to state.
A new report released by the Society of Family Planning, called the "#WeCount" report, determined that there were 32,260 fewer abortions from July to December 2022 when compared to data taken in April and May. In the months post-Dobbs v. Jackson's Women's Health Organization decision, which overturned Roe v. Wade in June, there were an average of 5,377 fewer abortions per month.
Telehealth abortions provided through virtual clinics have increased every month since pre-Dobbs in April, and by December, the appointments represented 9% of all abortions across the six months post-Dobbs.
The organization found that the effect of the Dobbs decision is based on state abortion policies. States with bans in place witnessed a total of 43,410 fewer people cumulatively having abortions. On the other side, states that permitted abortion access following the end of Roe v. Wade saw a total of 11,150 more people who had abortions.
By Dec. 31, 13 states had banned abortion with almost no exceptions, and Georgia imposed a six-week ban. In Georgia, the number of abortions decreased by 40%, according to the report.
Florida saw 1,200 more abortions in the months post-Dobbs because state law currently permits abortions up to 15 weeks. The Sunshine State is inching closer to a six-week ban after the state Senate passed the legislation , sending it to the House, where it is also expected to pass, and eventually Gov. Ron DeSantis's (R-FL) desk, where he is likely to sign it.
The Dobbs decision also pushed thousands of women to travel long distances to obtain abortions if their home states had restrictions. The report showed that the number of abortions increased significantly in states that have solidified abortion access and are located near states with bans, the largest increases occurring in Florida, Illinois, and North Carolina.
Abortions declined significantly in places where the courts overturned proposed bans, such as Arizona and Ohio.
Several clinics in Arizona, which allows abortions up to 15 weeks, temporarily shut down while the court determined whether the near total ban that predated Arizona's statehood could be enforced. Eventually, the court ruled that the 15-week ban overruled the near-total ban and went into effect in December 2022. The number of abortions per month in Arizona dropped 85% to 230 between April and July and shot back up to 870 by December, according to the report.
In Ohio, a six-week ban went into effect after the Dobbs decision. In that time, the number of abortions dropped 62% from before Dobbs to 790. However, a judge halted the six-week ban, and abortions are now legal up to 22 weeks of pregnancy.
The number of abortions now sits at over 1,400 per month. Pro-abortion activists in Ohio created a committee in December to explore putting abortion on the ballot , and in March, the Ohio Ballot Board certified the language of the proposed ballot initiative that would enshrine abortion in the state constitution.
https://www.politico.eu/article/euco-eu-crosses-into-the-border-fence-game-migration/
EU vows more cash for frontier policing as border fence debate revives
The EU that once largely dismissed border walls as a crude Trumpian solution is vowing to channel "substantial" funds into frontier guards and surveillance equipment, as countries ramp up calls for help paying for their border fences.
For several hours at an EU Council summit on Thursday, the only show in town was Volodymyr Zelenskyy. Then the Ukrainian leader left, and a well-worn clash over migration instantly returned. There were stark signs that the bloc's stance is hardening.
Well into the early hours of Friday morning, EU leaders made proposal after proposal, all seeking to stem the rise in people arriving to the Continent outside legal channels. Some wanted Brussels to help pay for border fences. Others stressed a focus on returning rejected asylum seekers.
German Chancellor Olaf Scholz at one point tried to calm passions, according to one official familiar with the discussion. Did the EU want to turn itself into a fortress? Walls, simply put, do not work, he said, pointing to the U.S.-Mexico border, where a fractious debate over a wall hasn't abated crossings.
Ultimately, however, Scholz and the other EU leaders did back more stringent EU border control methods — an indication of how the EU has toughened its stance on the subject since the apex of the 2015-2016 Syrian refugee crisis.
Border fences, especially, were once anathema in much of Europe, treated as a blunt instrument meant more for show than practical use. But a growing coalition of EU countries has now built such barriers, with some wanting Brussels to help pay for more. And while EU officials won't cross the red line into fence funding, they usually agree to fund surveillance technology and border guards.
As EU leaders went round and round, Austria led the pack in pushing for more border resources from Brussels.
The country has experienced an increase in migrants arriving through the Western Balkans, often crossing from Serbia into Hungary and then into Austria.
At Thursday's summit, the country got its preferred language into the final statement, which implores the Commission "to immediately mobilise substantial EU funds and means" to help countries bolster their "border protection capabilities and infrastructure." The statement specifically referenced "surveillance, including aerial surveillance, and equipment."
After the leaders broke up around 3 a.m., Austrian Chancellor Karl Nehammer lauded the result, which may be the EU's strongest language yet on the issue.
Bulgaria has been a particular focus for Austria. It wants the EU to help reinforce a fence between the EU border country and Turkey, a project it pegs at €2 billion. But the Commission has cautioned that it only has €3 billion left for all fence-related projects, according to multiple diplomats.
Austria was not the only country stumping for more border funding. A clutch of countries including Hungary, Denmark, Estonia, Lithuania, Latvia and Greece signed a letter backing tougher border measures on the eve of the summit. The missive echoed a similar letter from October 2021 that saw 12 member states asking the European Commission to let EU cash go toward border barriers.
Von der Leyen, who opposes the EU entering the fence-funding business, said after the meeting that leaders had only agreed to use EU money for infrastructure like cameras, watch towers and vehicles.
She even made a point of mentioning that an existing fence the EU was looking to rehab "doesn't function" since it doesn't have adequate personnel and surveillance equipment. The effort is part of a series of "pilot projects" von der Leyen said the EU would launch to illustrate, among other things, how an ideal border would process asylum seekers.
https://www.conservativereview.com/trans-teacher-allegedly-threatened-to-shoot-students-and-parents-say-the-middle-school-failed-to-notify-them-2659853038.html
Trans teacher allegedly threatened to shoot students, and parents say the middle school failed to notify them
Parents with children attending Fox Chapel Middle School in Hernando County, Florida, told the Daily Caller News Foundation that school officials failed to notify them after a transgender teacher allegedly threatened to shoot and kill students.
Assistant Principal Kerry Thornton and guidance counselor Kimberly Walby contacted the middle school's resource officer on March 24 to file an incident report regarding a teacher allegedly expressing thoughts about suicidal ideation and possibly shooting students.
The report, obtained by Moms for Liberty's Hernando County chapter, stated that Alexander Renczkowski, a biologically male teacher who identifies as female and goes by the name Ashlee, had confessed to having "bad thoughts" but denied threatening to harm students. According to the report, the teacher stated that "she does not want to harm herself."
Authorities then confiscated three firearms and ammunition from Renczkowski's home, the report noted. After conducting a threat assessment, Hernando County School District's mental health coordinator, Sandra Hurst, found that the teacher did not meet the criteria to be involuntarily institutionalized for mental illness under Florida's Baker Act law, the report added.
Renczkowski was reportedly allowed back into the classroom the next day.
Several parents told the DCNF that they learned about the incident from a local reporter, not the school.
According to the parents, the school did not contact them until 17 days after the report was filed and the news had already circulated.
Hernando County Sheriff's Office released a statement Wednesday about the March incident.
"On 03-24-23, the HCSO was notified of, and did investigate, an event at Fox Chapel Middle School," the sheriff's office said. "The investigation revealed that no criminal offense(s) occurred; therefore, no arrest(s) could be made. Further, deputies found that the individual did not, at that moment, meet the required criteria for involuntary commitment under the Baker Act."
The sheriff's office noted that the teacher cooperated with law enforcement to hand over all firearms.
The Hernando County School District, Fox Chapel Middle School, and Alexander Renczkowski did not respond to requests for comment, the DCNF reported.
https://dailycaller.com/2023/04/12/south-korea-ammunition-biden-administraiton-ukraine/
US Gets 500,000 Artillery Shells On Loan From South Korea To Fill Plummeting Stocks
The U.S. reached an agreement last month to obtain 500,000 rounds of 155 mm artillery shells on loan from South Korea, Reuters reported Wednesday, citing a South Korean newspaper.
U.S. stocks of the 155 mm round, which see a high level of consumption on the battlefield in Ukraine, have fallen to critically low levels, and the Biden administration sought artillery ammunition from South Korea in March, according to documents seen by the DCNF. South Korea will "lend" the shells to the U.S. rather than selling to avoid the possibility of those shells being delivered to Ukraine in a future assistance package, thereby violating a South Korean policy against supplying lethal items to countries at war, the DongA Ilbo outlet reported, citing government sources, according to Reuters.
South Korea's defense ministry told Reuters that Seoul and allies are exploring a variety of ways to provide Ukraine with much needed munitions but did not speak to specific discussions or agreements.
The U.S. for the first time struck a deal with South Korea to purchase 100,000 155 mm rounds for ultimate delivery to Ukraine in November. Routing the deal through the U.S. allowed South Korea to avoid complicity in Ukraine's attacks on Russian forces, Reuters and The Wall Street Journal reported, citing U.S. officials familiar with the matter.
The shells will primarily serve to backfill U.S. stockpiles, DongA Ilbo reported, according to Reuters.
News of the agreement comes after leaked Pentagon documents from March described a conversation between two South Korean national security officials about potentially routing artillery through Poland — alarming officials and prompting Seoul to confront Washington about the disclosure, Reuters reported.
The South Korean president's office affirmed the leaked documents would not damage relations with the U.S., The New York Times reported. U.S. Defense Secretary Lloyd Austin and South Korean Defense Minister Lee Jong-sup agreed in a phone call Tuesday that "quite a few of the documents in question were fabricated."
So far, the country has declined to provide overt military assistance to Ukraine, citing its own precarious security situation as its northern neighbor has not relented on threats against Seoul's sovereignty, according to Reuters. However, Seoul is one of the U.S. key allies in Asia and a large ammunition producer.
The U.S. has sent more than 1.5 million 155 mm shells for the Howitzer system to Ukraine, as well as an additional 6,500 GPS-guided rounds, according to a fact sheet that was accurate as of April 4. For comparison, the U.S. produces about 15,000 rounds per month, the NYT reported.