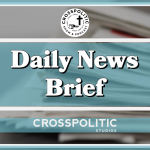 Elon Musk, the CDC, States ending abortion, and the groomers are coming for your children and more on today's CrossPolitic Daily News Brief. This is Toby Sumpter. Today is Friday, April 15, 2022.
Tesla CEO Elon Musk offers to buy Twitter for $43 billion
From AP: In just ten days, Tesla CEO Elon Musk has gone from popular Twitter contributor to the company's largest individual shareholder to a would-be owner of the social platform — a whirlwind of activity that could change the service dramatically given Musk's self-identification as a free speech absolutist.
Twitter revealed in a securities filing Thursday that the sometimes whimsical billionaire has offered to buy the company outright for more than $43 billion, saying the social media platform "needs to be transformed as a private company" in order to build trust with its users.
"This is not a sort of way to make money," Musk said during an onstage interview at the TED 2022 conference Thursday. "Having a public platform that is maximally trusted and broadly inclusive is extremely important to the future of civilization."
Like other platforms, Twitter over the past several years has established restrictions on tweets that threaten violence, incite hatred, bully others and spread misinformation. Such rules played a key role in Twitter's decision to ban former President Donald Trump following the 2021 Capitol insurrection of Jan. 6. Musk detailed some specific potential changes Thursday — like favoring temporary rather than permanent bans — but has mostly described his aim in broad and abstract terms.
Twitter shares were changing hands at $44.98 in afternoon trading, down about 2% and well below Musk's offer of $54.20 per share. That's generally a sign that some investors doubt the deal will go through. The stock is still down from its 52-week high of about $73.
Musk called that price his best and final offer, although he provided no details on financing. The offer is non-binding and subject to financing and other conditions.
"I believe free speech is a societal imperative for a functioning democracy," Musk said in the filing. "I now realize the company will neither thrive nor serve this societal imperative in its current form. Twitter needs to be transformed as a private company."
Twitter said it will decide whether accepting the offer is in the best interests of shareholders.
This year our national conference is in Knoxville, TN October 6th-8th. The theme of this year's conference is Lies, Propaganda, Storytelling and the Serrated Edge. Satan is the father of lies, and the mother of those lies is a government who has rejected God. We have especially been lied to these last two years, and the COVIDpanic has been one of the central mechanisms that our government has used to lie to us and to grab more power. Because Christians have not been reading their bibles, we are susceptible to lies and weak in our ability to fight these lies. God has given us His word to fight Satan and his lies, and we need to recover all of God's word, its serrated edge and all. Mark your calendars for October 6th-8th, as we fight, laugh and feast with fellowship, beer and Psalms, our amazing lineup of speakers, hanging with our awesome vendors, meeting new friends, and more. Early bird tickets will be available starting in the middle of March.
So you remember the Gay San Francisco Men's Choir singing "We're coming for your children"
https://twitter.com/campusevangel/status/1514460005688356869?s=20&t=3j3TG6_2K4DlW6yOo4_fJA
In the aftermath of Disney claiming that they are now committed to have half or more of their characters and movies representing LGBT+ characters, and Florida daring to say they don't want lower elementary kids getting sex education, the accusation of "Groomer" seems to have picked up some steam. Some of us have been pointing out this grooming behavior for a while, and some so-called conservatives like David French are still defending Drag Queen story house as the cost of living in a free speech world.
But I just wanted to draw your attention to another so called conservative, Dave Rubin, who is openly celebrating his grooming plan. And The Blaze and Prager U are congratulating him:
Dave Rubin
0:00-0:32
I was very thankful for Allie Beth Stuckey's response in general, except for this one spot at the very beginning where I think she misspoke:
0:54-1:30
No, they will not be good fathers, Allie. As you noted later in your video, they are intentionally depriving these two children of mothers, and they are planning to raise these children, teaching them that sexuality can be literally anything they want. What Dave Rubin and his sodomite partner are doing is grooming their kids. So if we're going to take aim at Disney (as we should), please do not forget to include Dave Rubin in the mix. He is also part of this grooming problem. He's doing Drag Queen Story hour also, he's just dressed up in the Drag of normal American, which in many ways is far more dangerous. But he is also coming for your children. And to the extent that DailyWire and other conservative outlets do not come out guns blazing against Rubin and his grooming, you can rest assured tha DailyWire and all their family friendly kids programing is just a few years behind Disney.
CDC extends mask mandate and Thomas Massie's response & lawsuit
https://twitter.com/RepThomasMassie/status/1514422908738838531?s=20&t=Zgcm8mkwIFQQq1lkF-GLzQ
No doubt you've heard that the CDC has extended the airline mask mandates until May 3. To which all Americans and all airlines should be saying, Ha ha ha ha. And no. When you obey tyrants you only affirm their delusion that they have authority over you. The CDC does not have authority over you, over planes, over trains, over automobiles. Everybody should just say no. Thomas Massie made this same point, and also announced that he and Rand Paul and a number of other legislators have joined a lawsuit against the CDC for these mask mandates. And last of all, the reason, everyone should stop complying is because they don't actually work.
Fight Laugh Feast Magazine
https://flfnetwork.com/product/fight-laugh-feast-magazine/
Our Fight Laugh Feast Magazine is a quarterly issue that packs a punch like a 21 year Balvenie, no ice. We don't water down our scotch, why would we water down our theology? Order a yearly subscription for yourself and then send a couple yearly subscriptions to your friends who have been drinking luke-warm evangelical cool-aid. Every quarter we promise quality food for the soul, wine for the heart, and some Red Bull for turning over tables. Our magazine will include cultural commentary, a Psalm of the quarter, recipes for feasting, laughter sprinkled through out the glossy pages, and more.
Abortion ban in Oklahoma and Kentucky
https://www.reuters.com/world/us/kentucky-lawmakers-block-abortion-access-with-new-law-effective-immediately-2022-04-13/
April 13 (Reuters) – Kentucky effectively suspended legal abortion access on Wednesday as the legislature enacted a sweeping anti-abortion law that took effect right away and forces providers to stop offering abortions until they can meet certain requirements.
The impact of the law makes Kentucky the first U.S. state without legal abortion access since the 1973 Supreme Court case Roe v. Wade established the right to end a pregnancy before the fetus is viable, abortion providers say.
Abortion rights advocacy groups have said they will challenge the bill in court.
The law imposes requirements that the state's clinics say make it too logistically difficult and expensive to operate, including a provision requiring that fetal remains be cremated or interred.
It calls for a combination birth-death or stillbirth certificate to be issued for each abortion, and it bans abortions after 15 weeks of pregnancy.
Kentucky Governor Andy Beshear, a Democrat, vetoed the bill on Friday, but the Republican-majority House and Senate overrode his veto on Wednesday evening.
In his veto letter, Beshear expressed concern that the bill did not include exceptions for abortions in cases of rape or incest and said it was "likely unconstitutional" because of the requirements it imposed on providers.
"Rape and incest are violent crimes. Victims of these crimes should have options," Beshear wrote.
Two provisions in the abortion legislation hinder the state's abortion clinics from operating, according to Planned Parenthood's Kentucky state director Tamarra Wieder.
The first is a requirement that the state Board of Pharmacy certify providers who dispense abortion pills. Until abortion providers are certified, they are prevented from offering medication abortions.
The second is a requirement that fetal remains be cremated or interred, which places logistical and cost burdens on the clinics that they cannot sustain.
The bill also bans telehealth for medication abortions, requiring an in-person doctor visit for patients seeking to end their pregnancy by pill.
https://www.cnn.com/2022/04/12/politics/oklahoma-abortion-ban-kevin-stitt/index.html
Oklahoma Republican Gov. Kevin Stitt on Tuesday signed a bill into law that makes performing an abortion illegal in the state, with an exception only in the case of a medical emergency.
"As governor, I represent all 4 million Oklahomans and they overwhelmingly support protecting life in the state of Oklahoma. We want Oklahoma to be the most pro-life state in the country. We want to outlaw abortion in the state of Oklahoma," the governor said.
Senate Bill 612, which cleared the state Senate last year and the House earlier this month, makes performing an abortion or attempting to perform one a felony punishable by a maximum fine of $100,000 or a maximum of 10 years in state prison, or both. The law does not provide exceptions in cases of rape and incest.
Under the measure, the woman would not be criminally charged or convicted for the death of her "unborn child." The legislation does not prohibit the use, sale, prescription or administration of contraceptives.
The governor was joined at the signing by members of the Oklahoma legislature, faith leaders from across the state, as well as representatives from anti-abortion advocacy groups.
"I know this bill will be challenged immediately by liberal activists from the coast, who always seem to want to come in and dictate, and mandate, and challenge our way of life here in the state of Oklahoma. The most important thing is to take a stand and protect the unborn and protect life in the state of Oklahoma," Stitt added.
Oklahoma Republican state Rep. Jim Olsen, SB 612's principal House author, previously told CNN that he believes "rape and incest is a horrible crime" and though the baby is conceived in a "horrible situation" that it "still has a right to life." "The baby should not be liable for the sins of the father," he said. "It's still a life."
White House press secretary Jen Psaki condemned the law, calling it "one of the most extreme state laws signed into law to date." In her statement Tuesday, Psaki also urged Congress to pass the Woman's Health Protection Act, which would codify Roe v. Wade, after the legislation failed to overcome Senate hurdles in February, with Democratic Sen. Joe Manchin of West Virginia joining Republicans to block its passage.
Stitt's signature on the legislation made Oklahoma the latest Republican-led state to approve new restrictions on abortion access in recent weeks. Last month, Arizona Republican Gov. Doug Ducey signed into law a ban on most abortions in the state after 15 weeks, similar to a Mississippi law that's before the US Supreme Court, and South Dakota Republican Gov. Kristi Noem has signed legislation that further restricts access to medication abortions in the state.
In Idaho, the state Supreme Court temporarily blocked legislation recently signed by Republican Gov. Brad Little that was modeled after Texas' law that bans abortions after about six weeks. Idaho had become the first state to follow the controversial Texas statute that allows private citizens to enforce the restrictions with lawsuits.
Idaho AG makes deal with Idaho Supreme Court to grant stay on Idaho heartbeat law
https://www.ag.idaho.gov/newsroom/wasden-issues-statement-in-response-to-false-claim-over-defense-of-heartbeat-law/
Attorney General Lawrence Wasden has issued a statement berating Idaho Family Policy Center's Blaine Conzatti and local media (including Action Idaho) for misrepresenting the stay on Idaho's Heartbeat Law.
According to Idaho Supreme Court documents, the Attorney General and Planned Parenthood entered into an agreement to stay the law so that legal proceedings could be delayed. Wasden now claims that the Supreme Court said this in error. Therefore, according to Wasden, those of us who quote the Supreme Court's decision are misrepresenting Wasden's position.
Wasden has every reason to worry about how he looks–he looks like he is wrecking Idaho's Heartbeat Law.
What reason does the Idaho Supreme Court have for misrepresenting Wasden's position?
Why is Wasden complaining about Idaho Family Policy Center instead of the Idaho Supreme Court? They, after all, have made what he must think is the grossest error here.
Or did they err at all?
Perhaps Wasden can make all of his documents public, instead of casting aspersions at those who just know how to read an Idaho Supreme Court decision. If he gains a retraction from the Idaho Supreme Court, Action Idaho will correct the original story.
Psalm of the Day: Psalm 98: O Sing a New Song to the Lord
https://www.christkirk.com/wp-content/uploads/2016/06/10-Psalm-98-O-Sing-A-New-Song-To-T.mp3
Play: 0:00-0:54
Amen.
This is Toby Sumpter with CrossPolitic News. Remember you can always find the links to our news stories and these psalms at crosspolitic dot com – just click on the daily news brief and follow the links. Or find them on our App: just search "Fight Laugh Feast" in your favorite app store and never miss a show. If this content is helpful to you, would you please consider becoming a Fight Laugh Feast Club Member? We are trying to build a cancel-proof media platform, and we need your help. Join today and get a discount at the Fight Laugh Feast conference in Knoxville, TN and have a great day.