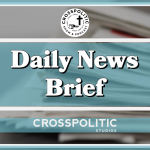 This is Toby Sumpter with your CrossPolitic Daily News Brief for Friday, April 16, 2021.
12 Days to the Rally in Rapid City, South Dakota: April 29, 30, May 1? Excited to see and meet many of you as we learn to Love God, Sing Psalms, Defy Tyrants. Come hear talks from Pastor Doug Wilson, Ben Merkle, Steve Deace, Sheriff Daryl Wheeler from Bonner County, Idaho, myself – Pastor Joe Boot, and Mr. Nate "N.D." Wilson – as well as beer and Psalms Thursday night with and afterparty sponsored by Darren Doane, concluding with a family style Sabbath dinner Thursday night, with comedian John Branyan bringing the laughs. Gather with likeminded Christians who love freedom, confess Jesus Christ is Lord over all, and be equipped to stand firm in these insane days. Go to FLFNetwork.com/Rally and register today. 
CNN Technical Director Claims CNN Propaganda Got Biden Into Office
Project Veritas released a recent video: Charlie Chester
Play Audio 0:00-0:51
AD: Did you wrap up your Easter thinking, "I'm tired of being the congregational mumbler" or, "I need to give my kids the music training that I never got?" Or just maybe you said, "If something like the Canadian Gestapo comes to shut down my church, I want them to tremble before God's praises."
If so, it's time for music lessons with Sean Bohnet. Learn to read, create, and understand the craft that our reformed forefathers cherished.
Beginning with voice and piano, Sean teaches kids and adults how to be musically literate. Lessons are available locally in Moscow, ID or online. Oh yeah, he makes the process a lot of fun too.
Contact him at 702-477-9090 for a consultation.
While James Coates Is Locked Out of Church, the Mosques are Full
This is OK?
In Edmonton:
Play Audio: 0:00-0:14
In Calgary, Alberta
0:04-0:48
Dr. Ryan Cole Says There is No COVID Pandemic, there is only a Vitamin D Pandemic
Play Audio: 0:12-1:33, 2:45-5:58,
And on the so-called vaccine:
Play Audio: 19:46-20:44, 22:03-22:28
Bill Gates Throws His Support Behind Dimming the Sun Research
https://www.foxnews.com/media/bill-gates-backs-project-to-dim-the-sun-michael-shellenberger
Bill Gates is throwing financial support behind the development of a sun-dimming technology that aims to reflect sunlight out of Earth's atmosphere, thereby triggering a global cooling reaction.
"Apocalypse Never" author Michael Shellenberger called the idea "bonkers" in an appearance on "Tucker Carlson Tonight" Thursday, before warning against the "grossly irresponsible" experiment.
The Stratospheric Controlled Perturbation Experiment, which is being conducted by Harvard University scientists, will study whether spraying a sun-reflecting aerosol, such as non-toxic calcium carbonate (CaCO3) dust into the atmosphere could offset the effects of global warming, according to a Forbes report.
Psalm of the Day: Psalm 98
0:00-0:54
"O Sing a new song to the Lord, for wonders He has done, His right hand and His holy arm, the victory has won." Sing to Him. Praise Him for His wonders, answered prayer, salvation, and the sure victory of Jesus in History.
This is Toby Sumpter with Crosspolitic News. You can find this and all of our shows at Crosspolitic.com or on our app, which you can download at your favorite app store, just search "Fight Laugh Feast". Support Rowdy Christian media, and share this show or become a Fight Laugh Feast Club Member. Remember to sign up for the Fight Laugh Feast Rally. Go to FLFNetwork.com/Rally. Have a great day.