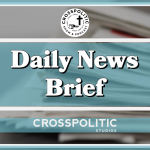 Good morning, this is the Chocolate Knox with your CrossPolitic Daily News Brief for Friday, April 1st 2022, APRIL FOOLS! Get it? I'm not the Chocolate Knox… I'm white! Today, you'll hear about prices continuing to go up across the board, a Florida teacher, says she'll break the law in order to keep secrets about sexuality from parents, creepy, CNN finally admits there is a real chance Hunter Biden could be indicted, and we check in on our college brackets with March Madness.
But first, Using a smartphone or computer opens the door to a host of digital temptations. In a world saturated with pornography and other harmful content, what's a Christian to do? We need to take a proactive approach, welcoming transparency in our digital media choices—and Accountable2You makes that easy. Their accountability software shares detailed activity reports from all your devices, and your kids' devices, in real time to the accountability partners that you choose. With accountability in place, your family can effectively guard against temptations online and live with purity and integrity. Learn more and try it free at Accountable2You.com/FLF
Americans should budget an extra $5,200 this year to cover rising prices, Bloomberg economists estimate
https://www.businessinsider.com/inflation-cost-americans-5200-extra-food-gas-energy-prices-bloomberg-2022-3
Americans haven't had to worry too much about factoring inflation into their budget for the past four decades. That's changing in 2022.
The red-hot inflation expected to last throughout the year will leave the average US household spending $5,200 more compared to the year prior, Bloomberg economists Andrew Husby and Anna Wong said in a Tuesday article. That boils down to an extra $433 per month on the same goods and services as last year.
Strong wage growth and excess savings from earlier in the pandemic will help soften the blow, but looming economic trends stand to worsen the inflation problem over the next several months, the team said.
The estimate offers yet another bleak characterization of this year's sky-high inflation. Closely-watched inflation gauges like the Consumer Price Index have already shown prices soaring at the fastest pace since 1982. Inflation-adjusted wage growth was negative for most US workers last year, meaning their buying power weakened despite salaries rising at a historic pace. The economy is healing, but skyrocketing prices are making the recovery painful for nearly all Americans.
Food and energy costs, which includes gasoline and home heating, account for $2,200 of 2022's inflation, the economists said. That's poised to hit low-income Americans the hardest. Such households have the least savings to cushion against rising prices, and wage growth is expected to slow through the year as more people return to the job hunt. Even if the cohort's average wages climb a healthy 10% in 2022, food and energy inflation could fully offset their pay growth, the Bloomberg economists said.
Recent world events could drive the projected price tag even higher. Russia's invasion of Ukraine has already lifted food and energy prices and thrown new headwinds at global supply chains. If the conflict lingers, it could further stoke inflation.
Bloomberg estimates, in a downside scenario, prices for crude oil could climb as high as $160 per barrel. Separate estimates suggest that would lift the US average gas price above $5 per gallon. The nationwide average stood at $4.24 as of Tuesday, according to AAA, a level that's already near record highs.
The government as always is on top of things aren't they? Well, Ron Desantis is certainly trying to be, with his anti-grooming bill. Gabe and I have touched on this with our recent news briefs, but today,
a Florida teacher said she'll break the law to keep secrets about sexuality from parents… take a listen:
https://pjmedia.com/news-and-politics/megan-fox/2022/03/29/florida-teacher-says-shell-break-the-law-to-keep-secrets-about-sexuality-from-parents-n1585274
https://twitter.com/i/status/1508865611538964486 -Play whole video
Well congrats miss, you may have just lost your job! The teacher has been identified as Amber Mercier PJ Media reached out to the Charlotte County Public Schools for comment. Media Coordinator Mike Riley responded, "Our Superintendent, Assistant Superintendent of HR, and the Principal at the Academy have begun an investigation as to what happened today concerning the post by the teacher. We always are and always will be in compliance with laws, policies, and procedures put in place by the Governor, the Legislature, the Commissioner of Education, and the State School Board [and] that will never change." He added, "This investigation will be a priority on tomorrow's list of things to do."
Mercier's statement that she will break the law of Florida to keep secrets from Florida parents is a problem. The law states that it is illegal to "[prohibit] a parent from accessing certain records" and also sets statute "prohibiting a school district from adopting procedures or student support forms that require school district personnel to withhold from a parent specified information or that encourage or have the effect of encouraging a student to withhold from a parent such information" and "prohibiting school district personnel from discouraging or prohibiting parental notification and involvement in critical decisions affecting a student's mental, emotional, or physical well-being."
PJ Media reached out to Governor DeSantis's office to verify that the new law applies to Mercier and was told by Press Secretary Christina Pushaw that the law applies to K-12 when it comes to secret-keeping.
At the end of the day, parents need to get their kids out of Public school. Period. To quote Voddie Baucham, We can not continue to be shocked and surprised, when we send our kids to be educated by Caesar, and they come back as Romans.
Hey, are you a club member? Yeah I'm talking to you the viewer, or listener, are you an FLF club member? Because if not, you really should be. You could become a club member for as little as $5 per month. That's a cup of coffee or a gallon of gas! Oh wait… forget I said that…You could also go as big as $100.00 per month, then you're really cool… the point is, it really is a blessing to us when you sign up as a club member. It's huge for our long-term success, as we strive to become a world-wide Christian TV Network, that spreads the Lordship of Jesus, across the globe. So, if you're not a club member yet, head on over to flfnetwork.com/membership… to sign up today. That's flfnetwork.com/membership.
CNN legal analyst Says There is a 'realistic chance' that Hunter Biden could be indicted
https://hotair.com/karen-townsend/2022/03/31/cnn-legal-analyst-there-is-a-realistic-chance-that-hunter-biden-could-be-indicted-n459108
When CNN isn't covering for Hunter Biden as aggressively as the cable news network has in the past, you know there may be a change coming. It turns out that a DOJ investigation into the president's son is more extensive than originally thought to be.
Elie Honig, a legal analyst for CNN, said Wednesday that it appears that the federal investigation into Hunter's overseas business dealings is "gaining steam."
It's not just CNN though…
The Washington Post joined the New York Times in confirming that thousands of emails on Hunter's laptop computer are legit. The very material that was first reported in October 2020 by the New York Post, and immediately dismissed as Russian disinformation by Democrats and their friends in the media is now being confirmed a year and a half later, long after the November 2020 presidential election.
Senator Charles Grassley began an investigation into Hunter's slimy business dealings overseas in 2019. In September 2020, Senator Grassley and Senator Ron Johnson released tentative findings in a report on what the investigation uncovered. This week the two senators went to the Senate floor and delivered speeches on the long-ignored report. They brought receipts, too. Their initial speeches this week mostly dealt with "troubling financial entanglements" between Hunter Biden and the Chinese government. Johnson called the media black-out on the report a classic media cover-up. The two senators concentrated mostly on Hunter's ties to CEFC, a state-controlled Chinese energy company. They found deals and contracts worth millions of dollars intertwined since 2017 when Joe Biden left office.
Other emails concerning the Ukrainian energy company, Burisma Holdings, have been verified, too. Hunter was paid up to $83,333 a month, or $1M a year for a seat on its board, though Hunter has no experience in the energy industry and no known expertise in the country of Ukraine.
Veteran investigative reporter Catherine Herridge tweeted that a federal probe much broader than previously suspected is underway… take a listen:
https://twitter.com/i/status/1509310365158592516 – Play whole video
Wow… Luke 12:2-3 comes to mind after seeing this: "For there is nothing covered, that shall not be revealed; neither hid, that shall not be known. Therefore whatsoever ye have spoken in darkness shall be heard in the light; and that which ye have spoken in the ear in closets shall be proclaimed upon the housetops."
Finally, the Final 4 is upon us! #1 seed, and the last #1 seed remaining Kansas, is set to take on #2 seed Villanova. The last three times these two teams met, one of them would go on to win the NCAA Championship game. Kansas back in 2008, then Nova, back in 2016 & 2018.
Meanwhile, #2 seed Duke, is set to take on their hated rivals, the #8 seed North Carolina. This is the first time in the storied programs' respective histories, that they will face one another, in the NCAA tournament. The story line with this one, is Duke's Head coach, the great Mike Krzyzewski, or coach K, is retiring after this season, after being head coach at Duke, since 1980… What a way for him to go out if his Blue Devils are able to get the job done. In his time at Duke… he's led the Blue Devils to five national titles, 13 Final Fours, 15 ACC tournament championships, and 13 ACC regular season titles. Among men's college basketball coaches, only UCLA's John Wooden has won more NCAA championships, with a total of ten.
If you guys remember, back in early March, we started a March Madness bracket group on ESPN, and I've got an update on those scores. Leading the way is scottiethieronymus, with a bracket score of 96.9%. Scottie has North Carolina winning the tournament, and if they do, Scottie will be declared winner of our inaugural FLF bracket challenge, and like I said, you're in the running for some cool prizes! Other close to Scottie, are myyoung8595, with a bracket score of 89.6%, and at_riner, with a bracket score of 86.3%. The two of them had Kansas and Villanova winning respectively, so it comes down to those three! For those wondering, Gabe, finished 34th out of 39 entries… OUCH! Didn't you play college ball Gabe?! I finished 18th, so I'm obviously smarter…
Thanks for tuning into this CrossPolitic Daily News Brief. If you liked the show, share it far and wide! If you're a CEO who wants to partner with CrossPolitic, email me, at garrison@fightlaughfeast.com, and if you haven't signed up for our October conference in Knoxville TN, you can do so at flfnetwork.com under the events tab. For CrossPolitic News, I'm Garrison Hardie. Thanks so much, and have a great weekend. Lord bless.