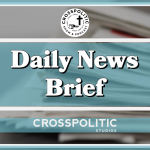 This is Toby Sumpter with your CrossPolitic Daily News Brief for Friday, April 2, 2021
The truth is trickling out about masks, a nativity scene is still legal during Christmas in Indiana, Florida Rep. Matt Gaetz is under investigation, and Day 4 of the Derek Chauvin trial continues.
A Good Good Friday to you, and let me be among the first to wish you a Happy Easter – Christ is Risen! He is Risen indeed.
Remember: If you have a news story you think we might need to cover, please send articles and links to news at crosspolitic dot com. And check out DEFT WIRE dot com, our news aggregator.
Aquila Report Joins the Side of Truth and Sanity
David Deavel wrote the Strange Gospel of Masking and Public Policy for the Imaginative Conservative back on March 9th, but the Aquila Report – a long time, independent source for news and commentary in the conservative Reformed and Presbyterian world just republished it on their site. Deavel writes:
"Sanity is finally prevailing, at least in a number of red states. A goodly number of states, including Texas, are removing all of the COVID restrictions that have been destroying businesses, education, and mental health for so many people, young and old, while doing nothing to stop the spread of COVID-19. This includes the very unscientific mask mandates.
Yes, you read that right. If you're on Facebook, this article might not appear, but there is really no evidence that, like lockdowns in general, any of the mask mandates have done anything to stop the spread of COVID. And this is because there was never really any serious evidence that cloth face masks did anything. Andrew Bostom, an associate professor of family medicine at Brown University, recently linked on Twitter to a study of COVID in Catalonia that showed "no association of risk of transmission with reported mask usage by contacts." In a follow-up tweet he observed that "these data are in turn consistent with~2 decades of RCT [Randomized Controlled Trials] data showing masking does not prevent flu… or C19," linking to a meta-analysis of flu and also the Danish study of masking and COVID-19 that came out this past fall.[1] Anybody who followed the questions of masking early last year found out that this was the case…
An article in the New England Journal of Medicine published in April 2020 that took up the question of universal masking in hospital situations found that the "marginal benefit" was "debatable," but offered that the "symbolic" role of them was helpful. In other words, wearing a mask might help remind hospital workers to be cautious. On the other hand, the article also posited that "paradoxically," the focus on universal masking might cause more COVID transmission because it could lead people to be less cautious about other more proven methods of fighting transmission. Not only that, but "wearing a mask outside health care facilities offers little, if any, protection from infection."…
A CDC study of 314 symptomatic patients from July 2020 showed that 85% of those who caught COVID either always (70.6) or often (14.4) wore masks.[14] Also, in July 2020 longtime healthcare administrator Kevin Roche of the Healthy Skeptic blog published the results of a study with Darin Oenning in which they looked at mask-wearing percentages and COVID cases per million people in a variety of countries. The result? No correlation.[15] Whether a country had a high level of infection or a low one seemed to have nothing to do with the percentage of its public wearing masks.
Since then, we have our own information from the U.S. Short answer: masks certainly don't work in the big picture when they are mandated. Ian Miller of the website Rational Ground has been charting states, counties, and cities that have mask mandates versus those that don't and the effect of mask mandates on such locales when it comes to infections and illness. The big takeaway? There is no difference between those places with the mandates and those without. The Center for Disease Control just issued a report this past week claiming to demonstrate that masks worked.[16] The study was a bag of inconsistencies, the most serious being that it did not start the examinations for mask mandate effectiveness until after the statewide mandates, even though many cities had them months earlier. As Ian Miller said in a Twitter thread, "It's just flat out dishonest." Despite this level of dishonesty, the CDC managed to claim a .5% reduction in growth rate with mask mandates. As Mr. Miller observed in the thread, "Wonder why they don't put 0.5% in their graphic?"[17]
What Mr. Miller's own work—which actually studies when mask mandates were put in place for a city or county—shows is that if there is a difference, it is that counties and cities with mask mandates often have more transmission than those that don't. One of Mr. Miller's charts showed the difference in the number of cases per 100,000 people for Florida counties that kept their mask mandates versus those that didn't after Florida got rid of its mandates in September 2020. Mask-free counties had fewer cases.[18]
Bellinger's Odd RBI Single
https://www.mlb.com/video/cody-bellinger-s-odd-rbi-single?t=opening-week
0:00-0:20
Turns out Bellinger was waiting on the umps – the baserunner Justin Turner thought the ball was caught – which it was, momentarily – in and out of outfielder's glove – so Turner turned around and ran back toward first base. And Bellinger passed him going the other way. So Bellinger got out on his first homerun of the year. Is this a harbinger of the Dodger's season? Let's hope so.
FLF Rally
Have you registered for the Fight Laugh Feast Rally in Rapid City, South Dakota, April 29, 30, May 1? Excited to see many of you as we learn to Love God, Sing Psalms, Defy Tyrants. Come hear talks from Pastor Doug Wilson, Ben Merkle, Steve Deace, Sheriff Daryl Wheeler from Bonner County, Idaho, myself – Pastor Joe Boot, and now the very latest: Mr. Nate "N.D." Wilson. Gather with likeminded Christians who love freedom, confess Jesus Christ is Lord over all, and be equipped to stand firm in these insane days. Go to flfnetwork dot com forward slash rally and register today.

Still Legal to Display a Nativity Scene on Government Property
A federal district court judge has dismissed a case in which an atheist group attempted to permanently remove a Nativity scene on government property.
Judge Jon Deguilioa dismissed the American Civil Liberties Union of Indiana's (ACLU's) case against Fulton County's constitutional right to display its annual Nativity scene on the courthouse lawn. Liberty Counsel represents Fulton County and the court also required the ACLU to reimburse Liberty Counsel for some out-of-pocket costs.
The court also denied the ACLU's preliminary injunction last November, which allowed Fulton County to display the Nativity scene as has been tradition annually since 1980.
The ACLU and Roger Lamunion first brought a lawsuit in 2018 to challenge the constitutionality of an annual holiday display on the grounds of the courthouse. Although two Christmas seasons have already come and gone since they sued, the plaintiffs now belatedly sought a preliminary injunction as "an extraordinary and drastic remedy" to ban the Nativity scene from this year's holiday season. In addition, Lamunion is not even a resident of Fulton County, and he has failed to demonstrate that he has suffered harm or has just cause to bring this action.
AD
Do you have a guitar at home that's calling out to you? Do you long to discover or rediscover your voice as a guitarist? Maybe you're overwhelmed and you don't know where to start. Well, you need to check out GuitarSuccess4U. GuitarSuccess4U is a unique, online membership, founded by David Harsh, a fellow Cross Politic listener who has been touring nationally as a Christian artist, worship leader and guitar workshop clinician for the last 20 years. He knows his stuff!

You can learn guitar at your own pace, from anywhere, alongside a community of guitarists. Through a fun, inspiring approach to the guitar, David shares from his decades of experience, and takes you step-by-step towards becoming the musician you want to be. Learn more and join at GuitarSuccess4U.com. That's Guitar Success, the number "4" and the letter "U," dot com.
And if you or your business would like to advertise with CrossPolitic, send inquiries to ads @ fightlaughfeast dot com.
Florida Rep. Gaetz Under Fire & CNN is Wetting Itself With Excitement
https://www.cnn.com/2021/04/01/politics/matt-gaetz-photos-women/index.html
Rep. Matt Gaetz, 38, Florida Republican who was elected to Congress in 2016, is being investigated by the Justice Department, as part of a larger investigation into another Florida politician that began under the previous Attorney General William Barr. Federal investigators are examining whether Gaetz engaged in a relationship with a woman that began when she was 17 years old and whether his involvement her or another other young women broke federal sex trafficking and prostitution laws, two people briefed on the matter said.
Gaetz has denied the allegations, saying "no part of the allegations against me are true," and he claimed Tuesday that he was the victim of an extortion plot, which the FBI is separately investigating.
"Over the past several weeks my family and I have been victims of an organized criminal extortion involving a former DOJ official seeking $25 million while threatening to smear my name. We have been cooperating with federal authorities in this matter and my father has even been wearing a wire at the FBI's direction to catch these criminals," Gaetz said in a statement.
Meanwhile, CNN is giggling with glee because Gaetz is also being accused of being a womanizer in general, apparently gaining a reputation in congress for his sexual escapades. Why does CNN care? They don't. Why should Christians care? Because you can't trust leaders who are not faithful to one woman. If they cannot be faithful to one woman, they will not be faithful to the truth in general or those they represent in particular. CNN was also rather excited to tell us that eye witness sources had seen lude and pornographic images that Gaetz had showed them personally. But why not hang those eye witnesses up to dry for looking at the images and not exposing Gaetz's immorality then? Because CNN and apparently the other creeps in congress don't really care about morality. It's just a food fight.
Could Gaetz be the victim of extortion? Absolutely. Are womanizers easy targets for extortion? Also, absolutely.
Day 4 in the Derek Chauvin Trial Continued Thursday
The afternoon concluded with Chauvin's former Supervisor testifying on whether or not he thought Chauvin used excessive force.
6:53:29-59
In the midst of a world full of sin and guilt and death, we celebrate the end of all it in the death and resurrection of Jesus Christ. We celebrate it all the time, be we especially celebrate it this weekend. So get to get your party started:
Psalm of the Day: Christ the Lord is Risen Today by Charles Wesley
Play Audio: 0:17-1:43
That's a recording from the album The Riverside Years on Spotify from the Riverside Choir in New York City.
Vain the stone, the watch, the seal. Christ hath burst the gates of Hell. Death in vain forbids Him rise. Christ has opened paradise. Where O Death is now thy sting? Where's thy victory, O Grave? Made like Him, like Him we rise. Ours the cross, the grave, the skies. Alleluia.

This is Toby Sumpter with Crosspolitic News. You can find this and all of our shows at Crosspolitic.com or on our app, which you can download at your favorite app store, just search "Fight Laugh Feast". Support Rowdy Christian media, and share this show or become a Fight Laugh Feast Club Member. Remember to sign up for the Fight Laugh Feast Rally. Go to flfnetwork dot com slash rally. Have a great day.