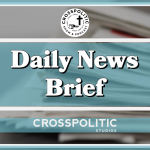 This is Garrison Hardie with your CrossPolitic Daily News Brief for Friday, April 21st, 2023.
CrossPolitic Email List:
Are you subscribed to our CrossPolitic email list? If you're not you really should be. Being subscribed to our email list means you won't miss any updates about CrossPolitic or the Fight Laugh Feast Network! You'll hear about what's on the schedule for the week, live events, conference updates, Rowdy Christian Merch, updates from other shows within the Fight Laugh Feast Network, and you'll hear from sponsors on the show, as they seek to take dominion for God's Kingdom in the business world. To subscribe, simply enter your email address at the bottom of the page at fightlaughfeast.com. Again, that's fightlaughfeast.com.
https://www.washingtonexaminer.com/policy/space/spacexs-largest-rocket-explodes-after-launch
SpaceX's largest rocket ever built explodes four minutes after launch
SpaceX's Starship, the largest rocket ever launched, exploded four minutes after takeoff.
The spaceship exploded above the Gulf of Mexico shortly after takeoff, failing to achieve its ambitious goals, according to the New York Times. However, the explosion was only described as "A setback for Elon Musk and SpaceX, but not a fatal one."
SpaceX described the event as a "rapid unscheduled disassembly before stage separation" on Twitter as the launch and short flight played out.
SpaceX still saw the test flight as a partial success, with some employees busting open a bottle of champagne amid cheers of "Go Starship!"
https://www.dailyfetched.com/dom-lemon-loses-it-on-gop-candidate-gets-spooked-by-whats-said-in-earpiece/
Don Lemon LOSES IT on GOP Candidate
Business executive and the author of "Woke Inc," Vivek Ramaswamy, who is vying for the 2024 presidential slot, appeared on "CNN This Morning" where he bumped heads with Lemon over whether the Civil War was fought to give blacks their constitutional rights.
Lemon became angered when Ramaswamy connected the Civil War, where gun rights were extended to freed blacks.
Ramaswamy argued the Democratic Party wishes to put black people "back in chains" with gun-control laws.
Don Lemon argues with Vivek Ramaswamy over the Civil War– Play Video
Elsewhere…
https://www.theguardian.com/us-news/2023/apr/20/north-carolina-shooting-girl-parents-basketball-yard
Man shoots girl, six, and her parents after ball rolls into his backyard
A six-year-old girl and her parents were allegedly shot by a neighbor after a basketball that the child was playing with rolled into the attacker's yard, according to authorities and local media reporting.
The shooting occurred on Wednesday in North Carolina when several young children were playing with a basketball which rolled into the yard of Robert Singletary, who neighbors say was new to the area and often mad at the local children, the news outlet WSOC-TV reported. It continued a recent spate of shootings across the US involving a property owner who fired at young people who approached them either by mistake or for an innocent reason.
Witnesses told the station that Singletary ran out of his home upset after the ball rolled on to his yard and started firing a gun at a neighbor. William White and his six-year-old daughter Kinsley were seriously hurt during the shooting. White had his own gun and tried to shoot back at Singletary, who witnesses say unloaded an entire magazine at White and his daughter.
White was seriously injured after being shot in the back. Hilderbrand was grazed by a bullet and was back home on Wednesday after being discharged from a hospital.
Singletary remained at large as of Thursday morning. Police warned local residents that he is armed and dangerous.
Wednesday was not the first time Singletary was accused of acting violently. He was separately charged in December with assaulting his girlfriend with a miniature sledgehammer and keeping her in their apartment for two hours as she was bleeding, ABC News reported.
https://www.washingtonexaminer.com/policy/energy-environment/berkeley-ruling-threatens-gas-stove-bans
Berkeley ruling threatens gas stove bans all over the country
The 9th U.S. Circuit Court of Appeals decision to overturn Berkeley's ban on natural gas stoves could threaten dozens of similar restrictions nationwide.
A three-judge panel sided with the California Restaurant Association in voting unanimously that the city's 2019 ban on gas stoves ran afoul of the Energy Policy and Conservation Act of 1975, which they said preempted a local gas stove ban — a ruling that now puts into doubt the scores of similar bans advanced across the nation in recent years.
The appellate court decision may have "ripple effects" for gas appliance restrictions nationwide and provide a road map of sorts for industry and consumer groups looking to halt such policies, said Rob Rains, a senior vice president at the independent research firm Washington Analysis.
The ruling "does provide a playbook for opponents of these policies to kind of 'storm the walls,' so to speak, and seek for them to be thrown out as well," he said in an interview.
More than 100 U.S. cities and localities have moved to restrict gas-powered appliances, including 75 cities in California alone.
Monday's ruling only technically applies to states that fall under the 9th Circuit's jurisdiction: California, Alaska, Arizona, Hawaii, Idaho, Nebraska, Nevada, Oregon, and Washington, as well as Guam and the Mariana Islands. But it sets the stage for a challenge to regulations in other states. Even if bans are upheld by courts, any such ruling would create a split between circuits, raising the prospect of the Supreme Court weighing in for the whole country.
The court's decision hinged on its reading of the Energy Policy and Conservation Act of 1975, which gives the Department of Energy the legal right to set conservation standards for certain building appliances, including hot water heaters, furnaces, and HVAC systems — and preempts local laws in those areas.
The California Restaurant Association argued that gas-powered stoves are crucial for chefs to prepare food the way they are classically trained.
In California, more than 75 cities and counties have modeled Berkeley's ordinance in crafting their own gas bans.
Major cities, including San Francisco, Oakland, Los Gatos, and Sunnyvale, as well as Marin County, have adopted similar bans, either banning or restricting natural gas appliances, including gas-powered stoves.
It is possible that gas stove critics may regroup and rework policies to sidestep the 9th Circuit ruling.
Notably, the California Air Resources Board approved a plan last September to ban the sale of new natural gas-fired furnaces and home water heaters in the state by 2030. But it doesn't include gas stoves, though its final rules will not come up for a final vote until 2035.
Beyond the Golden State, cities in New York, Washington, Massachusetts, and Maryland have passed ambitious plans to phase out or ban natural gas appliances in new buildings.
https://www.washingtonexaminer.com/policy/courts/alito-extends-administrative-stay-on-abortion-pill-case-till-friday
Justice Samuel Alito extends administrative stay on major abortion pill case until Friday
Supreme Court Justice Samuel Alito extended an administrative stay over a lower court ruling that threatened to limit access to a common abortion pill until Friday, giving the justices more time to mull their decision.
The move to extend an administrative stay is procedural and comes just days after Alito froze a lower judge's decision to reverse the government's 2000 approval of the common abortion drug, muh – fuh – pri – stown.
The decision means that all of District Judge Matthew Kacsmaryk's April 7 ruling that threatened to revoke the Food and Drug Administration's approval of the drug will not go into effect until at least Friday at 11:59 p.m. Eastern time.
Days after the district judge's decision, the U.S. Court of Appeals for the 5th Circuit unwound some of the lower court's decision but kept in place a block on a seven-year effort by the agency to widen access to the drug.
Ahead of Alito's decision, the manufacturer of the generic version of mifepristone, GenBioPro, filed a lawsuit against the FDA in Maryland federal court to maintain its ability to market the drug.
The 5th U.S. Circuit Court of Appeals halted some of the Texas decision while maintaining stays on more recent FDA changes that expanded access to the pill through telemedicine, mail, and retail pharmacies. With Alito's decision, no part of that appeals court ruling would go into effect until the late-Friday deadline.
Alito, who is also the author of the opinion last summer that allowed states to impose laws severely restricting abortion access, is handling the matter because he is tasked to oversee requests stemming from the Louisiana-based 5th Circuit.
Meanwhile, the Supreme Court must consider a separate district court ruling, issued less than an hour after Kacsmaryk's initial decision, that complicated the matter with a conflicting decision. Washington-based District Judge Thomas O. Rice, an appointee of former President Barack Obama, blocked the FDA from limiting the availability of mifepristone in much of the country. That ruling, also issued April 7, applies to just 17 liberal-leaning states and Washington, D.C., which filed a lawsuit in February challenging the FDA's regulations over the drug.
As of Wednesday, mifepristone is lawful and remains available in some form in 37 states, even some states with abortion restrictions.
https://www.foxnews.com/politics/save-womens-sports-bill-passes-house-zero-votes-dems-transgender-bullying
'Save women's sports' bill passes House with zero votes from Dems, who call it transgender 'bullying'
The House on Thursday passed legislation aimed at preventing biological males from competing as transgender athletes in girls' and women's sports at schools across the country, after a debate in which several Democrats accused Republicans of "bullying" transgender students by calling up the bill.
The Protection of Women and Girls in Sports Act passed in a 219-203 vote Thursday morning — all the "yes" votes came from Republicans, and all the "no" votes came from Democrats.
Republicans defended the bill as an attempt to spare women and girls from having to compete against transgender women and girls — biological males who can sometimes dominate these sports and prevent some female athletes from making the team. But several Democrats argued in debate that the GOP bill is an extension of the bullying that transgender students are already facing at school.
Rep. Mark Takano, D-Calif., said the bill would make school sports "less safe for women and girls," and argued that even discussing the legislation on the House floor was doing harm to transgender students.
Republicans rejected these arguments and said they are trying to protect girls' and women's sports from being taken over by biological males. Rep. Virginia Foxx, R-N.C., said Democrats are ignoring the "physical advantages" that men have over women and rejected Jayapal's argument that the GOP is waging a "hate" campaign against transgender students.
Republicans also accused Democrats of pursuing transgender rights to an illogical end that goes against the intent of Title IX, which most credit with dramatically expanding participation in women's sports.
"Congress in 1972 created Title IX to protect women's sports to enable women to have an equal playing field in athletics," said Rep. Greg Steube, R-Fla., who sponsored the Protection of Women and Girls in Sports Act. "In worship to their trans idols, the administration wants to flip that on its head. It is insane."
Under Steube's bill, educational institutions that receive Title IX funding from the federal government would not be allowed to "permit a person whose sex is male to participate in an athletic program or activity that is designed for women or girls." The bill adds that the sex of an athlete is defined only by their "reproductive biology and genetics at birth."
Steube has said he introduced his bill in order to "save women's sports" from transgender women and girls who are denying biological women and girls spots on the team's roster, and sometimes dominate these sports. He said a dangerous shift in U.S. culture requires a defense from Congress.
Speaking of women's sports… a win for Australia today!
https://www.breitbart.com/sports/2023/04/19/trans-female-nixed-from-competing-as-woman-in-semi-pro-basketball-league/
Trans 'Female' Nixed from Competing as Woman in Semi-Pro Basketball League
An application to become a player submitted by a man claiming to be a transgender female has been rejected by Australia's WNBL 1 South women's semi-pro basketball league, a report says.
The application was submitted by a biological man calling himself Lexi Rodgers, who wanted to play for the Kilsyth Cobras in Kilsyth, Australia, a town in the western suburbs of Melbourne.
The request, though, was denied by Basketball Australia, the governing body for the sport there, Fox News reported.