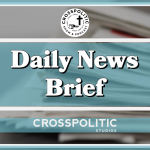 Good Friday morning, this is Garrison Hardie with your CrossPolitic Daily News Brief for Friday, April 22nd, 2022. Let's kick things off with a question… are you registered for the CrossPoltiic Liberty Tour's final stop? I know, say it isn't so! I know folks, I know, but we gotta get ready for our conference in Knoxville. But, if you want to see us in Phoenix Arizona, on May 19th, you can register at crosspolitic.com/libertytour. Tickets will go fast, especially because I spent all day yesterday reaching out to club members in Arizona. We'll be joined by Jeff Durbin, and Delano Squires, as we discuss The Five Stones of True Freedom. Doesn't that just scream MERICAN?
Anyways, in other news, CNN+ is off to a great start. Let's see how it's going. Car Jumps Off Cliff Meme-Play Video 0:00-0:06
Oh yikes… CNN+ is actually shutting down after less than a month after it's launch.
https://nypost.com/2022/04/21/cnn-is-shutting-down-less-than-a-month-after-ill-fated-launch/
According to the New York Post, CNN boss Chris Licht, who officially starts his new job on May 1, told staffers at a midday meeting Thursday that "this was an incredibly successful launch" but that it wasn't compatible with Warner Bros Discovery's new plans, according to a report by CNN.
"It's not your fault that you had the rug pulled out from underneath you," Licht said, the network reported.
According to CNN, Andrew Morse, the executive vice president in charge of CNN+ and all of CNN's digital businesses, will depart the company.
The report said that during the meeting, CEO and president of Warner Bros. Discovery global streaming and interactive entertainment, JB Perrette expressed frustration with CNN's "prior leadership," which was led by Jeff Zucker until February, and WarnerMedia, which was led by Jason Kilar until early April. I guess Jeff Zucker had other things on his mind at the time.
https://www.nytimes.com/2022/02/02/business/media/jeff-zucker-cnn.html – Screen Capture title of article.
Licht circulated a memo obtained by The Post ahead of a midday meeting thanking them for "flawlessly launching CNN+ in a very short period of time."
He added that as part of the transition, all CNN+ employees will continue to be paid and receive benefits for the next 90 days and are encouraged to explore job openings at CNN, CNN Digital, and elsewhere in the Warner Bros. Discovery family.
At the end of that period, departing CNN+ employees will receive a minimum of six-months severance, depending on length of service at CNN.
The few who had subscribed to CNN+ will receive prorated refunds of the $5.99 a month subscription fee, the company said.
Prior to Thursday's decision, the future of CNN+ was in doubt as new corporate parent Warner Bros. Discovery was looking to cut costs and reorganize the company.
Warner Bros. Discovery, which formed last week out of the merger between Discovery and WarnerMedia, is in the process of shoring up at least $3 billion in cost savings in 2023.
Under previous ownership, CNN+ execs were hoping to attract 2 million subscribers in the first year and 15 million to 18 million over four years, Axios said.
Roughly $300 million has been spent and hundreds of jobs have been created to support the streaming service to date.
Dime Payments
Dime Payments is a Christian owned processing payment business. Every business needs a payment process system, so please go to https://dimepayments.com/flf and sign your business up. Working with them supports us. They wont cancel you, like Stripe canceled President Trump. They wont cancel you, like Mailchimp canceled the Babylon Bee. Check them out. At least have a phone call and tell them that CrossPolitic sent you. Go to https://dimepayments.com/flf.
https://intellectualtakeout.org/2022/04/21/the-push-to-end-the-department-of-education-is-gaining-momentum/
The Push to End the Department of Education Is Gaining Momentum
The debate over the federal role in education has been going on for decades. Some say the feds should have a relatively large role while others say it should be relatively small. But while most people believe there should be at least some federal oversight, some believe there should be none at all.
Rep. Thomas Massie is one of those who believes there should be no federal involvement in education, and he is actively working to make that a reality. In February 2021, he introduced H.R. 899, a bill that perfectly encapsulates his views on this issue. It consists of one sentence:
This bill terminates the Department of Education on December 31, 2022.
Massie is not alone. The bill had eight cosponsors when it was introduced and has been gaining support ever since. On Monday, Massie announced that Rep. Mo Brooks (R-Ala.) decided to cosponsor the bill, bringing the total number of cosponsors to 18.
Massie is echoing sentiments expressed by President Ronald Reagan in 1981, who advocated dismantling the Department of Education even though it had just begun operating in 1980.
https://www.foxnews.com/politics/florida-house-passes-bill-stripping-disney-of-self-governing-status
Florida House passes bill stripping Disney of self governing status
The Florida House of Representatives passed a bill on Thursday that would dissolve Walt Disney World's special governing power in the state.
The move could have huge tax implications for Disney, whose series of theme parks have transformed Orlando into one of the world's most popular tourist destinations, and serves to further sour the relationship between the Republican-led government and a major political player in the state.
Democratic lawmakers could be heard shouting in the background as they attempted to protest the bill as it was passed.
https://twitter.com/i/status/1517189688523689985 – Play Video
Leftists once again proving that they are the party of tolerance and acceptance.
The bill will now head to the desk of Republican Gov. Ron DeSantis who has been involved in a war of words with the company after it publicly opposed a bill he signed which prohibits classroom instruction on "sexual orientation" and "gender identity" with children in third grade or younger "or in a manner that is not age-appropriate or developmentally appropriate for students in accordance with state standards."
The passage in the Florida House comes the day after the Florida Senate passed the measure by a vote of 23-16 to dissolve Disney's special status that it was granted by the state over 50 years ago.
The special status, known as The Reedy Creek Improvement Act, was signed into law in May 1967 by Gov. Claude Kirk in response to lobbying efforts by Disney. The entertainment giant proposed building a recreation-oriented development on 25,000 acres of property in a remote area of Central Florida's Orange and Osceola counties, which consisted of 38.5 square miles of largely uninhabited pasture and swampland.
Orange and Osceola County did not have the services or resources needed to bring the project to life, so the state legislature worked with Disney to establish the Reedy Creek Improvement District, a special taxing district that allows the company to act with the same authority and responsibility as a county government.
This year our national conference is in Knoxville, TN October 6th-8th. The theme of this year's conference is Lies, Propaganda, Storytelling and the Serrated Edge. Satan is the father of lies, and the mother of those lies is a government who has rejected God. We have especially been lied to these last two years, and the COVIDpanic has been one of the central mechanisms that our government has used to lie to us and to grab more power. Because Christians have not been reading their bibles, we are susceptible to lies and weak in our ability to fight these lies. God has given us His word to fight Satan and his lies, and we need to recover all of God's word, its serrated edge and all. Mark your calendars for October 6th-8th, as we fight, laugh and feast with fellowship, beer and Psalms, our amazing lineup of speakers, hanging with our awesome vendors, meeting new friends, and more. Early bird tickets are on sale until June 1st.
https://www.theepochtimes.com/a-staggering-number-of-athletes-collapsed-this-past-year_4413773.html?utm_source=partner&utm_campaign=BonginoReport
Now it's on to sports… where…
A Staggering Number of Athletes Collapsed This Past Year
I wonder what could have caused that? Well according to the Epoch Times, More than 769 athletes have collapsed on the field during a game from March 2021 to March 2022. The shocking statistic was revealed by One America News Network (OAN), which also found the average age of the athletes who suffered cardiac arrest is just 23 years old.[1] The unprecedented surge in cardiac arrest and other heart issues among elite athletes coincides with the rollout of COVID-19 jabs.
In the article, which is linked in the show notes, there is a 42-minute video of an interview with English Football legend and broadcaster, Matt Le Tissier, who was of course, labeled an "anti-vaxxer" for even daring to question the narrative. Here's the first minute or so of that video.
https://rumble.com/vtsp9u-matt-le-tissier-on-the-record-oracle-films.html – Play 0:00-1:05.
The Miami Open made headlines in early April 2022 after 15 players — all of whom had reportedly received COVID-19 injections[2] — dropped out. Among them were favorites Paula Badosa and Jannik Sinner. Badosa left the court in tears after becoming unwell, and Sinner's opponent said he saw him "bend over" on the court, noting "it was very strange."[3] Even the fans were confused, with one stating, "What is going on?"[4]
As Pearson Sharp of OAN explained, "These are just two of more than 769 athletes who have collapsed during a game, on the field, over the last year." He continued:[5]
"How many 23-year-old athletes were collapsing and suffering heart attacks before this year? Do you know any 23-year-old people who had heart attacks before now? And these are just the ones we know about. How many have gone unreported? Nearly 800 athletes — young, fit people in the prime of life — falling down on the field. In fact, 500% more soccer players in the EU are dropping dead from heart attacks than just one year ago.
Coincidence? When the Pfizer vaccine is known to cause heart inflammation? No. In fact, many doctors treating these players list their injuries and deaths as being directly caused by the vaccine … This is not a coincidence."
As of April 1, 2022, the Vaccine Adverse Event Reporting System (VAERS), which is where adverse events caused by COVID-19 jabs in the U.S. are supposed to be collected, lists 26,693 deaths along with 147,677 hospitalizations in association with the COVID-19 shot.[6] There are also 13,677 heart attacks and 38,024 cases of myocarditis (inflammation of the heart muscle) and pericarditis (inflammation of the tissue sac surrounding the heart).
Myocarditis and pericarditis cause symptoms such as chest pain, shortness of breath and a fluttering or pounding heart. Cases have occurred most often after mRNA COVID-19 injections (Pfizer-BioNTech or Moderna), particularly in male adolescents and young adults, according to the CDC. Further, myocarditis occurs more often after the second injection, usually within a week.[7]
Past investigations have shown only between 1%[8] and 10%[9] of adverse reactions are ever reported to VAERS, which is a passive, voluntary reporting system, so the actual number could be much higher. Kyle Warner is one athlete who filed a VAERS report about his own health injuries following the COVID-19 jab. It took him 45 minutes to complete — a length of time that many doctors can't or won't devote when it comes to reporting adverse vaccine reactions seen among their patients.
Warner, who is 29 years old, was at the peak of his career as a professional mountain bike racer when, in June 2021, he got his second dose of Pfizer's COVID-19 shot. He suffered a reaction so severe that, months later, he was still spending days in bed, easily overwhelmed by too much mental or physical exertion.
When asked about it, he said, "I believe where there is risk, there needs to be choice," Instead, "People are being coerced into making a decision based on lack of information versus being convinced of a decision based on total information transparency."[11] Despite the rising number of adverse effects being reported in VAERS, top government officials, such as NIAID director Dr. Anthony Fauci and CDC director Dr. Rochelle Walensky, have attempted to discredit it.
There are Unprecedented Cases of Athletes Collapsing and Dying. By December 2021, 300 reports of athletes collapsing, and some dying, had already been collected,[18] including high-profile European Soccer star Adama Traore, who clutched his chest and collapsed on the field. An updated report by Good Sciencing, a team of investigators, news editors, journalists and "truth seekers," has detailed 890 cardiac arrests and other serious issues among athletes, including 579 deaths, following COVID-19 shots.
Even the main-stream media in Australia questioned the COVID Vaccines after a
https://twitter.com/Lukewearechange/status/1513542808531046409 -Play Video
"We're not anti-vaxxers" they said…
The video is from a mainstream sports channel in Australia,[22] detailing another professional athlete, Ollie Wines, who is out of the game due to nausea, dizziness and heart palpitations.
With cases like this becoming impossible to ignore, the "Sunday Footy Show" panel speculated that the health issues could be linked to COVID-19 shots, and one of the hosts acknowledged that multiple players have suffered from heart issues and Bell's palsy following COVID-19 booster shots. "Wards filled with people suffering the same issues," he said.
Here's hoping this news brief doesn't get canceled! Thanks for tuning into this CrossPolitic Daily News Brief. If you liked the show, share it far and wide before they cancel us! If you haven't registered for our conference in Knoxville TN, October 6-8, do it now! And lastly, if you're a business owner or CEO who wants to partner with us at CrossPolitic, email me, at garrison@fightlaughfeast.com. For CrossPolitic news, I'm Garrison Hardie. Have a great weekend, and Lord bless.