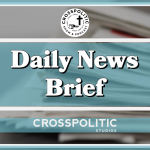 This is Toby Sumpter with your CrossPolitic Daily News Brief for Friday, April 23, 2021.
6 Days to the Rally in Rapid City, South Dakota: April 29, 30, May 1. You can register at the door, even though it's a little hard to end up in Rapid City on a whim. The theme of the Rally is Love God, Sing Psalms, Defy Tyrants with talks from Pastor Doug Wilson, Ben Merkle, Steve Deace, Sheriff Daryl Wheeler from Bonner County, Idaho, myself – Pastor Joe Boot, and Mr. Nate "N.D." Wilson – as well as beer and Psalms Thursday night with and an afterparty sponsored by Darren Doane, concluding with a family style Sabbath dinner Thursday night, with comedian John Branyan bringing the laughs. If pit has formed in your stomach of deep regret for not planning to come, remember: all the talks will be live streamed and archived for Fight Laugh Feast Club Members in the club portal. Become a club member today so you don't miss any of them. FLFNetwork.com/Rally
Speaking of which, the CrossPolitic Crew will be in South Dakota next week, so I have no idea what you're in for on the Daily News Brief. I think we're trying to cook up something… but stay on your toes.
Bill Maher Rips Democrats' COVID Ignorance
https://newsbusters.org/blogs/nb/brad-wilmouth/2021/04/18/must-watch-bill-maher-eviscerates-fellow-liberals-ignorance-covid
Play Audio: 0:00-1:06
And He Even Took a Shot at NY Gov. Cuomo
Play Audio: 1:48-2:05, 2:17-2:34
Supreme Court Hands Down Ruling in Jones v. Mississippi
https://www.supremecourt.gov/opinions/20pdf/18-1259_8njq.pdf
A Mississippi jury convicted petitioner Brett Jones of murder for killing his grandfather. Jones was 15 years old when he committed the crime. Under Mississippi law at the time, murder carried a mandatory sen- tence of life without parole. The trial judge duly imposed that sen- tence, which was affirmed on direct appeal. This Court subsequently decided Miller v. Alabama, 567 U. S. 460, which held that the Eighth Amendment permits a life-without-parole sentence for a defendant who committed a homicide when he or she was under 18, but only if the sentence is not mandatory and the sentencer therefore has discre- tion to impose a lesser punishment. In the wake of that decision, the Mississippi Supreme Court ordered that Jones be resentenced in ac- cordance with Miller. At the resentencing, the sentencing judge acknowledged that he had discretion under Miller to impose a sentence less than life without parole. The judge determined, however, that life without parole remained the appropriate sentence for Jones. Jones again appealed his sentence, citing both Miller and the then-recently decided case of Montgomery v. Louisiana, 577 U. S. 190, which held that Miller applied retroactively on collateral review. Jones contended that, under Miller and Montgomery, a sentencer must make a separate factual finding that a murderer under 18 is permanently incorrigible before sentencing the offender to life without parole. The Mississippi Court of Appeals rejected Jones's argument.
Held: In the case of a defendant who committed a homicide when he or she was under 18, Miller and Montgomery do not require the sentencer to make a separate factual finding of permanent incorrigibility before sentencing the defendant to life without parole. In such a case, a dis- cretionary sentencing system is both constitutionally necessary and constitutionally sufficient. Pp. 5–22. The decision was 6-3, with Kavanagh writing the majority opinion.
Here is a great case study for Christians debating the legitimacy or usefulness of Old Testament law. What does the Bible say about this ruling? Tell me, what does natural law say about this ruling? What does your goddess of prudence tell you about this ruling? What does the "general equity" of the judicial laws of the Old Covenant tell us?
It tells us that putting people in cages for decades is not really justice. This young man, presumably was convicted of murdering his grandfather after due process, and therefore should be put to death. Why do the tax payers of Mississippi have to pay for him to be kept alive for the next 60, 70, 80 years? How is putting men in cages for decades justice? The Old Testament penal code did have a place for cities of refuge where accidental murderers could flee, and they had to remain there, often for the rest of their life, but at least they could live there, have families, and be productive members of society.
AD: Have you always wanted to play guitar but thought it was too late to start? Maybe you are in a season of your life where taking in-person lessons wouldn't fit your schedule. For less than the cost of 1 private lesson a month, you could be a part of the community of guitarists at GuitarSuccess4U and learn guitar at your own pace, from the comfort of home. Through video lessons, worksheets, expert interviews, and a proven path to success, fellow Cross Politic listener David Harsh will share with you some of the most relevant tools from his almost 30 years of teaching, touring, writing and leading worship on guitar, to help you become the musician you were made to be. Learn more and join now at www.GuitarSuccess4U.com. That's Guitar Success, the number "4" and the letter "U," dot com. What are you waiting for?
Blog Posts Ravi Zacharias' Wife Defending Him from Charges of Misconduct
https://defendingravi.wordpress.com
In the spirit of Proverbs 18:17, which is one of the most important verses for understanding biblical justice, the family of Ravi Zacharias has begun writing blog posts at "defending ravi" dot wordpress dot com.
"Good am, Family. I love you all.
I wanted you all to know that I have spent the last week going through every paper and article in Ravi's desk, closet and drawers.
Such a man could not be guilty of what is being alleged and there is no evidence at all to support those allegations, not in his personal effects, his financial records, his correspondence, his actions observed by all who knew him over 74 yrs. Even the so-called evidence in his emails is phrases, words taken out of context and never confirmed with those who knew him, who could give some context. Anyone of any celebrity status who gives his email to any who ask because he didn't want to offend them by refusing, always cautioning them to "be careful what they did with it," receives hundreds of pictures and selfies from fans & admirers, often inappropriate ones. That is pandemic in our society today. And everything you receive on your phone or computer is there for eternity, as we are constantly warned, and can always be "forensically retrieved." So there are pictures. The investigator never told us their origin, whether he researched them or they were sent to him. Is he responsible for what is sent to him? If he is, then so is everyone else.
There is absolutely no way that Ravi is guilty as charged, convicted, canceled and executed, some even going so far as to claim that he never knew the Lord. I knew him, inside and out. I trust him & believe in him no less than I did on May 18th last year when he called me to him and kissed me as long as he had the strength, his last physical act in his life. It is not because I am in denial. It is because I knew him and because there is absolutely no evidence to support anything contrary.
I have written this because I feel it is important that you, his family, know what I know, know what I have found and not found, so that you may have confidence to continue to love and respect the man you knew, and that you may know that he was the man you knew.
With much love, and confidence in Ravi and in the God he knew and loved and served,
Margie
Proverbs 18:17 says, "The one who states his case first seems right, until the other comes and examines him." This is why it is not enough to a report that alleges misconduct. In order to approach the truth, you must have two or three witnesses, and those witnesses must be cross-examined, and the accused is to be presumed innocent until proven guilty. The accused must also be allowed to provide his own witnesses.
Psalm of the Day: Psalm 136
And to get you in the Fight Laugh Feast Rally spirit, it's our Psalm 136 Sea Shanty which we will be singing at the Rally…
Play Audio 0:00-1:17
The link is in the show notes, and you can listen/watch the whole thing – there are four more minutes!
This is Toby Sumpter with Crosspolitic News. You can find this and all of our shows at Crosspolitic.com or on our app, which you can download at your favorite app store, just search "Fight Laugh Feast". Support Rowdy Christian media, and share this show or become a Fight Laugh Feast Club Member. Remember if you can't make it to the Fight Laugh Feast Rally, you club members will have access to all the talks. Go to FLFNetwork.com/Rally. Have a great day.