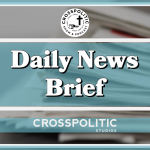 This is Garrison Hardie with your CrossPolitic Daily News Brief for Friday, April 28th, 2023.
https://www.breitbart.com/politics/2023/04/27/argentina-shuns-u-s-dollar-will-pay-for-china-imports-in-yuan/
Argentina Shuns U.S. Dollar: Will Pay for China Imports in Yuan
Argentina struck a deal with Beijing on Wednesday to stop using U.S. dollars to pay for Chinese imports and embrace the yuan instead.
The measure, driven by Argentina's leftist President Alberto Fernández, is designed to relieve the South American country's dwindling dollar reserves, AP reports.
The deal further enhances China's rise on the world stage and the diminished role of the U.S. on a host of fronts under President Joe Biden.
After reaching the agreement with various companies, Argentina will use the yuan for imports from China worth about U.S.$1.04 billion from next month, accelerating trade with China as Beijing seeks to gain a further foothold in South America.
In November last year Argentina expanded a currency swap with China by $5 billion in an effort to increase its yuan reserves.
That agreement allowed Argentina "to work on the possibility" of advancing the rate of imports with yuan-denominated import orders being authorized in 90 days rather than the standard 180 days.
The decision comes as Argentina battles critical levels in its dollar reserves amid a sharp drop in agricultural exports caused by a historic drought, as well as political uncertainty ahead of elections this year.
It has also been working hard to build a relationship with Beijing after having officially joined China's infrastructure-building Belt and Road Initiative (BRI) last year.
Argentina's government finalized a deal with Beijing soon after to construct a nuclear plant based on Chinese technology near Buenos Aires, Argentina's national capital, in the near future.
The Chinese Communist Party will reportedly provide $8 billion in financing toward the project's $12 billion total budget.
As Breitbart News reported, Argentina currently owes the International Monetary Fund (IMF) $44 billion.
The international organization is in talks with Argentine authorities to finalize a fourth review of its program that includes a flexibilization of the proposed foreign exchange reserve accumulation as Argentina, whose foreign reserves are now at a $5 billion deficit, cannot comply with the current goals.
https://www.foxnews.com/world/singapore-executes-man-conspired-traffic-2-pounds-cannabis
Singapore executes man who allegedly conspired to traffic 2 pounds of cannabis
Singapore on Wednesday executed a man accused of coordinating a cannabis delivery, despite pleas for clemency from his family and protests from activists that he was convicted on weak evidence.
Tangaraju Suppiah, 46, was sentenced to death in 2018 for abetting the trafficking of 2.2 pounds of cannabis. Under Singapore laws, trafficking more than 500 grams of cannabis may result in the death penalty.
Tangaraju was hanged Wednesday morning and his family was given the death certificate, according to a tweet from activist Kirsten Han of the Transformative Justice Collective, which advocates for abolishing the death penalty in Singapore.
Although Tangaraju was not caught with the cannabis, prosecutors said phone numbers traced him as the person responsible for coordinating the delivery of the drugs. Tangaraju had maintained that he was not the one communicating with the others connected to the case.
At a United Nations Human Rights briefing Tuesday, a spokesperson called on the Singapore government to adopt a "formal moratorium" on executions for drug-related offenses.
"Imposing the death penalty for drug offences is incompatible with international norms and standards," said the spokesperson, who added that increasing evidence shows the death penalty is ineffective as a deterrent.
Singapore authorities say there is a deterrent effect, citing studies that traffickers carry amounts below the threshold that would bring a death penalty.
The island-state's imposition of the death penalty for drugs is in contrast with its neighbors. In Thailand, cannabis has essentially been legalized, and Malaysia has ended the mandatory death penalty for serious crimes.
Singapore executed 11 people last year for drug offenses. One case that spurred international concern involved a Malaysian man whose lawyers said he was mentally disabled.
https://dailycaller.com/2023/04/26/red-state-bill-religious-institutions-state-funding/
Red State Passes Bill Allowing Religious Institutions Access To State Funding
The Oklahoma House of Representatives passed a bill Tuesday protecting religious institutions from being denied access to state funding.
The Oklahoma Religious Freedom Act was introduced by Republican state Sen. Shane Jett and Republican state Sen. Julie Daniels to further reinforce the First Amendment by preventing the state from denying faith-based groups access to taxpayer dollars, according to the bill. The legislature passed the act Tuesday by a 64 to 27 vote, officially sending the act to Republican Gov. Kevin Stitt's desk to be signed into law.
The bill makes way for religious institutions to access state funding by barring the state from denying applications for funding "based solely on the religious character or affiliation of the person or entity." The act adds to religious protections the state passed in 2021 preventing the government from declaring church activities non-essential, as was often the case during the COVID-19 pandemic.
However, some Democrats argued that the bill was an unnecessary addition to the First Amendment, according to KFOR.com, a local media outlet. One Democratic state representative warned that the bill could lead to government funding of religious activities at religious schools.
Republican state Rep. John Echols, who co-authored the bill, disagreed with his colleague's assessment, according to KFOR.com.
Oklahoma has been at the center of this discussion for some time. Earlier this month, Gov. Stitt and state Attorney General Gentner Drummond clashed over a Catholic charter school application that would have created the first state-funded religious charter school in the nation. The application was temporarily denied by the state's virtual charter board but will be voted on again in the coming weeks. Stitt told the Daily Caller News Foundation that he was disappointed by the the attorney general's response to the charter and continued to hope that Oklahoma would host the nation's first state-funded religious charter school, providing more options for parents.
Stitt, Jett, Daniels and Echols did not immediately respond to the Daily Caller News Foundation's request for comment.
https://thepostmillennial.com/breaking-ex-producer-suing-tucker-carlson-has-never-even-met-him?utm_campaign=64487
Ex-producer suing Tucker Carlson has never even met him
Tucker Carlson Tonight producer Abby Grossberg is suing Carlson and the Fox Network over sexual behavior in the workplace, despite never having met Carlson in person.
The Spectator reports that lawyers for Grossberg have confirmed that she never actually met Carlson. "Like many on the [Tucker Carlson Tonight] staff, Abby never met Tucker Carlson in person because he taped the show from his personal studios in Maine and Florida, and he did not visit Fox's NY HQ during her time there," said one of Grossberg's attorneys Kimberly A. Catala.
Grossberg was the head of booking from July 2022 until she was recently placed on leave in March. She "alleges that Carlson encouraged a hostile and sexist workplace environment among his employees. Grossberg says she was subjected to bullying, antisemitic comments and sexism by staff while working out of Fox's Manhattan office," Spectator reports.
Despite never having met Carlson, Grossberg told rival network MSNBC that "Tucker and his executive producer Justin Wells, who was also fired, really were responsible for breaking me and making my life a living hell."
"Since Tucker did not come to the Fox office, he relied on Justin Wells, his executive producer, and others like Alexander McCaskill, senior producer, who were present in the office every day to be his eyes, ears and mouthpiece, and to convey his 'tone,' as they threateningly reminded Ms. Grossberg," Catala said.
The allegation per Grossberg's attorneys is that Carlson directed the "sexist" environment from afar. Apparently, the attorneys posited that Carlson had staff work as his "eyes" and "ears" in the New York office while he worked away in Maine.
Carlson and Fox parted ways on Monday morning, though promos for the evening's show were already airing as the press release from Fox went out. It is unclear as to why Fox dismissed the insanely popular news anchor, though speculation abounds, including that Fox owner Rupert Murdoch took issue with Carlson's Christian beliefs.
Carlson has been seen in Florida enjoying time with his wife, and laughing about finally being able to dine together on weeknights. His show has been on the air for 7 years, and in that time he amassed a loyal following. In the hours following his departure from the network, "RIP Fox News" was trending on Twitter as many viewers found they had no reason to tune in once Carlson was no longer on the air.
The end of the Tucker Carlson Tonight era was celebrated by AOC, who had called for federal regulation of Fox and Carlson, which routinely took aim at her and her shenanigans.
https://www.nytimes.com/2023/04/26/us/colorado-rock-throwing-arrests.html
3 Teens Charged With Murder in Rock-Throwing Spree That Killed Colorado Driver
Three teenagers have been charged with first-degree murder in connection with a rock-throwing spree on Colorado roads last week that led to the death of one driver, the authorities said.
The three suspects, all 18 and identified as Joseph Koenig, Nicholas Karol-Chik and Zachary Kwak, were arrested on Tuesday evening at their homes in Arvada, Colo., for taking part in a series of rock-throwing episodes on April 19 that fatally wounded Alexa Bartell, 20, who was killed when one of the rocks smashed through her windshield and struck her, the Jefferson County Sheriff's Office announced on Wednesday.
In addition to murder, the three men are charged with extreme indifference; other charges to be determined by the First Judicial District Attorney's Office are expected.
It was not immediately clear if the three, who are seniors from different high schools, had lawyers on Wednesday.
The rock-throwing spree began shortly after 10 p.m. on April 19 in Westminster, Colo., which is a city of about 114,000 residents north of Denver, the authorities said.
During that hour, the authorities said, the three drove a pickup truck around the county and threw large landscaping rocks at six vehicles, including a minivan and an S.U.V., hitting their windshields and driver's side windows. Those drivers had minor or no injuries.
Around 10:45 p.m., Ms. Bartell was driving north on Indiana Street when her Chevrolet Spark, a subcompact, became the last vehicle struck during the spree, the authorities said.
Moments before she was killed, Ms. Bartell was on her phone talking to a friend "when the phone went silent," according to the sheriff's office.
Her friend tracked her phone and drove to the location on Indiana Street where she found Ms. Bartell "fatally wounded inside her car, which was off the roadway in a field."
It was unclear which of the men were driving but "all three are suspected of throwing rocks," the sheriff's office said. They were believed to be in a black 2016 Chevrolet Silverado pickup truck.
"Ultimately, mobile device forensics and supporting information from the public helped lead to the identification and arrest of the suspects," according to the sheriff's office, which did not release additional details.
The men, who were booked into the jail at the Jefferson County Sheriff's Office, are scheduled to appear in court on Thursday.
Before we end today… how about some good news?!
https://www.goodnewsnetwork.org/mom-wins-lottery-with-ticket-she-bought-celebrating-daughters-victory-over-cancer/
Mom Wins Lottery with Ticket She Bought Celebrating Daughter's Victory Over Cancer
After shelling out her life savings to pay for her daughter's breast cancer treatment, a Florida grandmother got a nod from the universe.
Buying the last available scratch-off from her preferred lottery game at the store, she landed a $2 million jackpot.
Geraldine Gimblet of Lakeland was celebrating the moment that her daughter, Lawrencia Jackson, rang a bell at the local hospital signifying she had finished her breast cancer treatment.
A long-time lottery player, Gimblet, 74, spent $10 on the last scratch-off card at the store, and it happened to be a winner.
"I just didn't know," Gimblet told Good Morning America regarding her reaction,, 'Are you sure, would you check this on your phone?' And, I won!"
Daughter Jackson, who accompanied Gimblet to the Tallahassee lottery offices to accept a lump sum of $1.6 million, described it as a "blessing."
Gimblet didn't hesitate to finance the cancer treatment, saying she just "did what I had to do," with Jackson adding that she would "just have to keep loving her," as a means to try and repay the kindness.
+-