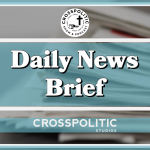 They're all our children… and more on today's CrossPolitic Daily News Brief. My name is Toby Sumpter and today is Friday, April 29, 2022.
President Biden said this week that children belong to teachers while they are being taught.
https://twitter.com/bennyjohnson/status/1519459453195673600?s=21&t=PI9TybMKCoDwUzU8KYnADw
Play full video
"They're not someone else's children, they're like yours in the classroom." Now let's be fair: maybe he's just being sloppy with words, but this really isn't far off from what government schools have been actually aiming for.
John Dewey is the father of the modern government school system, and he was pretty giddy about the Soviet school system, which of course was thoroughly Marxist. The goal was to make children into good citizens of the state primarily, and that required minimizing the influences of families and churches. He and many other secularists believed that society was weakened by the diversity of families and churches, and he believed that the only way to have a strong, unified society was through a strong, unified, and uniform government education. This centralized unity also included doing away with the free markets of capitalism. And he said that the only way to undermine the capitalist system was to get rid of the emphasis primary schools placed on the development of high literacy and independent intelligence." According to Dewey, "It is one of the great mistakes of education to make reading and writing constitute the bulk of the school work the first two years." [4]
And here we are. Right on schedule. And Republicans are still talking about giving them more money. Until Republicans determine to end socialist schools, they will not be able to stop CRT in public schools. Because… listen carefully: public schools are CRT. Government school are marxism in action. You can't keep watering the seeds and complain when you keep getting the fruit.
https://www.youtube.com/watch?v=ArOQF4kadHA
2:06-2:25
And of course the US Army is now involved in this as well:
Transgender instructions for military
Slides 26, 29
This ad is for those looking for something other than a four-year college degree. College is great! But it's not for everyone. Cornerstone Work & Worldview Institute seeks to fill that gap. Their mission is to build kingdom culture in the workplace through their integrative program of worldview instruction and on-the-job skills training under the guidance of mentors. They offer courses in Bible, theology, and economics as well as business, project management, and marketing and more. They also provide their students with internships with one of their business partners so they can learn and gain practical skills. Cornerstone Work & Worldview Institute invites you to join their mission to provide Christians another educational opportunity. Together we can help our students grow confident in their faith and competent in their labor. Visit them at cornerstonework.org to learn more, to enroll, or to partner with them.
Heather Scott on Idaho tax spending for Pride festivals
Psalm of the Day: Psalm 66
https://www.christkirk.com/wp-content/uploads/2016/06/08-Psalm-66-Let-All-The-Earth-With.mp3
Play: 0:00-1:05
Amen.
This is Toby Sumpter with CrossPolitic News. Remember you can always find the links to our news stories and these psalms at crosspolitic dot com – just click on the daily news brief and follow the links. Or find them on our App: just search "Fight Laugh Feast" in your favorite app store and never miss a show. If this content is helpful to you, would you please consider becoming a Fight Laugh Feast Club Member? We are building a cancel-proof Christian media platform, and we can't do it without your help. Join today and get a $100 discount at the Fight Laugh Feast conference in Knoxville, TN Oct. 6-8, and have a great day.