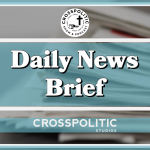 This is Garrison Hardie with your CrossPolitic Daily News Brief for Friday, April 7th, 2023.
Gravity Jack:
Gravity Jack is a full service digital agency specializing in the development of Virtual & Augmented Reality experiences, mobile apps, blockchain and Web3 projects. Founded in 2009 as the first American agency to offer augmented reality, they even patented it; Gravity Jack's digital experiences have been a source of innovation for small business, Fortune 500 Companies, and the US Military. Get your vision in motion at gravityjack.com
https://thepostmillennial.com/breaking-white-house-says-there-should-be-no-age-limit-on-child-sex-changes-up-to-child-parents-to-decide?utm_campaign=64487
White House says there should be no age limit on child sex changes—up to child, parents to decide
During a White House press conference on Wednesday, Press Secretary Karine Jean-Pierre was questioned on what age Biden thinks medicalized gender transitions are appropriate for minors, to which she said that it was up to the "child and their parents to decide."
https://rumble.com/v2gf8r6-a-reporter-asks-the-wh-press-sec-if-biden-has-a-position-on-at-what-age.html – Play Video
Following the fatal shooting at a Nashville Christian school carried out by Audrey Hale last month, who identified as transgender, Jean-Pierre proclaimed that the transgender community was "under attack" by so-called "anti-trans bills" across the nation.
https://freebeacon.com/democrats/colorado-poised-to-become-haven-for-youth-gender-reassignment-surgeries/
Colorado Poised to Become Haven for Youth Gender Reassignment Surgeries
Colorado Democrats over the weekend advanced a bill cosponsored by a transgender representative that would make their state a safe haven for teenagers seeking sex changes.
The Colorado House of Representatives on Saturday passed SB 188, which would require the state's courts and medical licensing boards to protect doctors who dispense hormones and perform sex changes on teens from states that restrict these surgeries, as well as those who provide abortions. The bill, which was cosponsored by Rep. Brianna Titone (D.), who identifies as transgender, was approved alongside two pieces of legislation that would expand abortion access in the state, all three of which have already passed the state senate.
Colorado is the latest blue state whose legislators have moved to enshrine protections to controversial medical procedures. Oregon Democrats last month passed a package designed to make their state a "haven" for people seeking sex changes and abortions, and Minnesota has passed similar legislation. California lawmakers have advanced a number of similar bills, including one bill that would allow children to check into group homes if their parents do not support their "gender identity."
The bill, which passed on party lines, was advanced late Saturday after 29-hours of contentious debate. Before passing the measure, House lawmakers added an amendment stating that the state's definition of "reproductive health care" includes sex change procedures and sterilization. This would ensure the legislation applies for minors under 19, according to Colorado Catholic Conference executive director Brittany Vessely.
During the floor debate, Titone scolded a Republican colleague who questioned the safety of child sex changes, saying he lacked "empathy" and claimed no one would choose to change genders voluntarily.
An increasing number of children are saying they are transgender, Reuters reported. In 2021, some 42,000 children and teens were told by therapists that they have gender dysphoria—almost triple the number given this diagnosis in 2017.
The bill could still face a legal challenge. The state assembly's non-partisan counsel said last week that SB 188 violates a provision in Colorado's constitution barring bills from regulating more than one subject, Colorado Politics reports. Colorado's Office of Legislative Legal Services found that the bill improperly welds the terms "reproductive health care" and "gender-affirming health care" into one entity, when they are actually separate.
Democrats say this was a technical issue they resolved in the amendment process. But Republicans say the constitutional problems persist and that the error points to a much larger problem.
The bill is expected to be sent to Gov. Jared Polis's desk for approval, along with the two abortion bills that passed Saturday. Those bills would empower state officials to target crisis pregnancy centers for promoting alleged "misinformation" about abortion and force insurance plans to cover abortion without copays. The bills would also make Colorado the first state to ban abortion pill reversals.
https://www.breitbart.com/politics/2023/04/06/exclusive-jim-jordan-subpoenas-manhattan-prosecutor-who-resigned-over-suspended-trump-probe/
Jim Jordan Subpoenas Manhattan Prosecutor Who Resigned over Suspended Trump Probe
House Judiciary Committee chairman Rep. Jim Jordan (R-OH) escalated Republicans' investigation into the Manhattan district attorney's indictment of former President Donald Trump by subpoenaing a prosecutor on Thursday who resigned from the office last year over the district attorney's initial reluctance to pursue Trump's case.
Jordan's subpoena, reviewed by Breitbart News, directs Mark Pomerantz, who resigned from Manhattan District Attorney Alvin Bragg's office in February 2022, to appear before the committee for a deposition on April 20.
Pomerantz, a former special assistant assigned to the years-long Trump case, exited the Manhattan district attorney's office right after Bragg took over. The move became a public affair when his resignation letter appeared in the New York Times last March.
Pomerantz wrote in the letter to Bragg that he believed Trump was "guilty of numerous felony violations" related to his financial statements and that he was quitting because he thought Bragg's decision at the time to "indefinitely" suspend the investigation into Trump was "misguided."
Jordan observed, based on the resignation letter, that Pomerantz had "prejudged the results" of the investigation and that his critical words of Bragg seemingly sparked the district attorney to openly declare that the Trump investigation was "far from over."
In November 2022, one week after Trump announced he was running for president again, the Times reported that Bragg had revived the Trump investigation and had zeroed in on a hush money scheme involving porn star Stormy Daniels and Trump's former personal attorney Michael Cohen.
"For Mr. Bragg, the hush-money developments suggest the first signs of progress since he took office at the beginning of the year, when he balked at indicting Mr. Trump in connection with his business practices," the outlet reported at the time.
Pomerantz later went on to publish a book about the matter, called People vs. Donald Trump: An Inside Account, in which Pomerantz discussed internal concerns people had about the investigation and worries about the credibility of Cohen, a convicted felon.
He added that Pomerantz "frivolously" compared Trump to John Gotti, a notorious New York City mob boss, and described him as a "malignant narcissist."
"The depth of your personal animosity towards him is apparent in your writing," Jordan concluded.
The subpoena marks Republicans' strongest move yet in its investigation of the New York County's indictment of Trump amid questions from some about Congress's authority to probe open state-level criminal matters.
https://americanmilitarynews.com/2023/04/us-kills-isis-leader-who-planned-international-terrorist-attacks/
US kills ISIS leader who planned international terrorist attacks
A senior ISIS leader responsible for planning international terrorist attacks was killed in a U.S. strike on Monday in Syria, dealing another blow to the remnants of the Islamic State.
U.S. Central Command, which oversees Middle East operations, said in a statement that the killing of the commander, al-Jabouri, will "temporarily disrupt [ISIS'] ability to plot external attacks."
Describing the operation as a "unilateral strike," CENTCOM stated that al-Jabouri was a planner for attacks in Europe and Turkey, and had developed the leadership structure for ISIS in Turkey. CENTCOM said the strike did not injure or kill any civilians.
The Syrian Observatory for Human Rights, a U.K.-based nonprofit that tracks conflict in Syria, reported that a drone strike killed the commander while he was walking and making a phone call near his house.
The strike came two weeks after U.S. forces in Syria traded deadly strikes with Iranian proxies, raising fears of escalation in the region. The Iran-backed strikes killed an American contractor and gave six U.S. troops traumatic brain injuries, CNN reported.
Retaliatory strikes by the U.S. killed eight militants and targeted facilities used by groups associated with the Islamic Revolutionary Guard Corps, Iran's internal militia and its main force for operations beyond its borders.
CENTCOM has stated that the U.S. has about 900 troops deployed in Syria, as well as about 170 contractors, Stars and Stripes reported. U.S. forces are stationed in Syria "to keep an ISIS resurgence at bay," a military spokesman told the Washington Post in December.
CENTCOM Commander Gen. Michael Kurilla told a congressional committee in March that "ISIS would return within one to two years" if the U.S. pulled out of Syria, Stars and Stripes reported. The House of Representatives recently voted down an effort to force the withdrawal of about 900 troops from Syria.
https://www.theguardian.com/us-news/2023/apr/06/clarence-thomas-supreme-courts-gifts-republican-megadonor
Clarence Thomas faces impeachment calls after reports of undisclosed gifts
Clarence Thomas, the most conservative justice on the US supreme court, is facing renewed calls for impeachment after it was reported that for two decades he has accepted undisclosed luxury gifts from a Republican mega-donor.
Thomas may have violated financial disclosure rules when he failed to disclose travel on yachts and jets and other gifts funded by the property billionaire Harlan Crow and uncovered by ProPublica.
It found that Thomas flies on Crow's Bombardier Global 5000 jet and holidays on Crow's 162ft super-yacht. He has enjoyed holidays at Crow's ranch in Texas and joined him at an exclusive all-male California retreat. The justice usually spends about a week each summer at Crow's private resort in the Adirondack mountains in New York.
The revelations prompted sharp criticism by Democrats of Thomas, who after 31 years is the longest-serving justice and an influential voice in the rightwing majority that last year ended the right to abortion.
Dick Durbin, a Democrat from Illinois and chair of the Senate judiciary committee, said: "This behavior is simply inconsistent with the ethical standards the American people expect of any public servant, let alone a justice on the supreme court.
"Today's report demonstrates, yet again, that supreme court justices must be held to an enforceable code of conduct, just like every other federal judge. The ProPublica report is a call to action, and the Senate judiciary committee will act."
Alexandria Ocasio-Cortez, a progressive congresswoman from New York, tweeted: "This is beyond party or partisanship. This degree of corruption is shocking – almost cartoonish. Thomas must be impeached. Barring some dramatic change, this is what the [chief justice John] Roberts court will be known for: rank corruption, erosion of democracy, and the stripping of human rights."
Impeachment remains unlikely, even given other calls regarding the pro-Trump activities of Thomas's wife, the rightwing activist Ginni Thomas, and not just because Republicans hold the House. Only one supreme court justice has ever been impeached: Samuel Chase, in 1804-05. He was acquitted in the Senate.