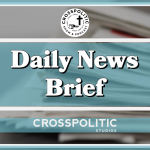 This is Garrison Hardie with your CrossPolitic Daily News Brief for Friday, August 12th, 2022. To those of you coming out for Grace Agenda, welcome to Moscow! Make sure to stop by the CrossPolitic Booth and say hello! And before we get into the news…
Dropwave
Do you have a podcast, or thinking about starting one? Does your church have a podcast feed for sermons? The Dropwave.io is for you. Cancel culture is like walking on a thin glass bridge over the Grand Canyon. Every step you take could get you killed, I mean canceled. Since the beginning CrossPolitic has been working on being antifragile, so no matter what happens, our content can still be delivered to your tv and to your podcast. This past year, the Waterboy and his friend Jeremi, have been working on building a podcast hosting solution for rowdy platforms like CrossPolitic, so that you can be confident your podcast will never fall through that glass bridge. Dropwave offers seamless onboarding for shows that have been around for years to easy to use solutions for starting your own podcast. Dropwave will track all your show's downloads by city, state, and country, and it offers network and enterprise packages for solutions like the Fight Laugh Feast Network. Free to speak, Free to podcast, free to start your journey now at www.Dropwave.io.
https://thepostmillennial.com/twitter-rolls-out-plans-to-protect-us-midterm-elections-and-suppress-misleading-information?utm_campaign=64487
Y'all remember Twitter right? Well… Twitter rolls out plans 'to protect' US midterm elections and suppress 'misleading information'
Twitter has rolled out some new terms and policies ahead of the 2022 midterm elections, during which the Republican Party is expected to overtake the Democrats to earn a majority in the US House. The election is seen as a barometer of how the Biden administration and their leadership has performed since taking office, and so far, the pressure is definitely on.
These changes are in addition to those made in the lead-up to the 2020 presidential election, in which Twitter's suppression and censorship of information played a key role in misinforming the public.
Twitter is stepping up to bolster their terms and prevent "misinformation," that catch-all concept for anything that goes against the Democrat-driven narrative. As such, they've announced "steps we're taking ahead of the US midterms to protect civic conversation on Twitter."
As they've done in international elections, Twitter is now "activating enforcement" of their "Civic Integrity Policy for the 2022 US midterms." Twitter states that their Civic Integrity Policy "covers the most common types of harmful misleading information about elections and civic events," which include: false claims about how and where to vote, voter intimidation, and "misleading claims intended to undermine public confidence in an election," which includes "false information about the outcome of the election."
When Twitter mods encounter information they believe comes under the "harmful misleading information" category, they will "not recommend or amplify this content," and will provide a "prompt prior to liking or sharing labeled tweets, and in cases where there is potential for harm associated with the false or misleading claim, the Tweet may not be liked or shared to precent the spread of the misleading information."
In the lead up to the presidential election in 2020, Twitter suppressed and censored reporting by the New York Post that tied then candidate Joe Biden to his son Hunter's overseas business dealings, with insinuations and allegations of influence peddling. Twitter believed reports coming out of the Biden campaign, and other sources, that claimed the information had been obtained through hacking, a disallowable practice, or was "Russian disinformation."
This suppression had an impact on the US presidential election, potentially skewing results in Biden's favor, as polls later indicated.
https://thepostmillennial.com/breaking-merrick-garland-confirms-he-personally-approved-mar-a-lago-raid-refuses-to-take-questions?utm_campaign=64487
Merrick Garland confirms he personally approved Mar-a-Lago raid, refuses to take questions
In a Thursday press briefing, United States Attorney General Merrick Garland confirmed that he "personally approved" of the FBI raid at former President Donald Trump's Mar-a-Lago residence, and announced that the Justice Department has filed a motion to unseal the search warrant.
Garland told the public that "I personally approved the decision to seek a search warrant in this matter," noting that the Justice Department "does not take such a decision lightly."
https://rumble.com/v1fng2x-ag-merrick-garland-delivers-a-statement-about-the-fbi-raiding-trump.html – Play Video
Garland has about as much spine as a jellyfish… and can I just ask, where were the FBI raids when Hillary Clinton deleted over 30,000 emails, and literally got an ambassador and numerous contractors killed in Benghazi… Where has the FBI been when all of the names and allegations came out about Jeffrey Epstein? Oh by the way, Bill Clinton was on that list… How about the Biden family? How about Hunter Biden's lap top? How about him spending money on hookers? and their shady business dealings with China? Ladies and gentleman, we need to be praying that our Lord would continue to shine a light in the darkness of our wicked government, and tear down the high places.
And before we move onto the next story, make sure you educate your kids away from our government schools… one way to do that would be Classical Conversations!
Classical Conversations
Classical Conversations supports homeschooling parents by cultivating the love of learning through a Christian worldview in fellowship with other families. We provide a classical Christ-centered curriculum, local like-minded communities across the United States and in several countries, and we train parents who are striving to be great classical educators in the home. For more information and to get connected, please visit our website at ClassicalConversations.com. Again that's ClassicalConversations.com.
https://www.npr.org/sections/health-shots/2022/08/11/1116991600/with-new-guidance-cdc-ends-test-to-stay-for-schools-and-relaxes-covid-rules
With new guidance, CDC ends test-to-stay for schools and relaxes COVID rules
With the coronavirus continuing to spread widely throughout the country, Americans are getting new advice from federal health officials on how to live with the virus.
The revised guidance – released by the Centers for Disease Control and Prevention on Thursday – lifts the requirement to quarantine if exposed to the virus, deemphasizes screening people with no symptoms and updates COVID-19 protocols in schools, eliminating a recommendation for test-to-stay after potential exposure.
"This guidance acknowledges that the pandemic is not over, but also helps us move to a point where COVID-19 no longer severely disrupts our daily lives," the CDC's Greta Massetti said in a statement. "We know that COVID 19 is here to stay," she added in comments during a briefing with reporters.
The update isn't necessarily a huge overhaul of the existing guidance, but it does represent an increasing focus on individuals making their own decisions about their level of risk and how they want to mitigate that risk, said Dr. Marcus Plescia, chief medical officer for the Association of State and Territorial Health Officials.
"That is consistent with where we are in the pandemic right now," he said. "I don't really think there are many state or local jurisdictions that are feeling they're going to need to start making mandates."
It also brings the recommendations for unvaccinated people in line with people who are fully vaccinated – an acknowledgment of the high levels of population immunity in the U.S., due to vaccination, past COVID-19 infections or both. "Based on the latest … data, it's around 95% of the population," Massetti said, "And so it really makes the most sense to not differentiate," since many people have some protection against severe disease.
The changes could have some of the biggest impact in K-12 schools. The guidance eliminates the strategy known as "test-to-stay" – a schedule of testing for people that were exposed to the coronavirus but not up to date with their vaccinations – that allowed them to continue in-person learning, so long as they continued to test negative and showed no symptoms.
The test-to-stay protocol has been an alternative to quarantine for school, so now "the practice of handling exposures would involve masking rather than a quarantine," Massetti said.
You have no idea how frustrating that last article was to read ladies and gentleman.
Now before we go… it's time for my favorite topic… sports!
I had an email sent into me by a Daily News Brief listener named Jeremiah Leidenfrost, titled Joe DiMaggio.
The email reads:
Hey Garrison,
I found this newspaper in a house remodel from 1937 talking about Joe DiMaggio. The newspapers were stapled to the inside of the siding as insulation. I thought I would show you this since you like sports.
Enjoy,
Jeremiah Leidenfrost
Now on the news paper, it reads: Joe DiMaggio, the sensational sophmore outfielder of the world champion New York Yankees, today came to terms for the 1937 season.
Col. Jacob Ruppert, owner of the club announced that DiMaggio, had accepted the club's offer, understood to call for a salary of $15,000, and an increase of pay of $6,500 over last tear's pay to the youthful slugger.
For those who don't know about Joe DiMaggio, nicknamed "Joltin' Joe", "The Yankee Clipper" and "Joe D.", was an American baseball center fielder who played his entire 13-year career in Major League Baseball for the New York Yankees. Born to Italian Sicilian immigrants in California, he is widely considered one of the greatest baseball players of all time, and had a 56-game hitting streak (May 15 – July 16, 1941), a record that still stands.
Off the field, Gabe told me he was also known for his marriage to Marilyn Monroe! It didn't go well… The union was troubled from the start by DiMaggio's jealousy and controlling attitude; he was also physically abusive. A violent fight between the couple occurred immediately after the skirt-blowing scene in The Seven Year Itch that was filmed on September 14, 1954, in front of Manhattan's Trans-Lux 52nd Street Theater. Then 20th Century Fox's East Coast correspondent Bill Kobrin told the Palm Springs Desert Sun that it was director Billy Wilder's idea to turn the shoot into a media circus. The couple then had a "yelling battle" in the theater lobby.[49] After returning from New York City to Hollywood in October 1954, Monroe filed for divorce from DiMaggio after only nine months of marriage.
Anyways the more ya know! Find yourselves a good man or woman to stand by you, and stand on God's promises, otherwise, you'll end up like them!
Thanks for tuning into this CrossPolitic Daily News Brief. If you liked the show, share it far and wide. If you'd like to sign up for a club membership, sign up for our conference, or sign up for our magazine, you can do all of that, at fightlaughfeast.com. And as always, if you'd like to send me a news story, ask about our conference, or become a corporate partner of CrossPolitic, let's talk. Email me, at [email protected]. For CrossPolitic News, I'm Garrison Hardie. Have a great day, and Lord bless.