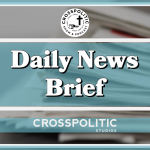 Screw your freedom and more on today's CrossPolitic Daily News Brief
This is Toby Sumpter. Today is Friday, August 13, 2021.
Government-Funded Researchers Sought Aborted Minorities for Organ Harvesting
https://freebeacon.com/policy/taxpayer-fund-aborted-babies-research/
The federal government gave at least $2.7 million in taxpayer money to researchers who sought out minority babies who had been aborted in order to harvest their organs, according to internal documents released Tuesday.
The University of Pittsburgh targeted minorities in its request for infant organs—including those taken from full-term babies—to create a "pipeline" for fetal research. Researchers said they needed 50 percent of the donated fetuses to be minorities and specified that 25 percent must come from black women. The Pittsburgh metropolitan area is 85 percent white and 8 percent black. Researchers stressed the importance of maintaining organ blood flow in the request, which watchdogs say could violate federal law by asking doctors to illegally preserve organs during labor-inducing abortions.
The National Institutes of Health has overseen experiments on fetal organs at the University of Pittsburgh since 2015 in what the school claimed to be a "tissue hub." Aborted babies used in this research ranged from 6 to 42 weeks of gestation, according to government documents. The grant request from the university to the government agency redacts key information, including how many fetuses were obtained and who provided them. Its language, however, raised troubling questions.
David Daleiden, founder and president of the pro-life Center for Medical Progress, called on the federal government to investigate the NIH and Pitt after obtaining more than 300 pages of information related to the program through a public records request.
The University of Pittsburgh has been involved in fetal organ research for more than a decade. It conducted an experiment in 2020 that implanted the scalps of aborted fetuses onto lab mice in a study that was funded by Dr. Anthony Fauci's National Institute of Allergy and Infectious Diseases. The grant proposal boasts of the institution's experience handling a variety of fetal organs, including the liver, heart, legs, brain, kidneys, and bladders. The university outlined its goal of becoming a "pipeline" for fetal organ research, which would mean not only conducting this research but providing organs for other institutions to experiment on.
The NIH did not respond to a request for comment.
On Twitter, Nate Fischer shared this story but also pointed out the fact that Francis Collins ran the NIH during this time. Fischer: "He was widely celebrated as an example of sort of "faithful presence" so many educated and successful Christians have been told to aspire to. I'm sure @NIHDirector is a thoughtful Christian, personally opposed this, wouldn't choose to do it in a perfect world, is wrestling with the challenges of Christian leadership in an elite secular institution, etc. But the fact is the NIH funded a project that actively sought aborted fetuses to perform research on under Collins's leadership. That Collins did not stop this highlights the impotence cultivated by the "faithful presence" approach promoted in so many elite-adjacent evangelical circles. Here, the result was actually grimmer than simple failure to achieve impact: as head of the NIH, Collins played a role in funding this research. Through a career celebrated as a shining example of 'faithful presence' he became an active participant in a grotesque evil. If Christians aren't going to develop doctrines that actually prepare them to fight against evils in the institutions they help lead, perhaps it's better – for the sake of their souls – that they don't even venture into these institutions."
Francis Collins is the founder of BioLogos – a Christian evolutionary science resource. He has also led the Human Genome Project in addition to the NIH. In 2006, he wrote the best-selling book The Language of God in which he tells his journey from atheism to Christian belief, showing that science is not in conflict with the Bible. But clearly Dr. Collins, despite having converted to Christianity, is still a very confused man.
Speaking of Experts, Arnold Says Screw Your Freedom
Play Audio: 1:20-2:14
Why would we not believe somebody like Dr. Fauci? I don't know, maybe because he's been funding the dissection and experimentation on murdered babies?
Play Audio: 2:30-3:11
Screw your freedom. From "I'll be back" to "Screw your freedom" and "Make sure you stop at the traffic light."
Sen. Josh Hawley Joins Democrats on Funding Police
Play Audio: 0:00-1:13
I have not seen the text of Sen. Hawley's amendment, but everything in me grimaces. It sounds like some kind of funding program for local police departments, but the last thing we need is more Federal funding. Remember federal dollars are federal chains. When you take the King's coin, you become the King's man. The last thing we want are federalized police forces, with the president running our local police. This may not be happening this minute, but the more money you take the more they will have to say. I've generally appreciated Sen. Hawley, but this makes me nervous.
Fight Laugh Feast Magazine
https://flfnetwork.com/product/fight-laugh-feast-magazine/
Our Fight Laugh Feast Magazine is a quarterly issue that packs a punch like a 21 year Balvenie, no ice. Order a yearly subscription for yourself and then send a couple yearly subscriptions to your friends who have been drinking luke-warm evangelical cool-aid. Every quarter we promise quality food for the soul, wine for the heart, and some Red Bull for turning over tables. Our magazine will include cultural commentary, a Psalm of the quarter, recipes for feasting, laughter sprinkled through out the glossy pages, and more.
Psalm of the Day: Psalm 40
Play Audio: 0:00-0:48
Remember you can always find the links to our news stories and these psalms at crosspolitic dot com – just click on the daily news brief and follow the links.
This is Toby Sumpter with Crosspolitic News. You can find this and all of our shows at Crosspolitic.com or on our app, which you can download at your favorite app store, just search "Fight Laugh Feast". A reminder: if you see news stories and links that you think we should cover on the daily news brief, please send them to news @ crosspolitic.com and don't forget to check deft wire dot com where we are constantly posting all our stories.
Support Rowdy Christian media, and share this show or become a Fight Laugh Feast Club Member. You always get a free Fight Laugh Feast t-shirt with a membership and remember if you didn't make it to the Fight Laugh Feast Conference or Rally, club members have access to all the talks and lots more. Join today and have a great day.