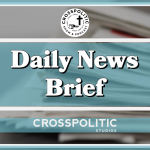 This is Garrison Hardie with your CrossPolitic Daily News Brief for Friday, August 18th, 2023.
Fight Laugh Feast Conference – Ark Encounter
This year, our Fight Laugh Feast Conference is at the Ark Encounter in Kentucky on The Politics of Six Day Creation. The politics of six day creation is the difference between a fixed standard of justice and a careening standard of justice, the difference between the corrosive relativism that creates mobs and anarchy and the freedom of objectivity, truth, and due process. The politics of six day creation establishes the authority and sufficiency of God's Word for all of life: from what is a man or a woman, when does human life begin, and how is human society best organized?
Come hear Ken Ham, Pastor Doug Wilson, Dr. Ben Merkle, Dr. Gordon Wilson, me and more, and of course a live CrossPolitic show! Mark your calendars for October 11th-14th, as we fight, laugh, and feast, with beer & psalms, our amazing lineup of speakers, our Rowdy Christian Merch, and a Sabbath Feast to wrap up the occasion. Maybe an infant baptism while we're at it! Visit fightlaughfeast.com for more information!
https://www.dailywire.com/news/mayor-blindsided-after-entire-police-force-resigns-in-minnesota-town
Mayor 'Blindsided' After Entire Police Force Resigns In Minnesota Town
Every police officer, including the chief of police, has stepped down from the force in a Minnesota town after they say complaints of low pay and long hours were left unresolved.
Goodhue, a city about 65 miles southeast of Minneapolis with just over 1,000 residents, could be without police officers by August 23. It has struggled to attract new police recruits and give competitive pay to officers. The nonpartisan mayor said she was "blindsided" by the resignations and promised that the city would be protected.
"I want to reiterate that we will have police coverage in the city of Goodhue," Mayor Ellen Anderson Buck told Fox 9. "That is not an issue."
Police Chief Josh Smith said the force had trouble getting anyone interested in police work. Smith, another full-time employee, and five part-time employees all announced their resignations last week.
"This has been three weeks now, we have zero applicants, and I have zero prospects," Smith said in July. "I've called every PD around for the youngest guys out there, getting into the game. There's nobody getting into the game."
"Not that I'm leaving you guys, because I told you I'm in it," he said at a meeting on July 26. "But the harsh reality is, I don't want to be the guy working 80 hours a week just running this PD, being on call 24 hours a day, which I already am, and leaving no time for my family."
According to the Minneapolis Star Tribune, the Goodhue City Council raised Smith's salary by $13,000 and the other officers by 5% this year.
"Right now … trying to hire at $22 an hour, you're never going to see another person again walk through those doors," Smith said, noting that cities could frequently give more benefits and higher pay.
After all the officers leave, the town is set to contract with the Goodhue County Sheriff's Office to provide law enforcement services. The police department in Morris, another Minnesota town, was disbanded last year after it could not retain staffers.
Police departments across the U.S. have struggled to attract recruits in urban and rural areas. The shortage of officers comes following a wave of anti-police sentiment after the death of George Floyd while in Minneapolis police custody in 2020.
https://www.breitbart.com/asia/2023/08/16/pakistan-muslim-mob-of-10000-people-burns-down-hundreds-of-christian-homes-churches-over-blasphemy/
Muslim Mob of 10,000 People Burns Down Hundreds of Christian Homes, Churches, over 'Blasphemy'
A mob reportedly made of up as many as 10,000 men began burning down, looting, and otherwise violently assaulting Christian communities in Jaranwala, Pakistan, on Wednesday in response to reports that a Christian man had allegedly desecrated a Quran.
The Pakistani newspaper Dawn, citing local Christians in the northern Pakistani region of Punjab, documented the burning down or otherwise complete destruction of at least five churches. The British Asian Christian Association, an international aid group that serves persecuted Christians in Pakistan, reported that the mob destroyed over 500 homes and left "tens of thousands" of Christians homeless.
Muslim mob violence in Pakistan, an officially Islamic state, is common. Islamist mobs often riot when rumors spread of a Christian allegedly desecrating a Quran, insulting the Islamic figure Muhammad, or otherwise offending the religion. Islamists have also rioted over international news, such as riots in support of the Charlie Hebdo massacre of 2015 or riots against France following the beheading of teacher Samuel Paty, which the French government condemned.
Christians are often the targets of such violence and local police rarely intervene effectively, particularly when the mob attacks are triggered by allegations of blasphemy. "Blasphemy" is a crime in the Pakistani penal code, punishable by death when directed at Muhammad personally. Pakistan has never in its history executed a person for blasphemy, but mobs have "extra-judicially" killed or severely injured untold numbers over the alleged crime.
Many of those killed for "blasphemy" are not charged with the crime and little evidence exists that the blasphemy occurred. Christians in Pakistan are disproportionately poor and some accused of "crimes" such as writing on a Quran are illiterate, making the accusations impossible.
The incidents triggered on Wednesday reportedly began when Muslims in Jaranwala began accusing Saleem Masih, a Christian man believed to work as a cleaner, of desecrating a copy of the Quran, the Islamic holy book. According to the British Asian Christian Association, the violence began when Islamic officials used mosques to make community announcements demanding that mobs organize and begin destroying Christian communities in response.
"The affected regions, including Cinema Basti, Christian Town, and Esa Nagar, have witnessed the destruction of over 500 houses," the organization detailed. "According to reports provided by on-ground volunteers, Pastors Muratib and Moon, a tumultuous mob of approximately 10,000 individuals has wreaked havoc within the Christian towns."
The Pakistani newspaper Dawn reported that pastors had confirmed the burning down and looting of at least five churches in the community throughout Wednesday.
"Images on social media showed smoke rising from the church buildings and people setting fire to furniture that had been dragged from them. A Christian cemetery was also vandalised, as well as the local government office," Dawn documented.
Videos from the greater fay-sala-bad area showed large crowds of men starting fires around churches, looting the homes of Christians, and chanting anti-Christian slogans. In one such video, one police officer appears in front of a crowd of what appears to be hundreds of people, calmly attempting to address the men and being ignored as they continue ransacking what appears to be a residential community.
Bishop Azad Marshall, the president bishop of the Church of Pakistan, posted a message on Twitter on Wednesday stating that churches were burning as he was writing and demanding police take action.
The mob attacks appear to be ongoing at press time, though local police claim they are organizing a response. Pakistan's Geo TV cited the information minister for Punjab, Amir Mir, claiming "dozens" of people had been arrested for their participation in the mob attacks and that police believed the eruption of violence was not spontaneous.
"There was a plan to disturb the peace by inciting public sentiments. After the desecration of the Holy Quran, the angry protesters reacted strongly," Mir claimed, apparently accepting the alleged blasphemy as a fact.
Geo TV added that Mir claimed police were working swiftly to investigate "the tragic incident of the desecration of the holy book" – the Quran, presumably, though Mir did not clarify if he was also investigating Bishop Marshall's report of desecrations of Bibles.
Mir also astoundingly claimed "no one was injured nor was there any loss of life" in the riots, contradicting the on-the-ground reports from the British Asian Christian Association, which alleged thousands of injuries.
https://www.witn.com/2023/08/16/north-carolina-house-overrides-multiple-vetoes/?fbclid=IwAR2myIPVYdQ3mhoinGOu-CMbUkNH8KnFZEFCOYQ4KaxoBq9BV0JmYywKkpI
North Carolina legislature overrides Governor's vetoes on transgender and charter school bills
The North Carolina House of Representatives and Senate voted along party lines to override several of Governor Roy Cooper's vetoes on Wednesday afternoon. All of the bills that had their vetoes overridden now become law.
House and Senate members first voted to override House Bill 574, which is better known as the Fairness in Women's Sports Act. The bill would ban all transgender girls and women (biological boys or men) from competing in women's athletics at the middle school, high school, and college levels in North Carolina. After passing the House, the Senate then overrode the governor's veto as well along party lines..
Also on the calendar Wednesday was House Bill 808, a bill that would ban gender-affirming care for children. This bill prohibits doctors in North Carolina from treating any child under 18 years old with drugs associated with gender transitioning. The House overrode the Governor's veto of that bill by a vote of 73-46. The NC Senate then voted to override the veto by a vote of 27-18.
Senate Bill 49, also known as the Parents Bill of Rights or also by the nickname "Don't Say Gay bill" is a bill that would force educators from kindergarten through high school to notify parents if a child asked school personnel to use other pronouns or other names for them. Senate Bill 49′s veto was also overridden in both chambers of the General Assembly Wednesday as well.
The House and Senate also voted to override House Bill 219, known as the Charter School Omnibus Bill, by a House vote of 74-45 and a Senate vote of 27-18.
House Bill 219 allows charter schools in the state to expand without seeking permission as long as they're not considered low-performing. It would also allow them to give preferential treatment to applicants instead of using the lottery system as well as begin to allow enrollment and charge tuition for out-of-state and foreign exchange students.
House Bill 219 would also allow county governments to use funds collected from property taxes to pay for charter school buildings and other capital projects, under current law using public funds for this reason is not possible.
Both chambers also voted along party lines to override Governor Cooper's veto of HB618 dealing with charter school review boards.
House Bill 488, a bill allowing for Code Council Reorganization and various code amendments was also overridden in both chambers on Wednesday along party lines.
Upon adjournment, House Speaker Tim Moore (R – Cleveland County) told members that there would be no legislative votes for the rest of this week or next, and possibly the week beyond that, meaning that the General Assembly will not be taking up a state budget until at least September, well after the start of the new year for North Carolina's public schools.
Now it's time for my favorite topic, sports!
https://www.boundingintosports.com/2023/08/tuohy-family-from-the-blind-side-responds-to-accusations-from-nfl-vet-michael-oher-as-he-seeks-film-royalties/
Tuohy Family From 'The Blind Side' Responds To Accusations From NFL Vet Michael Oher As He Seeks Film Royalties
Former NFL player Michael Oher, who was the focus of the 2009 blockbuster film The Blind Side, has filed a lawsuit in a Shelby County, Tennessee court against Leigh Anne and Sean Tuohy, the people who took him into their home and raised him as a wayward teenager. Oher accuses them of misleading him intentionally regarding his 'adoption,' which he claims was a conservatorship instead.
Needless to say, this revelation has completely altered the images of Oher and the Tuohy's portrayed in the popular film, suggesting that this Christian, kind family may have had other motives for taking Oher into their home.
Oher, now 37 years old, had his attorney file a 14-page document to the court alleging that as a teenager, the Tuohy's convinced him to sign a document back in 2004 giving them full legal authority over any business decisions he could potentially be involved in, rather than what he believed was an adoption by the family.
Sean Tuohy said in an interview with The Daily Memphis that the accusations of ill-intent and that his family simply wanted to profit off of Oher were ridiculous.
"I sat Michael down and told him, 'If you're planning to go to Ole Miss — or even considering Ole Miss — we think you have to be part of the family. This would do that legally,'" he said at the time when Oher believed they were legally adopting him.
"We contacted lawyers who had told us that we couldn't adopt over the age of 18; the only thing we could do was to have a conservatorship. We were so concerned it was on the up-and-up that we made sure the biological mother came to court."
Tuohy also stated that the family did not earn the sizable amount of money Oher's attorneys believe they did.
Touhy, who is already wealthy himself from owning and selling a chain of fast food franchises for upwards of $200 million, claimed that those saying it was all about the money should think again.
https://twitter.com/i/status/1691179803821359105 – Play Video
The lawsuit being brought by Oher, paints a vastly different picture… if you want more information on that lawsuit, go listen to my newsbrief from yesterday.