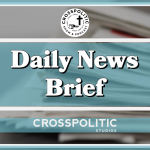 This is Toby Sumpter with your CrossPolitic Daily Newsbrief. Today is Friday, August 19, 2022.
FLF Conference Plug:
Folks, our upcoming Fight Laugh Feast Conference is less than 2-months away from happening in Knoxville TN, October 6-8! Lies, Propaganda, Storytelling, and the Serrated Edge. Don't miss beer & psalms, our amazing lineup of speakers which includes George Gilder, Jared Longshore, Pastor Wilson, Dr. Ben Merkle, Pastor Toby, Chocolate Knox will be doing a round table discussion with Bekah Merkle and Nancy Wilson on the power of stories in shaping culture, and we just announced a Business Makers Pre-conference with Andrew Crapuchettes from Red Balloon and David Reece CEO of Armored Republic: Growing Businesses in a Woke Culture…also dont miss our awesome vendors, meeting new friends, and stuff for the kids too…like jumpy castles and infant baptisms! Also, did you know, you can save money, by signing up for a Club Membership. So, go to FightLaughFeast.com and sign up for a club membership and then register for the conference with that club discount. We can't wait to fellowship, sing Psalms, and celebrate God's goodness in Knoxville October 6-8.
Yesterday Mike Pence was in New Hampshire making noises like maybe he wants to run for president, and he made some comments, apparently scolding conservatives for being so hard on the FBI in recent days:
Play: 0:18-0:44
https://twitter.com/nedryun/status/1560334864422944768?s=21&t=CXZOR8Lk5LgqK01lZj9wnw
Laura Ingram asked Tucker Carlson about it, and he had a few words:
Play: 2:26-2:59
Meanwhile,
https://conservativebrief.com/affidavit-2-65683/
Media organizations have requested to see the affidavit that prompted a judge to grant a search warrant for former President Donald Trump's Mar-a-Lago house, and now they have their answer.
US Magistrate Judge Bruce Reinhart says he will unseal some of the procedural filings currently under seal on the search warrant docket.
"I am not prepared to find that the affidavit should be fully sealed," the judge said, meaning that, at minimum, some of the affidavit will be revealed.
"According to the judge's comments, the filings are the Department of Justice's motion to seal the warrant documents, the order granting that sealing request, and the criminal cover sheet," CNN reported.
Jay Bratt, a Justice Department lawyer, argued that allowing the public to read the affidavit would "provide a roadmap to the investigation," and would indicate the next steps in the probe.
"In this case, the court has found probable cause there's a violation of one of the obstruction statutes, and that evidence of obstruction would be found at Mar-a-Lago" said Jay Bratt, who heads the Justice Department's counterintelligence section.
"In the interest of TRANSPARENCY, I call for the immediate release of the completely Unredacted Affidavit pertaining to this horrible and shocking BREAK-IN," the former President said. "Also, the Judge on this case should recuse!"
Judge Bruce Reinhart faced criticism and even threats after it was discovered that he had recused himself from a lawsuit involving Trump and former Secretary of State Hillary Clinton. He has also drawn scrutiny for switching from his job as a federal prosecutor to working as a defense attorney on behalf of individuals connected to convicted sex offender Jeffrey Epstein.
Last week, one of the personal attorneys for former President Donald Trump demanded to know why the judge who signed the warrant to search his private house had recused himself from a lawsuit against 2016 Democrat Presidential Nominee Hillary Clinton.
But if you were to ask infamous atheist Sam Harris, none of that would matter, since apparently, there is a higher principle at stake.
https://twitter.com/alexandrosm/status/1560061984699064320?s=21&t=FldsDgPI4XM4BKaNDxtNBA
In a recent interview, Harris said there could have been the corpses of children in Hunter Biden's basement, and Sam Harris wouldn't have cared. Even if all the rumors of Biden family corruption were true, it's infinitesimal compared to the corruption of Trump (Trump University). Harris stunned his interviewers by insisting that it absolutely was a leftwing conspiracy to deny the presidency to Trump, but it was warranted.
0:00-1:15
It was warranted?
Yes, Harris insisted: It doesn't matter which part was conspiracy, which part was out in the open. If there was an asteroid heading for earth, you have to do whatever you have to do to stop it:
1:53-2:20
Well, but Sam, there's a huge difference between the people electing the president and a meteor heading for earth.
But notice what Sam Harris has done. He's insisting that there is some higher moral principle guiding his corruption. He is allowed to cheer on whatever corruption it takes to keep Trump out of office. He is above the law. He knows what is best for this country. This is a great example of what Doug Wilson has said before, which is that whenever people deny the existence of God, they are always interested in the job opening. Sam Harris is famous for his atheism, but he is not actually interested in a godless society. Here he is insisting that sometimes you have to step in pull all the levers of power that you can in order to prevent Trump from taking office.
Here's a longer clip but you really do need to listen to it. Sam Harris says that Trump was so unfit for office it was necessary for those with levers of power to do what they could to prevent Hunter Biden's laptop from being brought out at the 11th hour and jeopardizing Biden's campaign against Trump:
https://twitter.com/alexandrosM/status/1560061202885070849?s=20&t=N5Crf2WVMviXOyX68dmKpg
Play the whole thing.
Lockdowns claimed 20 times more lives than they saved
https://www.wnd.com/2022/08/research-reveals-covid-lockdowns-claimed-20-times-lives-saved/
COVID-19 lockdowns could be responsible for claiming 20 times more lives than they were advertised to save, according to a new analysis published in the International Journal of Environmental Research and Public Health.
The paper, which bases its conclusions on a comprehensive review of other relevant, lockdown-focused literature, was authored by researchers at the Jerusalem College of Technology.
"In this work, we performed a narrative review of the works studying the above effectiveness, as well as the historic experience of previous pandemics and risk-benefit analysis based on the connection of health and wealth," summarized the article, titled "Are Lockdowns Effective in Managing Pandemics?"
"The comparative analysis of different countries showed that the assumption of lockdowns' effectiveness cannot be supported by evidence—neither regarding the present COVID-19 pandemic, nor regarding the 1918–1920 Spanish Flu and other less-severe pandemics in the past," argue the researchers.
The team proceeds to quantify the estimated number of lives lost due to the COVID-19 mitigation measure, which drew strong support from Democrats and public health officials including Anthony Fauci, Deborah Birx, and Mike Pence:
"the price tag of lockdowns in terms of public health is high: by using the known connection between health and wealth, we estimate that lockdowns may claim 20 times more life years than they save."
The paper also exposes how governments and international health organizations' embrace of lockdowns was at odds with their stance on the public health policy prior to COVID-19.
"It should be mentioned that the same conclusions—no clear benefit of lockdowns in case of pandemic—were made by national and international bodies before COVID-19 emerged. Namely, several governments prepared detailed plans of response to influenza- like pandemics years ago—see the programs of the U.S. Occupational Safety and Health Administration (2007) and the Israeli Ministry of Health (2007),"
The paper doesn't argue that lockdowns were merely ineffective; however, adding that they actually claimed the lives of the people public health officials claimed to be protecting.
"The lockdown policies had a direct side effect of increasing mortality. Hospitals in Europe and USA were prepared to manage pretty small groups of highly contagious patients, while unprepared for a much more probable challenge—large-scale contagion. As a result, public health care facilities and nursing homes often became vehicles of contamination themselves—to a large extent because of the lockdown-based emergency policy implementation," explained the paper, citing New York as an example.
"While our understanding of viral transmission mechanisms leads to the assumption that lockdowns may be an effective pandemic management tool, this assumption cannot be supported by the evidence-based analysis of the present COVID-19 pandemic, as well as of the 1918–1920 H1N1 influenza type-A pandemic (the Spanish Flu) and numerous less-severe pandemics in the past," concludes the paper.
The findings follow the publication of other studies finding sizable drawbacks to lockdowns and other popular COVID-19 mitigation measures such as mask mandates.
New Saint Andrews:
Today's culture shifts like sand. But New Saint Andrews College is established on Christ, the immovable rock. It is a premier institution that forges evangelical leaders who don't fear or hate the world. Guided by God's Word, they take the world back because they're equipped with the genius of classical liberal arts and God-honoring wisdom, thanks to a faculty dedicated to academic rigor and to God's kingdom. Find out more, at nsa.edu/
The Psalm of the Day is Psalm 47
This is one of the psalms we'll be singing at the Fight Laugh Feast Conference:
All peoples clap your hands for joy, to God in triumph shout. For awesome is the Lord most high, great King, the earth throughout. He brings the peoples under us in mastery complete, and He it is who nations all subdues beneath our feet.
Play: 0:00-0:42
Amen!
This is Toby Sumpter with your CrossPolitic Daily News Brief. Remember, if you want to support this sort of thing and see more of it, there are two things you can do to help. First, share this newsbrief with your friends: send a link in a text or message or share it on social media and tag friends you think would be interested. Word of mouth is easily our strongest growth. And secondly, consider becoming a Fight Laugh Feast Club Member. Your monthly support makes a huge difference, and we are regularly creating backstage content just for you as our thanks for your support. Go to flf network dot come and join today. And If you are already a club member, our sincere gratitude and thanks. Thanks for listening and have a great weekend.