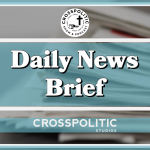 That was four days ago, five days ago and more on today's CrossPolitic Daily News Brief
This is Toby Sumpter. Today is Friday, August 20, 2021.
Politics of Sex Conference
We really believe that the Fight Laugh Feast Conference is unlike any other conservative Christian conference in the world, maybe even the universe. We here at CrossPolitic believe that we in the West are suffering from a really bad case of BS runs. From Fox News to CBN, we suffer fools gladly, and serve our flattery up with slick hair cuts and big boobs. Haven't you had enough of that already? At the Fight Laugh Feast Conference we don't promise to always be right, but we promise to be afraid of no truth and to tell it unvarnished with the sharp edge always pointed ourselves first. The whole world began with a wedding in a garden, and the whole world is heading toward another wedding in a garden city. Sex is political, what happens in the bedroom never stays there. We are building cultures and kingdoms in our families, in our living rooms, at the dining room table, and yes, in our bedrooms. So join us in Nashville, TN Sep. 9-11 with Voddie Baucham, Douglas Wilson, David Bahnsen, Doug TenNaple, George Grant, C.R. Wiley, Gary Demar, Ben Merkle, Summer Jaeger of the Sheologians, Nancy Wilson, Bekah Merkle, A.D. Robles, Darren Doane, and more. We kick off with beer and Psalms on Thursday night and close it all out with a family style Sabbath dinner Saturday evening.
What about the people falling from planes? That was Four, that was Five Days Ago
Play Audio
Why does that matter? We don't know
The Talban is Having an Existential Crisis?
https://twitter.com/ABC/status/1428322103040876544?s=20
Play: 0:03-0:19
Safe Passage for Americans?
Play: 0:44-0:53
Safe Passage? Safe Passage? There are reports of 10-15,000 Americans still in Afghanistan, and reports today that the US State Department is charging American citizens to be evacuated. You can COVID vaccines for free. You can get stimulus checks sent around like AOL CDs coming in the mail (back in the day). But you can't get safe passage back home when your country suddenly pulls out of a terrorist region. This is one of the legitimate jobs of civil government – protecting the lives of the innocent. Punishing criminals and bad guys.
https://twitter.com/SkyNews/status/1428008787521150978?ref_src=twsrc%5Etfw%7Ctwcamp%5Etweetembed%7Ctwterm%5E1428008787521150978%7Ctwgr%5E%7Ctwcon%5Es1_c10&ref_url=https%3A%2F%2Fwww.foxnews.com%2Fpolitics%2Fuk-mp-shameful-biden-afghan-troops-ran
Play: 2:19-3:03
Conservative MP Tom Tugendhat


It's so Bad Even the British Parliament Holds Biden in Contempt for Afghan Debacle
https://freebeacon.com/latest-news/uk-parliament-holds-biden-in-contempt-for-afghanistan-withdrawal/
The United Kingdom's Parliament on Wednesday held President Joe Biden in contempt for his withdrawal of American troops from Afghanistan, calling the move "catastrophic" and "shameful."
Members of Parliament, including some who served alongside U.S. soldiers in Afghanistan, accused Biden of "throwing us and everybody else to the fire" with his decision to withdraw. They also attacked Biden for his "shameful" criticism of the Afghan National Army and said it was "dishonourable" to blame Afghanistan's fighting force for the Taliban's takeover.
Chad Robichaux is Also Embarrassed for America
Play
Play
Bomb Threat on Capitol Hill
https://www.wsj.com/articles/congressional-office-building-evacuated-after-police-find-suspicious-vehicle-11629383785?mod=hp_listb_pos2
When asked about it, Biden said that was like four days ago, or five days ago at least.
Fight Laugh Feast Magazine
https://flfnetwork.com/product/fight-laugh-feast-magazine/
Our Fight Laugh Feast Magazine is a quarterly issue that packs a punch like a 21 year Balvenie, no ice. Order a yearly subscription for yourself and then send a couple yearly subscriptions to your friends who have been drinking luke-warm evangelical cool-aid. Every quarter we promise quality food for the soul, wine for the heart, and some Red Bull for turning over tables. Our magazine will include cultural commentary, a Psalm of the quarter, recipes for feasting, laughter sprinkled through out the glossy pages, and more.
Psalm of the Day: To the Word – Isaiah 8
Play
Remember you can always find the links to our news stories and these psalms at crosspolitic dot com – just click on the daily news brief and follow the links.
This is Toby Sumpter with Crosspolitic News. You can find this and all of our shows at Crosspolitic.com or on our app, which you can download at your favorite app store, just search "Fight Laugh Feast". A reminder: if you see news stories and links that you think we should cover on the daily news brief, please send them to news @ crosspolitic.com and don't forget to check deft wire dot com where we are constantly posting all our stories.
Support Rowdy Christian media, and share this show or become a Fight Laugh Feast Club Member. You always get a free Fight Laugh Feast t-shirt with a membership and remember if you didn't make it to the Fight Laugh Feast Conference or Rally, club members have access to all the talks and lots more. Join today and have a great day.