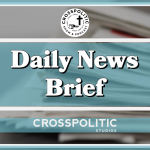 This is Garrison Hardie with your CrossPolitic Daily News Brief for Friday, August 25th, 2023.
Bohnet Music Academy
Isn't it about time to take action on how you're going to give your children and grandchildren a good music education? Moses, David, and all the Saints of the church have worshiped God with musical might, so let's be confidently found doing the same.
Bohnet Music Academy instructs children and adults in how to be musically literate. That's everything you need to know and do as the musician God made you to be. Lessons are available locally in Moscow, ID and online. What's great is that in addition to getting vocal training, you can also study the piano, guitar, violin, cello, drums, or the trumpet.
Visit Bohnetma.com/crosspolitic for more information on how to equip your family to serve God's musical commands. B-O-H-N-E-T MA.com/crosspolitic
https://thepostmillennial.com/breaking-trump-supporters-counter-protesters-clash-outside-of-fulton-county-jail-ahead-of-his-arrival?utm_campaign=64487
Trump supporters, counter-protesters clash outside of Fulton County jail ahead of his arrival
On Thursday, both supporters and opponents of 2024 GOP frontrunner Donald Trump gathered outside the Fulton County jail in expectation of his arrival to surrender to authorities in the 2020 election case.
By the afternoon, police had blocked off the road leading up to the jail, as a crowd gathered at the end of the road.
One person was seen standing with a "Donald J Trump did nothing wrong sign," while others flew American flags and wore red MAGA hats.
One anti-Trump man wearing a black and white striped jail suit blasted a bullhorn alarm into the ear of a Trump supporter. Three more behind him were dressed as rats.
On Thursday morning, Trump replaced his lead Georgia lawyer with Steve Sadow, who last represented Atlanta rapper Gunna in the YSL RICO case.
Trump and 18 codefendants have been charged with violation of the Georgia RICO Act, solicitation of violation of oath by public officer, false statements and writings, impersonating a public officer, conspiracy to commit impersonating a public officer, forgery in the first degree, conspiracy to commit forgery in the first degree, conspiracy to commit false statements and writings, criminal attempt to commit filing false documents, conspiracy to commit filing false documents, criminal attempt to commit influencing witnesses, influencing witnesses, conspiracy to commit election fraud, conspiracy to commit computer theft, conspiracy to commit computer trespass, conspiracy to commit computer invasion of privacy, conspiracy to defraud the state, and perjury.
Staying with Trump…
https://redstate.com/nick-arama/2023/08/24/trump-tucker-interview-gets-amazing-number-of-views-n2162988
Trump Claims Debate Victory, and He Has Some Incredible Numbers to Support the Claim
The Republican debate was Wednesday night, and some were somewhat disappointed that the debate didn't spend time on the economy, how horrible Joe Biden is, and the weaponization of the government against political opponents and the American people. It seems like the candidates spent more time trying to verbally take on Vivek Ramaswamy than Joe Biden. It was clear that they were concerned about Ramaswamy's numbers when the rest were mainly in single digits,. They were hoping to have that springboard moment off of him. But it seemed that only focused more attention on him, rather than on them. "Vivek" was trending this morning on polls running this morning like the Drudge poll had him polling as the winner.
Here was perhaps one of the funniest moments of the debate when Ramaswamy came back at Chris Christie
https://twitter.com/i/status/1694525968021647466 – Play Video
However, I think the problem for the folks at the debate was the guy Fox referred to as the "elephant not in the room" — President Donald Trump. In the Fox debate format, you don't get the chance to expound on your thoughts. You're given a very limited time to make an impression, sometimes in the. midst of being shouted down or attacked by another candidate. Meanwhile, as we reported, Trump was free to speak at length and benefitted from the long-form interview format.
Here was a hilarious moment where he eviscerated the abilities of Joe Biden and Kamala Harris, and speculated that other folks might come forward in the primary because those two were so bad.
https://twitter.com/i/status/1694527574955761965 – Play Video
One of the things that I found commendable in the Trump interview was that even in the face of four indictments, what was Trump talking about? The concerns about China's movements in our hemisphere, trying to build bases in Cuba, and their influence over the Panama Canal. There was precious little foreign policy in the GOP debate apart from asking about continued funding for Ukraine, which most seemed to be okay with and Ramaswamy wanted to stop.
It's a strategic understanding that we've seen from Trump in the past for example in trying to warn Germany and NATO about being beholden to Russia for their oil. It's something that Biden completely fails at because he doesn't seem at all concerned about America's security.
Did any of the candidates at the GOP debate have that springboard moment to shake up the polls and move past Trump? I don't think so. There might be some minor jockeying around, but they faced an almost impossible task to begin with, with Trump so far ahead. How do you gain on him if he isn't even there?
Trump's team released a statement after the debate.
"President Trump won this evening's Republican debate in dominating fashion," said the statement attributed to Trump campaign senior adviser Susie Wiles. "More people watched President Trump's interview with Tucker Carlson than the rest of the field on the debate stage combined. Tonight, voters saw a clear contrast between President Trump engaging in a thoughtful policy discussion about what his second term will look like versus 90-second canned sound bites and platitudes from the debate stage."
Wiles' statement continued: "What is clear after the dust settles: none of the other candidates looked ready to take on Crooked Joe Biden. Only one leader can Make America Great Again, and that's President Donald J. Trump."
At this juncture, if winning is determined by attention and eyes on you, then Trump has some receipts for the claim. According to the view count, it's almost 200 million views — 195+ million at this juncture, after not even a full day.
https://dailycaller.com/2023/08/23/hawaiian-authorities-barriers-blocked-residents-escaping-deadly-wildfires/
Maui Survivors on Instructions from Government During Fire: "Only Those Who Disobeyed Survived"
Residents in West Maui faced a barricade that blocked the only paved exit out of town when they attempted to escape the raging wildfires, according to the Associated Press, forcing them to evade the authorities' obstacles.
Residents encountered a gridlock caused by several Hawaiian Electric trucks that were replacing telephone poles along the road to Highway 30, and received instructions from electricians to turn back into Lahaina, AP reported. Some died in their cars while others swerved around the barricade or used dirt roads to escape.
"It made no sense what they were doing," Cole Millington, a resident, said, according to NBC News. "They could see the sky was black. They could see the city was on fire. They could see the wind was still whipping everything around. But they were already starting to plant new power poles."
Many residents could not escape the traffic and abandoned their cars to jump in the Pacific, making the gridlock even worse, according to The Washington Post.
"The gridlock would have left us there when the firestorm came," Kim Cuevas-Reyes, a resident who drove into the wrong lane to escape, said, according to AP. "I would have had to tell my children to jump into the ocean as well and be boiled alive by the flames or we would have just died from smoke inhalation and roasted in the car."
The wildfires have burned approximately 2,170 acres in Lahaina, according to CBS News. There have been at least 115 deaths.
Hawaiian Electric did not immediately respond to requests for a comment.
https://www.newsmax.com/world/globaltalk/us-taiwan-china-invasion-threat-weapons-sales-military/2023/08/23/id/1131770/
US Approves New $500M Arms Sale to Taiwan as Aggression from China Intensifies
The Biden administration has approved a $500 million arms sale to Taiwan as it ramps up military assistance to the island despite fervent objections from China.
The State Department said Wednesday it had signed off on the sale of infrared search tracking systems along with related equipment for advanced F-16 fighter jets. The sale includes the infrared systems as well as test support and equipment, computer software and spare parts, it said.
Although the deal is modest in comparison to previous weapons sales, the move is likely to draw fierce criticism from Beijing, which regards self-governing Taiwan as a renegade province and refuses to rule out the use of force to reunify it with the mainland.
"This proposed sale serves U.S. national, economic, and security interests by supporting the recipient's continuing efforts to modernize its armed forces and to maintain a credible defensive capability," the State Department said in a statement.
"The proposed sale will improve the recipient's capability to meet current and future threats by contributing to the recipient's abilities to defend its airspace, provide regional security, and increase interoperability with the United States through its F-16 program," it said.
The announcement came just hours after Taiwan's President Tsai Ing-wen renewed a pledge to strengthen Taiwan's self-defense as she visited a war memorial from the last time Taiwan and China battled. Tsai, visited the outlying islands of Kinmen where the conflict was fought 65 years ago, commemorated those who died.
Wednesday's State Department announcement also follows an angry Chinese reaction to the transit through the United States of Taiwanese Vice President William Lai on his way to and from an official visit in Paraguay last week.
In recent years, China has stepped up its military activity in the waters and skies around Taiwan, sending fighter jets and navy vessels near the island or to encircle it.