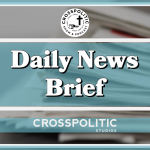 Biden's Inflation Expansion Act is already helping prices rise… abortion bans going into effect around the country, and we take a moment to remember the Kenosha riots from 2 years ago this week.
… and more on today's CrossPolitic Daily News Brief. My name is Toby Sumpter and today is Friday, August 25, 2022.
Blue Ridge Reformed Church, a potential CREC church plant in the Roanoke Valley, will begin worship services on Sunday September 4th at 6:00 p.m. We are located at 6032 Cloverdale Rd, Roanoke, VA 24019.
For more information folks can check out our website blueridgereformed.org
New Saint Andrews:
Today's culture shifts like sand. But New Saint Andrews College is established on Christ, the immovable rock. It is a premier institution that forges evangelical leaders who don't fear or hate the world. Guided by God's Word, they take the world back because they're equipped with the genius of classical liberal arts and God-honoring wisdom, thanks to a faculty dedicated to academic rigor and to God's kingdom.Find out more, at nsa.edu/
Right after Biden signed His solve all the problems of the world bill that included $7500 tax credits for electric cars, electric car companies announced they were hiking prices by about $8500 per vehicle.
https://twitter.com/SenJoniErnst/status/1562802194117804032?s=20&t=hD4XXHk0AqhO2wyrNaWuTw
Play audio:
Classic.
https://www.huffpost.com/entry/abortion-trigger-bans-just-went-into-effect-in-3-more-states_n_63066ebee4b00c150d67552a
Trigger bans went into effect in Idaho, Tennessee and Texas overnight on Thursday, bringing the number of states where abortion has become illegal or been severely restricted to 14 since the Supreme Court overturned Roe v. Wade.
So-called trigger bans are state laws that were created to automatically ban abortion if Roe fell at the federal level. Many such bans, including in Kentucky, Louisiana and South Dakota, automatically went into effect as soon as Roe was repealed in late June. Others required 30 days or further certification from the state's attorney general before they could go into effect.
Abortion was already outlawed after the six-week point in Tennessee and Idaho, and Texas had a pre-Roe ban in effect with no exceptions for rape or incest. Laws in each state required a specific amount of time to pass after the repeal of Roe for the trigger bans to take effect.
Now, abortion is completely banned at any point in pregnancy in Tennessee with vague exceptions for the life or health of the pregnant person. In Idaho, a near-total abortion ban is also in effect, carrying a punishment of up to five years in prison for any physician who performs an abortion outside of the law's narrow exceptions. The Texas trigger law doesn't change who can seek an abortion in the state, but it further criminalizes abortion by threatening physicians who perform the procedure with life in prison and a $100,000 fine.
There are no abortion exceptions for rape or incest in Tennessee or Texas. Idaho's trigger ban does include exceptions for rape or incest, but it requires victims to report the crime to law enforcement before obtaining a legal abortion. Idaho's law also has exceptions if the pregnant person's life or health is at risk.
The Department of Justice sued the state of Idaho over its six-week trigger ban earlier this month, arguing that it's in direct violation of federal law because the restriction does not comply with the 1986 Emergency Medical Treatment and Labor Act. The EMTALA statute requires that all patients receive appropriate medical care and stabilizing treatment in an emergency situation ― including patients who need abortion care when the life or health of the pregnant person is at risk. Idaho's trigger law originally only made an exception if the life of the pregnant person is at risk, but not if the health of a pregnant person is threatened. An Idaho judge ruled late Wednesday that physicians in the state couldn't be punished for providing abortion care to protect the health of a pregnant person.
North Dakota's trigger ban will go into effect Friday if no court action is taken. Indiana's near-total abortion ban — the first anti-choice legislation to pass since Roe's demise — will take effect on Sept. 15. And an anti-abortion measure in Arizona is set to go into effect on Sept. 24, but the state attorney general requested the courts consider an even stricter ban.
FLF Conference Plug:
Folks, our upcoming Fight Laugh Feast Conference is just under 6 weeks away from happening in Knoxville TN, October 6-8! Don't miss beer & psalms, our amazing lineup of speakers which includes George Gilder, Jared Longshore, Pastor Wilson, Dr. Ben Merkle, Pastor Toby, and we can't say yet…also dont miss our awesome vendors, meeting new friends, and stuff for the kids too…like jumpy castles and accidental infant baptisms! Also, did you know, you can save money, by signing up for a Club Membership. So, go to FightLaughFeast.com and sign up for a club membership and then register for the conference with that club discount. We can't wait to fellowship, sing Psalms, and celebrate God's goodness in Knoxville October 6-8.
The Riots in Kenosha, WI happened Two Years ago:
https://twitter.com/BGOnTheScene/status/1562553560713203712?s=20&t=hD4XXHk0AqhO2wyrNaWuTw
This is what happens when we abandon biblical justice.
Play: 0:00-0:30
https://justthenews.com/government/courts-law/appeals-court-rules-gender-dysphoria-covered-under-americans-disabilities-act/
An appeals court this week ruled that "gender dysphoria" is covered by the Americans With Disabilities Act, a decision which could significantly expand protections for transgender-identifying individuals throughout the United States.
Gender dysphoria is a medical condition in which individuals feel an incongruence between their sex and their self-perceived "gender identity." The classification of the syndrome has gone through several revisions within the American Psychiatric Association's Diagnostic and Statistical Manual of Mental Disorders.
A panel at the 4th U.S. Circuit Court of Appeals in Richmond, Va., earlier this month became the country's first federal appellate court to rule that the condition is covered under the Americans With Disabilities Act, a 1990 law that dictates protections and privileges for disabled Americans around the country.
The ruling came after an individual who identifies as a "transgender woman" brought a lawsuit against a Virginia sheriff when the individual in question was housed with male prisoners after being arrested.
This will be interesting to watch because Christians and conservatives have historically been really bad at reading this play well. Homosexuality was once considered a disability or psychological disorder, but that was actually the first step towards acceptance. Calling sin a disorder or sickness is often a way to downplay personal culpability and guilt and a way to garner compassion and sympathy. Pedophilia is currenlty being pedaled like this – sorry "minor attracted persons." The same thing with alcoholism, but the Bible calls it idolatrous drunkenness. You worship the false god of the bottle. As is a lot of addiction language. Porn addiction is really idolatrous lust. You worship sexual perversion.
Remember, naming is powerful. Naming is cosmic. The first battle is over the dictionary. Who gets to define what words mean? This is why the pronouns matter. This is why we should continue to resist calling dudes making vows "marriage." It isn't a marriage, any more than a dude in a dress is a woman.
Fight Laugh Feast Theme Song: Come Men of Christ Be STrong
0:00-1:10
Amen!
This is Toby Sumpter with CrossPolitic News. Remember you can always find the links to our news stories and these psalms at crosspolitic dot com – just click on the daily news brief and follow the links. Or find them on our App: just search "Fight Laugh Feast" in your favorite app store and never miss a show. We are now doing a daily show, with daily backstage content for Fight Laugh Feast Club Member. Join today and get access as well as a $100 discount at the Fight Laugh Feast conference in Knoxville, TN Oct. 6-8, and have a great day.