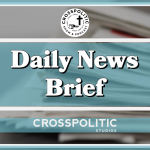 Pinwheels on the side of Todd Friel's head and more on today's CrossPolitic Daily News Brief
This is Toby Sumpter. Today is Friday, August 27, 2021.
Multiple Explosions (apparently suicide bombers) Reported in Kabul Near the Airport
Play Audio
12 Serviceman have been confirmed dead, 11 marines and one Navy Medic, along with what appears to be scores of others.
Remember Last Week, He told ABC's Blumenthal that No One is Being Killed in Aghganistan
Play Audio
Biden Addressed the Nation Late Thursday Threatening to Hunt Down the Perpetrators of the Attacks
Play Audio
Biden Closed His Speech by Announcing that He had been Instructed to Call on NBC
Play Audio: 0:52-1:01

Huh… That's special.
Todd Friel on Civil Government Authority
Play Audio: 39:40-40:22, 42:02-51:55
You can catch the whole show on the Apologia Studios' youtube channel and the link is in the show notes which you can find at CrossPolitic.com and on our app which you can download if you go to your favorite app store and search Fight Laugh Feast.
Psalm of the Day: The Son of God Goes Forth To War