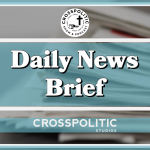 This is Garrison Hardie with your CrossPolitic Daily News Brief for Friday, August 4th, 2023.
Isn't it about time to take action on how you're going to give your children and grandchildren a good music education? Moses, David, and all the Saints of the church have worshiped God with musical might, so let's be confidently found doing the same.
Bohnet Music Academy instructs children and adults in how to be musically literate. That's everything you need to know and do as the musician God made you to be. Lessons are available locally in Moscow, ID and online. What's great is that in addition to getting vocal training, you can also study the piano, guitar, violin, cello, drums, or the trumpet.
Visit Bohnetma.com/crosspolitic for more information on how to equip your family to serve God's musical commands. B-O-H-N-E-T MA.com/crosspolitic
http://bohnetma.com/crosspolitic
https://www.dailywire.com/news/pittsburgh-synagogue-shooter-sentenced-to-death-by-jury
Pittsburgh Synagogue Shooter Sentenced To Death By Jury
A jury on Wednesday sentenced the man who gunned down 11 people at the Tree of Life Synagogue in Pittsburgh to death, nearly five years after the attack.
The shooter, whom I will not name, was found guilty in June of all 63 counts he was facing, including 11 counts of obstructing the free exercise of religious beliefs resulting in death and 11 counts of hate crimes resulting in death.
The jury's unanimous decision was announced by U.S. District Judge Robert J. Colville, who presided over the trial, which took place in downtown Pittsburgh. The judge will officially sentence the shooter to death later this week.
The victims were from three Jewish congregations who gathered at the Tree of Life synagogue on October 27, 2018. Two other worshipers and five police officers were also wounded by the gunman, who unloaded a Colt AR-15 semi-automatic rifle and three Glock .357 handguns during his attack.
Victims of the shooting were: Joyce Fienberg, Richard Gottfried, Rose Mallinger, Jerry Rabinowitz, Cecil and David Rosenthal, Bernice and Sylvan Simon, Daniel Stein, Melvin Wax, and Irving Younger.
The shooting is considered by authorities to be the deadliest anti-Semitic attack in U.S. history.
Attorneys representing the shooter asked for a life sentence if he pleaded guilty, but prosecutors, with the support of most of the victims' families, refused and took the case to trial to pursue the death penalty. The shooter's lawyers also argued that he was impaired by mental illness and a delusional belief system took over his thinking, dictating that he had to kill Jews to stop a genocide of white people, the Associated Press reported.
"He turned this place of worship into an exhibit in his criminal trial," U.S. Attorney Eric Olshan said while arguing for jurors to recommend the death penalty, according to the Pittsburgh Gazette.
A criminal complaint showed that the man told authorities he intentionally targeted the synagogue because he hoped to kill Jewish people. The shooter's defense attorneys acknowledged that he had done the shooting but asked jurors to "scrutinize his intent."
We now go across the pond for this one!
https://thenationalpulse.com/2023/08/02/uk-tories-enforce-diversity-quotas-for-new-members-of-parliament/
UK Tories Enforce Diversity Quotas for New Members of Parliament.
The United Kingdom's 'Conservative' Party has implemented new diversity quotas and guidelines for selecting candidates – would-be Members of Parliament (MPs). The targets include age as well as ethnicity and gender.
Diversity quotas are in place even before candidates are considered as the party's "Sifting Committee," which is responsible for sorting through applicants after applying for the position, must have specific characteristics:
"The Sifting Committee must comprise a minimum of one woman and one young person under the age of 30. The additional Association members of the Committee should reflect the different interests of the constituency, i.e. should have a balance of gender, age and ethnicity."
After the initial sift, the Selection Committee must "recognise their responsibility" to ensure that candidates are chosen in a way that "displays diversity and variety and which has a due regard to the local profile of the constituency" and guarantees a balance of genders.
The selection rules also state that the process must be "inclusive and free from discrimination" and "fully acknowledge and embrace diversity," except when considering female candidates, in which case "some degree of positive discrimination is permitted." The rules add that anything considered "indirect discrimination" is prohibited; meaning, any requirement that could have a "disproportionate impact" on one group.
President Donald Trump highlighted the Conservative's shift to the "far left" in an interview with Nigel Farage earlier this year. More recently, the party expelled a mayor for 'repenting' after attending a Pride event.
https://www.theguardian.com/us-news/2023/aug/02/orlando-magic-nba-team-donated-ron-desantis-super-pac
Orlando Magic donated $50,000 to Ron DeSantis Super Pac
The Orlando Magic NBA team has donated $50,000 to a Super Pac supporting the presidential bid of Florida's Republican governor, Ron DeSantis.
According to Federal Election Commission records, the Never Back Down Super Pac received the donation made by the basketball team on 26 June. Further results showed the team making donations to other political causes in past years, with $500 going to Conservative Results in 2016, $2,000 to Maverick Pac USA in 2014 and another $500 to Linda Chapin for Congress in 2000.
In an initial statement to Popular Information, a Magic spokesperson said: "We don't comment publicly on political contributions." However, in a later follow-up statement, a spokesperson clarified the donation, saying that the check was "dated/delivered on May 19", five days before DeSantis declared his presidential bid.
"This gift was given before Governor DeSantis entered the presidential race. [It] was given as a Florida business in support of a Florida governor for the continued prosperity of central Florida," the spokesperson said.
According to Never Back Down's website, the Super Pac describes itself as a "grassroots movement to elect Governor Ron DeSantis for president in 2024".
The donation has drawn criticism online, particularly given the Magic's claims of supporting "diversity, equity and inclusion all year long" and DeSantis's culture wars in which he announced plans to block DEI programs in state colleges among other legislation targeting minority and marginalized groups including LGBTQ+ communities.
The Orlando Magic team is under Amway North America, a multi-level marketing firm co-established by Richard DeVos, the late father-in-law of Trump's education secretary Betsy DeVos.
Over the years, the DeVos family has made multiple donations to conservative organizations. In 2006, the Richard and Helen DeVos Foundation made a $540,000 donation to Focus on the Family, a Colorado-based organization that opposes same-sex marriage and abortions, HuffPost reports. In 2008, Richard DeVos donated $100,000 to Florida4Marriage, a group that campaigned to add a state constitutional ban on same-sex marriages.
"That's just a sacred issue of respecting marriage," Richard DeVos said in a 2009 interview in reference to his donation.
Following reports of the donation, the National Basketball Players Association, a union representing NBA players, issued a statement on Wednesday, calling the donation "alarming".
"A political contribution from the Orlando Magic is alarming given recent comments and policies of its beneficiary. NBA governors, players and personnel have the right to express their personal political views, including through donations and statements.
"However, if contributions are made on behalf of an entire team, using money earned through the labor of its employees, it is incumbent upon the team governors to consider the diverse values and perspectives of staff and players.
"The Magic's donation does not represent player support for the recipient," the union said.
https://www.boundingintosports.com/2023/08/shakeups-continue-at-espn-as-nba-analyst-mark-jackson-is-fired-after-10-years-with-the-network/
Shakeups Continue at ESPN As NBA Analyst Mark Jackson Is Fired After 10 Years With The Network
Mark Jackson is a New York native who played his college basketball at St. John's before being chosen by the Knicks in the first round of the 1987 draft. He spent two separate stints with the franchise, and his time in the shadows of The City That Never Sleeps had him ready for the big stage when he wanted to transition to television.
He would go on to a coaching career by taking the helm in Golden State, just before the eventual arrival of Steve Kerr and a slew of NBA titles. Still, he rebounded nicely, and would later famously team with Mike Breen and Van Gundy to form one of the best broadcasting trios in all of sports. That is – until this week.
In response, Mark Jackson released a long statement, saying goodbye:
"This morning, unexpectedly, I was informed that my services were no longer needed at ESPN. Although shocked and dismayed with the suddenness of it all, I would like to thank ESPN and all the staff of the NBA ESPN crew for allowing me to be a part of the organization for the past 15+ years. I would also like to thank the NBA fans watching at home and in the arenas throughout the league for all of your support. To the NBA, a heartfelt thank you for allowing a kid to continue to accomplish his dreams.
"It has been an honor to sit beside two LEGENDS in the business, who are like brothers to me, Mike Breen and Jeff Van Gundy, and learn so much from them," the former Knicks standout continued. "Lisa Salters is a GOAT and like a sister to me and I'm so proud of the work she continues to do. To the best producer in the world, and my friend, Tim Corrigan, I give the utmost gratitude and thanks for always inspiring and supporting me. To all of the staff and crew, that may have never been seen on camera… please know that you were always seen by me and so greatly appreciated."
Jackson then concluded his sign-off from The Worldwide Leader in Sports gracefully, giving praise to God on his way out the door.
"Finally, I wish greater measures of success to the new ESPN team. May they continue to elevate this game that has given me a home and a life. I leave ESPN with nothing but gratitude, all the while knowing that my highest praise goes to God! Through it all, He has always sustained me and His grace allows me to know that there are greater blessings ahead. I look forward to what He has in store next."
Jackson's layoff is the latest in a series of cost-cutting moves by the network, which has experienced a sharp drop in popularity and profitability in recent years.