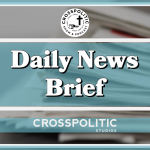 This is Garrison Hardie with your CrossPolitic Daily News Brief for Friday, August 5th, 2022. Today, we'll hear about a private school excluding white families from a back-to-school event, China fires missiles into Taiwanese waters' calling them training exercises. CNN's ratings are continuing to fall, Amazon's new Lord of the Rings looks like a woke dumpster fire, and more… but first:
Club Membership Plug:
Let's stop and take a moment to talk about Fight Laugh Feast Club membership. By joining the Fight Laugh Feast Army, not only will you be aiding in our fight to take down secular & legacy media; but you'll also get access to content placed in our Club Portal, such as past shows, all of our conference talks, and EXCLUSIVE content for club members that you won't be able to find anywhere else. Lastly, you'll also get discounts for our conferences… so if you've got $10 bucks a month to kick over our way, you can sign up now at fightlaughfeast.com
Let's start with our friends over at CNN… what's going on?!
https://thepostmillennial.com/cnn-ratings-collapse-as-network-looks-for-new-revenue-including-extending-the-brand-in-china?utm_campaign=64487
CNN ratings collapse as network looks for 'new revenue'—including 'extending' the brand in China
Over at CNN the "hunt is on for new revenue" as the news network's "ratings plummet" and "profits slump" below nearly $1 billion.
On Tuesday, the New York Times reported that CNN's yearly profitability is expected to decline to $956.8 according to projections from S&P Global Market Intelligence.
CNN's annual profits haven't sunk below $1 billion since 2016, the year Donald Trump beat Hilary Clinton in the presidential election and subsequently became a prominent figure in their commentary. "Ratings are down from their Trump-era heights across cable news, but declines at CNN are particularly pronounced," the Times noted.
CNN viewership is about 639,000 in the prime time hours slot, which is down 27 percent from last year. More people on average watch MSNBC, whose viewership is down 23 percent, and Fox wins over both networks and is up about a percentage point in overall viewers.
Fox's ascension in rating while MSNBC and CNN decline is the continuation of a stark pattern reported in 2021 which saw Fox News on top averaging 1.3 million in total day viewers, compared to 919,000 at MSNBC and 787,000 watching CNN.
CNN's entropic ratings is a continuing trend. "It's becoming increasingly apparent that the vast majority of Americans are rejecting fake news," The Post Millennial, reported in June as CNN recorded their worst weekend ratings since 1993.
To recoup losses generated by CNN, parent company Warner Bros. Discovery is looking to sell programming created for some of its other services, such as HBO Max. They're also broadly cracking down on expenses such as spending money on work celebrations.
CNN brought on Chris Marlin, a lawyer with no cable news experience, who suggested "striking advertising deals with major tech companies like Microsoft," "selling sponsorships to corporate underwriters," and "extending CNN's brand in China."
Well that's some good news, but file this next article under things that would make one lose faith in humanity: https://thepostmillennial.com/80-year-old-granny-banned-from-ymca-after-demanding-biological-male-leave-womens-locker-room-where-little-girls-were-undressing?utm_campaign=64487
80-year-old granny banned from YMCA after demanding biological male leave women's locker room where little girls were undressing
An 80-year-old Washington state woman has been banned from using her local YMCA's public pool after she expressed discomfort with a biological male in the women's locker room as young girls were undressing. She was in the shower when she heard a male voice and peeked out to find a biological male in a women's swimsuit engaging with little girls who were undressing.
The biological male was reportedly with girls from the day camp, overseeing their bathroom activities.
Jaman said that she had been showering after her July 26 swim at the pool, when she heard "a man's voice in the women's dressing area." She said that she saw "a man in a women's swimsuit, watching little girls pull down their bathing suits in order to use the toilets in the dressing room."
In an email from the YMCA's Marketing and Communications Manager to The Post Millennial, they said that the staff member was not "engaging" with these girls, but rather escorting them to the dressing room.
According to the Port Townsend Free Press, Jaman, who had been in the shower when she realized what was happening, hidden behind thin, sheer shower curtains, asked this person, revealed to go by the name Clementine Adams, "Do you have a penis?"
"None of your business," Adams reportedly responded.
"Get out of here, right now," Jaman replied.
"You're discriminating and you can't use the pool anymore and I'm calling the police," YMCA aquatics manager Rowen DeLuna told Jaman after she requested that Adams leave the room, according to the Port Townsend Free Press.
In an email from the YMCA's Marketing and Communications Manager, they said that Jaman was not permanently suspended for this incident alone, but rather due to "repeatedly violating the Olympic Peninsula YMCA code of conduct, specifically, using disrespectful words or gestures towards YMCA staff or others; and abusive, harassing and/or obscene language or gestures towards YMCA staff or others."
Per Washington state law, "All covered entities shall allow individuals the use of gender-segregated facilities, such as restrooms, locker rooms, dressing rooms, and homeless or emergency shelters, that are consistent with that individual's gender expression or gender identity."
"The Y has not provided any dressing, shower room options for women who do not want to be exposed to men who identify as women," Jaman added.
The state of Washington strikes again…
But let's allow Conneticut get in on the action!
https://www.nationalreview.com/news/connecticut-private-school-excludes-white-families-from-back-to-school-event/
Connecticut Private School Excludes White Families from Back-to-School Event
Greenwich Country Day School (GCDS), a private school in Greenwich, Conn., sent a letter to the families of students on Monday inviting them to a back-to-school event, so long as they identify as a racial minority.
"The annual Cider and Donuts event is open to GCDS families who identify as Black, Asian, Latinx, multi-racial, Indigenous, Middle Eastern, and/or people of color," read the letter, which was obtained by National Review.
The letter was addressed to "GCDS families" and was signed by the director and associate director of Diversity, Equity and Inclusion (DEI). Above the description of the event, scheduled for October 8, it mentioned the importance of "building an inclusive, just and equitable community reflecting the multitude of human identities and perspectives in our world."
The school's DEI website states that its mission is to "nurture meaningful learning through interactions and collaborations between people of diverse and intersecting identities," including "race and ethnicity," and its annual tuition ranges between $37,150 and $48,500.
Let's shift our eyes overseas
https://www.dailywire.com/news/breaking-china-fires-ballistic-missiles-into-taiwanese-waters
China Fires Ballistic Missiles Into Taiwanese Waters
On Thursday, Taiwan said that Communist China fired a number of Dongfeng series ballistic missiles into waters by Taiwan's northeast and southwest.
Other reports said the Taiwanese government asserted that Communist China had fired two missiles from the nearby Matsu Islands.
Further reports stated that roughly ten Chinese navy ships crossed the Taiwan Strait median line.
Meanwhile, President Biden's administration reportedly has been lobbying against a bill that would support Taiwan by naming it a major non-NATO ally, according to people familiar with the matter. The bill would give $4.5 billion in security aid and support its presence in international organizations.
Before House Speaker Nancy Pelosi's visit to Taiwan this week, China's foreign ministry issued a protest to the United States, threatening that a visit "seriously infringes upon China's sovereignty and territorial integrity."
China's defense ministry said it would launch "targeted military operations," France 24 reported, adding, "The Chinese military announced joint air and sea drills near Taiwan starting on Tuesday night and test launch of conventional missiles in the sea east of Taiwan, with Chinese state news agency Xinhua describing live-fire drills and other exercises around Taiwan from Thursday to Sunday."
Last Thursday, according to the Chinese Embassy in Washington, Chinese leader Xi Jinping threatened the U.S. in a conversation with President Joe Biden about America's ties to Taiwan. "Those who play with fire will perish by it. It is hoped that the U.S. will be clear-eyed about this," the Chinese statement said Xi warned.
https://news.usni.org/2022/08/02/chinese-and-russian-ships-sailing-near-japanese-mod-says
Chinese and Russian Ships Sailing Near Japan, Japanese MoD Says
People's Liberation Army Navy (PLAN) and Russian Navy warships have made independent transits around Japan over the past few days, the Japanese Ministry of Defense said this week.
Japan spotted a Russian Navy corvette on Friday at 6 p.m. sailing east in an area 50 kilometers from Cape Soya, according to one of three new releases issued by the Joint Staff Office (JSO) of the Ministry of Defense Monday.
Now, we take a dive into the world of entertainment, or at least Amazon's view of entertainment:
https://boundingintocomics.com/2022/08/03/the-lord-of-the-rings-the-rings-of-power-actress-nazanin-boniadi-says-her-character-is-an-activist-credits-prime-video-writers-for-giving-female-characters-agency/
'The Lord Of The Rings: The Rings Of Power' Actress Nazanin Boniadi Says Her Character Is An Activist, Credits Prime Video Writers For Giving Female Characters Agency
Actress Nazanin Boniadi, who plays Bronwyn in The Lord of the Rings: The Rings of Power, recently described her character as an activist while also crediting the Prime Video writers of the show for giving female characters agency.
Boniadi appeared at San Diego Comic-Con at the end of July where she talked to the media and specifically praised the writers on the show for giving female characters agency.
Boniadi said, "What I love about the writers on this show is that they have given every woman on the show, every female character, such agency."
"We don't serve the men around us, we have a storyline and our own right," she added.
The actress also stated at San Diego Comic-Con, "For Bronwyn, she is a healer. But she taps into her inner lioness and I as an activist, as a longtime human rights activist from my homeland, Iran… I tapped into what I believe women are doing for my homeland."
"And playing with character in sort of liberating and redeeming the Southlanders who back you know, in her ancestors' days, chose evil over good," she added.
https://twitter.com/i/status/1551302209299591170 – Play Video
Can I just add that her character doesn't exist in the books? Or anywhere in Middle Earth's lore? Because there weren't enough characters right? This show is going to be a massive disaster.
https://www.breitbart.com/sports/2022/08/03/trans-cyclist-blasts-usa-cycling-banning-him-competition-revoking-medal/
Guys lets end this week on a positive note here by talking about the topic that I love… sports!
Trans Cyclist Blasts USA Cycling for Banning Him from Competition, Revoking Medal
A transgender cyclist claims that a representative from USA Cycling informed him that he would no longer be allowed to compete in the women's division and that his spot on the IP (individual pursuit) podium had been revoked.
Leia Genis, a 25-year-old man who identifies as a woman, was reportedly stripped of the silver medal he won in the women's division of USA Cycling and barred from competing in any additional events at the 2022 Junior & Elite Track National Championships.
"USA Cycling updated its press release Friday by deleting a reference to Genis and elevating third-place finisher Skyler Espinoza to the runner-up slot," the Washington Times reported. "Cyclist Elizabeth Stevenson, who placed fourth in the Wednesday competition, was credited as the bronze medalist."
Genis had won silver after finishing second at the Elite Individual Pursuit competition.
The transgender cyclist wrote on Instagram, "…as I was preparing for the mass start races, a USA Cycling official informed me that I was no longer allowed to compete and that my place on the IP podium was to be revoked on account of my trans identity.
.
"6 weeks ago, I was eligible for competition at UCI C1 and C2 races held at the same velodrome and overseen by the same technical director. Yet 6 weeks later, now that I am doing well at nationals, I am suddenly ineligible to compete."
.
Genis added, "The transphobia is so blatant it's almost laughable."
The reason why Genis is unable to compete is due to the UCI (Union Cycliste Internationale) changing the testosterone requirements in their transgender policy.
According to the new rules put forth on July 1, those declaring themselves to be female must keep their testosterone in serum below 2.5 nanomoles/Liter for at least two years. Previously, the requirement had been twice that high, at 5.0 nanomoles/Liter. And athletes only had to maintain those levels for one year.
In other words, legally, racing as a trans cyclist got a lot tougher over the last six weeks.
Genis went on to rail about how "frustrating" it is to be a trans competitor in cycling. Though, one might imagine it's even more frustrating for the female riders who lose to cyclists who are actually men.
Still, Genis' removal from women's competition is a significant victory for women's sports.
The case involving Genis is just one of many examples showing that sports leagues have begun to stand for women's rights. Earlier this summer, FINA, the international governing body that presides over competitive swimming, banned males who have undergone puberty from competing in their events.
Thanks for tuning into this episode of the CrossPolitic Daily News Brief. If you liked the show, go ahead and share it would ya? If you want to sign up for a club membership, our conference, or for a magazine subscription, you can do all of that at fightlaughfeast.com… and as always, if you want to send me a news story, ask me about our conference, or talk about corporate sponsorships with CrossPolitic, email me at garrison@fightlaughfeast.com. For CrossPolitic news, I'm Garrison Hardie. Have a great day, and Lord bless.