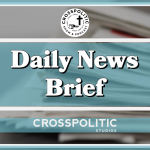 The CDC's draconian edict and more on today's CrossPolitic Daily News Brief
This is Toby Sumpter. Today is Friday, August 6, 2021.
Representative Cori Bush Staged a Homelessness Protest over the last weekend, Sleeping Out on the Steps of the US Capitol Building – protesting the eviction moratorium as it expired following a Supreme Court ruling
Play: 0:15-0:43
Then Yesterday Biden said this on Moratoriums
Play: 0:17-0:46
Likely to face legal challenges, but oh well. The Supreme Court has ruled, but oh well. Which is what all the states should say about Roe v. Wade.
Then just a few hours later:
Rochelle Walensky CDC Tsar Issued A Decree From Her Unelected Throne
https://www.cdc.gov/media/releases/2021/s0803-cdc-eviction-order.html
CDC Director Dr. Rochelle Walensky today signed an order determining the evictions of tenants for failure to make rent or housing payments could be detrimental to public health control measures to slow the spread of SARS-CoV-2, the virus that causes COVID-19. This order will expire on October 3, 2021 and applies in United States counties experiencing substantial and high levels of community transmission levels of SARS-CoV-2.
The eviction moratorium allows additional time for rent relief to reach renters and to further increase vaccination rates. In the context of a pandemic, eviction moratoria—like quarantine, isolation, and social distancing—can be an effective public health measure utilized to prevent the spread of communicable disease. Eviction moratoria facilitate self-isolation and self-quarantine by people who become ill or who are at risk of transmitting COVID-19 by keeping people out of congregate settings and in their own homes.
CDC remains committed and will continue to explore and use all of the tools at our disposal to protect the health and well-being of Americans affected by the COVID-19 pandemic. The order can be found at: https://www.cdc.gov/coronavirus/2019-ncov/covid-eviction-declaration.html.
CDC Director Dr. Rochelle Walensky said: The emergence of the delta variant has led to a rapid acceleration of community transmission in the United States, putting more Americans at increased risk, especially if they are unvaccinated.
This moratorium is the right thing to do to keep people in their homes and out of congregate settings where COVID-19 spreads. It is imperative that public health authorities act quickly to mitigate such an increase of evictions, which could increase the likelihood of new spikes in SARS-CoV-2 transmission. Such mass evictions and the attendant public health consequences would be very difficult to reverse.
National Apartment Association Has Sued the United States Government
https://www.naahq.org/news-publications/naa-sues-federal-government-recover-industry's-losses-under-nationwide-eviction
The National Apartment Association (NAA) on July 27 filed a lawsuit in the U.S. Court of Federal Claims to recover damages on behalf of rental housing providers that have suffered severe economic losses under the U.S. Centers for Disease Control and Prevention's (CDC) overreaching federal eviction moratorium.
As NAA members and the broader industry understand all too well, the CDC's prolonged order directly harms those who provide critically needed rental homes, jeopardizes the long-term viability of housing infrastructure and sets a dangerous precedent for future disaster-response measures. NAA is the first to take legal action seeking compensation for the CDC's policy and to ensure that similar "emergency measures" cannot be enacted again.
The suit, NAA et al. v. The United States of America, is open to all rental housing providers who have been damaged by and are operating in a state or locality under the federal eviction moratorium. It argues that the CDC order has curbed several rights under the U.S. Constitution including: The right to access the courts, the freedom to contract with others absent government interference, the right to demand compensation when property is taken by government action and the limits of federal government power. NAA is confident that the CDC will be found to have acted illegally based on court rulings to date, including the most recent decision from the Sixth Circuit Court of Appeals affirming that the CDC's order was unlawful.
"In the beautiful town of Moscow, ID, Erber Automotive is looking for Christians to join forces and wage war together on broken cars. Since Adam's fall, cars have been suffering at the hand of the second law of thermodynamics, starting with that very first Eden Model 1 that Adam puttered out of the garden. Paul said that all creation groans, and he'd never even heard a poor car owner on the side of the road with a steaming engine! At Erber Auto, you'll work to make auto repair fun for customers with bouncy castles, motorcycle cruises, and honest service. Most importantly, you'll work alongside Christians to show entropy the Uno reverse card!
Erber Auto is looking for a shop manager/service writer, and is always looking for resumes from qualified and experienced technicians, who are ready to do battle with the forces of evil, or at least metal fatigue. They have 2 positions to fill at competitive salaries. Please send your resume to business@erberauto.com."

Psalm of the Day: Psalm 16
Play Audio: 1:27-2:24
Remember you can always find the links to our news stories and these psalms at crosspolitic dot com – just click on the daily news brief and follow the links.
This is Toby Sumpter with Crosspolitic News. You can find this and all of our shows at Crosspolitic.com or on our app, which you can download at your favorite app store, just search "Fight Laugh Feast". A reminder: if you see news stories and links that you think we should cover on the daily news brief, please send them to news @ crosspolitic.com and don't forget to check deft wire dot com where we are constantly posting all our stories.
Support Rowdy Christian media, and share this show or become a Fight Laugh Feast Club Member. You always get a free Fight Laugh Feast t-shirt with a membership and remember if you didn't make it to the Fight Laugh Feast Conference or Rally, club members have access to all the talks and lots more. Join today and have a great day.