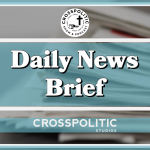 This is Garrison Hardie with your CrossPolitic Daily Newsbrief for Friday, December 16th, 2022. Happy Friday everyone! I hope you've had a good week and are heading into the weekend strong… before we get to the news:
Club Membership Plug:
Its Christmas, join our club. During December, the first 75 people to upgrade or join our Gold or Platinum club membership will get our 32OZ Kodiak Christmas water bottle and a free subscription to our Fight Laugh Feast Magazine. By joining the Fight Laugh Feast Army, not only will you be aiding in our fight to take down secular & legacy media; but you'll also get access to content placed in our Club Portal, such as past shows, all of our conference talks, and EXCLUSIVE content for club members that you won't be able to find anywhere else. Lastly, you'll also get discounts for our conferences… We don't have the big money of woke media, and so our club members are crucial in this fight. So, join the movement, join our army, and you can sign up now at fightlaughfeast.com.
https://www.dailywire.com/news/biden-admin-sues-arizona-gov-doug-ducey-over-shipping-container-border-wall
Biden Admin Sues Arizona Gov. Doug Ducey Over Shipping Container Border Wall
The Justice Department (DOJ) is suing Arizona Republican Gov. Doug Ducey and his administration over the use of shipping containers to build a wall along the state's southern border with Mexico.
The DOJ filed the lawsuit in the U.S. District Court for the District of Arizona on Wednesday, claiming that the project trespasses on federal property.
"Arizona has unlawfully and without authority failed to remove the shipping containers from lands owned by the United States or over which the United States holds easements, thereby damaging the United States," the lawsuit argues.
The legal move comes after Ducey issued an executive order in August directing the state's Department of Emergency and Military Affairs to begin a Yuma County project. The 3,820 feet of the previously open border was closed with 130 shipping containers in just 11 days.
The project then expanded to other parts of the border, with 6,680 feet of containers stacked two-high throughout Cochise County by early November. That section is estimated to take more than 2,700 shipping containers to fill the 10-mile gap along the southern border.
In October, the state filed its own lawsuit to affirm its right to continue using the shipping containers to help curb unlawful crossings.
"Our border communities are overwhelmed by illegal activity as a result of the Biden administration's failure to secure the southern border," Ducey said in a statement.
"Arizona is taking action to protest on behalf of our citizens. With this lawsuit, we're pushing back against efforts by federal bureaucrats to reverse the progress we've made. The safety and security of Arizona and its citizens must not be ignored. Arizona is going to do the job that Joe Biden refuses to do — secure the border in any way we can. We're not backing down," he added.
The lawsuit came after Ducey refused to comply with a demand by the Biden administration to remove containers in the Yuma County area. Arizona officials told the Biden administration that the state would not remove the containers until a permanent barrier is constructed.
The Biden administration has warned that Ducey's containers have interfered with land near both the Morelos Dam and land belonging to the Cocopah Indian Tribe's West Reservation. It has also argued the barriers interfere with the U.S. Customs and Border Protection's future project to fill holes in the existing wall.
In addition, environmental activists have recently targeted Ducey's shipping container project. The Washington Post reported efforts by climate activists to halt the container border wall, including using their bodies to stand in the way of machinery and sitting on containers in protest.
Ducey leaves office in January, with Democratic Gov.-elect Katie Hobbs set to take over. She is expected to stop any further container wall work along the border.
https://www.washingtonexaminer.com/restoring-america/community-family/sam-brinton-biden-nonbinary-official-hide-student-sex-changes
Nonbinary ex-Biden official Sam Brinton helped craft policy to hide student sex changes from parents
Sam Brinton, the nonbinary ex- Energy Department nuclear waste official facing major prison time, once helped a nonprofit group craft a model school policy adopted in several states that tells schools to hide alleged gender identity or sexual orientation changes from "unaffirming" parents.
Between 2017 and 2020, Brinton was head of advocacy and government affairs at the Trevor Project, an LGBT group focused on youth suicide prevention, according to Brinton's LinkedIn. In 2019, Brinton played a role in developing a 37-page booklet titled "Model School District Policy on Suicide Prevention," which puts restrictions on how much teachers can talk to parents or guardians if their LGBT child is suicidal.
"While parents and guardians need to be informed and actively involved in decisions regarding the student's welfare, the school mental health professional should ensure that the parents' actions are in the best interest of the student (e.g., when a student is LGBTQ and living in an unaffirming household)," read the model, which was also published by the American Foundation for Suicide Prevention, the American School Counselor Association, and the National Association of School Psychologists.
Brinton, 35, was appointed in January as deputy assistant secretary for spent fuel and waste disposition at the Energy Department's Office of Nuclear Energy. The former official was charged with allegedly stealing a suitcase in September worth an estimated $2,325 and, in July, another suitcase in Las Vegas valued at $3,670, according to the DOJ .
Brinton, a biological male who identifies as nonbinary and was the first purported nonbinary person to work as a top Energy Department official, faces up to 15 years in prison. The former official oversaw a $45 million budget and 100 federal government staff members in his short time at the Energy Department.
State education departments in Arizona , Idaho, and Virginia have adopted the Trevor Project's model policy in full or partially. In addition, so have school districts in places such as Oregon, California, and New Hampshire.
In one section of the model, which is titled "Special Considerations," schools are instructed to conceal a child's sexual orientation or alleged gender identity from their parent or guardian unless the student gives consent.
"When a parent is notified of perceived suicide risk or an attempt, it is essential that the school maintain student confidentiality related to personal information such as sexual orientation or gender identity, especially when the student has not already disclosed to the parent or guardian and does not want it shared," read the model. "Information shared should be restricted to the perceived risk of suicide or facts of the attempt."
https://justthenews.com/government/congress/california-democrat-says-term-pedophile-brands-someone-criminal-because-their
California Democrat Rep. Porter says calling person a 'pedophile' brands them a criminal
California Democrat Rep. Katie Porter says calling a person a "pedophile" or "groomer" is alleging that they are a criminal because of their "identity."
"This allegation of groomer and pedophile, it is alleging that a person is criminal somehow, and engaged in criminal acts merely because of their identity, their sexual orientation and their gender identity," Porter said at Capitol Hill hearing Wednesday titled, "The Rise of Anti-LGBTQI+ Extremism and Violence in the United States."
Porter also said the "groomer narrative is an age-old lie to position LGBTQ+ people as a threat to kids."
Human Rights Campaign President Kelley Robinson said at the hearing: "When we use words and phrases like groomers and pedophiles to describe people … it is dangerous and it's got one purpose. It is to dehumanize us and make it feel like we are not a part of this American society."
Porter's comments were criticized after the hearing.
https://freebeacon.com/latest-news/universal-basic-income-hits-the-bay-area-if-youre-black/
Universal Basic Income Hits the Bay Area—If You're Black
At least three guaranteed income initiatives in the San Francisco Bay Area openly discriminate against white residents, limiting or entirely preventing their participation in programs that dole out no-strings-attached cash.
The programs—all of which are publicly funded—violate both the United States and the California state constitution, lawyers say, as well as civil rights laws that ban race discrimination in contracting and by the recipients of government funds.
The initiatives include the Black Economic Equity Movement, which provides $500 a month exclusively to "Black young adults," the Abundant Birth Project, which provides $1,000 a month to "Black and Pacific Islander mothers," and the Guaranteed Income for Transgender People program, which will dole out $1,200 a month and "prioritize enrollment" of transgender "Black, Indigenous, or People of Color (BIPOC)." They are financed by the National Institutes of Health, the California Department of Social Services, and the city of San Francisco, respectively.
These programs offer a preview of what could soon be the norm in the Golden State. In July 2021, California lawmakers set aside $35 million dollars in grant funding for guaranteed income pilots across the state. Though the law did not include any racial or ethnic qualifiers, in keeping with the California constitution, the state's social services department said that it would only give out the grants to pilots that "center equity." Grant applicants were encouraged to "embed an equity-focused approach throughout each dimension" of their programs, including their "eligibility."
All three initiatives appear to violate the 14th Amendment, which bans states from discriminating based on race, said Dan Morenoff, the executive director of the American Civil Rights Project, as well as the California constitution and the Civil Rights Act of 1866, which ban racial discrimination in contracting. In addition, the Black Economic Equity Movement appears to violate Title VI of the 1964 Civil Rights Act, which bans racial discrimination by the recipients of federal funds. The National Institutes of Health, whose "health equity" initiative funded the program, did not respond to a request for comment.
The blueprint for these programs comes from private philanthropic ventures, which have experimented with supplemental income schemes in Jackson, Miss., and Atlanta that are only available to black women.
Though both the Mississippi program, underwritten by the W.K. Kellogg foundation, and the Atlanta program, funded by the Georgia Resilience and Opportunity Fund, discriminate based on race, they probably don't violate any laws, said David Bernstein, a professor of constitutional law at George Mason Law School.
But their California counterparts are another ball game.
"The publicly funded programs are clearly unconstitutional," Bernstein said. "It's not a close call."
In an implicit admission of the legal stakes, every agency involved in the Abundant Birth Project denied using the racial criteria listed on the program's website. The San Francisco Department of Public Health, which oversees the program, told the Washington Free Beacon that it is "open to all San Franciscans," albeit "with focused efforts" to reach black and Pacific Islander "pregnant and parenting people." Jason Montiel, a spokesman for the California Department of Social Services, which in November wrote a $5 million grant to the Abundant Birth Project so it could expand to other parts of the state, said the expansion "will not use race as a basis for eligibility."
That might come as news to Grant Colfax, the director of the San Francisco health department: In a December 6 press release trumpeting the grant, he said it would "help hundreds more Black birthing parents in California." San Francisco mayor London Breed likewise implied that the expansion was racially targeted, calling the Abundant Birth Project "a model to address racial birth disparities."
The Black Economic Equity Movement and the Guaranteed Income for Transgender People program did not respond to requests for comment.
Gravity Jack:
Gravity Jack is a full service digital agency specializing in the development of Virtual & Augmented Reality experiences, mobile apps, blockchain and Web3 projects. Founded in 2009 as the first American agency to offer augmented reality, they even patented it; Gravity Jack's digital experiences have been a source of innovation for small business, Fortune 500 Companies, and the US Military. Get your vision in motion at gravityjack.com
https://www.boundingintosports.com/2022/12/virginia-tech-soccer-player-who-was-benched-for-refusing-to-kneel-during-national-anthem-sees-lawsuit-move-forward/
Virginia Tech Soccer Player Who Was Benched For Refusing To Kneel During National Anthem Sees Lawsuit Move Forward
Former Virginia Tech Hokies soccer player Kiersten Hening now has her opportunity to sue the university after she was allegedly benched for refusing to take a knee as other woke athletes were during the playing of the National Anthem.
U.S. District Judge Thomas T. Cullen gave the approval for the lawsuit to go forward since Hening claimed that her freedom of speech protected by the First Amendment was violated after her coach, Charles Adair, allegedly benched Hening since she refused to join in the team's "unity statement" of kneeling during the National Anthem during a game in 2020.
Hening filed a lawsuit against Virginia Tech and Coach Adair in 2021 but Virginia Tech immediately attempted to file a motion to have the suit tossed. The athlete stated that when she refused to take part in the kneeling, which at the time was a virtue signal statement indicating public support for the Black Lives Matter movement, Adair began to insult and demean her as well as limiting her time to play during matches.
The judge also stated that the facts in this particular case firmly show that the coach singled out Hening specifically because of her political views, not because of her ability as an athlete.
He then declared, "For these reasons, the court will deny Adair's motion for summary judgment, and this matter will proceed to trial."