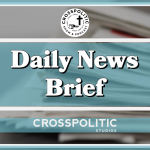 Trans revolution calls for communist revolution … and more on today's CrossPolitic Daily News Brief. This is Toby Sumpter. Today is Tuesday, December 14, 2021.
Find all our shows at Crosspolitic.com and download the Fight Laugh Feast App at your favorite app store so you don't miss anything. And if you're not yet a Fight Laugh Feast Club Member, let me just encourage you to consider it today. We are seeking to build a Rowdy Christian Network — news, sports, talk shows, even sitcoms that celebrate the good life and give liberals the proverbial whim-whams. If you'd like to help us do that, join the club. We love our sponsors, but the heartbeat of CrossPolitic is individual members supporting the work. Join today.
Transgender Activists Discuss Their Work as Part of a new Communist Revolution
Kay Gabriel, faculty member at New York University, asserts that trans activism is part of a larger effort to bring about a "Communist Revolution".
Play Audio
Idaho Family Policy Center
I wanted to let you all know about Idaho Family Policy Center. IFPC is currently the only explicitly Christian policy organization in Idaho politics. I serve on the board, and the president is Blaine Conzatti, a member of our sister CREC church, Kings Congregation down in Meridian. Blaine and IFPC have been leading the efforts to defund Planned Parenthood, end abortion in Idaho, and protect children from the transgender agenda. Basically, Blaine is a really strategic voice in Idaho politics, and he represents many of our biblical and constitutional concerns in Boise. IFPC is a brand new ministry and as such is in significant need of donations to help fund it. I know we all have many commitments to other good ministries, but if you are particularly concerned about Idaho politics, this is one way you can have a very direct impact. Go to www.idahofamily.org to learn more and make a donation.
Senate Unanimously Passes Uyghur Forced Labor Bill
https://dailycaller.com/2021/12/16/senate-passes-uyghur-forced-labor-bill-marco-rubio/
After a series of false starts and delays, the Senate passed the Uyghur Forced Labor Prevention Act by voice vote Thursday.
The bill, sponsored by Republican Florida Sen. Marco Rubio, targets slave labor in Xinjiang and surrounding provinces, where China is conducting a genocide of the Uyghur people. It passedthe House by voice vote Tuesday and is expected to be signed into law by President Joe Biden.
The Uyghur Forced Labor Prevention Act creates a "rebuttable presumption" that goods produced in Xinjiang or by certain listed Chinese business entities are produced by the forced labor of Uyghurs or other ethnic minorities. Companies may continue to import products from Xinjiang if they provide "clear and convincing evidence" to the Commissioner of Customs and Border Protection that their supply chains do not include forced labor.
The bill's passage unlocks three votes to confirm Biden nominees to key State Department positions. Rubio and Democratic Connecticut Sen. Chris Murphy agreed that the Republican would drop his objections to Nicholas Burns, nominated to be Ambassador to China, Ramin Toloui, nominated to be Assistant Secretary of State, and Rashad Hussain, nominated to be Ambassador for International Religious Freedom, in exchange for Murphy's lack of objection to the Uyghur Forced Labor Prevention Act.
Glenn Loury Says America is Not White Supremacist
Play audio: 0:00-1:02
Why are people flocking here from all over the world? Because it's so oppressive and white supremacist?
Supreme Court Sends Texas Heartbeat Law Back to Appeals Court
A U.S. Supreme Court decision Thursday dealt another blow to the Texas abortion industry by sending its lawsuit against the state heartbeat law back to a federal appeals court that previously allowed the legislation to go into effect.
The Associated Press reports the pro-abortion groups suing to overturn the pro-life law wanted the justices to send their lawsuit back to U.S. District Judge Robert Pitman, who blocked the law in October.
On Thursday, however, Justice Neil Gorsuch signed an order sending the case to the Fifth Circuit Court of Appeals instead, according to the report. Back in October, the Fifth Circuit rejected Pitman's ruling just a few days after he issued it and allowed the law to go into effect again.
Pro-life leaders estimate that the heartbeat law, which bans abortions once an unborn baby's heartbeat is detectable, about six weeks of pregnancy, has saved thousands of babies' lives since it went into effect Sept. 1.
The law includes a unique private enforcement mechanism that allows private individuals to sue abortionists and those who "aid and abet" in abortions in violation of the law. It is this provision that has been the main focus of the legal dispute thus far.
Earlier this month, the Supreme Court threw out a lawsuit from President Joe Biden and rejected the Texas pro-abortion groups' request to temporarily block the law while their legal challenge continues through the courts.
While the high court ruled that the Texas abortion businesses may continue with their lawsuit, it also watered down their case by allowing them to sue state licensing officials but not the state judges and clerks who are charged with handling lawsuits spurred by the law.
Now, the Supreme Court is sending the case back to the Fifth Circuit for consideration, and abortion activists are losing hope — good news for the future of unborn babies in Texas.
"The Supreme Court left only a small sliver of our case intact, and it's clear that this part of the case will not block vigilante lawsuits from being filed," Marc Hearron, a lawyer with the Center for Reproductive Rights, told the AP. "It's also clear that Texas is determined to stop the plaintiffs from getting any relief in even the sliver of the case that is left."
Erwin Chemerinsky, dean of the University of California Berkeley School of Law, said he also was "stunned" that the Supreme Court allowed the law to remain in effect even though it violates Roe v. Wade.
"The court's refusal to block the blatantly unconstitutional Texas law is also a strong signal that it is poised to overturn Roe v. Wade," Chemerinsky wrote this week at the Los Angeles Times.
Texas abortion businesses are admitting a likely defeat as well. They essentially have no way to stop Texas citizens and pro-life groups from filing lawsuits against them, abortionists and abortion center staff who help abort unborn babies in violation the law.
And if the law remains in effect much longer, many Texas abortion businesses may close. According to the Texas Tribune: Amy Hagstrom Miller, president of Whole Woman's Health, which operates four clinics in Texas and is the lead plaintiff in the providers' lawsuit, warned last week that the current volume of services is not enough to keep clinics open in the long term.
"Staying open is not sustainable if this ban stays in effect much longer," Hagstrom Miller said. "We are grateful for the donors and foundations and folks who have been supporting us in the interim … but the future looks bleak if we can't get some justice here."
Ultimately, the abortion businesses' legal challenge appears to be "doomed," the report concluded.
And that's great news for unborn babies. A new study found that, in just the first month of the law, abortions in Texas went down 50 percent. Since then, Texas abortion facility directors have reported even bigger drops in their abortion numbers, as high as 80 percent compared to the previous year, according to the Texas Tribune.
The heartbeat law has the potential to save tens of thousands of unborn babies from abortion every year. In 2020, about 54,000 unborn babies were aborted in Texas, and about 85 percent happened after six weeks of pregnancy, according to state health statistics.
Remaining missionaries kidnapped in Haiti by gang released
https://www.nbcnews.com/news/world/remaining-missionaries-kidnapped-haiti-gang-released-rcna9010?fbclid=IwAR0acBi61sVy19OtPu-G_kaiJdEj84zWLnILglQvByTNWRW3jF6WHLgd1kw
A Haitian gang has released the remaining 12 hostages they had abducted — more than two months after their kidnapping, the Ohio-based religious group they work with announced Thursday.
"We glorify God for answered prayer—the remaining twelve hostages are FREE! Join us in praising God that all seventeen of our loved ones are now safe," said a statement from Christian Aid Ministries. "Thank you for your fervent prayers throughout the past two months. We hope to provide more information as we are able."
Haiti National Police Spokesman Gary Desrosiers also confirmed to NBC News that the hostages had been found safe, but would not say where they had been taken.
Seventeen people working with the group were kidnapped in October by the 400 Mawozo gang, which controls the Ganthier commune in the suburb of Port-au-Prince where the missionaries were taken.
Christian Aid Ministries had previously said that those who were kidnapped were sixteen U.S citizens and one Canadian citizen — six men, six women, and five children.
The missionaries were returning from an orphanage, an hour and a half from Christian Aid Ministries Haiti base and often visited by their staff, when they were taken.
The group, based in Millersburg, Ohio, repeatedly called for supporters to fast and pray for the safe release of the hostages, at one point earlier this month encouraging Christians to fast for three days.
In November, two of the missionaries were released, and another three were freed earlier this month
Fight Laugh Feast Magazine DNB
Our Fight Laugh Feast Magazine is a quarterly issue that packs a punch like a 21 year Balvenie, no ice. We don't water down our theology, why would we water down our scotch? Order a yearly subscription for yourself and then send a couple yearly subscriptions to your friends who have been drinking luke-warm evangelical cool-aid. Every quarter we promise quality food for the soul, wine for the heart, and some Red Bull for turning over tables. Our magazine will include cultural commentary, a Psalm of the quarter, recipes for feasting, laughter sprinkled through out the glossy pages, and more.
Two major airline CEOs question effectiveness of mask mandates on planes
https://nypost.com/2021/12/16/two-airline-ceos-question-need-for-mask-mandates-on-planes/
​​The chief executive officers of two major airlines have questioned the need for mask mandates on planes — insisting that face coverings "don't add much" to the safety of flying amid the pandemic.
CEO of Southwest Airlines, Gary Kelly,
Play Audio
"I concur," Doug Parker, the head of the country's largest airline, American Airlines, added. "An aircraft is the safest place you can be. It's true of all of our aircraft — they all have the same HEPA filters and airflow."
Both airline chiefs insisted that the high-quality air filters on their planes bring in new air and reduce the spread of COVID-19.
Psalm of the Day: Mozart's Magnificat
Play: 0:00-1:18
Magnificat: My soul magnifies the Lord! My spirit rejoices in God my Savior!
For He has regarded the low estate of His handmaiden: for behold, from henceforth all generations shall call me blessed. For He that is mighty hath done great things; and holy is His name.
Amen!
Remember you can always find the links to our news stories and these psalms at crosspolitic dot com – just click on the daily news brief and follow the links.
This is Toby Sumpter with Crosspolitic News. A reminder: Support Rowdy Christian media, and share this show or become a Fight Laugh Feast Club Member. For a limited time, we're offering a Christmas Man Box for new subscribers at the Silver level and above, and if you're already a club member, you can purchase the CrossPolitic Christmas Man Box for just $50 while supplies last. Remember if you didn't make it to the Fight Laugh Feast Conferences, club members have access to all the talks from Douglas Wilson, Joe Boot, Jeff Durbin, Glenn Sunshine, Nate Wilson, David Bahnsen, Voddie Baucham, Ben Merkle, and many more. Join today and have a great day.