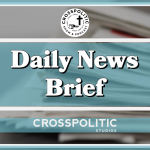 This is Garrison Hardie with your CrossPolitic Daily NewsBrief for Friday, December 2nd, 2022. Happy Friday everyone! Let's finish our week strong.
Gravity Jack:
Gravity Jack is a full service digital agency specializing in the development of Virtual & Augmented Reality experiences, mobile apps, blockchain and Web3 projects. Founded in 2009 as the first American agency to offer augmented reality, they even patented it; Gravity Jack's digital experiences have been a source of innovation for small business, Fortune 500 Companies, and the US Military. Get your vision in motion at gravityjack.com
https://www.foxnews.com/media/yellen-blames-americans-splurging-pandemic-record-high-inflation
Janet Yellen blames Americans' 'splurging' for record-high inflation
Treasury Secretary Janet Yellen blamed consumers' excessive spending habits as a primary cause for the near 40-year-high in inflation on Wednesday.
The Biden official appeared on "The Late Show with Stephen Colbert," where she was asked about the price increases that have plagued the U.S. for more than a year.
Colbert asked her to explain to his audience how inflation got out of hand when "two years ago everything seemed fine." The late-night host, known for his sycophantic boosting of President Biden and Democrats, even noted the Biden administration dismissed inflation as a "small risk" as recently as last year.
Yellen argued the administration managed the COVID-19 pandemic so well that consumers felt comfortable to "splurge" on goods.
Is The U.S. Headed For A Recession? Sec. Janet Yellen Gives Her Outlook– Play 0:55-3:48
There was no mention during the remarks about multitrillion-dollar spending bills that have been passed and signed during Biden's administration. She also isn't the only White House official who's blamed inflation on Americans spending recklessly or who has dismissed economic concerns.
White House chief of staff Ron Klain was mocked for suggesting rising costs and supply chain issues were a "high class" problem last year.
Energy Secretary Jennifer Granholm was also criticized for laughing at rising gas prices and offering Americans tax credits for installing solar panels on their homes.
Liberal journalists like MSNBC's Stephanie Ruhle have also argued consumers could afford to spend more money on groceries and utilities.
In October, the Consumer Price Index rose 0.4% from September.
Despite prices still being near the 40-year high, Biden told a reporter last month that the economy was "strong as hell."
https://www.theblaze.com/news/ny-democrats-want-taxpayers-to-shell-out-300m-to-help-illegal-migrants-avoid-deportation-we-have-a-moral-obligation
NY Democrats want taxpayers to shell out $300M to help illegal migrants avoid deportation: 'We have a moral obligation'
Two Albany Democrats, originally from New York City, are pushing for a bill to cover the legal fees of illegal immigrants battling deportation, which would cost taxpayers roughly $300 million, the New York Post reported.
Manhattan Senator Brad Hoylman (D) and Queens Assemblywoman Catalina Cruz (D) support the legislation despite estimates that it will require a $55 million down payment in 2023.
Proponents of the legislation are pushing for New York Governor Kathy Hochul (D) to support the proposal and commit to $100 million in funding from the state's budget. On Wednesday, the governor committed to providing $3 million to nonprofit organizations assisting immigrants with their asylum applications.
Critics of the bill expressed concern that the legal defense could help potentially "dangerous people" remain in the United States and hurt public safety. Those opposed to the measure also cited budget concerns and noted that New York City is already estimated to spend $1 billion on costs related to the influx of migrants arriving in the city.
The bill would cover legal defense costs for any incarcerated immigrant, regardless of the criminal convictions that initiated their removal proceedings.
Republican Assembly Minority Leader William Barclay of Pulaski stated, "Democrats' complete failure on border security and immigration shouldn't result in a $300 million tax on New Yorkers."
"Last year, New York City's radical Democrats wanted non-citizens to vote in local elections," Barclay continued. "Now they expect the public to spend hundreds of millions to provide free deportation lawyers. Their political statements do not need to be contained in the state spending plan."
https://justthenews.com/government/congress/gop-senators-withhold-support-defense-funding-until-they-get-vote-end-military
GOP senators to withhold support for Defense funding until they get vote to end military vax mandate
Seven GOP senators made the vow Wednesday at a Capitol Hill news conference, saying they would withhold the support if leaders of the Democrat-led chamber don't allow a floor vote on their proposal, according to NBC News.
Kentucky Sen. Rand Paul said the group will not vote to get on the NDAA "unless we have a vote on ending this military vaccine mandate."
The libertarian-mined Paul typically votes against the act every year and is among the most critical in his conference about the federal government's handling of the pandemic, including mandated vaccinations.
The senators' effort could delay final passage of the annual bill, which Congress has consistently passed, but it would not prevent the Senate from eventually voting on the legislation, NBC also reports.
The other six are Sens. Mike Braun, of Indiana; Ted Cruz, of Texas; Lindsey Graham, of South Carolina; Ron Johnson, of Wisconsin; Mike Lee, of Utah; and Rick Scott, of Florida.
Graham says military recruitment had suffered as a result of vaccination requirements that Defense Secretary Lloyd Austin made mandatory last year for all service members. The requirement applies to all active duty and Ready Reserve service members including the National Guardsmen.
https://dailycaller.com/2022/11/30/florida-school-boards-oust-superintendents-mask-mandates/
Florida School Boards Flip Red, Immediately Oust Superintendents Who Oversaw Mask Mandates
Two school boards with conservative majorities parted ways with their schools' superintendents in November, both of whom oversaw the implementation of mask mandates into the fall of 2021.
On Nov. 29, Sarasota County Schools Superintendent Brennan Asplen agreed to step down after the school board criticized mask mandates which Asplen backed, while on Nov. 22 Brevard County Superintendent Mark Mullins, who faced backlash for supporting an extended mask mandate, agreed with the school board to enter into separation negotiations. Both school districts extended their mask mandates into the fall of the 2021-2022 school year.
In the 2021-2022 school year, Brevard Public Schools extended its emergency mask mandate through Nov. 28, giving parents an opt-out option, according to the school website. Sarasota County Schools implemented a mask mandate in August 2021 but it was repealed in October, according to the Herald-Tribune.
Florida Republican Gov. Ron DeSantis, who endorsed recently elected members who flipped the school board majorities, signed an executive order in July 2021 requiring schools to give parents to opt their students out of school's mask mandates. The order came in response to schools implementing mask mandates in 2020, according to a press release by the governor's office.
Asplen, who took over in 2020, called the board's citing of his COVID-19 response "ridiculous." School Board Chair Bridget Ziegler noted that the relationship between the board and the superintendent was broken.
The moves by the Florida school boards come after the Berkeley County School Board in South Carolina, which flipped to a conservative majority, fired the school superintendent as well as the district's lawyer, banned Critical Race Theory from the classroom and set up a committee to review material flagged for pornographic content in its first meeting since being elected.
https://thepostmillennial.com/breaking-ccp-announces-they-will-ease-covid-restrictions-in-key-cities-amid-white-paper-protests?utm_campaign=64487
CCP announces they will ease Covid restrictions in key cities amid White Paper Protests
The Chinese city of Guanzhao has begun to ease Covid restrictions that have been in service to the nation's "zero Covid" policy, "announcing the lifting of all lockdowns," reports state-affiliated media outlet Hu Xijin. Lifting of Covid restrictions has been called something of a surrender, that the CCP is "throwing in the white flag."
"Beijing has been gradually lifting lockdowns over the past few days," Hu Xijin futher reports. "Vice Premier Sun Chunlan on Wed formally noted the virus' weakening pathogenicity for the first time…China is speeding up to cast aside large-scale lockdowns." Officials in Zhengzhao, where Apple's Foxconn factory is located, announced an "orderly" return to business, opening supermarkets, gyms and restauarants.
"The southwestern city of Chongqing will allow the close-contacts of people with COVID-19, who fulfil certain conditions, to quarantine at home," Al-Jazeera reports. However, they also report that President Xi is unlikely to remove further restrictions, as Covid case counts are still reportedly at record levels.
This comes after the country has seen days of protests against Covid restrictions and lockdowns. The protests began after a fire in an apartment building in the city of Urumqi, which took the lives of 10, including a 3-year-old child.
It is widely believed that firefighters were delayed in putting out the blaze due to lockdown restrictions which made it harder to gain access to the building.
The protests are the largest public display of anti-government behavior since the Tiananmen Square protests of 1989. The protests also come shortly after the coronation of Xi Jinping at the national congress, essentially making the president leader of the country for life.
The CCP has been aggressive in their attempts to stop the White Paper Revolution protestors, who hold up white sheets of paper to oppose censorship. Apple has appeared to help the CCP, restricting the use of their AirDrop feature, which iPhone users can use to bypass the internet and internet censors and communicate phone to phone. Protests at the Foxconn Apple factory in Zhengzhao were squashed last week as the CCP instituted Covid restrictions to keep people locked down.
The country has been imposing mass testing requirements, separating family members who test positive, including young children. These restrictions and limitations have generated increasing anger in the Chinese populace, and Covid has continued to spread, despite these measures.
Club Membership Plug:
Let's stop and take a moment to talk about Fight Laugh Feast Club membership. By joining the Fight Laugh Feast Army, not only will you be aiding in our fight to take down secular & legacy media; but you'll also get access to content placed in our Club Portal, such as past shows, all of our conference talks, and EXCLUSIVE content for club members that you won't be able to find anywhere else. Lastly, you'll also get discounts for our conferences… so if you've got $10 bucks a month to kick over our way, you can sign up now at fightlaughfeast.com.
https://www.foxnews.com/sports/tom-brady-could-end-up-new-england-this-offseason-patriots-insider-says
Tom Brady could end up in New England this offseason, Patriots insider says
A Tom Brady reunion in New England?
The Athletic's Jeff Howe, who has covered the Patriots for more than a decade, said, "Don't ever write off the Patriots," in a recent article that broke down where the veteran quarterback might play next season if he decides he wants to return for a 24th campaign in the NFL.
It seemed like Brady was forever done wearing red, white and navy blue when he moved on to the Tampa Bay Buccaneers and ended up winning a Super Bowl there. But, as he's set to be a free agent once again after this season, Howe believes a reunion could be in the cards.
Howe added that no "egos" or "pride" would get in the way of Brady returning if it came down to that. Instead, the offensive play-calling under Matt Patricia would be questioned by Brady to make sure that he wouldn't be wasting his 24th season, considering that his days in the league are numbered (or so we all thought after he retired then decided not to in the same offseason).
But on the Patriots' end, they would also like to know what Brady plans to do. If it's a year-to-year decision, they may be less likely to want a reunion, especially after Mac Jones, the team's current starter, was drafted in the first round of the 2021 NFL Draft to be their quarterback of the future.
Jones has played well, but Belichick has the obvious winning history with Brady. Howe doesn't think the Pats would even have to trade Jones because he's still under a lengthy, cheap rookie deal and could learn a lot from Brady.
All in all, it's an option and pure speculation at this point because no one knows for sure if Brady will truly hang up the cleats for good after this season with the Bucs.
Howe also mentioned the San Francisco 49ers — Brady grew up a fan of them in San Mateo, California — the Tennessee Titans and the Las Vegas Raiders as potential destinations other than returning to Tampa Bay.
This season, Brady hasn't seen the same offensive firepower he did in his first two seasons with the Bucs, as Bruce Arians' departure seems to have left a void. His offensive line troubles also haven't helped matters.
Still, the Tampa Bay Buccaneers sit in first place in a dreadful NFC South at 5-6, with the Atlanta Falcons behind them at 5-7.