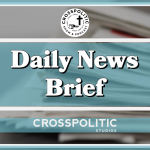 Stan wants to be a woman named Loretta … and more on today's CrossPolitic Daily News Brief. This is Toby Sumpter. Today is Tuesday, November 23, 2021.
Find all our shows at Crosspolitic.com and download the Fight Laugh Feast App at your favorite app store so you don't miss anything. And if you're not yet a Fight Laugh Feast Club Member, let me just encourage you to consider it today. We are seeking to build a Rowdy Christian Network — news, sports, talk shows, even sitcoms that celebrate the good life and give liberals the proverbial whim-whams. If you'd like to help us do that, join the club. We love our sponsors, but the heartbeat of CrossPolitic is individual members supporting the work. Join today.

Shooter Charged After School Shooting in Michigan
https://www.foxnews.com/us/michigan-school-shooting-prosecutor-doesnt-have-words-security-footage
The 15 year-old suspect made his first court appearance on Wednesday after a shooting at Oxford High School in Oakland County, Michigan that left four students dead.
The suspect was hit with 24 charges, which include four counts of first-degree murder, seven counts of assault with intent to murder, one count of terrorism, and 12 counts of possession of a firearm.
the video of the attack showed Crumbley enter a bathroom in the school with a backpack and exit with a gun.
"At that point, he deliberately aimed the gun at students and began firing at students," Keast continued. "After students started running he continued down the hallway pointing the gun and firing (at them) and firing in classrooms and at students who were unable to escape."
Tate Myre was one of the victims: He was Shot While Rushing School Shooter in Michigan
https://www.barstoolsports.com/blog/3396120/a-high-school-football-player-rushed-a-school-shooter-and-sacrificed-his-own-life-to-save-his-classmates
Tate had just finished his junior football season and had received all-region for TE and LB. Here he is after a victory this Fall.
Play Audio: 0:13-0:33
We're strong.
And Tate proved that strength with his bravery this last Monday.
It is reported that Tate rushed an active shooter and received many gunshot wounds trying to disarm him, allowing time for others to seek safety.
Tate Myre was a hero.
AD: Classical Conversations supports homeschooling parents by cultivating the love of learning through a Christian worldview in fellowship with other families. We provide a classical Christ-centered curriculum, local like-minded communities across the United States and in several countries, and we train parents who are striving to be great classical educators in the home. For more information and to get connected, please visit our website at ClassicalConversations.com. Classical. Christian. Get Connected. Get Community.
New Zealand Competing for Lunacy Awards
From a listener: As of today the unvaccinated are essentially second-class citizens (my own family included). For the unvaccinated you cannot do the following:
– Freely attend bars and restaurants.
– Freely attend gyms.
– Go to church services with the unvaccinated
– Freely have events at your home.
– Freely go to hairdressers
– Freely go to takeaways
– Freely enter businesses
– Freely attend universities or schools (not that true christian parents would send them anyways!)
– Freely attend libraries (Traffic light system: Councils work out access to venues (msn.com))
– Freely attend open homes to buy houses
– Freely work in certain industries
– Freely travel by air or water (Interislander Service Alerts | The Great Journeys of New Zealand (greatjourneysofnz.co.nz) or Requirements for Travel within New Zealand | Air New Zealand)
The church one is particularly bad as the church we used to go to is having separate church services of reduced capacity for the unvaccinated. In fact, the church in question is saying there can be NO MIXING of the vaccinated with the unvaccinated!!! My how Paul would scold these church leaders.
Here are examples of how low the NZ church has sunk!
Book a service this Sunday (rcc.co.nz)
Monty Python Tells the Truth
Play Audio: 0:44-1:50
Symbolic of his struggle against reality…
Omicron Variant
Play Audio: 0:00-0:13
Biden Extends Testing and Mask Requirements
Play Audio: 0:00-0:23, 1:39-1:50
Strengthen international travel rules for those trying to enter the United States. In fact, Biden has banned travel from South Africa and 7 other African nations… Hmmm…
In February 2020, Biden tweeted, "Trump further diminished the US in the eyes of the world by expanding his travel ban. This new "African Ban," is designed to make it harder for black and brown people to immigrate to the United States. It's a disgrace, and we cannot let him succeed."
I guess Biden is the disgrace now. It didn't work then, and it won't work now. The definition of insanity is doing the same thing over and over, expecting different results.
Psalm of the Day: Psalm 70
Play audio: 0:00-1:52
Remember you can always find the links to our news stories and these psalms at crosspolitic dot com – just click on the daily news brief and follow the links.
This is Toby Sumpter with Crosspolitic News. A reminder: Support Rowdy Christian media, and share this show or become a Fight Laugh Feast Club Member. For a limited time, we're offering a Christmas Man Box for new subscribers at the Silver level and above, and if you're already a club member, you can purchase the CrossPolitic Christmas Man Box for just $50 while supplies last. Remember if you didn't make it to the Fight Laugh Feast Conferences, club members have access to all the talks from Douglas Wilson, Joe Boot, Jeff Durbin, Glenn Sunshine, Nate Wilson, David Bahnsen, Voddie Baucham, Ben Merkle, and many more. Join today and have a great day.